Do you know what the best gift for artist is? Don't worry! We have got you with 21 unique gift ideas for artists to give!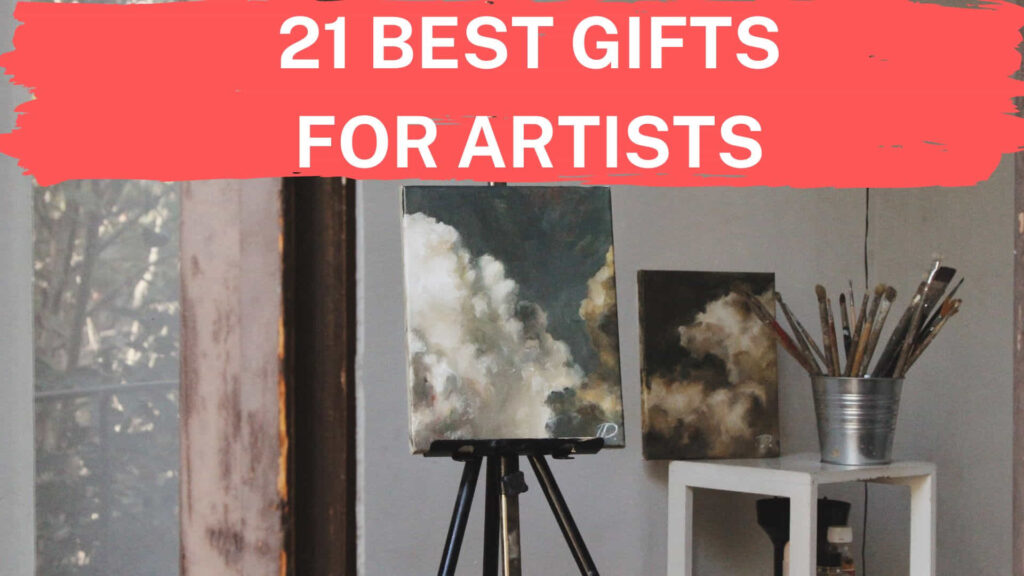 An artist is someone who puts creativity and inspiration into their work.
And when it comes to giving an artist a gift, it must be related to their art to make your gift unique and stand out.
However, sometimes it becomes hard to decide what gift to give.
Therefore, I'm here to help you with the 21 unique gift ideas for artists you can give now!
Let's get started.
The Best Gifts for Artists and Creatives in 2023 – 11 Unique Ideas
Here is the list of the top most-loved gift ideas, and you can pick any of them to give.
#1. MasterClass – Best Gift For Artists In 2023

Any artist, whether a beginner or pro, wants to keep evolving with new techniques to learn and improve their work.
One of the great ways for artists to learn is through online courses.
And MasterClass is the platform that provides lessons from the best creative minds worldwide.
MasterClass has 180+ online courses from the "world's best."
The best part?
MasterClass has 60+ courses in the Arts & Entertainment category alone, which mean the artist in your life can quickly find their favorite class to begin.
With just $15 per month, MasterClass has become one of the best gifts for artists in 2023, as this platform has been on the boom for learning new skills.
For the artist in your life, MasterClass has the best courses from the best creative minds around the world, such as:
Futura Teaches Spray Painting & Abstract Art
Jeff Koons Teaches Art And Creativity
Creating Outside The Lines By Issa Rae
David Carson Teaches Graphic Design
Frank Gehry Teaches Design And Architecture
And many more.
Apart from this, there are several more categories that the budding artist in your life can explore and expand their learning journey.
That is why a MasterClass subscription as a gift is worthwhile investing in and can offer lifelong returns for the skills that it provides.
Gifting a MasterClass gift is very easy. I have shared a step-by-step method in my MasterClass gift guide, which you can follow.
#2. Skillshare – One Of The Best Learning Gifts For Artists

If I had to give a gift to my artist friend, my second choice would be Skillshare.
Why?
Two reasons:
Skillshare has 35,000+ courses to choose from (even more than MasterClass)
Skillshare also offers a free trial, which means you can try it before giving it as a gift to your artist friend.
However, you don't get the "world's best" or celebrity instructors like MasterClass on Skillshare (and that's why I kept it as my second choice).
But if the artist in your life is a niche learner and wants to explore a specific art niche, then Skillshare is the best platform.
Let me explain:
First, Skillshare provides online lessons from professionals and experts in a particular niche or field.
That means you can manually find your favorite artist to learn from them.
And second, from 35,000+ courses to choose from, you can always find something interesting as well as knowledgeable to learn.
Another thing I found unique to Skillshare is its Learning Paths feature, which I have explained in detail in my honest Skillshare review.
In short, Learning Paths is a compilation of courses for learning a specific skill, which will be very handy for artists who want to learn online.
For instance, if you are an artist who wants to learn digital painting skills such as Adobe Fresco, then the lesson plan Take Your Art From Novice To Next Level In Adobe Frescois especially for you.
It consists of five regular classes with four and a half hours, eventually getting you started with this skill.
That is why, Skillshare is my favorite platform to learn something new.
You can start with a free trial anytime and determine if Skillshare is worth investing in.
#3. Leather Paint Brush Case – Best Art Supplies Holder For Artist Friend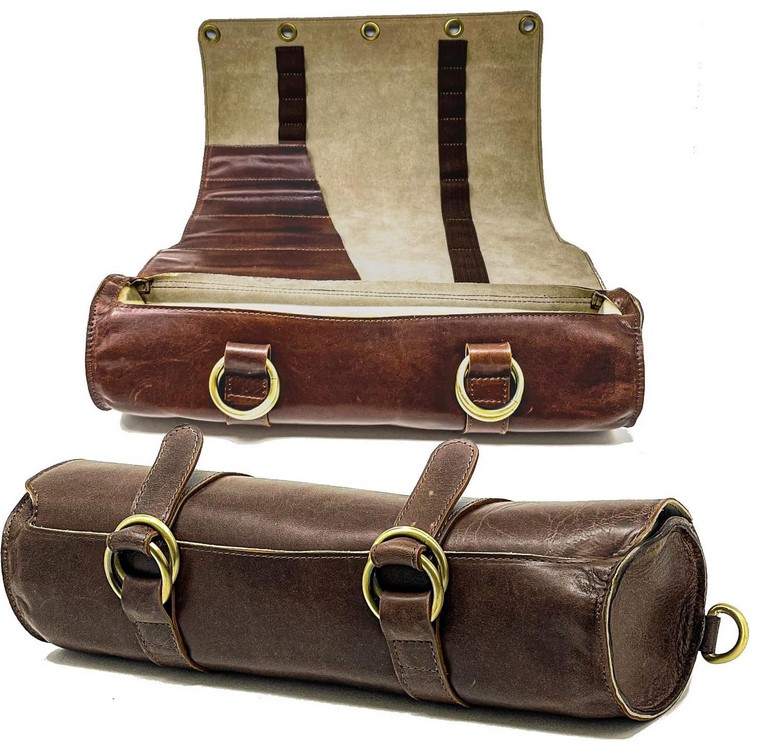 Want to give a beneficial gift to your artist friend?
Get them this premium brush case right now!
Perfectly built for transporting it anywhere the creativity and inspiration strikes, un-roll your brushes and paint that immediately – quick and easy!
The best part?
Artists who travel a lot will love this gift! Thanks to its portability and the perfect size to carry around with your backpack.
MstrSktch Leather Art Paint Brush Case can easily carry 10 to 15 paint brushes of size 12″ and under.
Additionally, the case contains barrel pockets as additional space to load brushes, paint tubes, and other stuff as you move around.
Overall, MstrSktch is a premium case that perfectly goes with most artists' supplies and is the perfect size to carry around, making it even more convenient.
GIVE THIS PERFECT GIFT TO YOUR ARTIST FRIEND
#4. Vintage Handmade Leather Journal/Writing Notebook Diary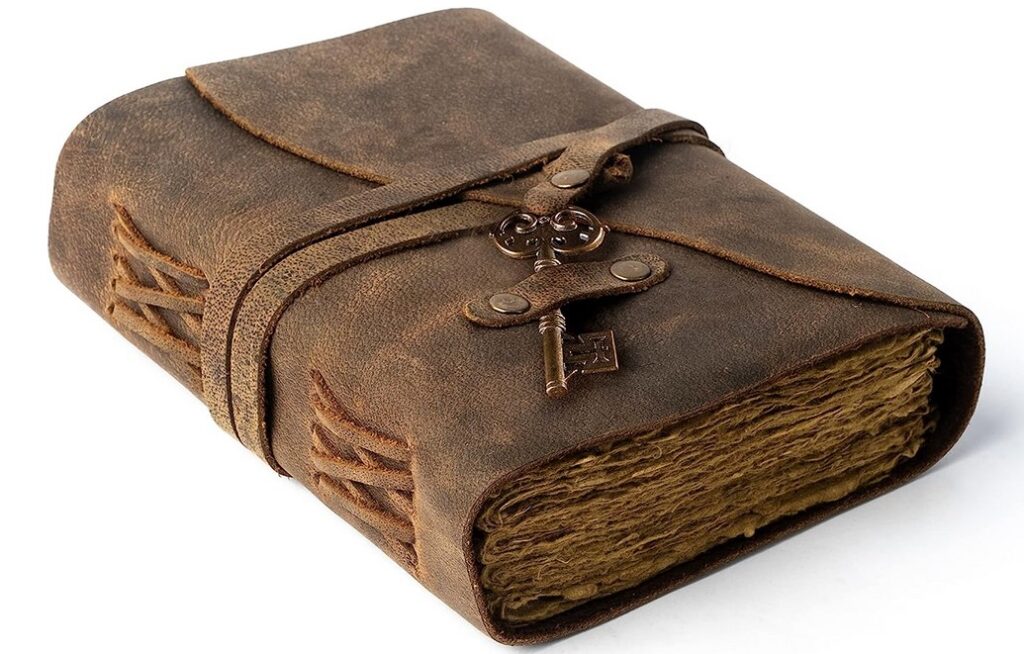 Artists interested in history will find this one of the most unique gifts ever!
This handmade, vintage paper leather journal is usable and makes it a special gift.
The best part about this gift is that it is handmade, and it has 240 lined pages where your artist friend can do anything from writing to making old-historic types of sketches.
However, the overall look of this gift is like it is taken from the library's history section.
Another best part about this gift is its 365-day replacement promise.
If your artist friend is unhappy with this gift, they can return it for a full refund or replacement. So, your investment is undoubtedly safe!
GET YOUR ARTIST THIS UNIQUE GIFT!
#5. Artist Apron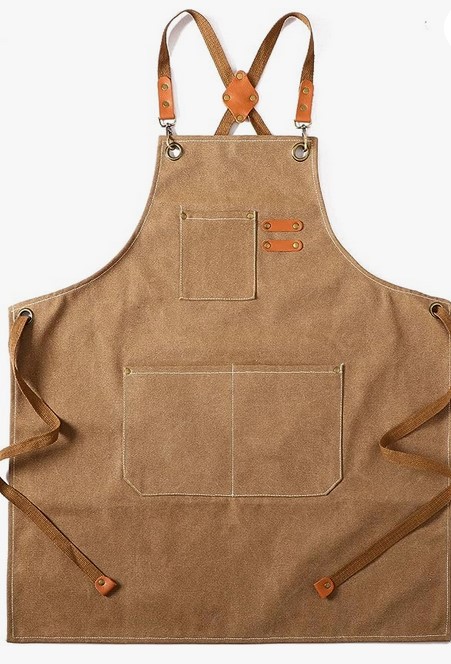 Whether a beginner or pro is your artist, get them an artist's apron!
Making art can get messy sometimes, and free up your artist from wearing the worn t-shirt to stay clean by gifting this apron.
An apron is something that comes in very handy in the life of an artist.
You can check if it has multiple pockets so that artist can keep various things, such as phone, keys, and other essential items they need to carry while making art.
Also, an apron can not only help from staying clean while creating art, but its ease of usability and keeping itself dry makes much work easy for artists.
Therefore, you need to check out for a water-resistant apron that can keep your artist friend dry even though they spill something.
And make sure the apron is easy to remove and clean with the machine so that it can be reused multiple times without any issues.
Don't worry! We have short-listed an apron for artists here, but you can check for more options.
#6. Smart Reusable Notebook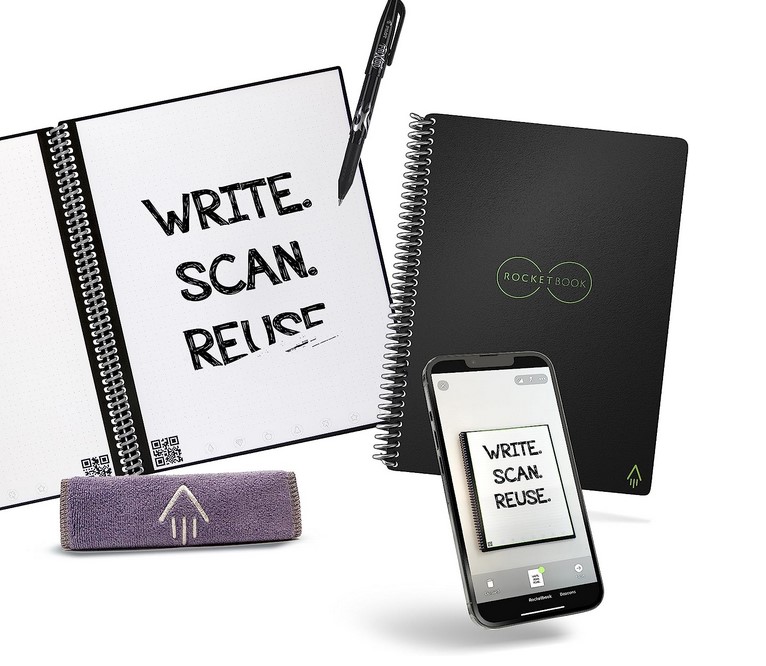 An idea can come anywhere; it fades instantly if you cannot pen it down quickly.
And who can understand the value of an idea as an artist?
Therefore, gift the artist in your life a smart reusable notebook where they can put their idea anytime.
This smart reusable notebook has 32 dotted grid pages that work with a Pilot Frixion pen, and you can sketch, wipe, and sketch again.
That means the artists can jot down their ideas on the paper anytime. Therefore, it is handy for an artist due to its reusability.
The best part?
You can even transfer the written or sketched ideas to digital platforms.
The free Rocketbook application for Android and iOS allows you to scan the sketches and rough drafts to cloud storage services like Google Drive and iCloud.
Therefore, if you want to give a gift that is something practical, then this intelligent reusable notebook is the best gift for artists in 2023.
GIFT THIS SMART REUSABLE NOTEBOOK
#7. Adjustable Standing Desk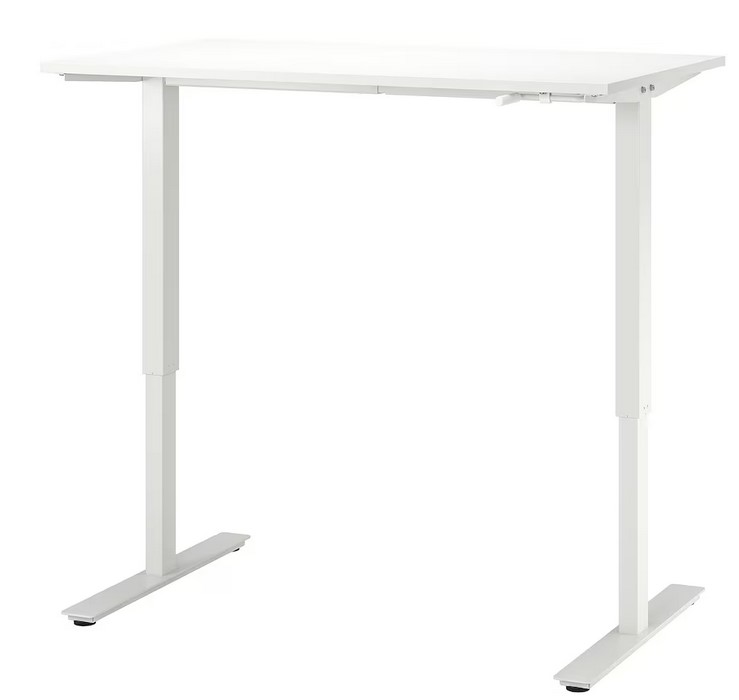 Sitting or standing all day is tough while you work on your art.
Therefore, this adjustable standing desk is something that every artist should have (as they tend to sit for longer duration when they work).
However, gifting this adjustable standing desk can make it easy for the artist.
The Ikea Trotten standing desk comes with manual controls and is also durable, which means it will be a gift for years.
This budget-friendly adjustable standing desk will be one of the best gifts for artists as they can use it as per their need for standing or sitting while working on their art.
However, when planning to gift this adjustable standing desk, ensure you know how much space they have and what size fits best in their setup.
To take it further, you can choose the best color and stylistic preference to make it more aesthetic according to their setup.
In the last case, if you are unsure about anything, you can even gift them a gift card to a furniture store with multiple options so they can go and decide on their own.
But gifting this adjustable standing desk is an excellent option to prevent your artist from the hassle.
#8. Writers Messenger Wood Box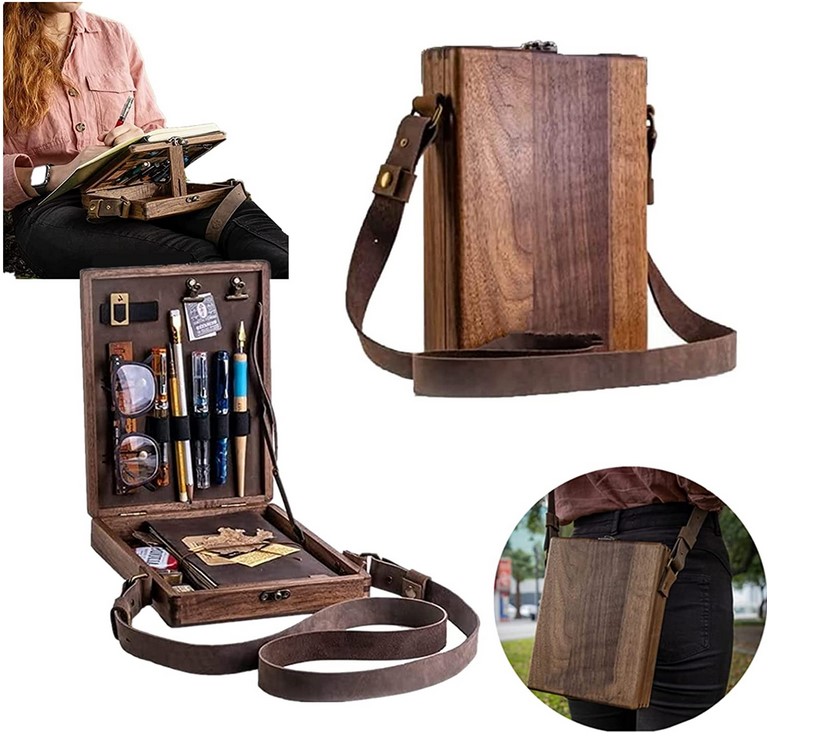 There are many unique and great gifts for writers, and this is one of the best!
The Writers Messenger Wood box is one of the unique and creative gifts that you can give to the writer cum artist in your life.
It is made of a wooden box, which gives it a unique look, while the box is perfect for designers, writers, architects, or creative people to sit somewhere and start crafting their creativity.
The box is briefcase styled and has several elastic loops to put your essential tools like pens, brushes, scissors, glasses, and much more.
Overall, this is a perfect desk-ready gift that you can give to the artist in your life.
If your artist friend loves to roam around and write or sketch down their thoughts or creative ideas, gift this fantastic box!
They are surely going to love it.
GIFT WRITERS MESSENGER WOOD BOX
#9. The Original Buddha Board Art Set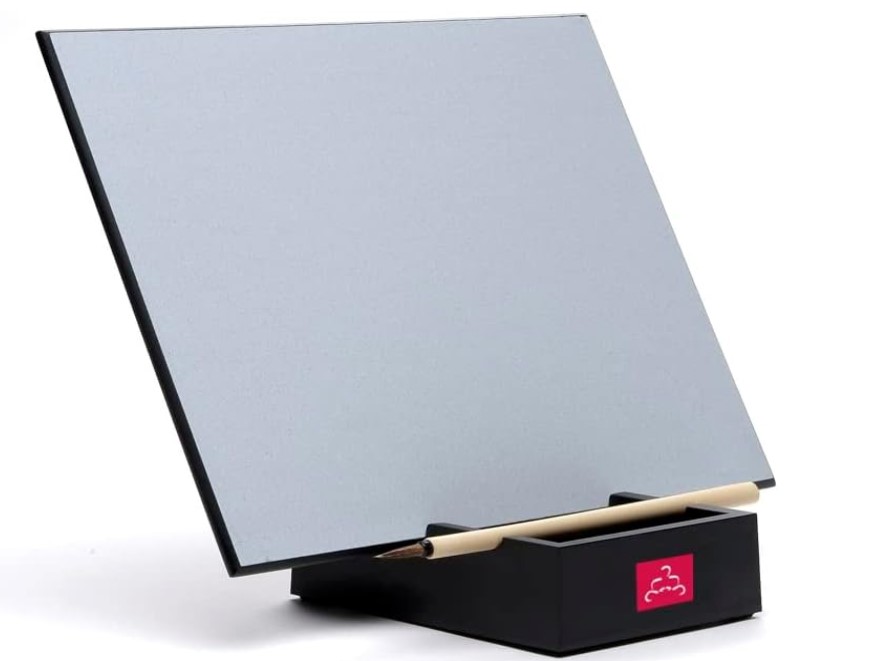 If the artist in your life is looking for a board to paint out their creativity, then the Original Buddha Board Art set is a great gift to give right now.
It is a non-digital board where you can use the bamboo brush included with the set and dip it into a cup of water to move it anywhere and draw your creative ideas.
And once the paint water has evaporated, the sketches on the board disappear to start painting again.
Therefore, it is a great gift for artists who don't want to waste the resources such as paper, paint, and ink to draw a rough idea of the final picture.
Apart from this, you can also try the drawing tablets such as a drawing table with a screen.
GIFT THE ORIGINAL BUDDHA BOARD ART SET
#10. Art Supply 54-Piece Art Set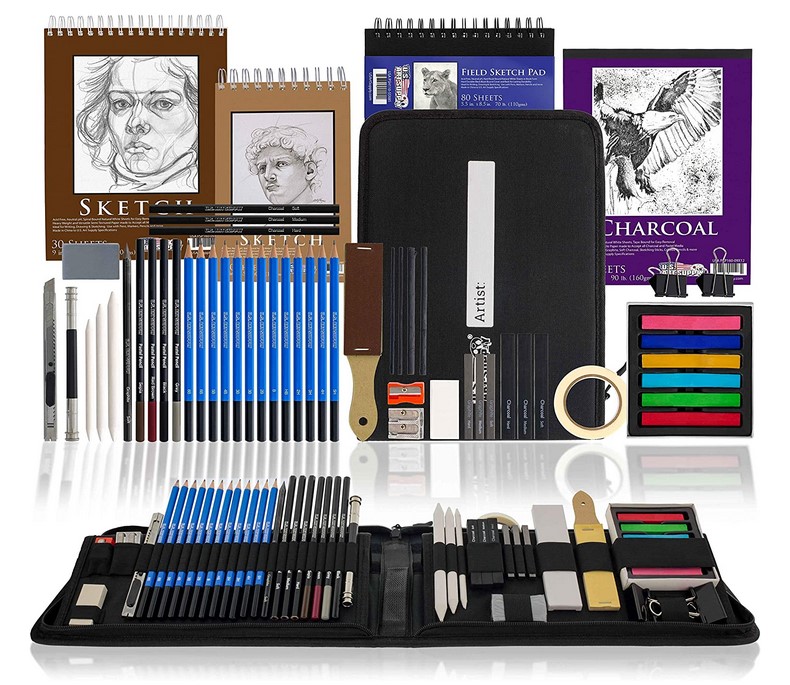 This is one of the best gifts for aspiring and professional artists.
The complete 54-piece ultimate drawing and sketching art set includes every tool and sketch pad to let your creativity flow without interruption.
It is the complete set, including all shades of pencils, premium drawing pads, 1 – 100 sheets, spiral bound, and almost everything you need as an artist.
That means you must carry this one art set and can complete your masterpiece anywhere without requiring additional tools.
#11. iBayam Art Supplies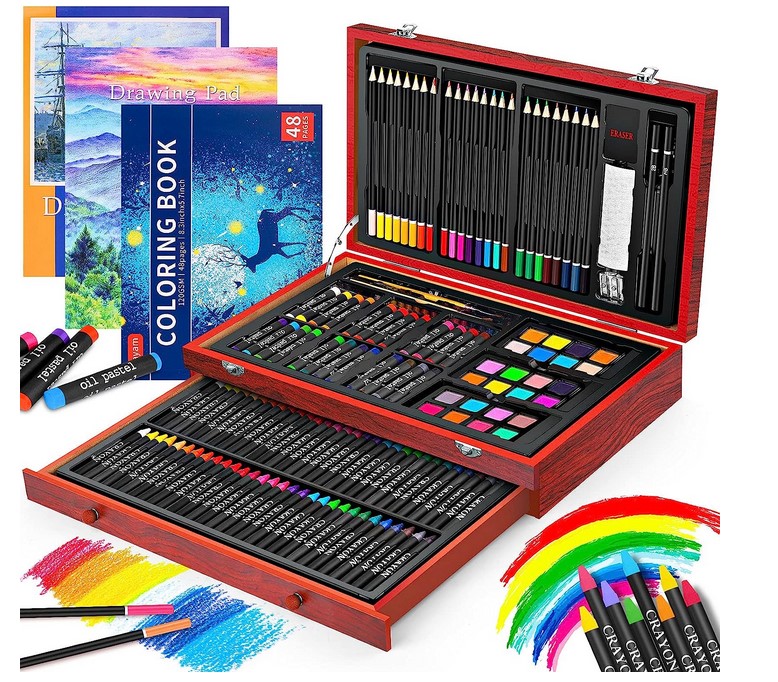 An art supply is something that every artist desires, and with this thoughtful gift, you can surely put a smile on your artist friend's face.
The iBayam art supplies of the 150-pack deluxe set have everything to make your creative artwork a colorful and attractive masterpiece.
This art supply includes 24 colored pencils, 24-oil pastels, and almost everything an artist needs to craft a masterpiece.
Whether beginner or pro, this art supply will be helpful for any artist beginning or advancing their career.
#12. Brush Holder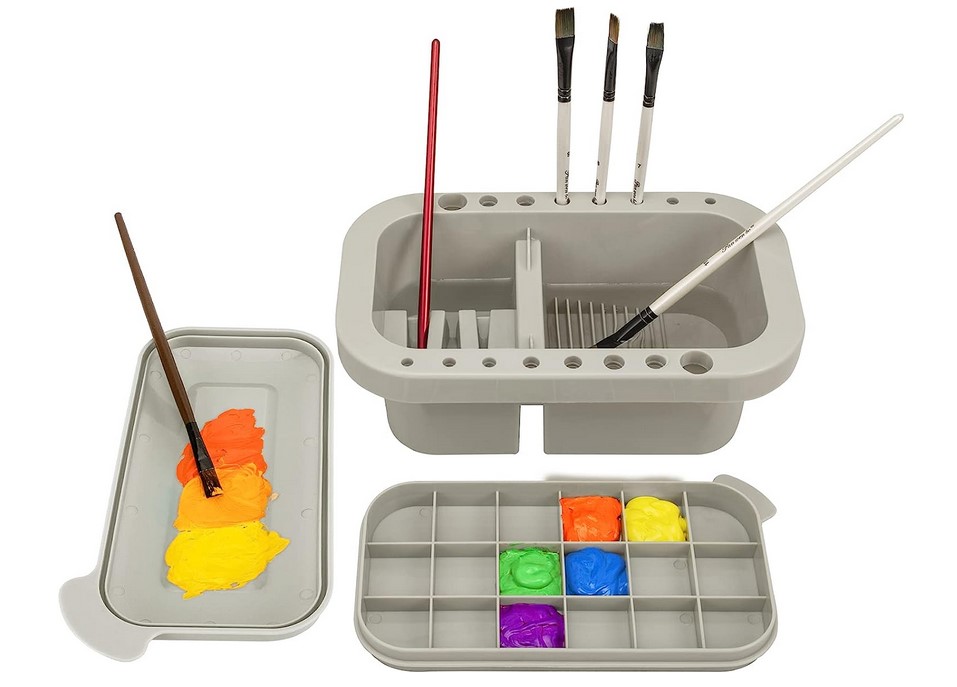 Simple but valuable – a brush holder is the gift that is one of the best gifts for artists.
It can hold multiple paint brushes, pencils, pens, and other tools to help organize your artist friend's life.
One of the most pocket-friendly gifts, a brush holder will always be used for an artist.
#13. Fu** Off I'm Painting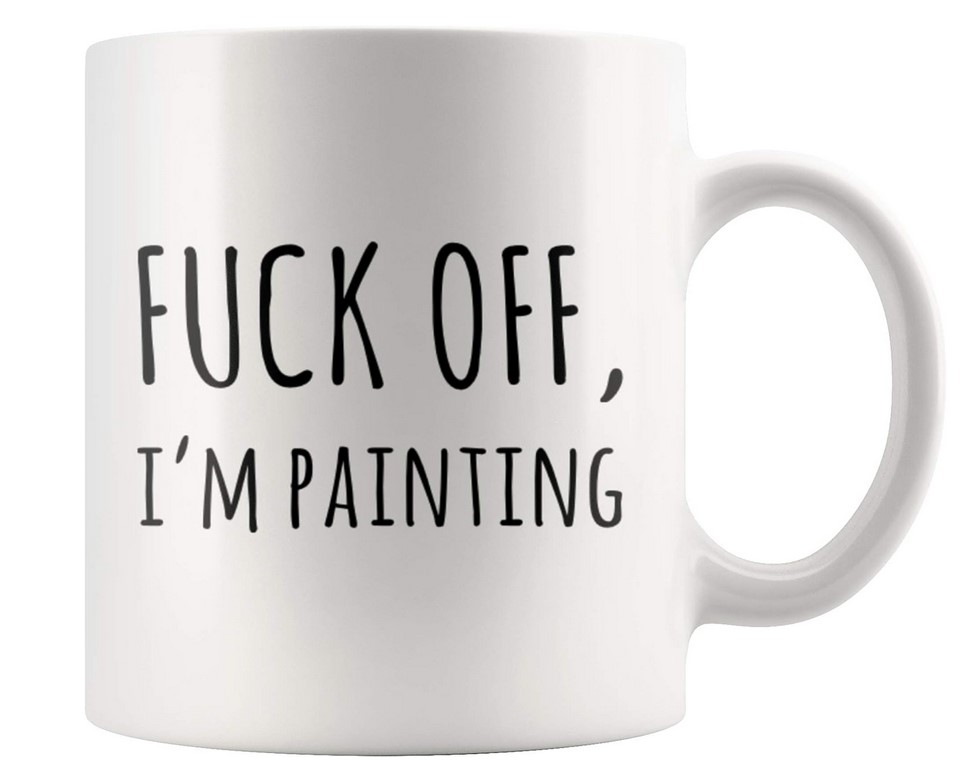 A sarcastic yet interesting gift for the artist in your life.
When at work, nobody likes disturbance, especially when you are creating something that you love the most.
An F** Off I'm Painting coffee mug is a gift that we all can relate to, and it will bring a smile to the receiver's face and also come in handy to keep the disturbances away when you are at your artistic work! 😉
#14. iPad Pro Screen Protector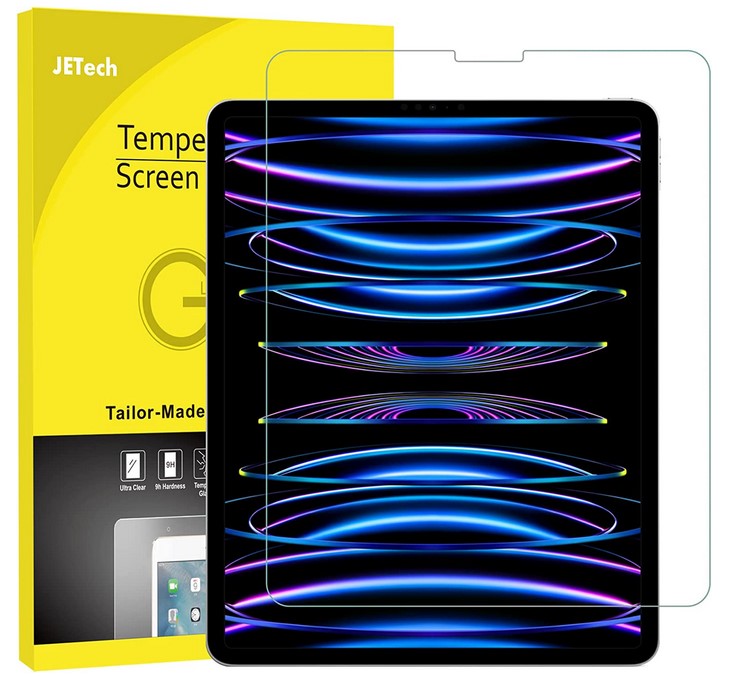 Alright! If you are getting nothing in your mind to give as a gift and also have a tight budget with time running quickly, then share your artist friend's iPad Pro screen protector.
Of course, your artist friend must have an iPad Pro for the same.
The idea here is to give something useful when you are running out of time and are not coming up with a great gift idea.
#15. Udemy Drawing Classes

Is your artist friend new to drawing?
Do they want to learn drawing but don't know where to start?
Gift them Udemy Drawing Classes!
The perfect gift for a beginner artist, Udemy Drawing Classes bring budget-friendly masterclasses to help anybody start drawing.
These gifts are perfect for a learning artist:
· The Ultimate Drawing Course – Beginner To Advanced
· Drawing MasterClass: Draw Better w/our Drawing Course
#16. Oil Paint Set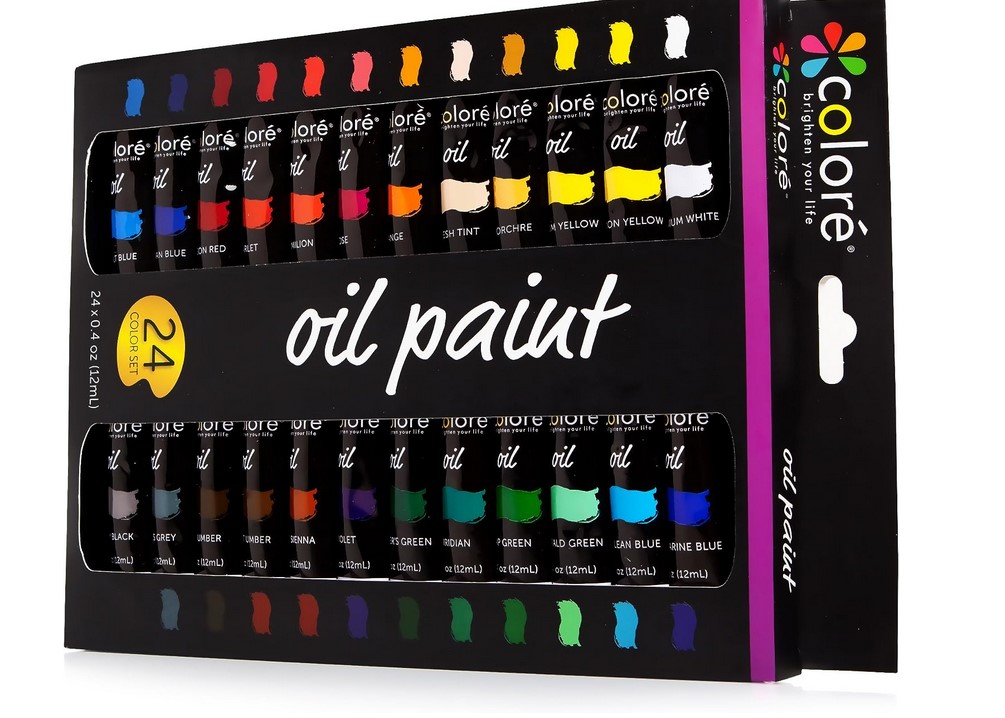 Want to give a gift to the artist in your life for which they will thank you endlessly?
Gift them an oil paint set!
Your classically trained oil painter friend will love this gift as it has super vibrant, highly pigmented oils.
And what else will an oil painter love apart from the paint set?
This new set of 24 oil paint colors is a professional-grade, high-quality oil paint kit.
The colors are vibrant and non-toxic, making it a perfect gift for a painter artist in 2023.
Check out its price and why it is rated 4.8 out of 5.0 as a giftable item.
GIFT OIL PAINT SET FOR THE ARTIST
#17. French Easel
I don't need to explain the importance of an easel for an artist.
And what else will be better to gift a classically designed French easel to the artist in your life?
A French easel is the go-to tool for outdoor artists everywhere, and if you know such artists, gifting them a French easel will be one of the best gifts for artists like them.
A perfectly lightweight tripod-style sketch box easel is easily adjustable and can accommodate a canvas of up to 34″.
The best part?
This easel folds into a portable compact box that is easy to carry.
Therefore, all in all, it is the perfect gift for an artist in 2023.
#18. Smudgeguard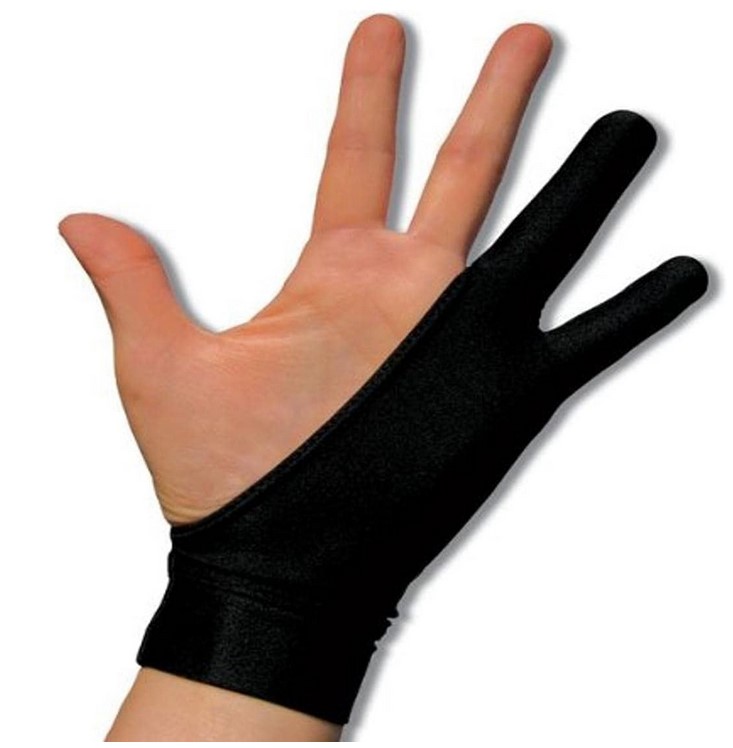 If the artist in your life uses a tablet regularly for creative works, such as an iPad or tablet screen, then this Smudgeguard will be much more helpful for them.
An artist uses the tablet screen regularly, and therefore, it can bring unwanted smudges due to many reasons.
Therefore, gifting this Smudgeguard can prevent this issue and allow the created masterpiece to appear more clearly.
Made with high-quality material, it is portable or easy to use and fits working men or women.
The best part is that it can prevent smudges on the drawing board or tablet screen.
#19. Books For Artists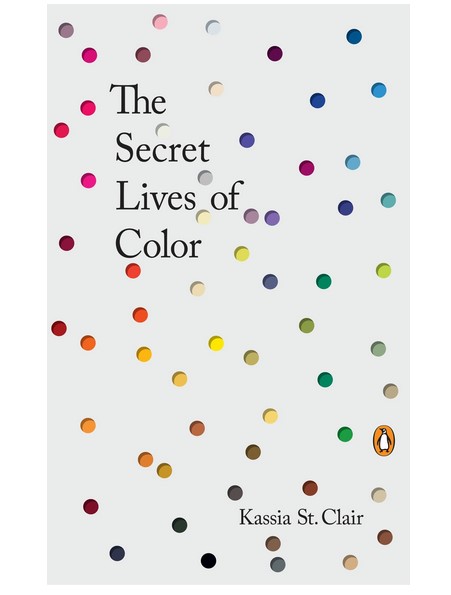 Books are never old-fashion!
And an artist always keeps themselves to learn and evolve with the new learnings in the art world.
Therefore, a book is among the best gifts for young artists in 2023.
Don't worry! You don't need to find the perfect book to gift to the artist in your life.
Instead, we have got some good picks for you. Just check them out and select.
1. Abstract Art: A Global History – You can pair this gift with the vintage handmade leather journal, making it a perfect combination.
2. The Secret Lives Of Color by Kassia St. Clair
Apart from this, if the artist you are shopping for is a female, then you can also consider this book:
· Women In Art: 50 Fearless Creatives Who Inspired The World
#20. Derwent Sketching Wallet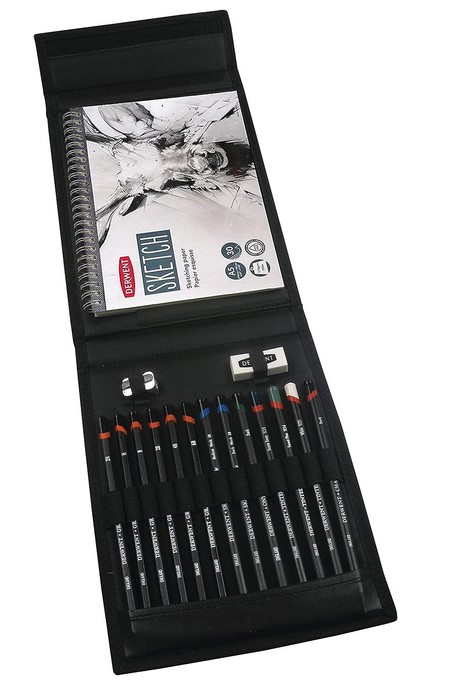 Artists always need something portable to carry around and sketch wherever they get the creative idea.
And Derwent Sketching Wallet is all that you can give to such artist friends in your life.
With a perfect size, the Derwent Sketching wallet brings multiple graphic pencils and a sketching pad where you can use your creativity anytime, anywhere.
The best part?
It is affordable and fits into the budget easily.
However it is a gray-colored sketching wallet, but you can also combine this gift with the color pack of Crayola Dual-Tipped Markers or other color options.
#21. Crayola Dual-Tipped Markers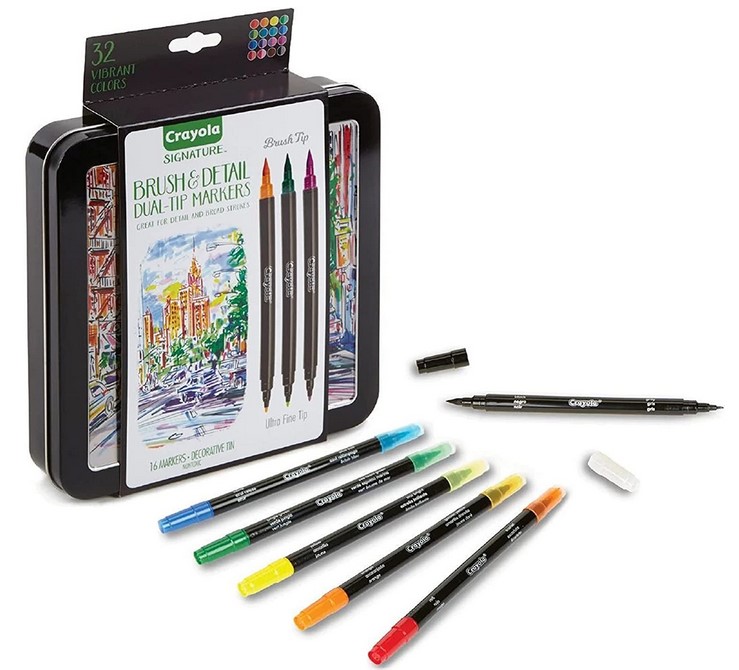 One of the most popular gifts for teen and adult artists is the Crayola brush and detail dual tip market set, which brings everything in its package for a drawing artist.
Also, this is a versatile and fun gift for the artists as it suits perfectly for sketch artists, painters, calligraphers, and even those who like to color art books.
The pack includes 32 colors with all primary colors and shades you want to put into your creative art.
Overall, if you are not sure what to gift but are also tight on budget, these Crayola Dual-Tipped Markers are always good-to-go options!
GIFT CRAYOLA DUAL-TIPPED MARKERS!
FAQs About Gifts For Artists
What is a nice gift for an artist?
There are multiple great gift ideas for an artist. From colorful markers to paint brush kits, colorful sketching wallets, easels, and any helpful tool for an artist will work fine.
What do artists want for Christmas?
It depends on the artist's needs or what kind of artist you have as a friend. However, some good gift choices for artists are oil paint kits, paintbrush kits, or colorful kits having all the tools for artists.
What to gift to a painter friend?
You can gift an oil paint set, a paintbrush set, a French easel, or something that comes in handy such as a colorful paint set.
What are the best gifts for aspiring painters?
There are multiple gift ideas to give an aspiring painter, such as an easel, paintbrush case, oil paint set, and even a book on artists.
Make The Artist In Your Life Smile With The Best Gift Idea
You don't have to stress out finding the best gifts for artists and creative people, as the list above has it all.
Some gifts like MasterClass (even I also use) are investments into the future. With one time investment, it will keep on returning.
Therefore, gifting MasterClass or Skillshare as a gift is always one of the best gifts for artists.
Remember that the best gift comes from the heart; if you know the creative person in your life well, you already know which wonderful gift to give!