In this Aaron Sorkin MasterClass review, I'll share whether or not taking this MasterClass is worth it.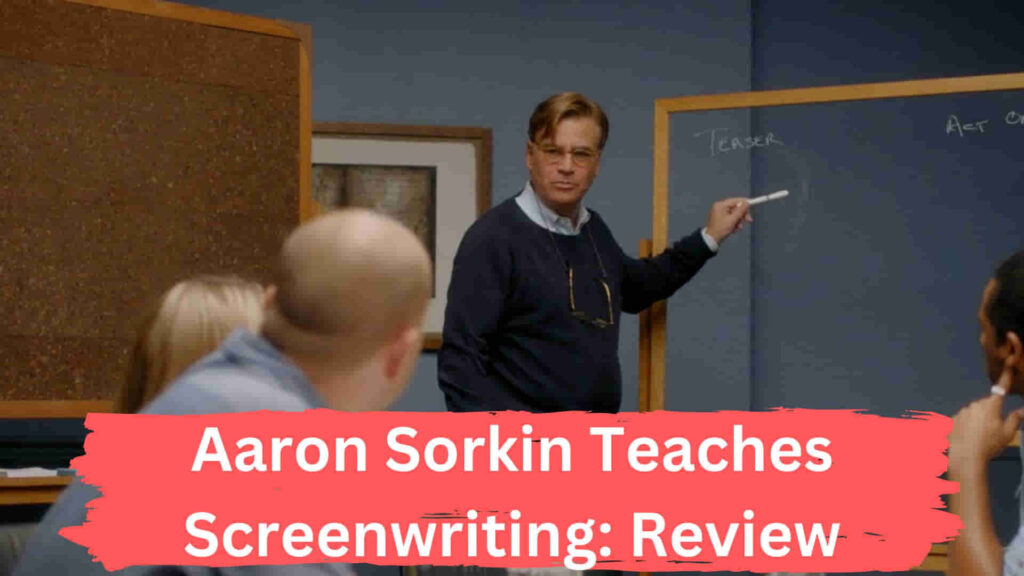 I took Aaron Sorkin MasterClass, and I will tell you something you must know before you take this class!
Five reasons.
Nothing more, nothing less.
Just five!
But there's a lot more in this review.
Let's begin:
A Quick Summary Of Aaron Sorkin Teaches Screenwriting MasterClass Review
I know you might be in a hurry sometimes, so I got a quick summary of the whole review.
So, check this out:
What you'll learn: Learn from the basics to advanced steps on how to screenwrite from one of the best who has claimed several awards and is popularly known for his work, such as The West Wing, Steve Jobs, The Social Network, and many more.
Course duration: 8 hours 1 minute divided into 35 video lessons
Best pairs with: Werner Herzog Teaches Filmmaking; Ron Howard Teaches Directing; Helen Mirren Teaches Acting
Recommendation: 100%, it's a 10/10 MasterClass, which I recommend to every aspiring screenwriter. Also, it is one of the most in-depth MasterClass courses I have been to, and I can confidently say it is worth investing every penny.
Get Aaron Sorkin MasterClass Now!
About Aaron Sorkin
Honestly, I was unaware of Aaron Sorkin when I considered enrolling in the MasterClass.
But, when I got to know the masterpiece he created, I immediately enjoyed him, which led me to enroll in the course.
I realized I've already watched their masterpiece work (A Few Good Men is my favorite, and The West Wing is my all-time binge show).
Aaron Sorkin is a film screenwriter, playwright, and director.
He is mainly known for his fast-paced, quick dialogue to tell dramatic stories which mainly remains about politics, law, and the media.
Some of Sorkin's famous work includes A Few Good Men, The American President, Steve Jobs, Charlie Wilson's War, Moneyball, and The Social Network.
Sorkin is well-known for using Thomas Schlamme's storytelling technique, ' walk and talk.'
It consists of long scenes where multiple characters converse while moving through the set.
This requires expertise, and Sorkin has a good grasp of it.
Sorkin has won three Best Screenplay awards and has been nominated for ten Golden Globe Awards.
He has also been nominated for the British Academy Film Awards and won one for The Social Network.
On top of that, Aaron Sorkin has also received 14 Writers Guild of America Award nominations, which he has won twice for The West Wing and The Social Network.
The list of awards for Sorkin goes on, which is why he is one of the best to learn screenplay writing.
How Much Does Aaron Sorkin MasterClass Cost?
Ready to enroll in the course?
I know before that, you might want to know about the cost of it.
So, here it is:
Aaron Sorkin Teaches Screenwriting course comes with an annual subscription to MasterClass.
That means you have to get yourself a membership of MasterClass to access this course and 180+ other courses on the platform.
I have talked in detail about MasterClass's cost, but here is a quick brief about the plans you can opt for.
Currently, MasterClass is offering three different plans:
Individual Plan (Formerly known as Standard Plan)
Duo Plan (Formerly known as Plus Plan)
Family Plan (Formerly known as Premium plan)
Now, let's quickly go through each of these plans.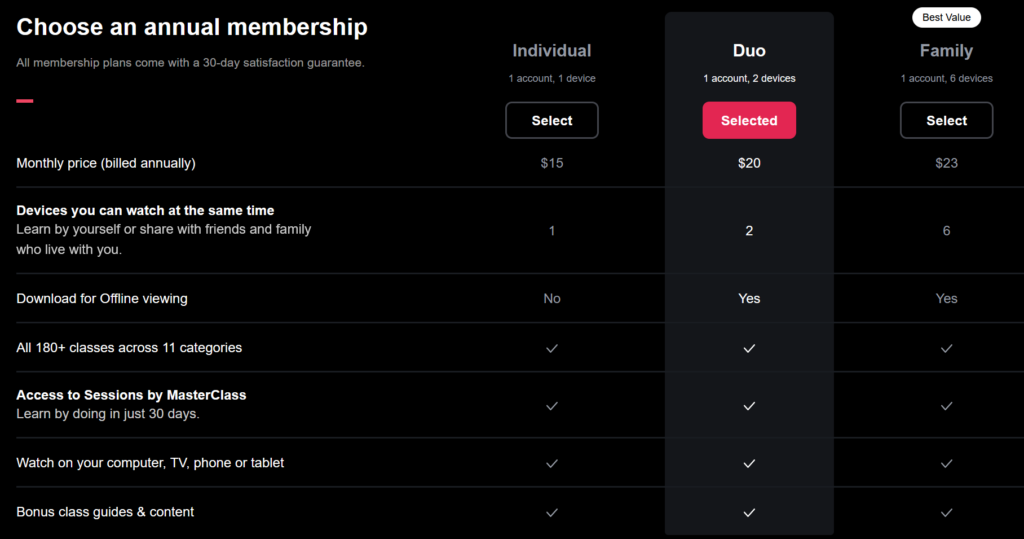 Individual MasterClass Plan
The Individual MasterClass plan comes with $15 per month, which means you pay $180 per year for access to 180+ best courses on the platform.
With this plan, you get access to:
All of the best courses available on MasterClass
Supplementary workbook and community with each course
Access to newly launched courses
Duo MasterClass Plan
The Duo MasterClass plan costs $20 per month and $240 per year.
You get all the benefits included in the Individual plan, but additionally, in this plan, you get access to download course videos for offline watching as well.
It best suits those wanting MasterClass access on two devices simultaneously under one account.
Family MasterClass Plan
Family MasterClass plan costs $276 per year, which means, on average, it costs $23 per month.
With a Family plan, you can access MasterClass on up to six devices simultaneously.
Therefore, if you want access to Aaron Sorkin MasterClass, you must get a membership from either of the plans mentioned above.
A Detailed Review Of Aaron Sorkin Teaches Screenwriting MasterClass: Is It Worth It?
As you are already aware of Aaron Sorkin and the cost of this course, it is the perfect time to break down everything about this course.
So, let's begin unfolding this course.
What Does This MasterClass Promise?
When you enroll in this course, the first question is: What does this MasterClass hold for you?
Apart from learning about screenwriting, what exactly does this MasterClass promise by the course's end?
Let me explain:
As per the website, this MasterClass course promises:
Teaching you the rules of storytelling, dialogue, and character development
Learn what exactly sells a script
By the end of the course, write screenplays that get your audience's attention.
So, this course makes these bold promises, but the main question is whether it can keep up with its commitments.
We'll know in a bit in the review.
However, with 8 hours of course, I was already hopeful that this course should contain something unique and deliver what it promises.
Even Sorkin says, "Writing is like any other art form… There are chunks of it that can be taught and chunks that can't. We're here for the parts that can be taught…"
And with that, I was already sure this course would be worth my time.
But honestly, this course exceeded my expectations (review in a bit).
To have a quick sneak peek, you can watch the trailer of the class here:
Doesn't it seem promising?
Now, let's break down each section of this MasterClass and unfold the real truth!
What Does The Aaron Sorkin MasterClass Consists For You?
When you enroll yourself in the course, you get these three main things:
Video Lessons
Downloadable workbook
Community
However, before I dive deep into sharing my experience with the three of them, here is how the course curriculum is designed for the 8 hours of this course.
Aaron Sorkin MasterClass Course Curriculum
Introduction
Intention & Obstacle
Story Ideas
Developing Characters: Part 1
Developing Characters: Part 2
Research
Incorporating Research
The Audience
Rules of Story
Film Story Arc
Writing Habits
Group Workshop: Untitled by J.J. Braider
Group Workshop: E is for Edie by Jeanie Bergen
Group Workshop: Chronic by Roland Zaleski
Group Workshop: The Merc by Evelyn Yves
Group Workshop: From Here to Alli by Corey Wright
Writing Scenes: Part 1
Writing Scenes: Part 2
Scene Case Study: Steve Jobs
Scene Case Study: The West Wing
Writing Captivating Dialogue
Rewrites: First Draft
Rewrites: Notes
The West Wing Writers' Room: Part 1
The West Wing Writers' Room: Part 2
The West Wing Writers' Room: Part 3
The West Wing Writers' Room: Part 4
The West Wing Writers' Room: Part 5
The West Wing Writers' Room: Part 6
The West Wing Writers' Room: Part 7
The West Wing Writers' Room: Part 8
Group Workshop: Pitch Session
Group Workshop: Aaron Pitches Mission to Mars
Closing Thoughts
This is the complete lesson plan that the course follows. And it is filled with excellent learning, practical workshops, case studies, and more.
To have a quick overview, here's a summary of the course:
Course Summary
The course begins with the introduction to the instructor.

And then Sorkin apologized for not being a great speaker at first despite delivering fantastic content in the course.
The first 'actual' lesson is the Intention and Obstacles, which even Sorkin refers to quite often later on throughout the course.
Sorkin emphasizes these two crucial factors required to establish a script.
Then, he moves on to how to test a script idea and how Sorkin delivered one of the best scripts.
You learn from the journey of Sorkin.
Once he was done with the scripts, he moved on with teaching how you can develop characters for those films.
Sorkin also tells you about the research to craft the screenplays.
Later, you go through the essential topics, such as the foundations of drama, an overview of Aristotle's Poetics, and the ideal structure of a script.
He even talks about how you can tackle writer's block.
Even Sorkin tells in the course that he remains constantly in writer's block.
Further, Sorkin moves with the workshops with the live students.
It is a more advanced lesson; thus, you learn a lot.
These workshops mainly focus on how to write action scenes, develop offbeat characters, and develop offbeat characters, etc.
Moreover, you also learn how to justify improbable events and show your audience something they haven't seen before.
The workshop dives deep down into the screenplay and teaches you a lot of stuff (really, a lot!).
Even in between the workshop, Sorkin also evaluates his student's ideas. He shares the feedback and also his own origin story.
Later, Sorkin tells the students how to drum up interest in a new script.
After the workshop, the lesson follows the case studies from the famous work of Aaron Sorkin (and it is one of my favorite parts of the course).
The case studies involve snippets from the critical scenes from Sorkin's films.
These case studies teach you how to create an open scene that engages your audience, write confrontational scenes, and make music and dialogue work together.
Moreover, Sorkin even talks about rewriting and editing your work.
However, the best part of the course is when Sorkin dives deep into his work in The West Wing with an eight-part lesson series.
This is one of the best parts of the course, and I'll not be spoiling for you.
Ultimately, the course wraps with lessons covering pitching scripts, and Sorkin pitches his students an idea for the new script: Mission to Mars.
Video Lessons
As of now, you are already aware of the course summary. Therefore, I'll take you through my experience with the video lesson and how it delivers the content.
Starting
As I mentioned in the summary, the course begins with an introduction to the instructor.
And then later on, he talks about the essential pillars of script writing, i.e., lesson 2: intention and obstacles.
Then there is a lesson on 'Story Idea,' which tells you how to develop a story and script idea that can grab your audience's attention.
Moving further, the lesson follows on developing the character, which I recommend observing and making notes as it unfolds some essential factors for a screenwriter.
After two foundational lessons on character development, the lesson goes on with the basic building blocks of a screenwriter.
Through lesson 11, you will learn some essential things before you start a script.
These lessons build your foundation before you jump into the depth.
Middle
The middle section of the course, from lessons 12 to 34, is the main content that builds the advanced concepts.
This section teaches how to rewrite and edit your work, from live workshops to case studies.
It doesn't matter if you are a beginner or an advanced screenwriter. If you are watching this course, I strongly recommend not skipping anything.
Each class holds something unique and makes you more knowledgeable about screenwriting concepts.
Ending
This course ends beautifully, unlike some courses on MasterClass, which end abruptly.
The course ends with a group workshop even after teaching you many screenwriting concepts.
The workshop involves pitching a script, and even Aaron Sorkin also pitches in the workshop.
Therefore, the course takes you from a novice screenwriter to an advanced expert by teaching you everything necessary to start screenwriting.
The video lessons are shot beautifully, which gives you a premium experience throughout the course.
And hence, you will not be bored with just a guy speaking to a camera. Instead, the course involves you, too, as an audience beautifully with its content.
Supplementary Workbook
The additional resources for this MasterClass are some of the best I found on the platform.
As an additional resource, you get:
Class Workbook
A Few Good Men Screenplay
Steve Jobs Continuity and Spotting List
The Social Network Screenplay
You can download all of these PDFs and use them for your benefit.
However, the downloadable workbook is the primary resource you would love to have as it contains assignments for each lesson.
That means you can complete these assignments for your own practice.
Remember that your assignments are not reviewed. It is only for practicing once you have gone through the video lessons.
The workbook even consists of additional supplemental material, which you can refer to for more understanding of the concepts from the course.
Personally, I found the workbook of perfect length. It is not too short nor too long to bore you.
The workbook content helps you better understand what you learn in the video lessons as summaries.
The best part?
If you get stuck somewhere in the workbook or course, you can ask your doubts in the course community.
The MasterClass Hub or Community Page
Another good part about this course is that it has an active community.
Just like any other MasterClass course, you get a community of passionate learners where you can interact, seek feedback, and ask doubts.
The good part is that this community is quite active, unlike some MasterClass course communities.
Therefore, you can seek feedback and engage with other fellow learners.
Is Aaron Sorkin MasterClass Worth It?
Ultimately, the question is whether Academy Award-winning screenwriter Aaron Sorkin's MasterClass is worth having.
Well, in short, yes, it is worth having!
This MasterClass course is one of the online courses that takes you from the basics of good writing habits and the creative process of writing a masterpiece to the advanced level.
Writing screenplays is not that easy.
Therefore, with practical demonstrations such as The West Wing writer's room series of eight parts, this writing MasterClass lays out how to write your first draft.
From the writing process to practical advice, Aaron covers everything.
Therefore, it is 100% worth it to get started as a screenwriter or if you want to pursue your career in that.
What I Learned From This MasterClass: 5 Key Takeaways
Honestly, this is one of the best MasterClass courses I've taken.
And there has been a lot of learning throughout.
But to summarize, I have summed up my learnings into five key takeaways.
Also, these five key takeaways will help you determine if this MasterClass is for you.
1. Connect your intentions and obstacles with your character
This is one of the beginning lessons that you will learn.
And I learned how important it is for the script to build a connection between your character with the right intention.
I learned how to deliver to the audience what they want, not who they are.
2. Rules are important
The course taught me how much it is essential for art to follow the rules, just like sports and music.
And, the best rules to follow for screenwriting are Aristotle's Poetics.
3. Always rewrite your first draft
Writing is an art, and it gets toward perfect with practice.
And when you are writing a screenplay, it is essential to consider rewriting or editing.
Therefore, the golden rule of thumb is always to rewrite your first draft when you are a beginner.
4. Rule of thumb
Scripting for television series and feature films has different purposes and intentions.
Therefore, the rule of thumb is if your main character dies at the end, it's not a television series. And probably a feature film.
5. Make your first 15 pages memorable.
When you write your script, the first 15 pages should be the most memorable.
And it is also a good idea to get to the end of your first draft even before you rewrite it.
So, these are my five 'summed-up' learnings from the course. If you enroll, you can have different understandings according to your expertise level in screenwriting.
However, it is sure that you will learn whether you are a beginner or a slightly advanced screenwriter.
5 Reasons I Enrolled For This MasterClass And You Should Too!
Finally, I'm revealing the five reasons that I promised at the very beginning.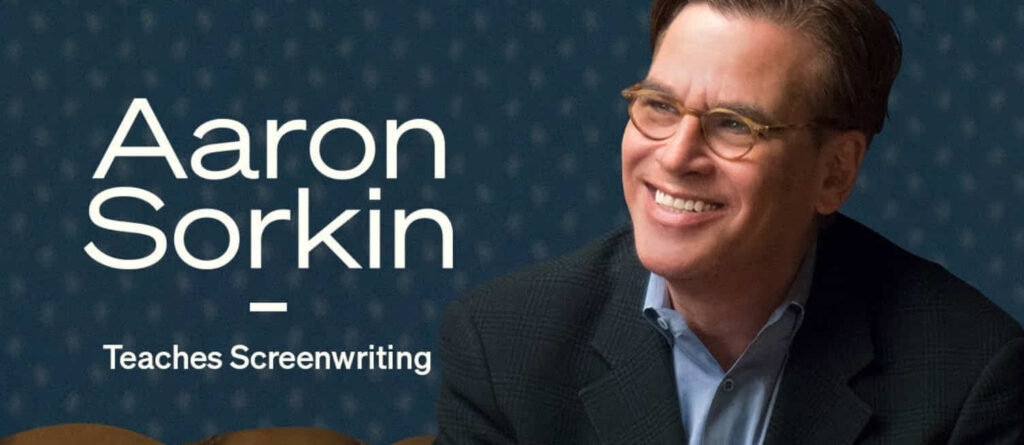 If you fall under one of the reasons mentioned here, consider yourself a perfect student for this MasterClass.
Reason 1: You are passionate about screenwriting
Not because you just loved Aaron Sorkin's work, and you want to have a quick peek into the script of The West Side.
If you are passionate about learning how to write a script that 'works,' then this course is for you.
Reason 2: You want to build your career as a screenwriter
If you're going to make a screenwriting career, this course will teach you how to get started.
From researching to finding a story idea and pitching, this course gets you through each step with just video lessons.
Aaron Sorkin takes you through the crucial foundational steps a screenwriter needs before writing and drafting the script.
You follow the challenging part of a screenwriter's life, such as writer's block, to learn how to tackle it when you get into that situation.
Reason 3: You love writing
Writing is a form of art.
And it is practiced a lot of times for mastering.
Therefore, if you love Writing and want to build a career as a writer in the film industry or for T.V. shows, this course takes you through the steps of a writer.
This course takes you through the challenging parts, such as writer's block, and how to tackle that.
The thinking process and pitching a script teaches you how to take your work forward for more recognition.
Reason 4: You have completed a recent similar course
If you have just completed a recent relevant course on MasterClass, such as filmmaking, creative writing, or something else, then this course can be a part of the progressive skills you are learning.
I have already told you the best courses that pair with this one initially.
Therefore, you can either pair with them or, after completing this course, you can move on to the other courses as well.
Reason 5: You are Aaron Sorkin's fan
I can understand how being a fan and learning from your icon feels.
I also took a MasterClass because my childhood icon, Bill Nye, launched a course.
Therefore, if you are a fan of Aaron Sorkin's work and want to understand the behind-the-scenes work, effort, strategies, and process, then this course can take you through that.
So, these are the five reasons to go for Aaron Sorkin MasterClass.
However, I chose this class for reason number 3, and I also wanted to know if this course can help a novice writer like me get started with screenwriting.
And it worked!
Aaron Sorkin MasterClass Pros And Cons
Let's summarize the pros and cons I experienced while taking the class.
Pros:
Learn from one of the best screenwriters
Easy to follow with bite-sized video lessons (max duration per class is 15 minutes)
Clear direction of course with a structured curriculum
From basics to advanced steps to becoming a screenwriter
Useful additional resources
Lots of anecdotes
Practical steps to learn about screenwriting
Cons:
Some concepts become challenging sometimes, and you may have to watch them again.
The course is not very visual.
FAQs About Aaron Sorkin MasterClass
Is Aaron Sorkin's MasterClass worth it?
Yes, Aaron Sorkin MasterClass is worth it if you are an aspiring or beginner screenwriter. From basics to advanced level, this course teaches you everything.

The 8-hour, 1-minute-long course contains the foundational concepts of advanced case studies and workshops to get you started in screenwriting.
How is Aaron Sorkin so good?
Aaron Sorkin has years of experience in screenwriting and is popularly known for his fast-paced dialogues.

Sorkin was into theater from childhood, which made him pursue his career in the same field, leading him to be one of the best screenwriters today.
Is MasterClass worth it for screenwriting?
Yes, the MasterClass course is worth it for screenwriting if you are a complete novice. You learn from one of the expert screenwriters himself.

The course takes you from basic steps to advanced concepts through a structured curriculum.

If you follow the course material and practice it, you can get started with screenwriting through the online course.
Are screenwriting courses worth it?
If you are self-disciplined enough to learn from the online course and practice what you have learned, the screenwriting course can help you get started.

You must practice what you are learning to get the most out of a course.
Final Verdict: Do I Recommend This MasterClass?
At the end of this Aaron Sorkin MasterClass review, you already know that this course contains almost everything a learner needs.
You get everything from conceptual learning to additional resources and assignments to practice.
Also, it is one of the most in-depth and extended MasterClass courses I have taken.
However, certain things cannot be taught, and Sorkin doesn't even pretend to know everything.
But he gives enough to get you started.
Therefore, I 100% recommend this MasterClass course to you, especially if you are beginning your career as a screenwriter.
When I started with a specific reason, I had high expectations, and I can confidently say now that this course delivered beyond my expectations.