Is MasterClass Worth It?: You may already have heard about MasterClass.
Thanks to their tons of Ads on YouTube!
However, after spending 100+ hours on MasterClass and taking 20+ courses, I can confidently tell you the brutal 'truth' about this online learning platform.
Therefore, in today's MasterClass, I'll share and review MasterClass and its courses as I've spent almost two years now and completed 20+ courses.
So, let's get started.
What Is MasterClass?

MasterClass is an online learning platform.
It was founded in 2015 as Yanka Industries, Inc. by Stanford student David Rogier.
Initially, there were only three instructors after the launch of the website.
Fast forward to 2023, MasterClass now has 180+ online courses to choose from, from various categories.
On MasterClass, you learn from the "world's best."
That means all the courses are taught by celebrity instructors or one of the most respected and renowned experts in their respective fields.
For example, Serena Williams Teaches Tennis, and this MasterClass is perfect for a sportsperson who want to learn insights from Tennis expert – Serena Williams.
One of the main USPs of MasterClass is their high-quality video lessons available with around ten minutes in length.
You can learn something new by giving just 10 minutes each day.
Apart from the high-quality video lessons, you get a downloadable supplemental workbook that works as extra material for learning and exploring.
However, I personally loved the Sessions by MasterClass, a new feature allowing you to interact with other students and get feedback or help.
With any MasterClass membership plan, you get the Sessions feature.
And under this, you get various teacher assistants to help or guide you and provide feedback, too.
How Much Does MasterClass Cost?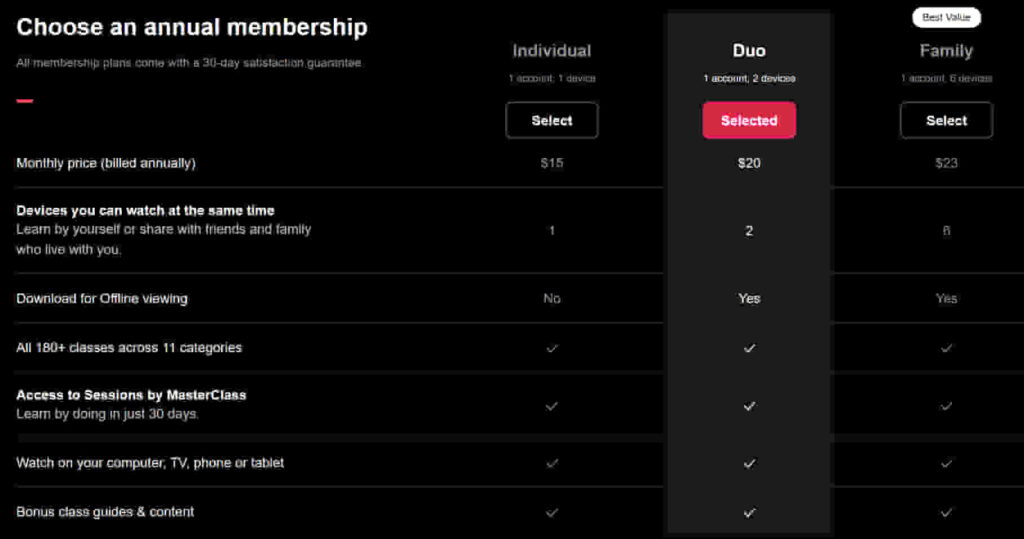 Initially, MasterClass had introduced a $180 flat-rate annual membership plan. Here are the complete details on How Much Is MasterClass?
However, in 2021, MasterClass began to test some alternative subscriptions and finally settled for a new three-tier pricing model.
And even today, if you want a subscription to MasterClass, you need to settle for one of these:
Individual MasterClass Plan – $180 per year (average $15 per month)
Duo MasterClass Plan – $240 per year (average $20 per month)
Family MasterClass Plan – $276 per year (average $23 per month)
Now, let's dive deep into these plans to know their benefits and which one you should go for.
Individual MasterClass Plan
Formerly known as the 'Standard Plan,' MasterClass individual plan is perfect for single individuals and avid learners who want to upskill themselves.
For an individual plan, you have to pay $15 per month price billing annually for $180, which I feel is entirely worth it for the courses.
I started with this plan only and have been part of it for almost two years.
Pros Of Individual Plan
There are many benefits if you are opting for an individual plan for pursuing online courses on MasterClass:
Get access to the whole course library on MasterClass.
Access to new courses as well.
Budget-friendly cost.
Apart from having multiple pros, some drawbacks exist for an individual plan only.
Cons Of Individual Plan
The drawbacks that must be addressed before opting for an individual plan are:
Not being able to download lessons for offline viewing.
You can watch on only one device at a time.
Therefore, if you are interested in the Individual MasterClass plan, you must compromise with these two things.
Otherwise, for the course catalog, it is entirely worth it.
However, for the other two plans (which we will discuss), you can easily download videos for offline viewing and access on multiple devices.
MasterClass Duo Plan
MasterClass Duo plan is slightly better and upgraded plan for MasterClass.
The duo plan costs you $20 per month, billing annually $240 per year. However, the benefits you get under this plan outweigh the individual program.
Pros Of MasterClass Duo Plan
You can access MasterClass on two different devices simultaneously with one account.
You can download course videos for offline viewing on devices to watch later.
Cons Of MasterClass Plan
Although there is not any con to the MasterClass duo plan, the only drawback is that with the duo plan, you cannot access the courses on more than two devices.
That means if you want access to MasterClass on more than two devices, you have to opt for another subscription model: The family plan.
MasterClass Family Plan
The top-most plan on MasterClass is the Family plan.
It costs you $276 a year with an average of $23 per month, which makes it the 'best value' plan on MasterClass.
The benefits you get under this plan are:
Pros Of MasterClass Family Plan
This top-most plan on MasterClass gets you:
Access to MasterClass course on up to six different devices under one account.
Download video courses on each separate device to access them offline.
Con Of MasterClass Family Plan
No more than six devices can get access to MasterClass courses.
So, with these three-tier plans, you can enroll in any MasterClass course.
Quick Note: On MasterClass, you get pricing listed as per month cost, but during payment, you are charged for the whole year beforehand.
Personally, I have an individual plan for MasterClass, and I found it completely worth it as I could complete only one class per month which makes this plan work for me.
However, you can choose according to your need.
For instance, if you are a couple and your partner wants to learn about cooking techniques or, let's say, creative writing along with you, then the Duo plan is best for you.
And similarly, if you are a group of friends or a small organization who want to learn multiple skills on MasterClass, then the Family plan is best for you.
The best part?
You can access the whole catalog, including newly launched courses, whether you choose an individual, Duo, or family plan.
And as far as the offline viewing feature is concerned, you can always upgrade or downgrade your subscription plan.
MasterClass At Work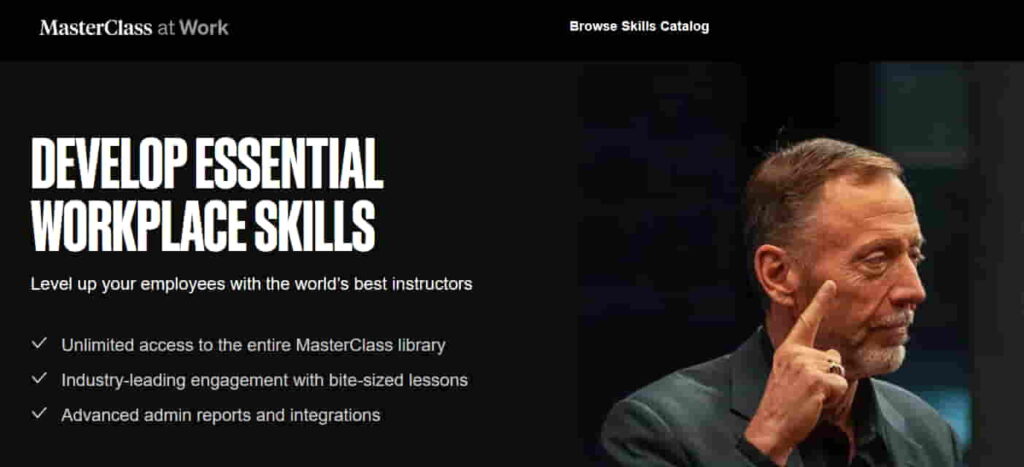 Want to get bulk MasterClass access for your employees?
MasterClass at work is for you!
If you have a business or organization where you want to give your employees access to MasterClass, then MasterClass at work will get your job done.
Get 5 to 1000 seats by signing up for MasterClass At Work for your employees in your organization.
Contact their sales team, and you can get discounts ranging from 5 to 35%.
How Does MasterClass Work?
MasterClass provides you with experience, skills, motivation, and guidance from the expert in your field of choice.
The celebrity instructor creates a course that is based on the work that they have done so far.
And their courses include learning about:
Who they are
Skills that made them successful this much
Lessons along their journey
Thinking process/creative process
Closing thoughts and advice for your life and career
So, all in all, you get to learn a lot from successful people in various fields.
For instance, my first course on MasterClass (Chris Voss Teaches Art Of Negotiation) boosted my confidence around professional people.
And after that watching 20+ lessons in multiple categories (science, writing, culinary arts, entertainment, and much more), I can confidently say that MasterClass has been 100% worth the money.
Apart from what you learn from the video course, you get the experience of a successful personality in your field of interest.
Each course on MasterClass delivers high-level theory, real-time demonstration, practical tips, and practical advice.
Additionally, you get career suggestions like how to stay consistent as a pro athlete or how to pitch your creative business idea to investors.
How Is The Class Structured?

Each MasterClass course can be divided into three parts:
Video Lessons
Workbooks
Sessions (Formerly MasterClass Community)
Video Lessons
Each MasterClass course has video lessons of two to four hours.
These video lessons are divided into parts like 20 – 25 video lessons or so.
And each video is roughly 10 minutes long, but it also depends upon the course video length, which can be short or long.
With shorter video lessons, you can stay consistent with your learning even if you are on a busy schedule or learning apart from having a full-time job.
Workbooks
Workbooks work like an added supplement to boost your knowledge muscles.
In each MasterClass course, the instructors provide notes, additional reading resources, homework-like assignments, and supporting materials.
These workbooks are in pdf form, which is downloadable.
The purpose of workbooks is to help you study on your own and explore beyond the video lessons.
For example, Paul Krugman's MasterClass Workbook has everything from what economics is to the principles of it and beyond that.
The workbooks are crafted beautifully with graphical representation wherever needed (not just tons of paragraphs).
It helps in getting deep insights further after you have your video lessons completed.
Sessions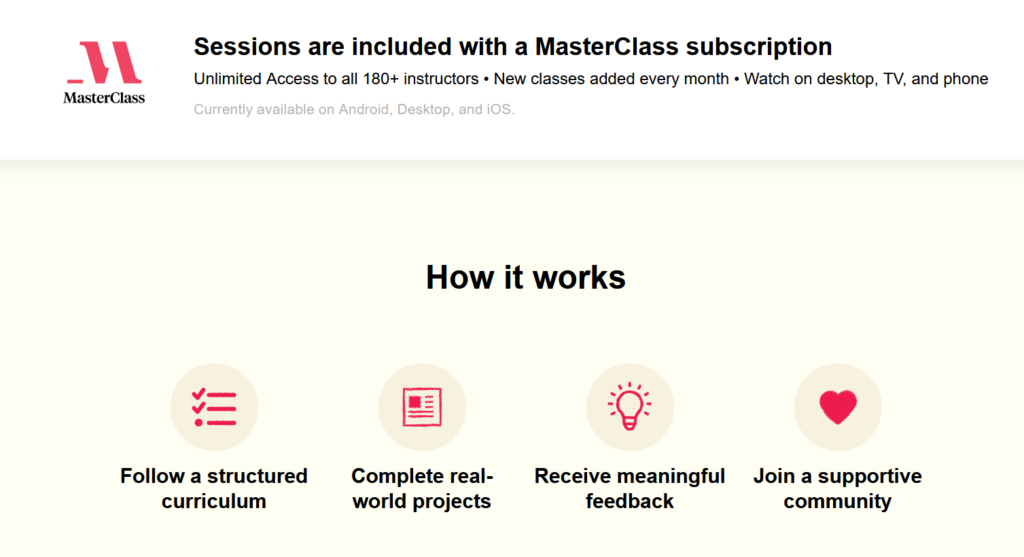 Sessions are a new feature that provides a hands-on format where you can learn alongside the world's best by working on various projects and activities.
These sessions have activities that are part of the structured curriculum.
Furthermore, you can engage with the community and get feedback as well.
All the content in Sessions is pre-recorded video lessons; you can access it during your membership period.
The sessions feature is provided to give you an immersive learning experience; therefore, it is broken down into multiple activities and sections.
Therefore, it allows you to complete activities according to your own pace.
The material can include instructor-led videos, written guides, and a community where you can engage with each other.
That means the community page before has become a more advanced community cum learning page that goes beyond your video lessons.
MasterClass Review: Is It Worth It? [20+ Courses Watched]
Here is my experience with MasterClass classes and review after watching 20+ courses on this platform.
However, if you directly want to know if MasterClass is worth it, you can skip to the My MasterClass Review Verdict section.
An Honest MasterClass Review
After spending almost two years on MasterClass, I can confidently tell you its pros and cons.
But before that, let's thoroughly review everything on MasterClass.
My Experience With Courses On MasterClass – 7.5/10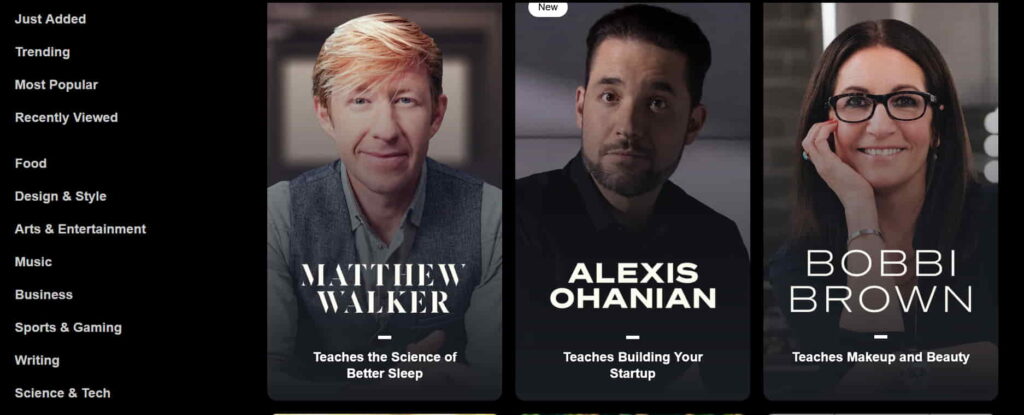 When I joined MasterClass, there were only a few classes with quality courses on this platform (around 30 or so). At that time, I would have given it a 6/10 rating.
However, MasterClass has 180+ courses available on various niches and topics today.
Yet the best part remains their new courses almost every following month.
That means MasterClass has new classes from the experts frequently so that you can learn regularly.
You can access the course catalog with one subscription plan, including the new ones. And that's a plus point for MasterClass.
Therefore, I will add 1.5 points more to its rating.
Though initially, there were some courses that I found not worth taking but may be of your interest.
That means, with the consistent increase in courses, you can always find something new and valuable on MasterClass, which makes your investment worth it.
Furthermore, some courses on MasterClass are evergreen (like Jon Kabat-Zinn Teaches Mindfulness And Meditation).
MasterClass Features Review – 9/10
One of the best parts about MasterClass is its features. And I love them the most.
Here is the list of features (apart from high-quality video lessons) that make MasterClass an attractive platform:
Workbook
Listen to Only Mode
MasterClass Playlist (New Feature)
Let's deeply understand these features and how they add to a wholesome MasterClass experience.
Downloadable Workbook
The workbook works as a charm for polishing your skills.
As I have tried Udemy, Coursera, and edX, too (comparison in a bit), I thought even MasterClass might also have boring pdfs to read in this workbook.
But I was surprised when I first downloaded their workbook.
The workbooks of MasterClass instructors are just like their video lessons – top-notch quality!
The beautifully crafted workbook consists of graphical representation and data diagrams with high-quality information to collect.
In short, the workbook didn't have many paragraphs to bore you; it also had the visual appeal to engage you and provide knowledge beyond video lessons.
Listen Only Mode
When you download the MasterClass app, which is available for iOS and Android users, you can listen to the audio portion of each lesson.
That means you can listen to the audio portion of a specific video.
This feature is beneficial for commuters and learners who would instead prefer learning through podcast style.
However, this functionality is available on the mobile app and some course videos (as you cannot complete the whole curriculum with only audio).
MasterClass Playlist (New Feature)
It is one of the new features that MasterClass has introduced.
MasterClass playlist feature curates short clips from various courses around a particular subject (just like YouTube playlist suggestions).
For example, there is the playlist on Eggs (from Gordon Ramsay) and Total Wellness by RuPaul, Matthew Walker, Jon Kabat-Zinn, and more.
This feature will help you find various MasterClass clips around a single subject, eventually providing you with the best content from this platform.
Apart from the mentioned features of MasterClass, the HUGE plus point about this platform is its consistent improvement.
Whether about new courses or platform features, MasterClass regularly sticks to providing a better learning experience to its users.
And it is why I rated this part of MasterClass with a 9/10 score.
MasterClass Website Review – 8.5/10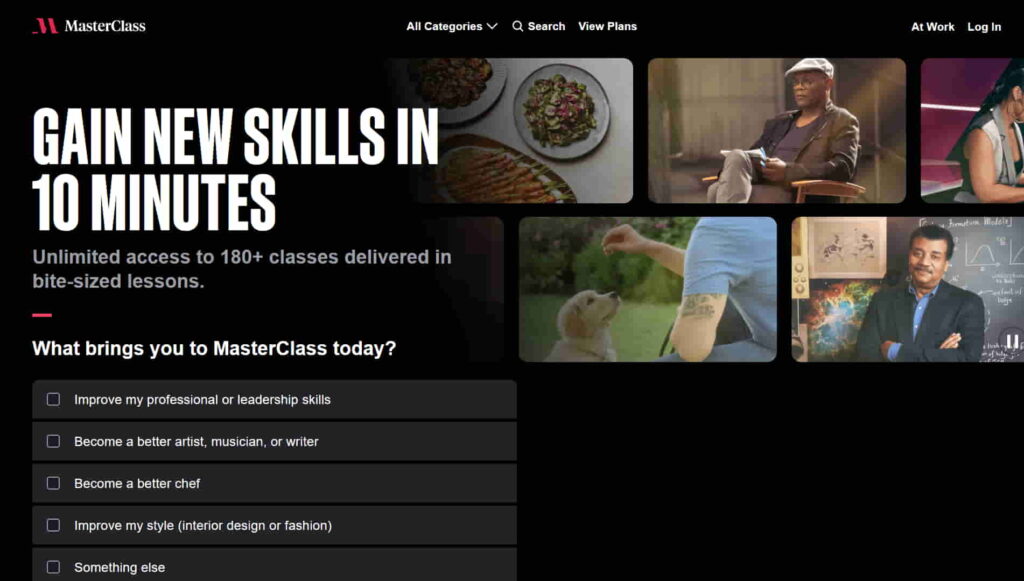 I'll say MasterClass is the Netflix of online courses.
The smooth interface provides a fantastic experience scrolling through the website's different sections.
Although MasterClass is available as a website (masterclass.com) and mobile apps for iOS and Android users, I've used this platform mainly through the website.
Also, I'll recommend you use MasterClass from its website.
The reason is the ease of note-making feature that will help you take notes in the website interface and the video playback.
(You get the 'Notes' feature on the website's right side of the video playback section).
The animations, the informative section, the FAQ section, everything is available as you tap on any class (just like Netflix).
You also get a sample or trailer-like video for your class (again, just like Netflix).
However, I've also used it on mobile for some courses (for audio-only functionality), as the audio-only feature is available on the mobile app only.
As you will use MasterClass mobile app, another feature you get is the functionality of connecting the app to your smart TV, such as an Apple TV or Chromecast-enabled TV.
Therefore, you can stream your favorite class on the big screen and learn along with it.
(For example, you can watch your cooking classes and lessons on the big screen and cook along the way if you have a smart TV in front of your kitchen).
Overall, I will rate the interface, navigation, and smooth experience 8.5/10 for the MasterClass website.
MasterClass App & Streaming Functionality Review – 8.5/10
Although I don't mainly use the MasterClass app to connect and stream on larger screens, it may be a good feature for some of you.
The app can stream on Apple TV, Chromecast, Roku, or Amazon Fire TV.
I've connected once for quality and connection review and found it smooth.
MasterClass Refund Policy – 7.5/10

As MasterClass does not offer any free classes or free trial classes, I found this policy as a deal-maker!
You get a 30-day satisfaction guarantee on MasterClass membership.
That means you can get a full refund if unsatisfied with your MasterClass subscription, course content, or even video lessons.
However, to get a full refund, you have to consider these two things:
You must cancel your membership within the first 30 days of starting membership.
You have to contact their customer service team and find out if you are eligible for a refund.
Luckily, I didn't get a chance to cancel my membership, but for the review's sake, I contacted their customer service team and found some good and bad things.
First, the response time can be quick.
And second, if there would have been a 'No Questions Asked' refund policy, it would have been a much better and smooth process.
(Also, you must read the whole long 'Terms' page to know how to be eligible, which is irritating until you have enough patience to get through it).
However, you must go through several steps to claim your refund; therefore, I've reduced one point.
My MasterClass Review Verdict: Is MasterClass Worth It?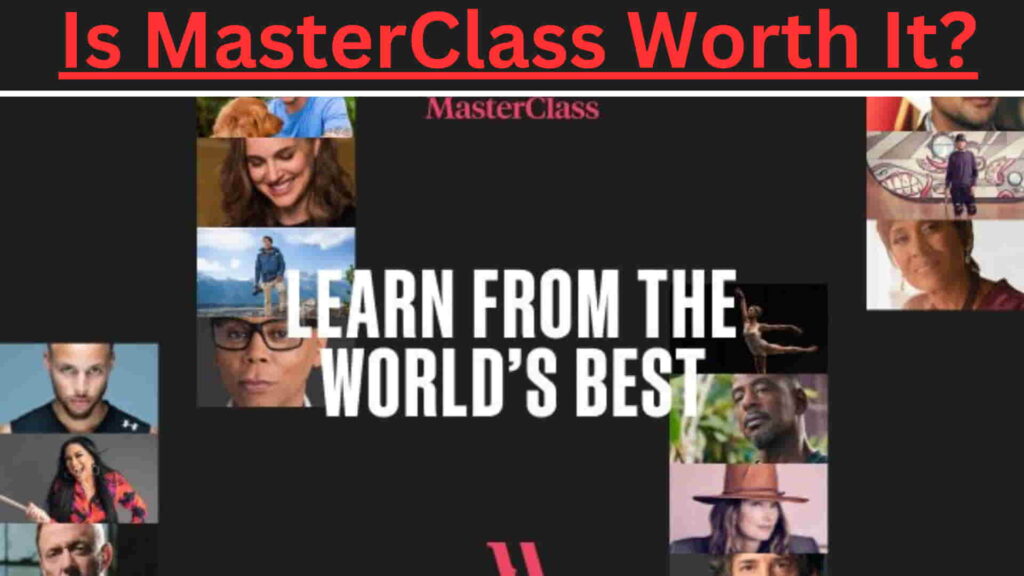 Initially, I didn't like MasterClass.
And this is mainly for two reasons:
MasterClass didn't have a wide variety of courses back then
Not all people at the top of their field were good teachers
So honestly, some courses are not worth taking and are useless on MasterClass.
But, after trying out MasterClass for almost two years (thankfully, I didn't cancel my membership back then), I got some life-changing courses.
Some were Matthew Walker Teaches The Science Of Better Sleep, and Neil DeGrasse Tyson, who Teaches Scientific Thinking And Communication.
And then there was no going back.
I explored various MasterClass courses and opted for which aligned with my interests (sometimes, I also opted for a course out of my curiosity and eventually found it interesting).
So, in the end, I can conclude that:
MasterClass is hours and hours of hands-on learning, knowledge, instructions, and community interaction, all for just $180 a year.
That's a steal, in my opinion, and completely worth it.
For such a price, you not only learn from the expert in your field of interest, but you can also sometimes stumble on specific topics that you might not find interesting at first. Still, you will eventually learn that topic as you find that engaging.
And the best part?
You get new courses frequently to make you a more knowledgeable, aware, informative, and skillful person with a one-time investment a year.
You can take MasterClass like this:
Imagine the best person in your field of interest: cooking, acting, writing, filmmaking, or something else.
Now, imagine that ideal cum expert person as your college professor teaching you your course at a nominal fee.
This is what MasterClass is!
Still, I recommend you take the help of a 30-day money-back guarantee and try MasterClass yourself to know if it is the right platform for you.
I'm 100% sure and confident you will also find it worth investing in, just like me, as I ended up hooked on quality courses for almost two years now.
And even if you don't find MasterClass as the right platform, you will always have the backup option – a money-back guarantee.
So, it's a win-win deal for you.
MasterClass Vs. Skillshare Vs. Udemy Vs. Coursera
You may wonder what makes MasterClass a better platform than Skillshare, Udemy, and Coursera.
So, let's compare MasterClass with other platforms and know what makes it unique and better.
MasterClass Vs. Skillshare
MasterClass and Skillshare have one unique difference which sets them apart instantly.
And that is quality and quantity.
On MasterClass, you will not find quantity as Skillshare.
MasterClass mainly focuses on bringing the best to the table, which makes it lack the number of courses.
However, at the same time, it doesn't mean Skillshare doesn't have quality. Many notable instructors on the platform teach brilliantly.
Here is my detailed Skillshare review.
Some famous names of Skillshare instructors are Brad Woodard, Bonnie Christine, Anne Meyer, and more.
Though the USP of MasterClass is its celebrity instructors who are best or respected and renowned in their respective fields.
And it is completely worth paying for the price you pay on MasterClass (with just $180 a year).
However, on Skillshare, the price fluctuates regularly throughout the year, but approximately a subscription costs around $168 annually.
Also, Skillshare is more geared toward beginners who want a head-start on their career, like programming, YouTubing, or something else.
On MasterClass, you learn from the world's best to boost your skills.
MasterClass Vs. Udemy
To be clear: Udemy is a hub of thousands of cheap online courses.
Where MasterClass offers 180+ high-quality courses from experts and the best in the world.
Udemy bombard you with thousands of courses from thousands of unknown instructors worldwide.
(Though, Udemy also has several quality courses for developing professional and technical skills).
On Udemy, you may not find celebrity instructors but highly specialized and qualified instructors who may teach you technical skills better.
Also, Udemy is more towards the professional world and developing technical skills, whereas MasterClass is not like that.
Apart from this, another thing that makes MasterClass slightly better is the learning experience.
I've had some Udemy courses before where I had to learn from boring pdfs and video lessons consisting only of ppt slides and not any hands-on learning experience, which I am having on the MasterClass right now.
One thing that is better about Udemy is you pay per class and not a yearly subscription like MasterClass, but to find a gem instructor, you need to put in a lot of effort.
MasterClass Vs. Coursera
MasterClass and Coursera are different.
Coursera offers courses from the world's leading universities where renowned and respected college professors and experts teach you that course.
Therefore, on Coursera, you get to learn from highly qualified people who are already teaching or may have taught before to students.
Hence, Coursera has the upper hand because you get instructors who may teach better as they may have prior experience teaching.
But Coursera is more geared toward professional users to develop their career skills and provide actual certificates to showcase on LinkedIn profiles.
However, one thing that Coursera couldn't beat MasterClass is the top-notch video quality and ease of use that makes MasterClass a better platform.
Furthermore, on Coursera, you get a few courses for free which is a plus point, but here on MasterClass, you don't get any free classes.
Quick List Of The Best Masterclass Courses

After a detailed view of the MasterClass course library and a comparison with other platforms, here are some best MasterClass courses I recommend you to get started.
I've been a MasterClass user for almost two years and have watched 20+ courses.
Therefore, after much trial and error, here are the top classes I'm sure you will love the most.
My "Hands-On" Review of 3 Classes
Here is my "hands-on" review for my three favorite classes:
1.) Chris Voss Teaches The Art Of Negotiation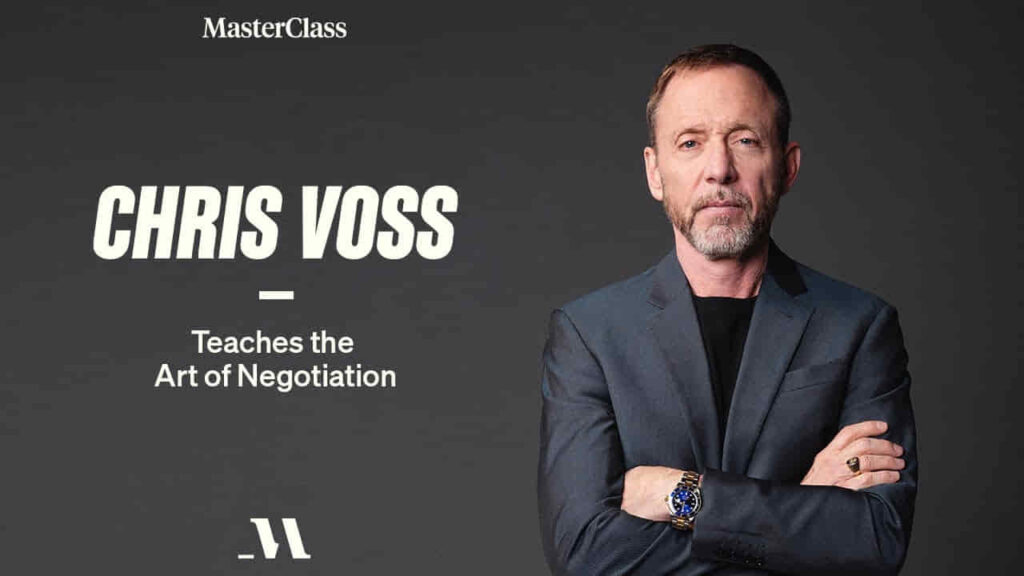 My first class on MasterClass, and it was one of the best.
I was pretty cool about my communication skills before, but when I started this course, I found out I still have so much to learn.
The former FBI lead hostage negotiator Chris Voss teaches communication skills and how you can be better with negotiation.
From the first lesson 'Tactical Empathy' to doing mock negotiation, "60 Seconds or She Dies," has hooked me with the instructor and left me with so much to re-learn about communicating with people in a better way.
Undoubtedly, I can say why I kept myself on MasterClass and explored more courses on it (Thanks, Chris!).
2.) Neil DeGrasse Tyson Teaches Scientific Thinking And Communication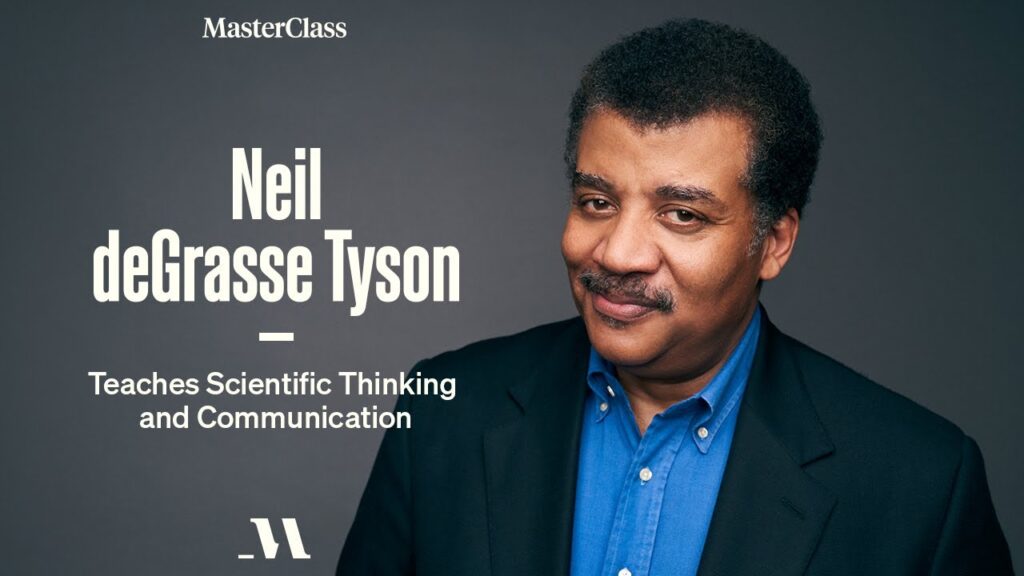 From being a fan of Cosmo's show featuring this legend to taking his own curated course, I can't say enough thanks to MasterClass!
The first lesson, 'What You Know Is Not As Important As How You Think,' clearly taps into your thinking process and explains wonderfully how we think.
Further, Tyson shares 'The Scientific Method' with some remarkable astrophysical examples of how this method plays out in real life.
In a nutshell, I had a wonderful experience, and it was one of the first courses I completed over a weekend (true Tyson fan!).
3.) Steve Martin Teaches Comedy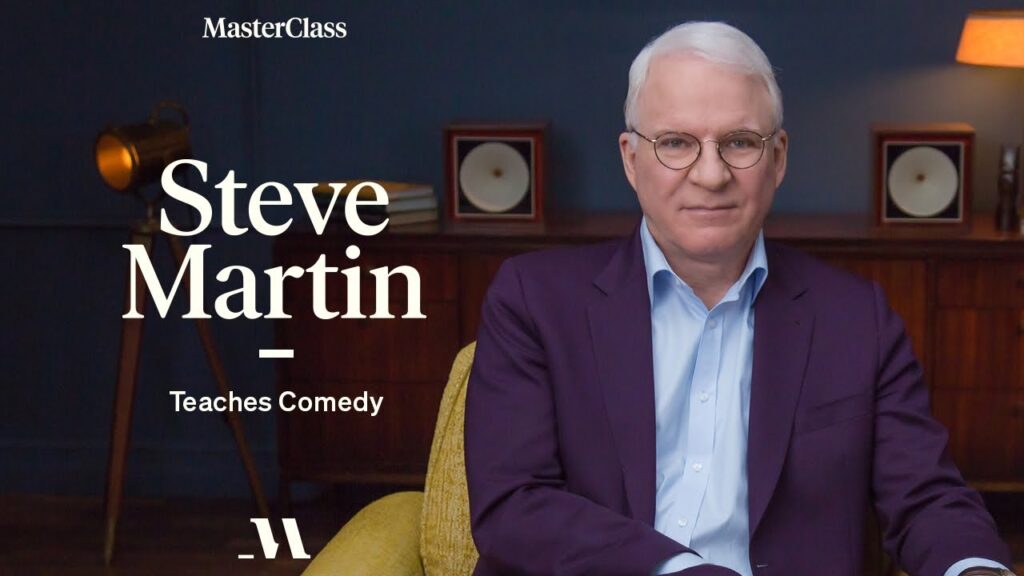 Ok, let me be honest here:
I have always had a bad sense of humor.
And out of curiosity, I enrolled in Steve Martin's MasterClass to learn more about jokes, punchlines, and behind-the-scenes of a comedy script and basically 'how to crack a joke that works.'
After completing the course:
I successfully became the master of various terms used in comedy, and to become funnier, I am still trying!
From 'Getting Started In Comedy' to doing sessions and completing case studies, I was engaged as I did this course.
I recommend this course if you also want to know how comedy works. You will enjoy this for sure!
5 Reasons To Invest In A Masterclass Subscription
When I started, I had only one reason to be on MasterClass and explore more courses (and that reason was my first course from Chris Voss).
However, as I spent more time on MasterClass, I got more reasons to justify and be satisfied with my investment here.
So, with these top 5 reasons, I'm sure you will find out why MasterClass is for you:
1. Learn From The World's Best
The USP, the significant chunk, and the clickbait that MasterClass has!
Learn from the world's best.
Undoubtedly, in this case, MasterClass has won clearly.
You have the expert of your dream industry or field on your screen teaching you that, sharing their experience and knowledge. What else do you need?
2. Quality & Regularly Expanding Content
I've repeatedly mentioned that I didn't like MasterClass in its early stage as it lacked the content for its price.
However, after completing my first course on MasterClass, I didn't cancel my subscription and explored more lessons that I found interesting.
And I was completely hooked and impressed by the quality of the video lessons, while the enjoyable content helped me additionally.
MasterClass has raised my learning standards so high that it will be hard for me to shift to the platforms teaching with presentation slides only.
The high-quality videos, hands-on learning experience, workbooks, and community that MasterClass has are top-notch and unbeatable right now.
And the cherry on top is the regularly expanding content catalog on MasterClass.
Now, almost every month, you get new courses added, which you can access under any subscription plan you have.
So, once you have made MasterClass your friend, you are already with the world's best people around you!
3. Cost-Effective Price
Right now, after trying out 20+ courses and spending hours and hours on video lessons on MasterClass, I can confidently say this:
MasterClass is worth every penny!
To bring the best people to teach me what I love, I can even pay 10x for that.
And even MasterClass brings 180+ world's best people to teach you at a cost-effective price of just $15 per month. That's $.50 per day!
So, with that price, you cannot get the world's best people to teach you anywhere.
4.) Easily Digestible Videos
Imagine you pay a fee for a course to build your skills.
But what if you cannot complete it due to its lengthy curriculum and hours of videos?
You will eventually never learn those skills!
Now, have MasterClass on your mind.
You get only three to four hours of total video lessons here.
Each video is ten to fifteen minutes long, which you can complete each day, even if you have a tight schedule in the office or have a busy day.
You don't only stay consistent with it, but also you complete the course to add more skills to your hand.
Isn't this the best scenario ever?
This is what you get with MasterClass!
I personally loved this part about MasterClass courses – the easily digestible video lessons make you wise every day without taking much time.
And on top of that, the content is so enjoyable that you will even want to complete the course in one go.
Even I have completed many of my courses over a weekend. However, I could not stop watching the video lessons as I enjoyed them the most and wanted to learn more.
5. Multiple Features
Another factor that makes MasterClass a better platform – is the consistency of this platform to improve.
From when MasterClass launched to now, this platform has regularly improved itself and provided various features for a better learning experience.
For example, the community page known as 'The Hub' is now Sessions by MasterClass, an improved version.
You get pre-recorded videos and experts who provide feedback and help solve your doubts. Also, you can engage with other students as well.
So, in short, MasterClass made the community page better.
Apart from this, you also have more features like:
Listen to the audio portion of video lessons to save time and data bandwidth.
Make notes on the side as you watch the video lesson.
When you sign up, answer some questions to get recommendations for the best classes.
These features make MasterClass a platform where you continuously want to learn and never want to look back when you are getting everything polished, clear, and the best.
Does Masterclass Offer Different Membership Options?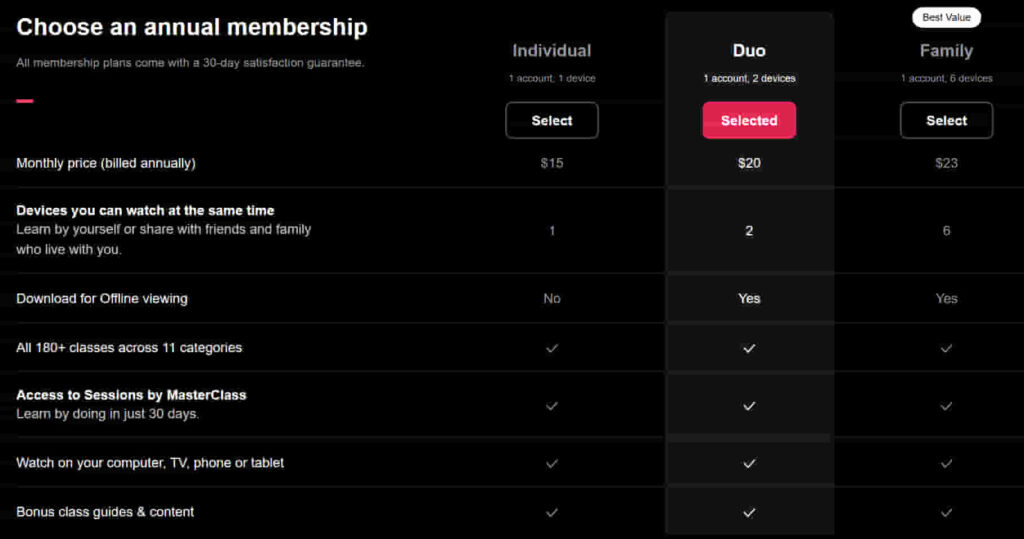 Yes, MasterClass has got three different classes of membership options.
Depending on your need and budget, you can opt for either of them.
As explained earlier, membership plans include the following:
Individual MasterClass Plan
Duo MasterClass Plan
Family MasterClass Plan
Individual MasterClass plan costs you $180 per year, and Duo costs you $240.
Limitations of individual plans include being unable to download video lessons for offline viewing and only one access to MasterClass on one device at a time.
As the name suggests, the Duo plan gets you MasterClass access on two devices.
You can have the Family Plan if you want access to MasterClass on up to six devices.
The family plan of MasterClass is the most expensive but 'best value,' costing $276 a year.
I think most users will be best off with the 'Individual' MasterClass plan, which costs $180 per year with an average of $15 per month.
Does MasterClass Offer A Discount?
There is no discount offer or promotions as of right now.
And MasterClass usually doesn't offer discounts on its platform.
However, sometimes, MasterClass runs a 2-in-1 offer in which you can get two memberships at the cost of one membership, and you can gift another membership to your friend or someone else.
If you opt for MasterClass At Work, you can get around 5 to 35% off if you talk to their customer support team.
Is MasterClass Worth The Money?
Yes, MasterClass is 100% worth the money that you will be investing in.
It is a steal deal with a $15 monthly charge for unlimited access to the world's top and best people teaching various courses.
With just $.50 per day, you get more than what you pay for.
With high-quality video lessons, world-class instructors, and hours of enjoyable content that will make a better person every day in terms of skills and knowledge, MasterClass is an ultimately value-for-money deal.
With one-year membership, you get the following:
Unlimited access to all categories of courses on MasterClass (even to new classes)
World's one of the best people to teach you nearly every subject
Hours and hours of enjoyable content
Nominal fee
One-time investment for a year-long learning
The Pros And Cons Of Masterclass
If you have skimmed through the post to know just the pros and cons, then here it is concise and to the point benefits and drawbacks of having a MasterClass membership.
Pros:
1.) High-Quality Classes
I can't say enough about the quality of MasterClass classes.
In terms of quality in both theory and practical knowledge, MasterClass is tough to beat.
The instructor provides class notes, workbooks, case studies, and assignments apart from video lessons to maximize your investment.
The production quality, audio, video, and other course material are top-notch.
2.) Class Structure
On MasterClass, the class structure is made so that you can easily digest the knowledge and content of the video lessons.
With ten to fifteen minutes of video, you can learn daily whether you are a full-time worker or student.
Humans love when complex stuff is broken down into small bits for easily digestible content.
And this is what MasterClass has done beautifully!
3.) Value For Money
With a one-time investment, you learn yearlong from the world's best.
$180 for unlimited access to 1,000+ hours of courses from the experts and top people in their respective fields is a steal deal.
However, if $180 had been for just one course, it might not be worth it, but with all the classes at the same price, if you get 180+ celebrity instructors to teach you almost every subject, it is 100% worth taking.
Cons:
1. ) Hit Or Miss
Some courses on MasterClass are not worth taking (of course, I won't take names).
Also, there are some incredibly excellent courses!
So, it is a hit-and-miss experience, but if you use MasterClass for a long time, you will surely be able to find the right courses for yourself, making it worth giving time.
2.) No Free Classes/Trial Classes
There are no free courses or trial classes on MasterClass.
Also, you have to pay $180 upfront, and it may not be affordable to some people, but it is worth the money.
The Best Way To Watch MasterClass
The best way to watch MasterClass is on a laptop or PC.
It is because of two reasons:
You get a notes section on the website interface and can quickly add some notes along the video playback (the notes section is available on the right side of video lessons) in the website itself.
Even if you want to write notes in your notebook, you can do it while watching it on your laptop screen.
However, you can stream MasterClass on big screens like Apple TV, Chromecast-enabled TV, and Roku or Amazon Fire TV.
Also, mobile apps are available for iOS and Android, where you can watch MasterClass videos.
CHECK THE MASTERCLASS SAMPLE VIDEO FREE!
MasterClass FAQs
Is MasterClass worth taking?
Yes, MasterClass is worth taking, especially if you are a student.
Even if you are a professional worker still, you can learn more skills from the world's best.
Great instructors, high-level information, excellent production quality, and hours of videos to get you on a high-skill level make MasterClass worth it.
What is the disadvantage of MasterClass?
The only disadvantage I found on MasterClass is not having a trial class.
There are no free classes, so it becomes hard to know before buying an annual membership if it's right for you.
However, you get a 30-day money-back guarantee on your MasterClass account, which works as insurance for your investment.
If you didn't find MasterClass the right platform or didn't like the content, you can cancel your membership within the first 30 days.
After canceling successfully, you can get a full refund.
Is a MasterClass for beginners?
MasterClass is best for students and beginners who want to learn a new subject for the first time and don't mind a hands-off approach to learning.
It is a great platform who want to get to learn from the experience of successful people in their field of interest.
Do you get unlimited classes with MasterClass?
You get unlimited access to the course catalog on MasterClass whether you choose an individual, Duo, or family plan.
Even whenever new online classes or courses are launched, you can access that under your membership plan.
Can you get MasterClass for free?
You cannot get MasterClass for free as MasterClass doesn't off any trial classes as of now.
However, when you buy a membership, you are backed with a 30-day-money-back guarantee which you can cancel within the first 30 days and get a full refund.
Therefore, in that sense, you can have free MasterClass courses.
How to Cancel a MasterClass Membership?
You can cancel your MasterClass membership at any time. To cancel your subscription, you will need to:
· Log into your account through masterclass.com
· Once logged into your account, click on the profile/account menu in the upper right corner.
· Now, click Settings
· Within your account settings, you can click the Cancel Membership button under the Membership section of the page.
· You will be guided further to cancel your automatic renewal or membership.
Last Thoughts: Is MasterClass Worth It?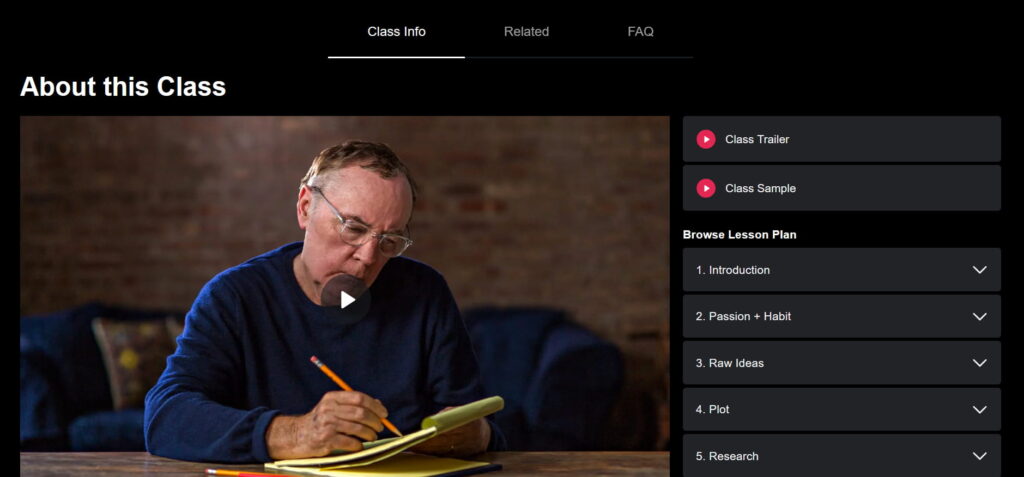 Ultimately, I'm impressed by MasterClass, to bring the world's famous and top celebrities to teach you almost every subject now.
Even though bringing celebrity instructors may work as clickbait, the quality of classes and experience that MasterClass has on its platform is currently unbeatable.
Whether taking writing courses, acting, or cooking, you get high-quality video lessons and hands-on learning experience from the world's top experts in their respective fields.
And the downloadable workbooks, assignments, and case studies give you practical knowledge to learn beyond the video lessons.
Also, their annual membership is not expensive, considering the number of instructors and courses on this platform (currently 180+).
On the contrary, there is still a need for improvement in MasterClass (for example, interaction with other students).
However, considering everything and watching 20+ courses on MasterClass, I can confidently say MasterClass is worth taking.
Still, I recommend you not to take my word, so go and try yourself under a 30-day money-back guarantee.
If you find MasterClass, not the right platform, get a full refund by canceling your membership within the first 30 days.