MasterClass is an excellent platform for learning from industry experts, but it's not the best yet!
Two reasons why:
The lack of content and variety
Not all people at the top of their fields are good teachers
I have taken dozens of MasterClass courses, but the lack of content is what I found slightly off.
On the contrary, there are many more "great" things to talk about the MasterClass apart from that.
For instance, "MasterClass by Chris Voss on "The Art Of Negotiation" helped me improve my communication skills.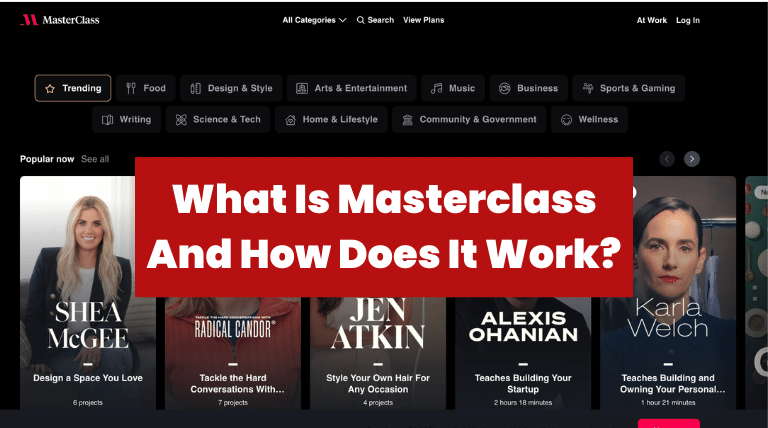 I was much more confident while socializing with professional people around me.
So, it definitely helps you build and develop your skills from the best in the field!
But is it worth it for you?
Therefore, in today's MasterClass guide, I'll share my honest experience and everything about "What Is MasterClass" and whether you should go for it.
Let's get started.
What Exactly Is MasterClass?
Simply put, MasterClass is another online learning platform like Coursera, Udemy, and edX.
However, there's a catch with it:
At MasterClass, classes are taught by respected and renowned industry experts in their field, not by any random teacher on the web.
And it is what makes MasterClass special and unique.
MasterClass gets you the "world's best" to teach you in different fields of interest, such as cooking, art, music, writing, and much more virtually.
However, the journey of MasterClass began in 2015 originally as Yanka Industries Inc., founded by a Stanford student, David Rogier.
In 2021, MasterClass received a $2.75 billion evaluation by CNBC.
Initially, when it was launched, MasterClass had only three instructors in 2015.
Soon, in 2017, MasterClass added twelve classes, which increased to fifty classes and one thousand lessons by late 2018.
And now, at the time of writing, MasterClass has got 180+ of the world's best to teach you hundreds of lessons.
That means, initially, MasterClass didn't have an extensive catalog of lessons, but right now, they have multiple video lessons from a wide range of categories.
Such as:
Writing
Business
Arts and Entertainment
Music
Food
Design and style
Sports and gaming
Community and government
Wellness
Science and technology
Personally, I loved the MasterClass lesson by Neil deGrasse Tyson on Scientific Thinking And Communication. It just takes you to another level of perspective on how we think.
Furthermore, MasterClass is regularly updating and bringing new categories of video lessons for learners, which I found a plus point for this platform.
MasterClass Features That Sets It Apart From Other Platforms
Apart from learning from renowned experts in respective fields, many features make MasterClass more unique than others.
MasterClass provides a series of high-quality videos (and not just presentation slides) ranging between two to four hours of video per course.
Each course is divided into ten to fifteen video lessons of ten to twelve minutes.
The Sessions feature at MasterClass allows the students to ask questions and get the teacher's guide, giving them a hands-on learning experience.
The downloadable workbook in the video lessons gives supplemental learning outside the course videos, another HUGE plus point for MasterClass learners.
You also get live streams of instructors occasionally, which I didn't find frequent, but it's good to have.
So, multiple features like sessions, workbooks, and live streams improve the overall learning experience.
CHECK OUT THE MASTERCLASS FEATURES NOW!
How To Access MasterClass?
You can access MasterClass by visiting masterclass.com.
Apart from the website, you can also access MasterClass through the mobile app available for both iOS and Android operating systems.
Using the MasterClass app has an added advantage over the website. The mobile app of MasterClass provides functionality for listening to the audio portion as well.
However, I prefer using MasterClass on the laptop as making notes is quite convenient there (the side portion is dedicated to making notes on the website).
(The audio mode is only available for specific courses and videos.)
Still, through the mobile app, you can listen to the audio portion of the online courses, which is helpful for commuters and learners who prefer podcast-style learning.
Moreover, if you want to learn on a big screen, you can cast each video lesson to a smart TV such as Apple TV, Chromecast-enabled TV, Roku, and even Amazon Fire TV.
You can do it by MasterClass mobile app.
How Does MasterClass Work?
MasterClass is an excellent platform for learning through the top and best people in the field of your interest.
And MasterClass provides that through:
Providing the world's best and greatest chefs, artists, writers, musicians, and more.
By keeping cost-effective pricing for using the platform.
(Daniel Pink's MasterClass on Sales explains these tactics well.)
However, to know how MasterClass works, let's look at the breakdown from my years of experience using MasterClass and taking various courses.
MasterClass Structure And Set-Up
As I have already mentioned, the MasterClass course consists of the following:
Multiple video classes from the best in the industry
Each video having roughly around ten minutes in length
Downloadable course workbook
Most of the courses at MasterClass have the structure mentioned above, but some course works can also have extra material or assignments to do.
Such as Aaron Sorkin's screenwriting course, in which you can review some sample scripts in the class.
Video Lessons
One of the parts of MasterClass I loved the most was their ten to fifteen minutes of video lessons.
It allowed me to stay consistent with my learning apart from my work by giving 15 minutes each day.
And therefore, this feature of MasterClass enables every individual to learn at their own pace.
The best part:
If you use the website for a video course, you get the 'My Notes' section on the right-hand side, allowing you to note things you may review later.
Another best part about video lessons at MasterClass that I loved the most is their video production quality (and it's not typical Zoom recording or only presentation style).
The top-of-the-line production team and filmmaking experts make up MasterClass videos.
These experts know how to light, film, and edit high-quality video lessons to provide the learner best experience.
The high-quality video experience sets you up for learning, making every second worth watching on the screen.
Apart from this, you also get features of:
Setting video playback to 1.5x or 2x if you need it.
Make notes alongside the video.
Whenever I'm short on time, I use the 1.5x playback speed combined with the closed captions to keep up with the pace and learning.
Making notes is another best feature that I use more often.
I keep notes on each video lesson to quickly revise whenever I need to reflect on specific topics and not skim through the whole video.
Downloadable Workbook
Apart from video lessons, you get workbooks that you can download to understand specific topics in a much more engaging way.
Thanks to the high-quality workbook graphics!
The beautifully made workbook ensures you can focus on something different than the course.
You can better understand specific topics through more engaging and detailed info that needs to be addressed separately than the video.
Also, you get an impressive graphical representation of information provided in the workbook, which sets it apart from pdfs loaded with paragraphs only.
Crafted according to the instructor, workbooks are indeed one of the ultimate ways to provide more than a learner expects from the MasterClass course.
Sessions By MasterClass
The session feature in MasterClass is another interactive way to get experience with hands-on projects.
Though previously, it was named as 'The Hub.'
However, now known as Sessions, you get an interactive way of engaging with teachers and other learners.
The session includes pre-recorded material backed by teaching assistants available to answer your doubts.
They are also responsible for providing feedback, making it much more engaging.
Students and other learners can interact with one another in the community feed under the session.
However, if you are on the web version or iOS device, you can only then you can access the Sessions section.
(This Sessions featureis coming soon on Android devices, too.)
MasterClass Course Navigation and Discovery
The course navigation and discovery of various courses are one of my best user interface experiences on a learning website.
Why?
Two reasons for that:
I loved how the MasterClass asks questions at the beginning to decide your interests and show relevant courses.
You can also narrow down your search through filters.
Currently, MasterClass is offering over 180+ lessons from the best. And all of them are accessible through a one-single plan.
Moreover, you can even skip the questionnaire and directly access the library search page, where you can search for your favorite instructor or courses.
However, I recommend you answer the questions in the beginning as it gives you several choices from the top and the best of the field of your interest.
You can skip that part to access the direct library if you don't want that.
Quick List of MasterClass Courses
I've taken multiple courses from various MasterClass instructors, so I can list a few names that I found worthy of being shared.
Including my favorite list and some other best courses at MasterClass, here is a quick list to get you started at this learning platform.
CHECK OUT MORE COURSES AT MASTERCLASS NOW!
MasterClass Refund Policy
You opted for MasterClass annual membership and tried some courses but were not satisfied or happy with the lessons.
Don't worry, get your money back!
Thanks to the generous refund policy at MasterClass! (Another point which I love here).
MasterClass provides a 30-day money-back guarantee if you change your mind or don't like the platform.
And it is what makes this platform more reliable in terms of investment.
However, you have to go through specific steps to claim your money. And that is what I found slightly hassling.
Even some users also had complaints about getting their money back.
But the good part is that you get quick support from the MasterClass backend team.
MasterClass Reviews By Customers
Many customers are satisfied and happy with MasterClass's courses, lessons, and videos.
Some even have improved their social skills through MasterClass lessons (I am one of them).
However, some people are unhappy with the customer service, while some have issues with the payment.
Therefore, there is still space for improvement for MasterClass, which they are already working on and taking customer reviews as feedback.
That said, MasterClass has a poor rating of 2.6 out of 5.0 stars at Trustpilot.
However, primarily unsatisfied customers are related to payment issues and customer service.
But, the customers are pretty satisfied with the video lessons and instructors on the platform, which is a good thing.
For unsatisfied customers, the MasterClass team is taking feedback and consistently improving its platform, which is a plus point.
MasterClass vs. Udemy
MasterClass currently offers 180+ high-quality video lessons from the world's top and best in various fields.
However, Udemy offers thousands of courses to choose from.
At MasterClass, you learn from the world's best (such as Hillary Clinton, Serena Williams, and Helen Mirren).
However, at Udemy, you get thousands of courses from thousands of unknown instructors.
That means MasterClass is currently focusing on providing quality rather than quantity, while Udemy is the other way around, but both have pros and cons.
To find the best at Udemy, you may need to do a lot of research, while at MasterClass, you are already learning from the finest and the best.
MasterClass vs. Coursera
Coursera and MasterClass are different platforms.
Coursera gets you courses from top universities, not celebrity instructors like MasterClass.
Also, Coursera is more focused on the development of professional skills among professional people holding degrees and certificates.
On the contrary, MasterClass does not work like that.
Instead, it provides learning from years of experience and the best people in the industry.
MasterClass vs. Skill Share
Skillshare and MasterClass are similar in some instances.
Like at Skillshare, you also learn from the experts, which is identical to MasterClass.
For example, taking a YouTube course from Marques Brownlee at Skillsharemakes much more sense for a beginner YouTuber.
However, if you are interested in learning how to direct a film or learn about filmmaking, you can surely opt for a MasterClass from Martin Scorsese.
That means, for a beginner, Skillshare will be more suitable.
However, you can always opt according to your need and skill level, as MasterClass has classes for all skill levels.
However, I found MasterClass slightly more costly than Skillshare, but it's worth it as MasterClass provides you with well-known or celebrity cum best of the field of your interest.
And you didn't get this at Skillshare.
My MasterClass Review (An Honest Experience)
So, after getting all the knowledge above, you may now wonder if MasterClass is for you. Or is it worth it for the price that it asks?
Well, the answer is yes and no!
Let me explain:
Whether you want to learn passionately about comedy from Steve Martin and start your stand-up comedy journey or learn from Chris Hadfield about space exploration, if you want the best people to teach you the best about your favorite field, then MasterClass is for you.
Apart from this, the other reasons that make MasterClass worth taking are:
$15 per month pricing is quite affordable as per the quality of lessons from the best people.
Ten to fifteen minutes of video length allows everyone to cope-up with their work or binge at once accordingly.
With one plan, get access to even new classes and courses added every month.
On the other hand, if you are just a beginner or want more technically based videos or certificates to show on your LinkedIn profile, then MasterClass may not be suitable for you at all.
Go for Coursera, Udemy, or edX instead.
However, still no need to take my word for it.
MasterClass offers a 30-day money-back guarantee. Sign up, test out a few classes, and you judge whether MasterClass is suitable for you.
Does Masterclass Offer Different Membership Options?
MasterClass currently offers three different membership options:
Individual
Duo
Family
Individual
As the name suggests, the individual membership plan is the basic one, costing $180 for the year (~ $15 per month).
And if you are wondering how much MasterClass costs, then the plans begin from here on.
This is the plan I also opted for, and the only con is that you can have only one account on one device.
Duo
The duo membership costs you $240 annually ($20 per month).
And under this plan, you can use one MasterClass account on two devices, making it easy for two friends or couples to learn simultaneously under one account.
Family
The name indicates everything.
It is the most expensive MasterClass plan, costing you $276 annually ($23 per month).
However, the best part about this plan is that you can use your membership across six devices.
And therefore, it is helpful to have a large friend circle or a small organization under which you can opt for this.
If you are an individual, the standard $180 plan will be the best for you and will be pretty affordable as well.
Though there are certain limitations of this plan, such as:
You can access your membership on one device at a time.
You cannot download video lectures to watch offline.
However, the continuously expanding library of video lessons at MasterClass is available under all plans, and you can also access the new classes that are being added every month.
Note: MasterClass shows plan costing monthly but remember that when you get on their payment page, they will charge you annually beforehand.
FAQs
Is MasterClass useful?

MasterClass is undoubtedly helpful for people enhancing their professional skills. They can learn directly from the expert in their field of interest.

Above that, they can learn from 10 to 12 minutes of video at their own pace.

Overall, MasterClass has positive reviews, showing people enjoy and learn from this platform.
Is MasterClass Free?

No, MasterClass is not free in the first place.

Instead, the annual membership costs $180 for the whole MasterClass course library, providing access to unlimited classes and new courses as they launch.

And $180 is the lowest MasterClass subscription that you can get. The other membership plans (duo and family) costs more than this individual plan.
Can you send MasterClass as a Gift?

Yes, you can gift a membership to your learner friend or needy one.

To gift MasterClass, you can visit their gifting page and select the plan following further instructions.
How to Cancel a MasterClass Membership?

You can cancel your MasterClass membership from the accounts settings. Under your account settings, you can find the Cancel Membership option under the Membership section of that page.

You can further follow on-screen instructions to cancel the membership.
What's The Best Way To Watch MasterClass?

You can watch MasterClass on your laptop, PC, or mobile through the app (available on iOS and Android both).

You can connect your MasterClass mobile app with your Apple TV, Android TV, and Roku devices.

However, if convenient, the best way to watch MasterClass is on a laptop, as it allows you to make notes aside for your video lesson.
Final Words
As I said, MasterClass is an excellent platform for learners.
But it's not the best yet.
Therefore, I rate MasterClass 3.5/5.0 as per my experience.
As said earlier, it is perfect for learners who want the best of their interesting industry, such as Malcolm Gladwell teaches Writing for writers.
However, the platform still has space for improvement, such as in the MasterClass support team service and payment issues, which they are also improving.
Therefore, I recommend you try MasterClass and judge if it is right. For me, it's been a great experience overall.
You can take benefit of the 30-day money-back guarantee and find it yourself if it is worth it.