There are 180+ MasterClass courses as of 2023.
And, MasterClass claims that you can start learning on their platform for $15 per month pricing.
But do you know that this pricing goes higher for a different membership?
So, if you are wondering how much MasterClass is and how much it costs, read on to know everything!
I have been using MasterClass for years and can tell you their pricing, taxes, discounts, offers, and everything you want to know about cost.
You will also know which MasterClass plan is best for you and if it is worth the money they ask for.
So, let's get started.
What Is MasterClass?

MasterClass is an online learning platform like Coursera, Udemy, and edX accessible through its website masterclass.com.
However, unlike mentioned platforms above, at MasterClass, you learn from the "world's best" or "respected and renowned" in various fields.
There are 180+ courses on MasterClass in different niches, and the best expert in that field teaches each course.
For example, Serena Williams Teaches Tennison MasterClass.
Founded in 2015 (Originally Yanka Industries, Inc.) by Stanford student David Rogier, MasterClass had only three courses initially after the launch of its website.
However, the platform has consistently added various courses from multiple niches, and right now, there are 180+ high-quality courses from the world's best.
In 2023, you can choose courses according to your choice in:
Food
Design & Style
Arts & Entertainment
Music
Business
Sports & Gaming
Creative Writing Courses
Science & Tech
Home & Lifestyle
Community & Government
Wellness
(I'll share some most popular and best courses on MasterClass further in a bit.)
How Does MasterClass Work?
Once you visit masterclass.com and are ready to sign up, you are asked a questionnaire about your interests on the website
And based on your interests, MasterClass shows you various courses you may find interesting and great to start on the platform.
However, you can skip this step and directly access the whole category of courses and choose whichever niche and course you want.
Once you are ready to take a course or enroll in one, MasterClass got three things that make it work as one of the best online learning sites and platforms for you:
High-quality video lessons from experts
Supplemental workbook
Sessions
MasterClass Video Lessons
MasterClass has courses in which there are video lessons of a total length of around two to four hours long (depending upon the course).
Each video lesson ranges from ten to twelve minutes in length.
And this is one of the best parts about MasterClass having the video lessons around ten to fifteen minutes in length.
It made me stay consistent with the course by giving fifteen minutes out of my busy day and managing my work.
Another best part about MasterClass video lessons is their high-quality videos (they are not just multiple presentation slides).
The MasterClass videos are made by an expert production team who knows about filmmaking, directing, and editing such high-quality videos.
And this overall enhances your learning experience at MasterClass.
MasterClass Workbook
You get a supplemental workbook downloadable as the course material and video lectures.
And these workbooks are not just pdfs with tons of paragraphs.
Instead, the workbook consists of easy and detailed information which you may need to know apart from the video lessons.
The workbook is high-quality and has a graphical representation for a better learning experience.
MasterClass Sessions
Formerly known as 'The Hub,' Sessions is the new feature in MasterClass.
It is the new 'hands-on' format to make students learn in a structured curriculum within 30 days.
Each session in the course comes with dedicated and trained teaching assistants who provide help, answer questions and doubts, and give feedback to students.
Apart from this, MasterClass also provides live streams of instructors, which is not that much frequent but a plus point.
How Much Does MasterClass Cost?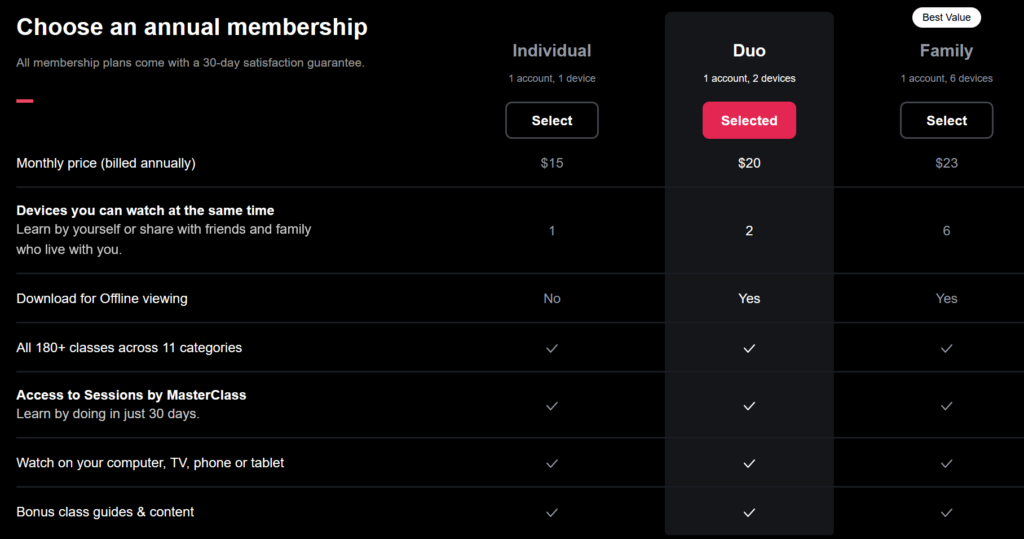 As you know now about how MasterClass works and have a sneak peek into the quality of courses at MasterClass (read the full review of MasterClass here), it's the perfect time to know about cost.
Right now, MasterClass is offering a three-tier annual membership pricing model for yearly subscriptions:
These are:
Individual Plan
Duo Plan
Family Plan
Individual Plan – Costing $180 Per Year (Average $15 Per Month)
Formerly known as the "Standard Plan," MasterClass individual plan is the perfect subscription for single avid learners.
(This is the plan I've opted for, and it worked best for me.)
The individual plan costs you $15 monthly, billed annually for $180.
However, as the name suggests, the individual plan can make you access MasterClass with your account on one device at a time.
So, if you want to access MasterClass on multiple devices, it is not feasible in an individual plan.
For accessing MasterClass on multiple devices under one account (just like Netflix), you can go for higher plans such as Duo or Family.
Another drawback with the individual plan is that you cannot download videos of MasterClass for offline viewing.
Who is the MasterClass Individual Plan Best Suited For?
In short, for an individual learner.
If you are an avid learner or a professional worker eager to learn new skills or explore different fields of interest, then MasterClass individual plan is for you.
The cost for an individual plan is budget-friendly, costing you $180 a year.
However, under an individual plan, you can connect to one device at a time, which is unsuitable for couples or families looking to share subscriptions.
Duo Plan – Costing $240 Per Year (Average $20 Per Month)
Best for couples – Duo MasterClass plan costs $240 per year with an average of $20 monthly.
Formerly this subscription was known as the 'Plus' plan at MasterClass.
If you are a couple who wants to learn cooking classes together or have two friends who want to upskill for your field of interest, then the Duo plan is best for you.
In the duo plan, you can watch MasterClass video courses on two devices simultaneously as well as you can download video lessons, too.
Therefore, it is slightly upgraded than the individual plan costing more.
The duo plan comprises video lessons, bonus content, a workbook, and session content.
Who Is The MasterClass Duo Plan Best Suited For?
The MasterClass duo plan is perfect for but not limited to a group of two friends, couples, or anyone who wants access to the MasterClass app together on two devices.
Streaming on two devices simultaneously and downloading lectures offline to view them anywhere and anytime is a slightly better option.
Family Plan – Costing $276 Per Year (Average $23 Per Month)
Formerly called the Premium plan, the MasterClass family subscription is the value-for-money plan only if you want to access courses on six devices simultaneously.
If you have a small organization where you want to give access to your workers to MasterClass memberships or even your family, then the Family plan is for you.
The key features that you get with the family plan are:
Watch course content on six different devices at the same time
Download content for offline viewing
Access to all courses
Note: You get unlimited access to all the content, courses, and even new courses under all three plans, i.e., individual, duo, and family.
The Family plan of MasterClass is the costliest among their three pricing models but comes with only one unique feature of accessing courses on six devices.
Who Is The MasterClass Family Plan Best Suited For?
The MasterClass Family plan is best for families, small groups of friends, workers, and small organizations, where you can access the Masterclass course library together on six different devices simultaneously.
You can download the content on each device individually to view content offline anywhere, anytime.
So, with these three plans, you can buy a subscription to MasterClass and access their whole content catalog.
Another essential point to mention here is that at MasterClass, you can view the monthly cost (e.g., $15 per month), but you are billed annually beforehand.
That means you must pay the total subscription cost for an entire year beforehand.
CHECK OUT MASTERCLASS BEST PLAN FOR YOU!
Does MasterClass Offer A Discount?
There is no direct discount code on MasterClass.
However, you can find discounts at other times of the year, such as:
Mother's Day
Father's Day
Other special occasions
On these special days, you don't have to apply any promo code to avail of the offer. Instead, the discount is available on the whole catalog across the platform.
However, you must watch the website regularly (especially around these special days) to get the offer.
Under these offer days, you can get up to 35% off.
Furthermore, MasterClass runs a 2-for-1 special deal only a few times yearly.
In 2021, MasterClass offered a "Buy One, Share One" deal under which you can buy one plan and share or gift second membership to your friend or even yourself (at a different email address).
In short, you get two subscriptions for the price of one.
Also, MasterClass sometimes offers 30% off for its members in the year-end deal.
With that offer, you have to pay only 70% of the cost to renew the membership, which saves $72 for the duo membership plan.
Quick List Of The Best MasterClass Courses
Now MasterClass has 180+ courses to choose from.
I've completed multiple of them, and here are my five best picks to get you started with MasterClass:
1. Gordon Ramsay Teaches Cooking II: Restaurant Recipes at Homes
2. Chris Voss Teaches The Art Of Negotiation
3. Brandon McMillan Teaches Dog Training
4. Neil Gaiman Teaches The Art of Storytelling
5. Emily Morse Teaches Sex and Communication
Most Popular MasterClasses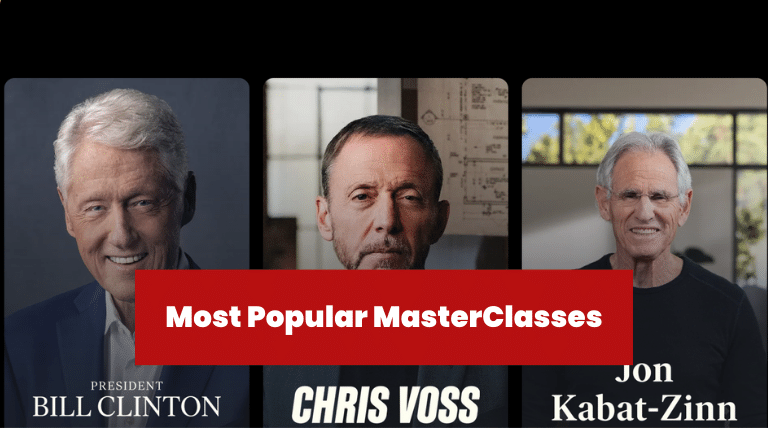 There are always trending and most popular courses on MasterClass that you can find in their catalog.
As of right now, some of the most popular ones are:
1. Bill Clinton Teaches Inclusive Leadership
2. Chris Voss Teaches The Art Of Negotiation
3. Jon Kabat-Zinn Teaches Mindfulness and Meditation
4. Hillary Rodham Clinton Teaches The Power Of Resilience
5. Gordon Ramsay Teaches Cooking
Quick Tip: You can always filter the course category based on your choice. There are multiple filters available to narrow down to your specific search.
CHECK OUT ALL COURSES AT MASTERCLASS NOW!
Is MasterClass Worth It? My Honest & In-Depth MasterClass Review

Even though MasterClass has 180+ high-quality video lessons to teach you about various subjects, the final question is whether a MasterClass subscription is for you.
Is MasterClass worth taking?
The short answer is probably.
And to know more in detail, here is my honest experience with them:
An Honest Masterclass Review
Whether you want to start growing your acting skills with an online MasterClass from Natalie Portman or explore your interest in space with Chris Hadfield, MasterClass undoubtedly has top-notch content to get you started.
However there are tons of other reasons, but I also signed up for MasterClass due to their USP of having the "world's best" to teach you.
I was really impressed by the video lessons of Chris Voss Teaching Art Of Negotiation.
And then, I took another online class, by Neil DeGrasse Tyson, On Scientific Thinking, after having a good experience at MasterClass.
MasterClass Video Content Review
As said before, MasterClass has a brilliant production team that provides high-quality video lessons of two to four hours in each course.
And the best part I love about video lessons is having ten to twelve (fifteen in some cases) minutes of each video length.
Due to short video lessons, I could quickly grasp the content even with my tight working schedule.
So, the short video length helps you stay consistent with your learning.
MasterClass Content Catalog Review
Of course, for the amount you pay at MasterClass (starting from $180 per year), you might think:
"MasterClass has very a few classes and courses than other platforms."
I agree with that, even though it was also one of the reasons that made me slightly off about MasterClass.
However, then I took their one course to experiment with their 30-day satisfaction guarantee.
And then I realized why MasterClass has only 180+ courses even after more than eight years of inception.
One answer that I found per my view:
Quality > Quantity.
You will find quality content at MasterClass from the world's best and not thousands of courses from unknown instructors.
The best part?
MasterClass releases new classes almost every month. And many of these classes are from celebrity masterclass instructors who share their knowledge.
These celebrity instructors are (but are not limited to):
Serena Williams
Gordon Ramsay
Steve Martin and more.
My Verdict
So, is MasterClass worth it?
It depends.
MasterClass is an excellent platform that can bring many skills to your hand as you learn from the world's best.
However, MasterClass asks you for these two things if you want to make it completely worth it for you:
Subscription plan
Your commitment to online classes" classes
With two to four hours of video lessons in each course, you can efficiently complete a course from MasterClass.
And by consistently dedicating only this much time, you can master several skills.
Apart from this, you are backed with a 30-day money-back guarantee to get your money back if you don't feel that MasterClass is for you.
So, in the end, I'll say:
Try MasterClass today and decide for yourself.
From my side, I'll happily invest any money if I learn from the best person in my field of interest.
How Do I Get MasterClass For Free?
There is no direct way to get MasterClass for free.
However, the closest way to get MasterClass for free is by utilizing their 30-day money-back guarantee.
It will get you access to the entire MasterClass library, and you can cancel your subscription for a full refund within the first 30 days.
Does Masterclass Offer Different Membership Options?
MasterClass offers three plan options:
As explained, the individual plan costs you $180, and the duo plans $240.
The benefit you get in an individual plan is accessing the MasterClass video lessons catalog.
However, you do not get to download videos for offline viewing in this subscription plan.
But the duo plan also allows you to download videos for offline viewing and access MasterClass on two devices simultaneously.
And it is why it costs you more.
The upper plan is the Family plan on MasterClass.
It costs you $276 per year, and it is the most cost-effective plan for the benefits you get under this plan.
You can get the following:
Access to MasterClass on six different devices simultaneously
Download video lessons on all six devices for offline viewing
However, you get access to the whole MasterClass library in each plan of your MasterClass account.
Is Masterclass Worth The Money?
Yes, for a $180 annual subscription, MasterClass is worth the money.
There are three reasons I believe it is worth it:
Learn from the world's best in their respective field
High-quality video lessons
Extra course material
I've taken individual membership in MasterClass and found it extremely useful.
Even during the start, I was also speculating if this platform would meet my expectations.
However, after taking the first course (Chris Voss Teaches The Art Of Negotiation), MasterClass cleared all my doubts.
In the workbook, assignments, and even in some other online courses, you get additional material for better understanding, which I found impressive.
How Is The Class Structured?
MasterClass classes are structured in this way:
The course is of around three to four hours in total length
Each video is about 10 to 15 minutes
Get additional material with the course
However, the course length also depends on its niche and the content the instructor wants you to provide.
The ten to fifteen minutes of video lengths make you go quickly to finish the course.
Apart from this, you get access to Sessions, one of the new features at MasterClass, providing you access to engage with other students.
Also, the Sessions feature has expert teaching assistants who provide feedback and answer the students' doubts.
The workbook is another component that you get along with the course. You can easily download it.
The workbook contains additional text and graphical representation that the instructor wants you to understand.
Apart from this, in some courses, there may be additional assignments that you may need to complete.
MasterClass FAQs
How much does MasterClass cost?

MasterClass has three membership plans starting from $180 per year under their 'Individual' plan.

Further, the second plan is 'Duo,' which allows two people to access MasterClass simultaneously on two devices costing $240 per year.

The Family plan of MasterClass costs you $276 per year, allowing you to connect up to six devices simultaneously.
Can I buy one month of a MasterClass membership?

You must pay the total annual amount once to access MasterClass courses.

However, MasterClass used to offer a 7-day trial.
Can you get MasterClass for free?

There is no direct way to get MasterClass for free.

However, you can benefit from their 30-day money-back guarantee, which allows you to cancel your membership and get a full refund under the first 30 days of your subscription plan.
Are masterclasses worth it?

MasterClass is worth it if you have a curious mind or want to learn about your field of interest from the world's best.

MasterClass is undoubtedly a good choice for a $180 per year plan, which is for an individual.

You can test if MasterClass is for you with a 30-day money-back guarantee.
Is MasterClass For You?
MasterClass is undoubtedly an excellent platform for avid learners and people who want to strengthen their skills in various fields.
However, this platform is not about technical skills like other platforms provide. Instead, it is more about the experience of the people with the best position in their field.
For example, if you want to learn about Tennis, then the MasterClass of Serena Williams Teaches Tennis will be perfect for you.
Similarly, there are other courses which may be of your interest.
Therefore, if you have a curious mind or want to learn about something new from the best in that field, MasterClass is for you.
On the contrary, if you want to build your technical skills or a technical certificate to showcase in your LinkedIn profile, MasterClass may not be the perfect platform.
Still, I recommend you to judge the MasterClass on a need basis. For example, take the help of a 30-day money-back guarantee and try it yourself if MasterClass is for you.
Till then, keep learning, and keep exploring!