I'll be honest here:
A few months back, I lacked productivity due to the heavy workload.
I thought to give it a try to productivity course online.
Of course, I couldn't waste my whole day learning 'how to be productive.
Hence, I looked for an online website for a good and quick course which I heard the most those days:
Skillshare.
After putting some keywords and scrolling through the screen, I finally decided to have a Skillshare class from Ali Abdaal on How To Organize Your Workflow To Maximize Productivity.
(I was on the one-month free trial and was checking if a subscription was worth it.)
On that day, I didn't only have a quality 2 hours of video lesson but also an excellent first impression of Skillshare.
Impressed by high-quality video lessons, I took several more online classes thereon, and now I am a regular member of the Skillshare community.
If you are about to buy a Skillshare subscription or looking for a detailed review, then here is everything.
Dive into my 'hands-on' experience cum review with Skillshare and know if it is worth taking for.
Let's get started.
What Is Skillshare?

Skillshare is an online learning platform where you learn from thousands of video lessons taught by various instructors worldwide.
On Skillshare, you learn at your own pace because the whole video class is available on your screen when you subscribe to a premium membership.
However, this online learning platform focuses more on learning through completing a project, which is a HUGE plus point.
Skillshare Course Catalog

Founded in 2010 by Michael Karnjanaprakorn and Malcolm Ong in New York City, New York, the Skillshare website first got live in April 2011.
Initially, Skillshare had very few courses.
However, as of 2023, Skillshare has over 35,000+ premium courses on its platform from various niches, including but not limited to:
Creative Writing
UX Design
Photoshop
Programming
Web Development
Graphic Design
Business & Entrepreneurship
Advertising
Fashion & Style
Film And Video
Food And Drink
Gaming
Music
Photography
Social Media
Writing And Publishing
Technology
And more.
CHECK THE COMPLETE COURSE CATALOG ON SKILLSHARE!
How Are Skillshare Courses Structured?
Skillshare has video courses that can be streamed by visiting Skillshare.com after buying a membership.
The courses are structured in different parts containing video lessons and projects as compulsory content (as Skillshare focuses on project-based learning).
The video content plays on the left-hand side of the website (on the web browser), while the course content is displayed on the right.
You can toggle between lessons to find what is coming next and how much you have completed.
Below the video playback screen, you get five options on your learning page:
About
Reviews
Projects And Resources
Discussion
Transcripts
About
As you might have already guessed, the About section contains a whole course summary.
The section is dedicated to informing you of what you will learn in this course, who your teacher is, and what you can expect.
Also, you can know through the About section about the course and who the course is specifically helpful for.
It helps to know if the new courses on the platform suit your skillset.
Reviews
The Reviews section has reviews, opinions, and feedback from past students of the particular course, which is displayed to help you know if the course is best for beginners or advanced.
Also, it mentions if the course is up to the expectations of students.
Therefore, this section helps you determine whether a new course fits your skill level.
I also took my first course on Skillshare after reading the review section first.
Projects And Resources
As I mentioned, Skillshare focuses on making you learn through completing a project, and every Skillshare course comes with a project.
And you have to complete the project during the course duration.
The Projects And Resources section describes the project and other resources that the instructor of that course shares.
Students can even share pictures and write-ups about their projects to receive feedback from other students and instructors.
However, this step is optional.
Discussion
On Skillshare, you get a community of learners, and I personally loved the discussion form where I can put my doubts and ask for feedback from others.
In the Discussion section, you put your questions, request feedback, and provide feedback.
The course instructor can also join the discussion to help the students.
Transcripts
Whether you are new to the "English" language or want to read along while you are hearing, the Transcript section is there to help you.
Find important listings, references by the instructor, or details on specific timestamps, and the Transcript section makes it easy for you.
How To Access Skillshare?

You can access Skillshare through Skillshare.com.
Once you visit the website, you can start free with Skillshare.
However, first, you must sign up with your Google, Facebook, or Apple account.
Apart from this, there is also Skillshare mobile app available which you can download from App Store for iOS devices and Google Play Store for Android devices.
The mobile app has the functionality to download video lessons for offline viewing.
However, you cannot download video courses on the website interface, so you need a mobile app.
A Complete & Honest Skillshare Review: Is Skillshare Worth It?
I understand when buying something, we want to know everything before putting our hard-earned money in.
Therefore, here is everything that I had as an experience with Skillshare.
My Review Of Skillshare Courses – 8/10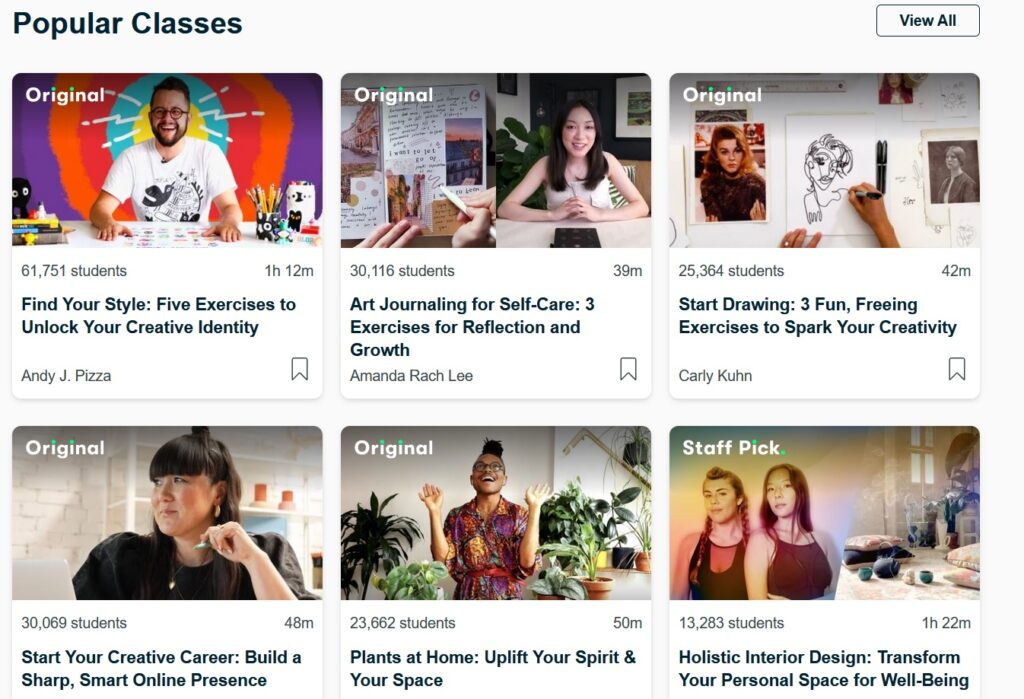 Initially, I got on Skillshare because of my need and curiosity to try a course.
And now, I am on Skillshare because of its quality!
Let me explain:
My first course on Skillshare was How To Organize Your Workflow To Maximize Productivity.
I learned two things from there:
First, practical actions that I can take to improve my productivity
Second, in two hours, you can 'actually' learn something new and valuable
However, before taking that course, I was pretty speculating on Skillshare and read several other Skillshare reviews on multiple websites, including course reviews.
But finally, I have to say Skillshare is a great online learning community and platform.
Considering the course catalog, Skillshare has 35,000+ courses available on its platform now.
However, you may have to put some effort into finding good instructors, as Skillshare has thousands on its platform.
Furthermore, the courses on Skillshare are of various duration.
From 30 minutes of a class to 2-3 hours of video lessons are there, which makes it easily digestible.
The best part?
Complete a project with each video lesson.
In most Skillshare courses, there is a project associated with which the learner has to complete, and I found it a plus point for a better learning experience.
And, of course, you can learn in various niches depending on your need and interest.
Personally, I liked this way of learning, where I have to put some hours to learn and get some skills in my hand.
Skillshare has almost every topic you can grab in a video class. Such as:
Advertising
Business
Design
Entrepreneurship
Fashion & Style
Photography
Social Media
And many more…
On Skillshare, you have to give a few hours to learn something new, which means you can even learn outside of your busy office day or when you have a tight schedule.
The bit-sized knowledgeable video lessons are something that I loved the most and have also appreciated in my MasterClass review.
Skillshare Instructors – 7.5/10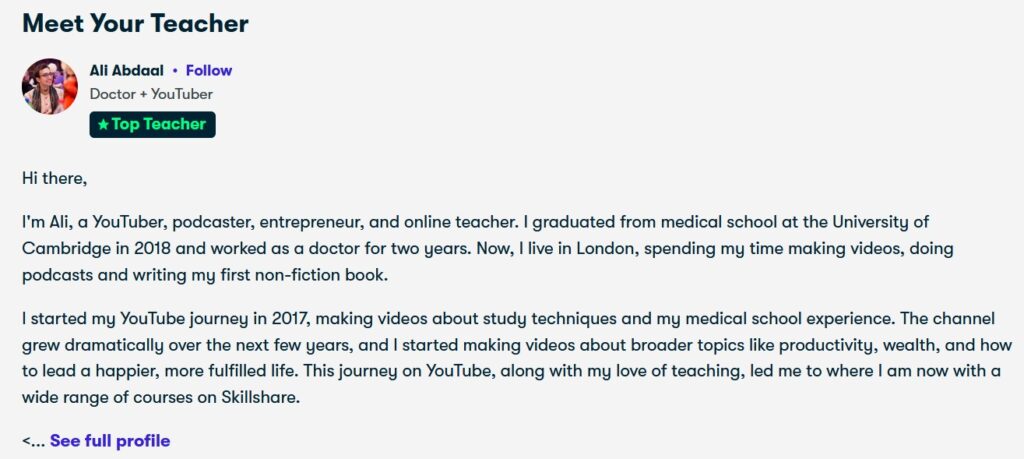 Unlike, MasterClass, where you get celebrity cum expert and renowned instructors, Skillshare brings you access to the thousands of talented and experienced teachers worldwide.
But honestly:
I had to put much effort into getting high-quality courses and instructors on Skillshare.
It is because of one main reason – having thousands of instructors.
And on top of that, unlike other high-quality online learning platforms, Skillshare accepts anyone as an instructor.
According to them in a conversation, the instructors can be creatives, entrepreneurs, and professionals who are great at what they do and passionate about sharing their skills with others.
Hence, a Skillshare instructor doesn't need any teaching experience to become an instructor.
And we humans always get puzzled when we get multiple choices, so finding a gem instructor becomes tougher on Skillshare.
However, the course review feature surely helps you to know about the instructor (more about features in a bit).
On the other hand, Skillshare has some excellent instructors for which you don't have to think twice.
Some notable names are Aaron Draplin, Jeff Staple, Bonnie Christine, Anne Meyer, Marc Ecko, Gary Vaynerchuk, Guy Kawasaki, and many more.
I took a popular course by Marc Ecko on "Run Your Own Business: Lessons From Biggie," which was beginner friendly and taught me several secret mantras from the Marc experience to have management skills and run a business successfully.
My Experience With Skillshare Features – 8/10
Skillshare has multiple features that set it apart from other online learning platforms.
But I loved these the most:
#1. Unlimited Classes
For the price you pay on Skillshare (price review in a bit), you get unlimited access to 35,000+ courses.
And this is what makes Skillshare unique in itself.
But it has its own pros and cons as well.
The significant advantage of having Skillshare is that you can pick nearly any topic of your interest and start learning at any time.
And within a few hours of class, you will be knowledgeable about that topic.
On the contrary, the disadvantage of Skillshare is that you will have tons of options, and it will be hard to find which is the right and valuable course for you.
However, now finally, Skillshare has got a solution for this:
Learning Paths.
#2. Learning Paths (New Feature)

As I mentioned, finding the right course becomes tough on Skillshare, as plenty of them exist.
And even if you took one course and wonder which next class you should opt for to have a relevant skill in your arsenal, the Learning Paths is the feature that will help.
Under Learning Paths, the Skillshare app has some hand-picked, sequential classes to get skills in a specific niche.
For instance, if you are an aspiring software engineer and want to master programming in JavaScript, Skillshare has a "Novice To Expert In JavaScript Course" – of multiple video lessons on JavaScript stitched into one learning path to master programming skills.
Similarly, other skills under this feature will help you choose a direction in your field of interest.
As of now, there are 72+ Learning Paths ranging in a variety of subjects.
I found this a handy feature as it saves time searching for the courses and allows you to pick a direction and master a niche.
#3. Skillshare Community/Student Projects
Skillshare used to offer a space to its learners where they could join groups to connect with other learners, ask questions, and share ideas.
However, this feature is now discontinued.
But there's a new feature introduced by Skillshare – Student Projects.
Under this section, learners can upload their work and projects for review to get feedback from other learners and instructors.
However, this feature is more beneficial for artistic/creative projects.
Quick Note: Just like Skillshare Community, Chroma Courses was a feature rolled out before.
Under Chroma Courses, live Q&As, personalized feedback, and group learning were the primary purpose.
However, now, the Chroma Courses feature is also discontinued.
#4. Skillshare Perks
Do you know Skillshare offers perks when you get their membership?
I love offers and deals. And if you too, then you are going to love this feature.
When you sign up for Skillshare, your account provides perks ranging from various creative services and products such as Adobe Premiere Pro, Canva, Squarespace, and more.
You get some discounts for these services under the perks section. You can learn more about redeeming perks by visiting Skillshare.com/perks after signing up.
#5. Schedule Your Class
Last but not least.
I'm forgetful. And this feature helped me a lot in completing my online courses (not only on Skillshare but also on other learning platforms).
However, before, I used to schedule my class timings on Google Calendar, but on Skillshare, you get this inbuilt feature to help you plan your class in just a single click.
Skillshare Website Review – 8.5/10
I've mainly used Skillshare through its website.
And I must say, their website is fantastic!
The interface is relatively smooth, and navigating courses and video lessons feels fantastic.
When you enroll in a video course, you get video playback on the left side and course content on the right side.
You can easily toggle between lessons and know what's coming next and how far you have come in the course.
Furthermore, their website contains information you need as a first-time visitor.
You can check their FAQ page and find all the information needed to get started on the platform.
My Skillshare Review Verdict
So, now, you might be wondering, is Skillshare worth it?
Well, the answer is probably.
Overall, I have had a positive experience on Skillshare, and I must say this platform is excellent for learners.
And the thousands of video courses ensure you learn from various topics and instructors.
On top of that, feature like the Learning Paths enables you to master a skill with in-depth knowledge and excel in the professional world.
However, I recommend you try Skillshare free and explore if it is worth it.
You can start under a free Skillshare trial and enroll in some courses.
And even if you find that Skillshare is not fit for you, you can cancel your subscription before the trial ends.
5 Most Popular Skillshare Courses As Of Now
Just in case you are confused about getting started on Skillshare, here are the currently popular courses that learners are taking on:
1. Social Media Marketing: Tips For Growing Your Followers & Going Viral
2. Real Productivity: How To Build Habits That Last
3. Modern Money Habits: 5 Steps To Build The Life You Want
4. Video Editing With Adobe Premiere Pro For Beginners
5. Intro To UX: Fundamentals Of Usability
Get started with these courses, or find more in different categories on Skillshare.com.
Pros And Cons Of Skillshare
Once you take a Skillshare subscription, you are left with fewer options.
Therefore, here are the significant advantages and disadvantages of my experience that will help you decide beforehand.
Pros:
1. Free Trial Available
Not sure about Skillshare?
Get started with a Free Trial!
One of the significant advantages of Skillshare is that you can start for free.
So, with no investment, you can explore the platform and know if it is worth taking for.
2. Thousands Of Classes
Whether you want to learn How To Clean & Organize Your Fridge or Maximize Your Productivity & Organization, Skillshare has everything on the table!
With 35,000+ courses, you will find video lessons for almost everything you can ask for.
And it is a significant advantage of having a Skillshare premium subscription!
You can learn anytime, anywhere, and almost on any topic.
3. Feature-Packed Platform
Skillshare regularly introduces new features.
Chroma Courses and Skillshare Community were features that learners loved, but now there are new features like Learning Paths.
I personally found the Leaning Paths feature extremely useful, where I could search for the topic of my interest. Skillshare will give me exactly which courses to continue doing and master skills.
With multiple video lessons stitched into one course, you can master your field of interest quickly without wasting time wondering about the next classes to choose from.
4. Project-Based Learning
On Skillshare, with each course, you don't only get video lessons to complete but also multiple projects that are a must to be completed during the class period.
That means you get a 'hands-on' learning experience on Skillshare.
With the completion of the project, you get the practical use of the skill you are learning.
So, it is a HUGE plus point for the Skillshare platform.
5. Skillshare Perks
With Skillshare membership, you get Skillshare perks which you can use to avail of multiple offers on various service platforms such as Adobe Premiere Pro, Canva, and many others.
These perks can help you showcase your skills with the services once you have completed the course on Skillshare.
For instance, if you have taken a video editing course and mastered this skill, you can take Adobe Premiere Pro at a discounted price from Skillshare.
Overall, Skillshare Perks aims to benefit the learner with other services to help upscale their learned skill in the professional journey.
Cons:
1. Having Anyone As An Instructor
Skillshare doesn't have a MasterClass level of instructors.
Instead, Skillshare accepts instructors from anywhere without teaching experience or criteria.
That means not all instructors will be that good or 'expert' in that sense.
Therefore, you must put much effort into finding a 'gem' or quality instructor.
2. Not Credentialed
Skillshare is not accredited or recognized, or credentialed.
Therefore, you don't get any certificates or shareable stuff that you can put on your LinkedIn profile.
Unlike Coursera, where you get certificates from various reputed Universities worldwide, Skillshare can only get you experience and skills from its platform.
3. No Free Courses Outside Of Trial
You can have full access to Skillshare under a free trial.
Therefore, even premium courses are available during that period.
Once the trial is over and you don't subscribe for membership on Skillshare, you don't get any free courses outside of this.
So, there are no free classes you can take on Skillshare. So you have to take a membership or a free trial to access the courses.
How Much Does Skillshare Cost?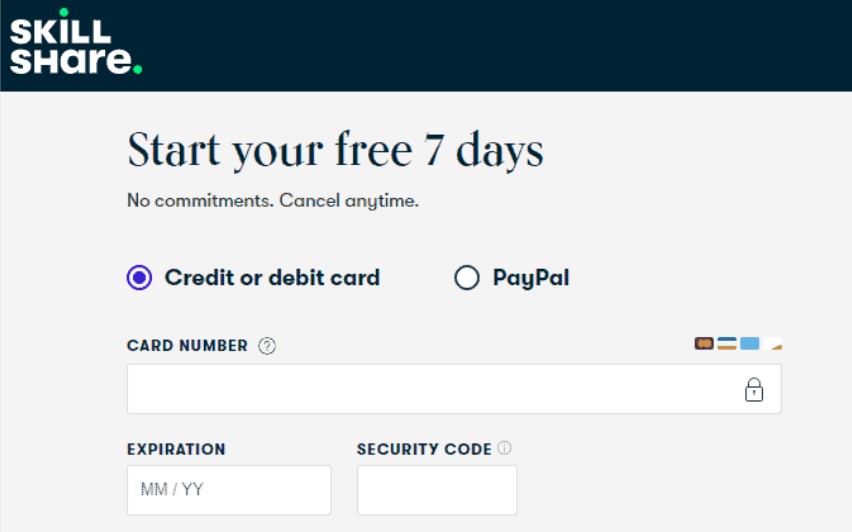 Are you curious about How Much Does Skillshare Cost?
Well, Skillshare doesn't reveal its pricing on the website at first glance until you take its free trial.
However, you are not alone in this. Even after googling several times and reading multiple articles, I could not find the exact pricing.
But now, no worries, I will sort that out for you.
Here is the latest and updated pricing on Skillshare that is available in 2023:
1. Free-Trial
Skillshare offers seven days to 30 days of trial, with unlimited access to the complete course catalog.
However, you must sign up for their subscription plan to get the free trial.
2. Annual Subscription Plan
Skillshare offers a $168 membership plan to access its platform for all video courses in 2023.
With that price, the average monthly amount you would pay to Skillshare will be $14.
However, on Skillshare, you pay for the whole year upfront, so there are no monthly charges.
Update: As of 2023, there are no monthly plans. A few months back, Skillshare used to offer monthly membership of $32, but now Skillshare has discontinued this membership plan. Therefore, you need to pay the yearly subscription amount of $168 to get access to the courses.
Apart from this, Skillshare has always got offers, deals, and discounts to offer you so that you can grab a good deal.
However, you must watch their website to avail yourself of offers and deals.
On various special days throughout the year, such as Black Friday, Cyber Monday, Christmas, New Year, and several other days, you can get up to 50% off on its yearly subscription plans.
Also, there are multiple promotional deals where at least 40% off discount codes are available.
Furthermore, Skillshare has team subscription plans that allow the group access to Skillshare courses.
If you have an organization, you can buy the Skillshare Teams plan, which gives you access to their courses to upskill your employees.
Even you can gift this subscription to your employees as well.
To learn more about Skillshare Teams Plan, click here.
Will Skillshare Help Me With My Career?
Yes, Skillshare can help you prepare for your career.
With thousands of courses and a Learning Path feature on the platform, you can master a skill in your hand to be successful in your career and even land a decent job with that.
For instance, if you want to learn JavaScript, Skillshare has the complete mastering course, "Novice To Expert In JavaScript," to help you get started in this field.
Similarly, you will find several other courses that can boost your professional skills and help you upscale your professional life even if you are already at a certain level.
To learn more about professional courses, check the link below.
CHECK SKILLSHARE PROFESSIONAL COURSES!
Skillshare Alternatives
Now, you might be wondering if there are better alternatives to Skillshare.
Will Skillshare be better than other available online learning platforms?
To answer that, here is a detailed comparison of the most popular learning platforms available now.
Skillshare vs. LinkedIn Learning
LinkedIn has always been a social media platform to build professional connections and even land jobs.
But LinkedIn has recently jumped into online learning platforms that provide various professional courses to excel in your office or job.
From writing a professional email to communicating and giving better interviews, you will find such courses.
That means LinkedIn is more geared towards the development of professional skills.
Unlike, Skillshare, you cannot find thousands of courses from a vast category of topics (like Cleaning & Organizing Your Fridge).
Don't take my words wrong. However, LinkedIn is great for professional courses if you are more into the corporate industry.
However, Skillshare is for anyone, even beginner or advanced, where you can find courses from nearly any topic or category.
Apart from this, considering the price as well, LinkedIn seems costly.
For a one-month membership plan, you need to pay $39.99 per month after the free trial.
Even if you opt for an annual membership with an average of $19.99 per month charge, you need to pay a $239.88 upfront fee to get access to their courses.
And that price is way more costly than the Skillshare annual membership of just $168, which costs you $14 monthly.
Skillshare vs. Coursera
I have taken several courses from Coursera and also showed off the certificates on my LinkedIn profile.
But when compared to Skillshare then, these two platforms are quite different.
On Coursera, you get various courses from reputed and renowned universities across the world.
You also get certificates after completing the course, which you can showcase in your Resume, CV, or LinkedIn profile.
Considering the price, then on Coursera, you need to pay per course, unlike Skillshare, where you pay the fee once to get unlimited access to the catalog.
However, one thing that is a HUGE plus point for Coursera is that you can get help as "Financial Aid" if you cannot afford the cost.
And you don't get any such option on Skillshare, though.
So, in a nutshell, you can take Coursera courses if you aim to get certificates and have some professional skills.
However, if you are an avid learner looking forward to learning throughout the year with courses ranging from broad categories, Skillshare has already covered you in the best possible way.
Skillshare vs. Udemy
Udemy is the hub of thousands of courses, including cheap courses (in terms of price only).
Similar to Coursera, you pay per course on Udemy, too.
Also, you get a certificate of course completion, which you can showcase in your CV, Resume, or LinkedIn profile.
On Udemy, you can find courses related to technical skills, professional skills, personal development, and many more categories.
Therefore, in terms of having a vast course catalog, Udemy and Skillshare are similar.
Also, you get various instructors from around the world who are experts, experienced, and talented in their field.
Furthermore, just like Skillshare teachers, you may need to put some effort into finding a 'gem' instructor as there are also thousands of teachers worldwide.
However, one good thing about Udemy is that you can find regular discounts and offers on each course.
And therefore, you can opt for your favorite courses at a massive discount if you hit the deal at the right time.
Overall, Skillshare and Udemy are pretty much the same.
If you are more into professional skill development with long hours of courses (even days) and also want to get certificates, then Udemy is for you.
However, for the short duration of courses, Skillshare is great.
Skillshare vs. MasterClass
MasterClass has a slightly upper hand than Skillshare.
It is because of celebrity instructors or expert and renowned persons from the respective field on MasterClass.
For example, you can take a MasterClass from Serena Williams, Teaching Tennis.
That means you get the expert itself from your field of choice to teach you those skills required to excel in that industry.
(Read my detailed hands-on MasterClass Review here to know more about this platform.)
On top of that, MasterClass has only hours of video classes from the experts, which makes the course easily digestible.
Therefore, you can opt for MasterClass to learn from celebrity instructors or experts in the respective field.
Considering the cost, you need to pay annually on MasterClass beforehand, just like Skillshare members do, to access their courses.
To know more about plans on MasterClass, check the link below.
Take Skillshare Classes For Free With a Trial Membership
To get started on Skillshare, you have the free-trial option.
Sign up with your Google account (other options are available, too) and opt for the free trial by following the on-screen instructions.
Once you are signed up, you will have unlimited access to the whole course catalog on Skillshare.
You can take multiple courses as you want on the platform.
If you find that the Skillshare free trial is not suitable for you, you can cancel your membership before the end of the trial to get your money back.
To know more about refunds, check the FAQ page of Skillshare here.
Is Skillshare Legit?
Yes, Skillshare is 100% legit.
Founded in 2010, Skillshare has been over 13+ years old in the online learning industry, with over 25 million registered users worldwide.
The platform provides a yearly subscription model with unlimited access to its courses.
However, you also get a free trial to test out the platform.
And during the trial period, if you don't find it right, you can cancel the subscription to get your money back.
Can Skillshare Be Used For Free?

There is no direct way to use Skillshare for free.
But here is how you can benefit from the free Skillshare trial to get free courses.
After signing up on Skillshare and accessing the course catalog, you can opt for a free trial.
And you can cancel your membership before the trial ends to get your money back without getting charged.
However, doing so is immoral, but Skillshare invites the users to try their classes, and if they don't find it suitable for themselves, they can cancel their membership.
Skillshare Monthly Cost And Pricing Options
As I mentioned, Skillshare has no monthly subscription plan as of 2023.
However, Skillshare used to offer a monthly plan, which cost $32.
But now, you only have a yearly subscription plan of $168, which costs $14 per month on average.
That means you have only an annual offer to opt on Skillshare to get access to their courses.
Skillshare Teams

Skillshare has Teams Plan for larger organizations, allowing group access for multiple users, such as employees in your business or organization.
The Teams Plan starts at $159 per user per year.
This cost is for the 'Starter' plan under Skillshare Teams.
However, the' Enterprise' plan will suit you if you have over 20 employees.
The enterprise plan is not revealed on the website; therefore, you must contact the sales team to discuss the price.
Similarly, the 'Revive' plan is for higher members in your organization.
If you have more than 51 employees and want group access to Skillshare, then the Revive plan is what you should opt for.
The price is not revealed, but you can discuss it with the Skillshare sales team.
Popular Skillshare Classes To Get Your Started
Here is the list of popular classes that can help you get started on Skillshare.
1. Logo Design With Draplin: Secrets Of Shape, Type, And Color
2. Adobe Illustrator CC: Essentials Training
3. Social Media Marketing: Tips For Growing Your Followers & Going Viral
4. Getting Started With Email Marketing | Learn With Mailchimp
5. Learn To Teach An Amazing Skillshare Class
6. Creative Writing For All: A 10-Day Journaling Challenge
7. Storytelling 101: Character, Conflict, Context & Craft
9. Modern Money Habits: Steps To Build The Life You Want
There are thousands of other courses waiting for you to join them. Click the link below and get started on Skillshare for free.
GET STARTED WITH SKILLSHARE FOR FREE!
FAQs
Is it worth paying for Skillshare?
If you are an avid learner eager to learn new skills, Skillshare is definitely for you.
The courses that Skillshare offers and the features, perks, and overall experience you get on this online learning platform make it worth the money.
Is Skillshare trustable?
Yes, Skillshare is 100% trustable. Founded in 2010, Skillshare has been in the industry for over 13+ years and has 12 million registered users as of this year.
What are the negatives of Skillshare?
The major negative thing about Skillshare is that it is not recognized, accredited, or credentialed.
Also, as you will learn on Skillshare, after completing a course, you don't get any certificate or anything that is shareable.
Therefore, if you are looking for a shareable certificate that you can put on your LinkedIn profile or somewhere, then platforms like Coursera and Udemy are good options.
How much does Skillshare cost per month?
Skillshare currently doesn't have any per-month cost as they have an annual membership plan of $168, which you need to pay upfront to access their whole catalog of courses for unlimited time till your subscription end.
For the annual price of $168, the per-month cost of Skillshare premium membership becomes $14.
Last Thoughts: Is Skillshare Worth It?
Overall, I had a positive experience taking courses on Skillshare.
And therefore, I recommend Skillshare for avid learners and creative individuals.
Take the annual membership (costing $168), and the cost per course will reduce as you take more classes.
For instance, within a year, if you took 100 courses, the cost per course becomes $1.68, which is affordable and worth it.
Therefore, if you are an active learner looking to build your skills, Skillshare is for you.
However, if you are looking forward to taking only one course or two a year, I don't recommend buying the annual membership.
Coursera and Udemy are better platforms for one-course programs where you pay per course.
(Read reviews of Coursera and Udemy here.)