Skillshare annual membership costs $168 as of 2023.
But there's more:
What if I tell you Skillshare can be free for 30 days?
Or
What if I get you discounts on that annual membership to save some good dollars?
Sounds interesting?
Be with me because I will break down Skillshare cost, membership plans, how to get discounts, and also if Skillshare is worth taking for.
So, for this and more, let's get started.
What Is Skillshare?
Skillshare is an online learning platform.
On Skillshare, you get thousands of video courses on different niches from expert instructors worldwide.
Some of the skills that you can learn from Skillshare are:
Creative Writing
UX Design
Programming
Graphic Design
Photoshop
How To YouTube
Web Development
And many more…
The platform is similar to Coursera, Udemy, and MasterClass.
However, considering quality and curriculum, it may differ (quick review in a bit) from the other online learning platforms.
How To Access Skillshare?
Skillshare is accessible through Skillshare.com.
However, it is also available on mobile apps (for both iOS and Android).
On mobile apps, Skillshare provides functionality to download video courses for offline viewing, which is helpful for users to watch classes when they are offline.
To use the Skillshare app, you need to sign up either using your existing account or the new one for a free trial or membership plan.
The app is easy to navigate and use, and you can find all your courses there, like the website. The interface is easy to use even as a newbie.
Thanks to the user-friendly design!
Pros And Cons Of Skillshare
Before I start with my quick review of Skillshare, let's have quick pros and cons of Skillshare that will get you through the good and bad parts of having it.
Pros:
Extensive 35,000+ courses available in various niches
Learn from talented, expert teachers worldwide
Great learning experience
Discounts, perks for additional products
Free one-month trial
Refer a friend and get one extra month of free
Project-based learning
Live classes under Skillshare Chroma Classes
Wide variety of niches to choose from
Cons:
The quality of courses varies depending on the teacher.
No certificates or accreditation as Coursera.
Skillshare Quick Review

Unlike Coursera or Udemy, where you have to pay for each course, on Skillshare, you pay the annual cost to get unlimited access to their all-course catalog.
(This quick review is based on the course I took a few times back from Ali Abdaal on How To Organize Your Workflow To Maximize Productivity and a few more lessons).
For a detailed review of Skillshare, read my "hands-on" experience with Skillshare here.
I have also tried MasterClass, Udemy, Coursera, and more platforms, but what makes Skillshare different is its cost-effective price for its courses.
Even you also have to agree that Skillshare has thousands of courses.
Therefore, users who want to get skilled in creative writing and also want to know how to design user interfaces for their websites will find Skillshare the most useful.
Basically, for multi-niche skill learning, Skillshare is the best.
The various niches in which Skillshare provides courses are:
Marketing
Animation
Social Media
UI/UX Design
Creative Writing
Freelance & Entrepreneurship
Productivity
Photography
Graphic Design
Music
Drawing & Painting
And more…
As of right now, 35,000+ courses on the Skillshare platform are offered by thousands of talented and expert teachers across the world.
Some notable Skillshare teachers are Young Guru, Guy Kawasaki, Ali Abdaal, Paula Scher, and more.
Each course on Skillshare is organized in the traditional way of the online learning community.
The content of each course is displayed on the right-hand side, and the video playback is on the left (in the web browser interface).
It makes it easier to know where you are currently in the course and what's coming next to learn.
Skillshare has multiple features that I have discussed in detail in my review.
One notable feature I liked is scheduling the class, which you can do from the Skillshare website on your Google calendar.
It's a helpful feature for forgetful users (like me).
Overall, the experience of learning on Skillshare is enjoyable and better (as you don't get to stare at the ppt slides all the time like some other platforms).
For example, I took another course on Skillshare for YouTube from Marques Brownlee, which provided me with in-depth knowledge and motivation to get started.
The enjoyable course gave me deep insight into YouTubing, scripting, and shooting videos.
Skillshare Chroma Courses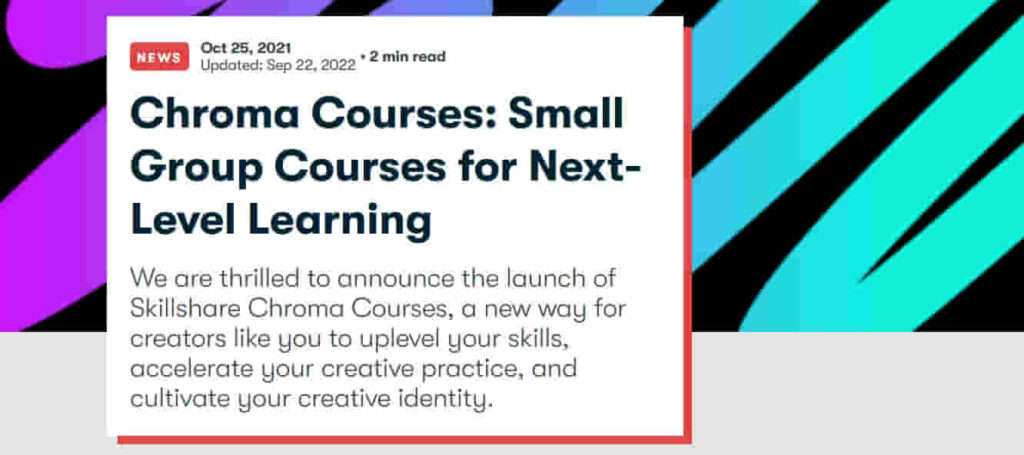 Chroma courses is a recently launched feature that includes "multi-week, immersive, small group courses" with limited seats and exclusive content.
The content is from expert teachers, including live Q&As and feedback on your assignments of courses.
I've shared my experience with Skillshare and its features in my detailed Skillshare Review here.
Skillshare Pricing: Plans, Free Trial Info, More (2023)
As you know about Skillshare and have had a sneak peek into the platform, let's dive into understanding the price, cost, membership, and more.
Skillshare Subscription Plans
As I mentioned earlier, Skillshare's annual subscription plan costs $168 annually, averaging $14 monthly.
Under this plan, you get the following:
Unlimited access to 35,000+ courses on Skillshare
Download videos to watch offline (available on apps only)
Skillshare perks
However, Skillshare offered free courses under free membership plan a few years back.
But now, this offer is no longer available.
You can access Skillshare courses for a free month when you sign up for the premium membership.
You must sign up with your credit card or PayPal to do that. And after one month of trial usage, you will be charged every year.
The annual cost of $168 is paid upfront, and with this subscription plan, you get unlimited access to the course catalog, which features 35,000+ courses.
That means there is no monthly subscription plan on Skillshare.
To access the courses, you need to pay the annual cost upfront.
Skillshare Monthly Memberships
Skillshare used to offer monthly membership plans, which cost $32.
However, now, there is no such membership offered.
Therefore, the cost of Skillshare is calculated annually, and you are billed with a yearly Skillshare membership cost of $168.
And for a year plan, your average monthly cost becomes $14.
Skillshare's Premium Cost
Skillshare's annual premium membership subscription cost is $168 in 2023, which used to go up to $384, with a monthly subscription of $32 before September 2021.
However, now, there is no monthly subscription, and therefore, there is no premium cost other than the annual cost of $168 for all courses.
Is Skillshare Free?

Yes, Skillshare has a one-month free trial when you sign up for annual membership.
However, there are no direct free plans for Skillshare users without signing up for the annual membership.
To get free Skillshare, you can sign up for its annual membership and get access to unlimited classes for free for 30 days and cancel it before the charges get applied.
Of course, it will not be morally correct, but even Skillshare also promotes trying their online classes free for 30 days, and if you don't find it suitable for yourself, you can cancel their membership plan to get a refund.
Skillshare Free Vs. Premium Options
Therefore, there is no free plan for Skillshare, so there is no comparison with the premium option.
However, when you get free access or a trial for the first 30 days when you sign up for annual membership, then you get the same perks, features, and unlimited access to the 35,000+ courses that you will get with premium charges.
Skillshare Teams Annual Membership Plan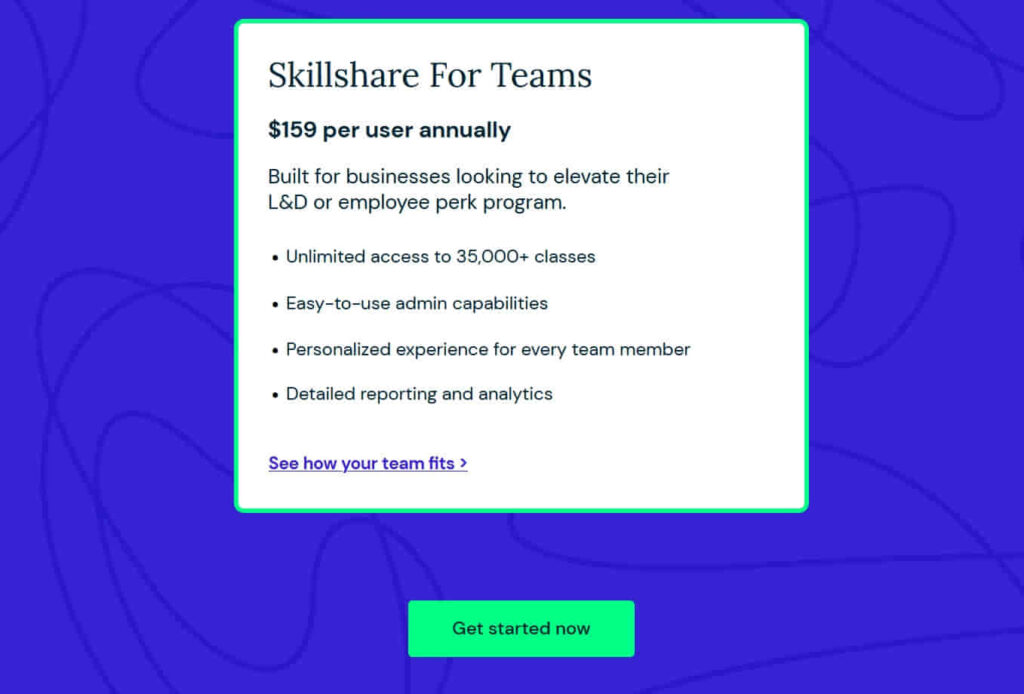 I have an individual plan for Skillshare and never bought the Skillshare teams' premium membership plan.
But for the review's sake, I explored their membership page and found out these things:
Skillshare Teams is designed for businesses
To make your employees skillful, you can provide Skillshare Teams membership
The Skillshare Teams membership has three different plans:
Starter (For 2-19 members), Enterprise (For 20+ members) & Revive (51 or more members).
Do you have a business and wondering how to make them skillful?
Or
Do you want to give your employees the best gift this time?
Gift them a Skillshare membership with Skillshare Teams.
Skillshare Teams has bulk subscriptions depending upon your need or members in the organization.
With an easy-to-manage admin portal, you can manage all your teams in one place.
Right now, Skillshare is offering three plans for Skillshare Teams:
1. Starter
Starter Skillshare Teams membership is for organizations with 2 to 19 members.
The Starter plan costs $159 per user annually, giving them unlimited access to 35,000+ classes.
2. Enterprise
The Enterprise Skillshare Teams membership is for slightly larger organizations having teams of 20+ members.
Apart from unlimited access to 35,000+ courses and mobile capabilities, you get a dedicated customer success manager and daily, weekly, or custom reporting features.
Apart from that, you also get custom-curated class lists.
However, the cost of Enterprise Skillshare Teams is not disclosed on the website.
The price is custom; you must contact their sales team to discuss it.
3. Revive
The Revive Skillshare Teams plan is for larger organizations having team members of 51 or more.
You get the same features as the Starter plan added with:
Onboarding and engagement support
Reporting and analytics two times per year
Curated wellness lists and offerings
The cost of Revive plan is also not disclosed and should be discussed with the Skillshare sales team.
Even though I was an individual member of the Skillshare community, I also had the option to add a Teams subscription, which I tried for just exploring this.
And I found the price per member remained at $159 per year, irrespective of the team of annual memberships, I added.
To learn more about Skillshare Teams, you can check out the link below:
Skillshare Discount Code
Skillshare regularly offers tons of discount codes throughout the year.
Therefore, you can easily have a good cut on the annual membership.
However, you must regularly check out the Skillshare website for discount codes. On the website, Skillshare sometimes offers up to 50% off on a yearly subscription.
Also, I closely monitor this space, so you can check this post later to find coupons for up to 30% off on Skillshare.
How To Pay For Skillshare?
To buy a subscription on the Skillshare website, you can pay with your Credit Card, Debit Card, or even with a PayPal account.
However, on the mobile app, to pay for Skillshare, you need to pay through the Google Play Store or Google Pay for Android, or Apply Pay for iOS.
How Much Does Skillshare Cost in 2023?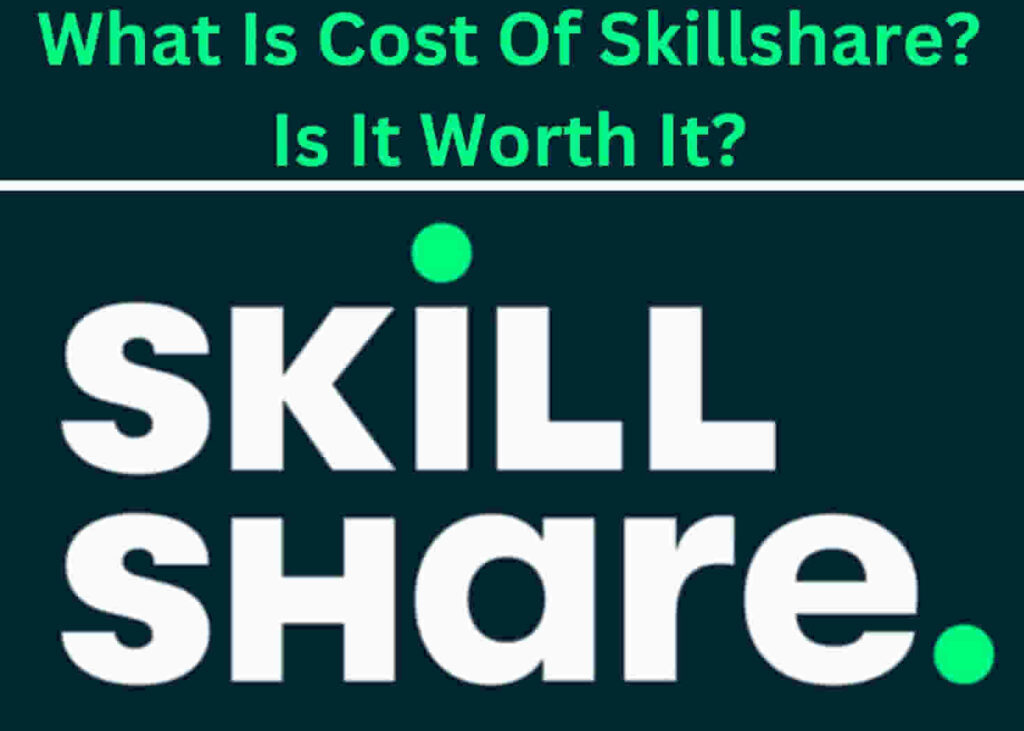 As I mentioned, annual Skillshare membership costs $168 yearly in 2023, averaging $14 monthly.
However, there is no monthly subscription plan as Skillshare was offering before, so you need to pay the amount upfront to access the courses.
You also get 30 days of Skillshare classes free, under which you can cancel your subscription if you don't find this platform right.
To know more about refund policies, check their FAQs page here.
How Much Is Skillshare After Free Trial?
Before starting your free trial classes, subscribe to Skillshare for an annual plan of $168.
However, if you do not wish to go ahead with Skillshare free trial, you can end your subscription before the end of the trial and request a refund as well.
An important note is that you don't get any refund in the Skillshare Teams plan.
How Much Is Skillshare Premium Per Class?
Skillshare offers unlimited access to all classes for an annual charge.
That means you will pay $168 once and get access to the course catalog for a year.
But if you take the Skillshare premium and take only one class, then you pay $168 for that class, which is quite costly.
However, if you take ten Skillshare classes, the cost becomes $16.80, which is quite reasonable.
Therefore, the Skillshare Premium plan and cost shrink more as you take more classes.
It can even cost $1.68 if you take 100 classes within your subscription plan.
Who is the Skillshare Premium Membership Best Suited For?
Now you may ask, who should subscribe to Skillshare?
Well, the answer is those who want to upskill themselves in their choice of field.
Skillshare has classes for nearly everything you can ask for, from programming to drawing and YouTubing.
That means if you want to learn how to develop a web page but the next month you want to explore canvas painting, Skillshare has those skills to get you started.
The membership offers access to all classes available at Skillshare, which is a HUGE plus point for a user.
So, in a nutshell, a learner can access unlimited education with a one-year premium subscription.
Skillshare Pricing Compared To Other Online Learning Platforms
If you ask for Skillshare alternatives from me, I'll recommend the most popular sites.
I have compared it to know if Skillshare is the right choice for you or the alternative:
Skillshare vs. YouTube
Now you may say, "Hey! YouTube has a lot of tutorials and videos teaching this and that."
I agree with you.
But there are three problems with YouTube:
YouTube essentially may not have all the courses that Skillshare is providing
Unknown teachers
Tons of Ads
Of course, you can find some good tutorials and videos from a YouTuber, but to find a gem teacher who can 'actually' get you some skills in your hand, YouTube is a tough platform.
On top of that, you don't know whether you are learning from an expert or just a YouTuber fetching watch time from you.
Last but not least, we must agree that YouTube ads are annoying. Every once in a while, you will get distracted from the video while watching on YouTube.
On the contrary side, Skillshare provides you with qualified, expert, and talented teachers to make you 'actually' get some skills in your hand.
There are no ads to distract you like YouTube, and you will also find classes on nearly every popular topic on Skillshare.
Skillshare vs. MasterClass
MasterClass is different from Skillshare but is also an online learning platform.
But on MasterClass – unlike the Skillshare videos – you learn from the 'world's best.'
On MasterClass, you get high-quality courses taught by celebrity instructors (e.g., Serena Williams Teaches Tennis).
Skillshare costs $168 for an annual membership with 35,000+ courses, whereas MasterClass has just over 180+ courses with 2 to 3 new classes added monthly.
MasterClass focuses more on a broad set of skills for a learner, whereas Skillshare is more towards specific niches such as YouTubing, Drawing, Writing, etc.
Skillshare vs. LinkedIn Learning
LinkedIn is more costly than Skillshare.
You get started with $39.99 a month, which leads to $323.88 paid annually on LinkedIn Learning.
Of course, LinkedIn has professional courses to get you started and upskill yourself in the professional world.
But for a personal learning platform, I'd prefer Skillshare or MasterClass, which costs less than LinkedIn and has a much higher value for money.
Skillshare vs. Coursera
Unlike Skillshare, Coursera focuses on student teaching from various reputed universities worldwide.
Coursera is geared towards professional users looking to build their professional skills with degrees and certificates.
However, with Skillshare, it's not like that. Anybody, whether a beginner or advanced skill holder, can come and learn more from the expert.
Should You Choose Udemy or Skillshare?
It depends on your need and budget!
On Udemy, you pay per course, whereas Skillshare is about getting annual membership and unlimited access to 35,000+ courses with payment for once.
However, you can also have some cheap courses on Udemy and learn one class for a way more affordable rate than a Skillshare subscription.
On the contrary, Skillshare has thousands of courses to make you wise for a year.
So, if you are low on budget and want a specific skill, go for Udemy (if you can find that skill course there).
However, if you are an avid learner and want to dedicate a personal learning platform for a whole year, Skillshare is much better (if your budget allows you to).
Can I Purchase A Skillshare Gift Card?
Now there is no feature to offering Skillshare as a gift card to your loving friend, partner, or someone else.
However, you get this gift card feature on MasterClass.
But if you want to offer Skillshare only, you can create an account using the email account (to which you want to give this gift) and then add your card to buy a premium membership.
Of course, later on, you can share the password to get them access to Skillshare courses as a gift.
How To Cancel Skillshare?
I understand maybe Skillshare is not the right fit for you or you don't want to proceed with this platform anymore.
The good news is that you can quickly cancel your membership on Skillshare.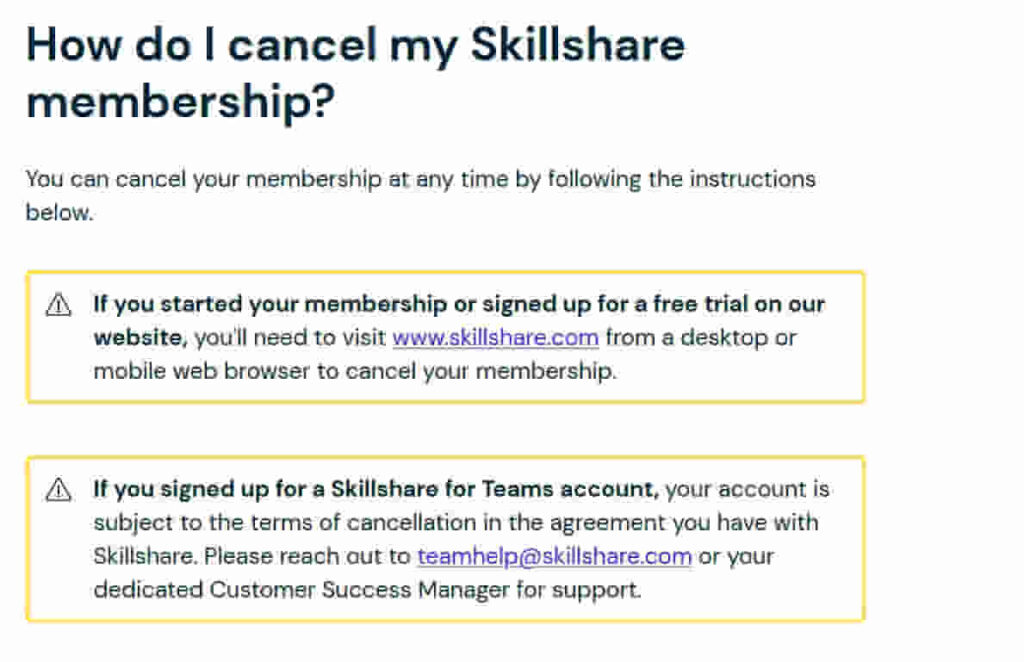 To cancel your Skillshare membership, you need to do the following:
Go to Skillshare.com from a desktop or mobile web browser.
Log in to your Skillshare account and click on account settings.
Select "Payment" from the navigation option.
Click "Cancel Membership."
Now, proceed with the cancellation steps as displayed.
If you have a Skillshare Teams account, contact [email protected] or your dedicated Customer Success Manager (you get this feature in Enterprise and Revive Teams plan).
After canceling your membership on Skillshare, you may still have access to courses until your paid period ends.
Once your paid period ends, you will no longer have access to the courses and will not be charged further.
Refund Options After Canceling Your Skillshare Membership
Skillshare offers a refund on an annual membership if you contact them within seven days of purchase.
However, an important note here is that Skillshare cannot cancel, refund, or manage memberships purchased through iOS App Store or Google Play.
As per Skillshare, you must contact the app store directly for billing, cancellation, or refund questions.
To learn more about Skillshare refund policies, check their FAQ page here.
Skillshare FAQs
How much do you pay for Skillshare?

You pay $168 annually on Skillshare for unlimited access to 35,000+ courses. However, if you buy Skillshare for an organization, you have the Skillshare Teams plan, starting from $159 per user per year.
Is it worth paying for Skillshare?

Skillshare is worth it for individuals looking to learn and grow their creative skills professionally or personally.

With thousands of quality online courses in different niches, you make every penny worth it.

For an annual membership of $168, you reduce your cost per class as you take more classes.

For instance, if you take 100 classes a year, the cost per class becomes $1.68, which is very reasonable and worth the price.
How much is Skillshare per month?

Skillshare used to offer membership with per-month plans. But that plan is no longer available in 2023.

Now, you get charged annually for access to Skillshare courses, and that costs $168 per year.
Is Skillshare or Udemy better?

Skillshare and Udemy are both different online learning platforms in terms of cost. You pay per course on Udemy, whereas on Skillshare, you pay for the whole year upfront to get unlimited access to 35,000+ courses.

Skillshare and Udemy are better choices depending on your need and budget.
Final Words: Is Skillshare Cost Worth Paying For?
Yes, the Skillshare price is worth it.
If you are an avid learner and eager to improve your skills in multiple niches with specific requirements, Skillshare has got you covered.
However, Skillshare may be worth it for me, but for you, it is only answerable to YOU.
Therefore, I recommend you try Skillshare under a free trial (where you can cancel under seven days for a full refund) and find out if Skillshare is for you.
You can also check out my personal experience with Skillshare under detailed Skillshare Review here to know more.