In this Skillshare vs. Udemy guide, I'll share my experience with both platforms and which is best to consider in 2023.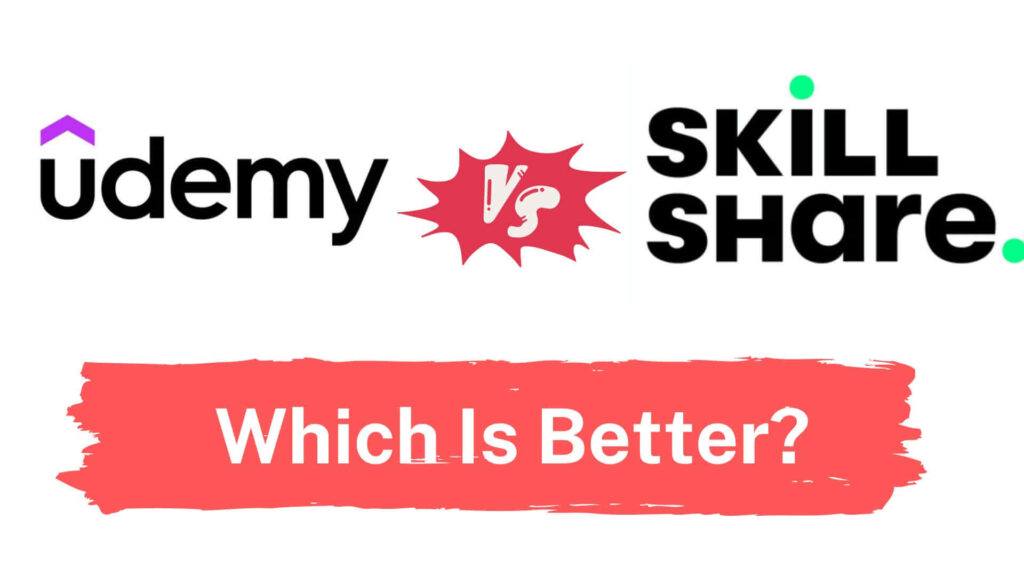 I have used Skillshare and Udemy both.
But there was a time when I was looking for a time management course. And I was confused between the two famous names: Skillshare and Udemy.
It was hard to choose between these two best options.
Even I wasn't sure what learning from these platforms was like. What type of online courses do they offer?
Ultimately, I wanted to know which one would be the best choice.
I know you might also have these questions for sure.
So, to answer that and more, I've created this in-depth comparison between Skillshare and Udemy.
Let's break down everything and determine which to consider in 2023.
What Are Udemy And Skillshare?
Udemy and Skillshare are both online learning platforms.
You can access Udemy on Udemy.com and Skillshare on Skillshare.com.
Mobile apps are also available, which you can download from Play Store for Android and App Store for iOS devices.
You can find thousands of courses on both platforms in various niches such as Arts, Entertainment, Cooking, Business, and more.
However, we will be breaking down course categories for specific platforms in further review.
In case of Udemy, you also get the course completion certificate. However, in Skillshare you don't get that.
Udemy instructors are professional and experts in their field and same goes with the Skillshare as well.
However, both these platforms allow anyone having expertise to make courses and teach.
To access Udemy you can pay per course however, Skillshare offers annual subscription fee. There is no monthly subscription with either of platforms.
Udemy Vs. Skillshare Summary
Udemy is one of the famous names for learning online through courses.
Currently, Udemy has more than 2,10,000+ courses on its platform from a wide range of niches.
The wide range of niches are:
Business
Music
Cooking
Development
Programming
And many more.
On the other hand, Skillshare is more leaned towards creative courses such as Graphic Design, Photography, Video Editing, Animation, and much more.
However, on Skillshare, you can even find courses for self-help, like time management courses, how-to YouTube courses, etc.
Skillshare offers over 34,000+ courses on its platform from various niches.
Fewer courses are free on Udemy, but you must get a free trial on Skillshare to access the classes. Therefore, there are no free courses on Skillshare.
Regarding the prices of multiple courses, Skillshare offers a $168 per year plan with a 1-month free trial.
However, on the other hand, Udemy offers prices per course.
The price for the course starts from $19.99 onwards. However, during special days, Udemy also offers huge discounts.
Like Skillshare, Udemy also offers a personal plan with a $16.58 monthly cost.
The cost for Skillshare and Udemy changes regularly during the discount, so you must keep updated with their site.
As you already know a bit about Skillshare and Udemy, let's dive deep into the comparison to find the best option for you in 2023.
Skillshare Vs. Udemy Comparison Table
Want to know what these two different platforms hold for you?
Have a look at this table for a quick comparison.
Parameter
Skillshare
Udemy
No. of users
12 million +
46 million +
No. of courses
40,000+ courses, majorly in 3 sub-divided categories
2,10,000+ courses across 12+ categories
Instructors
High-profile instructors, but any creative individual can design and offer a course.
High-profile instructors, but anyone can create and offer a course
Cost
$14 per month billed annually
Individual courses start from $13
Free content
Free courses are available only after signing up for the free trial
500+ free courses
Features
– High-quality full HD content with subtitles and transcripts
– Multiple filters to narrow down your search
– Skillshare Learning Path for mastering a specific skill

– High-quality full HD content with subtitles and downloadable resources
– A broad category of courses
– Multiple filter choices to search a course
– Shareable course certifications after completion
Best for
– Creatives and individuals looking to upskill
– Businesses to make their employees upskill
– Anyone looking to learn new creative skills
– Learn professional or personal development skills
– Companies for upskilling their employees
– Individuals who want to keep updated with the latest skills in the market
Check more
Visit Skillshare
Visit Udemy
Skillshare Vs. Udemy Detailed Comparison
Now it is time to dive deeper into this comparison and find out who is the best platform to consider in 2023.
However, depending on your need, you will decide whether Skillshare or Udemy is the best option.
I'll be breaking down this comparison into ten main differences.
Therefore, by the end of this review, you can decide which platform to choose.
So, let's begin:
1. Popularity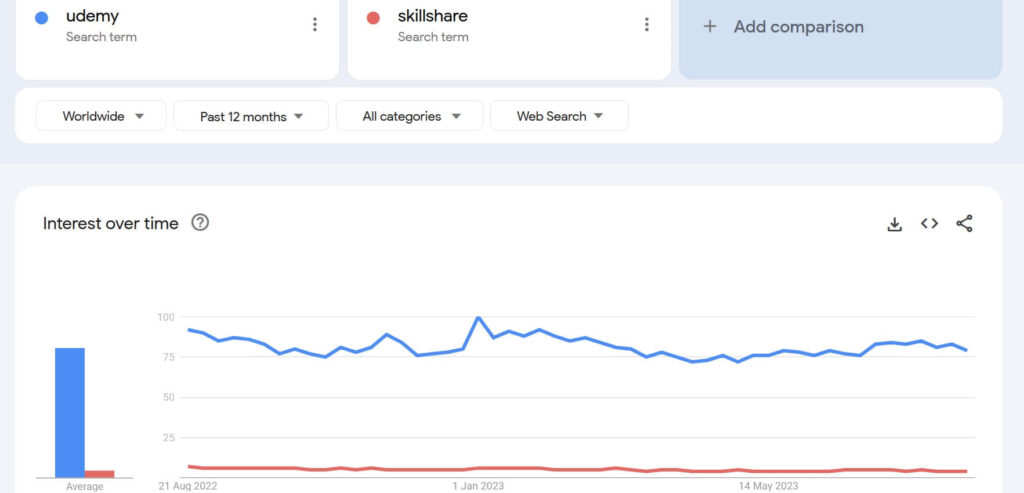 These online platforms are already quite popular.
However, regarding a comparison between Udemy Vs., Skillshare then, you can see the screenshot from Google Trends here.
Udemy is more popular than Skillshare.
And as per my view, this is for mainly three reasons:
· 2,10,000+ courses from 75+ different languages on its platform
· Pay per course so that people can learn a specific skill when they need
· Regular discounts and deals on its platform
However, on the other hand, Skillshare has got 34,000+ classes and more than 8 million students, which are big numbers, but compared to Udemy, Skillshare is still behind.
Therefore, considering popularity then, Udemy is more popular than Skillshare.
And with more popularity, it is obvious to have a larger community of learners on Udemy.
2. Udemy Vs. Skillshare Courses

Ok! Now this is the main comparison.
Both Udemy and Skillshare have courses for learners.
And let's break it down step-by-step so we can know which platform offers better quality courses.
Course Information
Skillshare and Udemy both have thousands of courses on its platform.
Therefore, it becomes hard for users to search for their relevant courses.
And this is where the course information comes into play.
Fortunately, both Skillshare and Udemy offer you multiple filters which you can apply and sort down your required courses.
For instance, Skillshare has good filters like 'Class Type,' 'Class Length,' 'Related Skills,' etc.
You can apply those filters according to what you are looking for, and you will have your courses right before you.
Apart from the filters, there is also a 'Recommended Classes' section where you can find internally picked courses by Skillshare.
Similarly, Udemy has a broad category of filters (even more than Skillshare).
You can pick courses as per rating, duration of video lessons, topic, subcategory, level (beginner, intermediate, advanced), language, and more.
There is also an option to filter out courses according to the Price.
That means there are more options to pick a course on Udemy, making it easy for users to get the lessons.
Another common thing that both Skillshare and Udemy possess is the information related to the course, such as the level of the course, the instructor, and what you will learn in that course.
You can even read reviews by the other students under the course section.
So that you can have a pre-enroll sneak peek into the course and what it holds for you.
Therefore, both platforms provide enough details to know if the course is worth taking.
Quality Of Courses
Honestly, deciding the quality of courses is a tough task as both platforms let anyone teach on the platform.
However, the good part is that both Udemy and Skillshare have some formal requirements that instructors must meet.
These requirements are HD Videos, Minimum Length, Education Goals, etc.
Moreover, on Skillshare, some courses are internally produced by big companies like Moz, Adobe, and Mailchimp.
As per my personal experience with both of these platforms (Skillshare and Udemy), I liked the quality of both of them.
However, I used these two best online learning platforms for my two different learning goals.
Therefore, you can match your learning requirements accordingly and determine if Skillshare or Udemy is your best learning platform.
3. Udemy Vs. Skillshare Teachers
As mentioned earlier, Udemy and Skillshare allow anyone to teach on their platform with minimum requirements met.
Therefore, you will find thousands of teachers across the world teaching in various languages on Udemy as well as on Skillshare.
However, Udemy produces its own paid courses known as Udemy Official Courses. And similarly, Skillshare also has its own courses known as Skillshare Originals.
For example, you can learn a Beginner SEO course taught by Rand Fishkin, one of the most essential SEO experts in the world.
Moreover, if you are more concerned about teachers on the platform, you can check the reviews, ratings, and overall recommendations by Skillshare or Udemy to determine if the instructor quality is good.
Even I opted for my first course on Skillshare through reviews by other students enrolled in the same course.
4. Skillshare Vs. Udemy Pricing
Pricing is one of the most important sections of this review cum comparison between Udemy and Skillshare.
However, Udemy and Skillshare offer different pricing models. Therefore, I will break it down quickly for you.
Udemy Pricing Model
You can opt for each course and pay by the class you opt for on Udemy.
However, you can even have Udemy Business Plan (which is quite costly) to access the whole platform and course catalog.
Therefore, if you are looking for a course or two to enroll in, then Udemy is much better as it offers a pay-per-course model.
Also, during the sales and discount seasons, you can avail of courses at much cheaper prices.
The Udemy pay-per-course price ranges between $19.99 to $199.99 a course.
Pro Tip: Udemy regularly offers discounts and coupon codes, which are regularly available on its platform. You must check out those coupons to make your purchase much cheaper.
Skillshare Pricing Model
Unlike Udemy, Skillshare is not straightforward with the pricing. In fact, you will hardly find any mentions of their pricing on the homepage.
But don't worry! I have got your back.
Skillshare offers a free trial for its new users.
Under the free trial, you sign up for a paid subscription, and if you cancel it before payment day, you can get all the courses for free on Skillshare.
However, the paid pricing model works with an annual cost of $167.88, which comes down to $14 per month on average.
Even though I have talked in detail about Skillshare in my hands-on Skillshare review but I will share here in a quick way:
· There is no monthly plan on Skillshare
· You need to pay the annual subscription fee of Skillshare upfront to access the whole course library
So, in a nutshell, if you are looking to learn through a few courses, then Udemy is a better choice as it gives you the freedom to pay for each class.
On the other hand, if you are an avid learner looking to upskill yourself with creative skills throughout the year, Skillshare is a better platform.
Just pay for the annual subscription cost, and you will have lifetime access to the whole course library of Skillshare for one year.
5. Free Courses On Udemy Vs. Skillshare
I'll be pretty honest here:
Skillshare doesn't offer any free courses on its platform.
It provides a free trial, in which you must subscribe by giving your details.
However, with Udemy, you get some basic courses for free.
For example, some courses related to the primary English language are free on Udemy.
Approximately 500+ courses are free on Udemy.
Therefore, if you want to experience these platforms, Udemy has free courses to take you through the journey quickly.
However, Skillshare doesn't have any free courses at all.
6. Ease-Of-Use & Design
The design might be a personal preference thing, but overall, you will find Skillshare and Udemy both have pretty user-friendly interfaces.
When you go to the Udemy homepage, you will find a search bar on the top where you can put the course name you are looking for.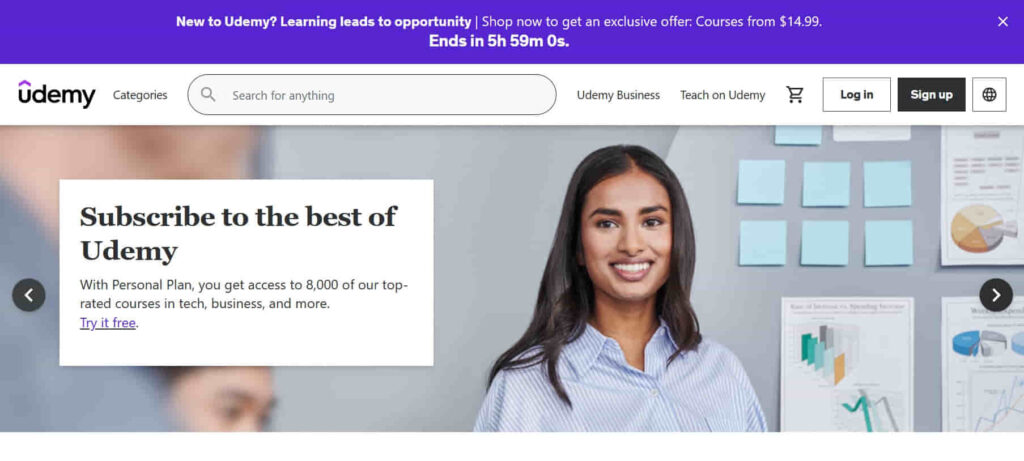 You will even find a button for 'Categories' under which you can select according to the niche you want to learn.
Therefore, Udemy has made it simple and easy for users to find what they want.
Even Skillshare has also done the same thing.
You will find a section of course recommendations on the homepage of Skillshare.
And other essential things like a search bar and categories of courses are already there, just like Udemy.
However, there are many more things to discuss regarding the interface. So, let's break it down into more sections.
Registration
The registration process for Udemy is quite simple.
You can easily create an account in a few steps.
To do so, you need a name, email, and password. Apart from this, Udemy even offers a method to create an account with the help of Google email (Gmail).
Skillshare also works in the same fashion.
You can find multiple ways to sign up for the platform.
Features
When you enroll in a course and start learning, Udemy provides many features on its playback window.
For example, there is a note section apart from the usual video player options (playback speed, video quality, subtitle, etc.).
The note section helps you make an instant note at specific timestamps, which will be helpful when you return for revision.
Udemy also makes it easy for you to manage your course progress.
You can track what you have learned and how much course is left in the right sidebar. You can even tick or untick each lesson accordingly.
On the other hand, Skillshare has also done an excellent job by providing similar features to Udemy.
One unique feature is that you can create course lists to keep your resources organized.
You can even add notes to your courses as well.
Moreover, Skillshare's video player also lacks some options, but recently Skillshare has improved its video player.
And therefore, it is overall quite good, but it is not as modern as Udemy's.
But it doesn't matter much because it is not a big issue.
Skillshare and Udemy can be accessed on desktops and laptops using a browser.
You can also download the app for iOS and Android devices and even courses for offline watching.
7. Language Availability
Language is one of the things which is quite essential if you are opting for an online course.
And if the course content is unavailable in your language, it becomes pretty hard to catch up and get the most out of it.
Fortunately, Udemy and Skillshare have done an excellent job regarding language availability.
Udemy courses also has filters for languages, which means you can filter out courses according to your desired language.
The best part?
On Udemy, you will even find courses with Spanish, German, or French subtitles.
However, on the other hand, Skillshare has mostly English courses though some courses are available in German, French, and Spanish.
As per my experience, I've seen that Udemy has more features considering language availability. However, Skillshare has less language availability comparatively.
8. Community
Enrolling in a course gives you a community of peer learners in both Udemy and Skillshare classes.
You can discuss your doubts, seek feedback, put questions, and discuss your solution in the course community section on Udemy.
Even Skillshare is also quite the same.
It provides a community of learners where you can engage with them quickly.
Coming to engagement then, I find Skillshare a more engaged community. However, even the Udemy community is also quite active.
But in the case of Udemy, it solely depends on the course type you are in.
If the course requires community engagement, then there will be a lot of user engagement.
However, on the other hand, some courses have an inactive community section.
But overall, you will find community on both platforms, allowing you to engage.
9. Support
It doesn't matter how much better is course quality if the support is bad, then the overall impression is terrible.
Considering the support interface, then, Udemy has a better one.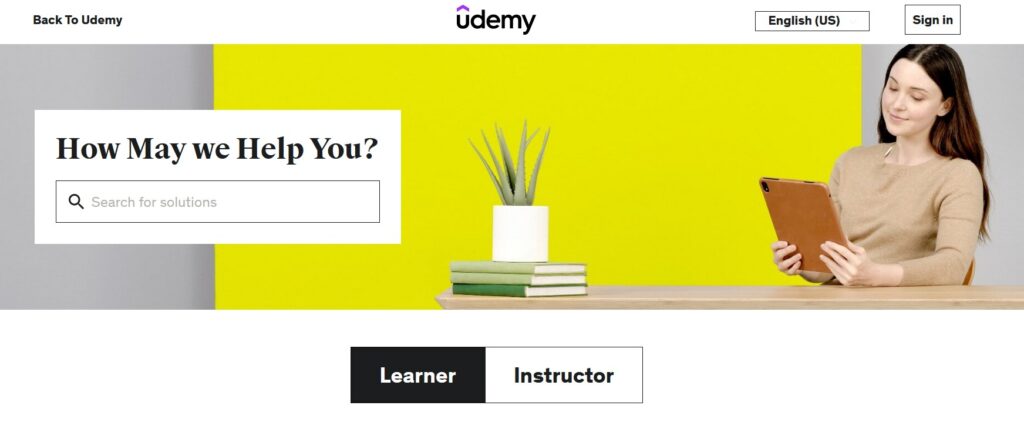 You can find a dedicated page to find the solutions for your question and topics to tap into as Frequently Asked Questions.
To contact Udemy, you can email [email protected] and expect a reply within 24 working hours.
Similarly, you will find Skillshare. However, their support page lacks detailed answers.
But you can contact their backend support team in the mail at [email protected].
Overall, Udemy has a better and clearer support system where you can find answers to your general questions.
And if you still need some help, you can reach out to their customer support by email.
10. Better For Businesses: Skillshare Vs. Udemy
Skillshare and Udemy allow businesses and companies to upskill their team members and employees.
And also, the company and teams must keep improving their skills in fast-changing industries.
Skillshare has a fantastic plan for the employees, starting with $159 per user per year, which gets them unlimited access to 34,000+ courses on its platform.
On the other hand, Udemy has slightly more detailed and strategized plans for businesses.
Udemy offers businesses these plans:
The Team Plan
Enterprise Plan
Leadership Development Plan
A team plan on Udemy costs $360 a year per user, which is for 5-20 users.
However, if your business has more than 21 users, then you can opt for the Enterprise plan.
And similarly, there is a Leadership Development program for more team members.
The Enterprise and Leadership Development program price is custom, and you have to contact the Sales team of Udemy to finalize it.
Pros And Cons Of Skillshare
Pros:
40,000+ courses to choose from
Thousands of teachers from across the world
Lessons from a broad category of niches
Multiple features
Skillshare inbuilt courses for learners
Cons:
No monthly plan
No free courses
Comparatively fewer video player features than Udemy
Pros And Cons Of Udemy
Pros:
2,10,000+ courses to choose from
Multiple languages are available
Highly professional instructors
Pay per course plan
A lot of features
Download courses for offline viewing
Best for all-type of learners
Cons:
Who is Suitable for Skillshare?
Skillshare is best suited for creative learners looking to become creative artists.
As the platform mainly focuses on creative courses, artists and individual learners who want to learn creative skills will find Skillshare more suitable.
Moreover, thousands of courses taught by creative experts make this platform worth trying.
I recommend it for learners who want to boost their creative skills.
Who is Suitable for Udemy?
Udemy has a broader catalog of courses than Skillshare.
And therefore, it has more courses for a broad category of niches in which you can choose as per your need.
Whether you are learning professional skills to excel in the corporate world or want some self-development courses, Udemy has your back.
Therefore, I recommend Udemy for anyone who wants to opt for a few courses as this platform offers you to pay per course.
Some Popular Courses On Udemy
Here is the list of some popular courses as of now on Udemy.
1. Public Speaking Courses – Popular in communications
2. Python – Popular in programming languages
3. ChatGPT– Popular in the latest technologies
4. Web Development – Popular in web development
5. AWS Certified Cloud Practitioner– Popular in IT certifications
Some Popular Courses On Skillshare
There are many popular courses on Skillshare, some of them are here:
5. How To Get A Job: A Step-by-Step Guide
FAQs About Skillshare vs Udemy
Which is better, Udemy or Skillshare?
Both of these platforms are pretty good and deliver value. However, depending on your learning goals, you can opt for any platform.

Udemy has a much bigger course library, whereas Skillshare mainly focuses on creative skills.
Therefore, depending on your requirement, you can go with any platform you like.

Which is cheaper, Skillshare or Udemy?
Skillshare offers annual membership. However, on Udemy, you can pay per course.

Therefore, if you are looking for a few courses to complete, then Udemy is a better choice.

But, if you want to upskill yourself throughout the year, Skillshare annual membership makes much more sense to learn at own pace
Final Thoughts: Skillshare Vs. Udemy
Finally, after this long comparison between Skillshare vs. Udemy, I hope you are better aware of the differences between these two popular online learning platforms.
To choose the best one, I recommend trying out both platforms and deciding which one's more suitable for you.
For example, you can opt for Skillshare free trial or go for a few courses for free on Udemy.
Learn and find out which is best aligning with your learning goals.