In this Steve Martin MasterClass review, I will break down everything I've learned from the course, and we will find out if taking this course is worth your time.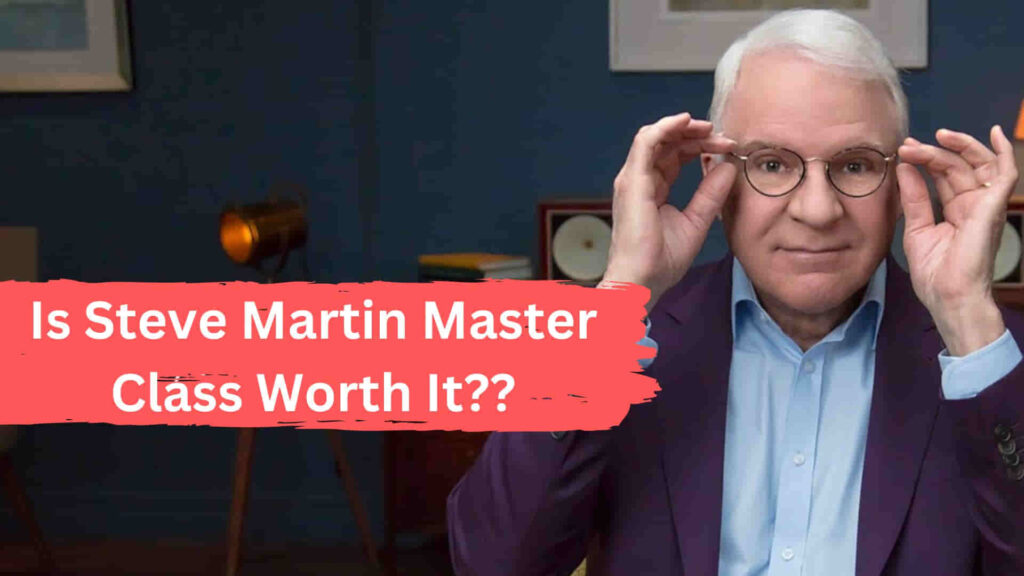 At some point in time, I wanted to become a standup comedian.
Somehow, I couldn't.
But I was always curious to learn behind-the-scenes tactics of cracking jokes and making people laugh.
Because from the front, making people laugh is not an easy job.
Therefore, when MasterClass launched Steve Martin's MasterClass on Comedy, I couldn't resist enrolling in the class immediately!
I was eager, excited, and curious to know and learn about the behind work of a script that makes the audience laugh.
So, whether or not this MasterClass could live up to its promises, we will find that today.
Finally, in the end, you'll know whether this course is worth your time.
Let's begin, shall we?
A Quick Sneak Peek Into Steve Martin MasterClass
In a hurry? Check this quick sneak peek into Steve Martin's MasterClass.
What you'll learn: Learn step-by-step actionable learnings on standup comedy, how to write jokes, perform, and a lot more packed in one course.
Course duration: 4 hours 40 minutes divided into 25 video lessons following a curriculum.
Best pairs with: Samuel L. Jackson Teaches Acting, Jeff Koons Teaches Art and Creativity, Judd Apatow Teaches Comedy
Recommendation: Yes, I 100% recommend Steve Martin MasterClass for those who are interested in comedy, learning behind-the-scenes tactics, strategy to craft a successful joke, how to perform, and a lot more.
About Steve Martin
Steve Martin is a comedian.
He is also an actor, and writer with over 50 years of career in this field.
You might have seen him on-screen in one of his famous films such as:
All of Me
Three Amigos!
The Jerk
The Man With Two Brains
Roxanne
Planes, Trains, and Automobiles
Father of the Bride
The Pink Panther
Cheaper by the Dozen
And with his brilliant work in comedy, Steve Martin has won five Grammy Awards and a Primetime Emmy Award.
Apart from this, Steve Martin has also won an Honorary Academy Award. He won this at the 5th Annual Governors Awards.
Additionally, Steve has won the Mark Twain Prize for American Humor, the Kennedy Center Honors, and an AFI Life Achievement Award.
With a brilliant career in making people laugh, Comedy Central ranked Steve Martin 6 on the list of 100 Greatest Standup Comics in 2004.
Therefore, with a brilliant history of winning multiple awards throughout his successful career, you can now understand that this MasterClass will be important for you.
You are going to learn from the comedy expert himself!
How Much Does Steve Martin MasterClass Cost?
Before I make you dive into the Steve Martin MasterClass course, let's unfold what might be bothering you first – the cost of this MasterClass!
The cost of the Steve Martin Teaches Comedy course comes with the MasterClass annual subscription.
That means you have to get yourself the annual membership of MasterClass to access the Steve Martin course and 180+ other premium courses on the platform.
However, the good part is that the annual membership of MasterClass consists of three different pricing models.
These are:
MasterClass Individual Plan (formerly Standard Plan)
MasterClass Duo Plan (formerly Plus Plan)
MasterClass Family Plan (formerly Premium Plan)
I have talked in detail about MasterClass cost in my experience here, but for now, I'll briefly break it down.
Individual Plan
The fundamental plan of MasterClass is the Individual Plan.
It costs $180 per year, and as the name suggests, it is suitable for anyone looking to learn individually.
(Even I, too, have an Individual plan).
The average monthly cost in the Individual plan comes down to $15, which is quite affordable.
And with the Individual plan, you get:
Unlimited access to 180+ premium courses
Downloadable workbook with each course
Community with each course
Access to newly launched premium courses
However, under the Individual plan, you don't get the feature to download course content offline.
You might have to switch to the Duo or Family plan to get that feature.
Duo Plan
The MasterClass Duo plan is one step above the Individual plan.
As the name hints, the Duo plan simultaneously provides MasterClass access to two devices under one account.
Therefore, the Duo plan costs $240 annually, averaging $20 monthly.
Under the Duo plan, you get all the benefits of the Individual plan.
Also, you get the feature to download course content for offline watching.
Family MasterClass Plan
The Family MasterClass plan is the most premium, costing $276 annually.
That means, on average, it will cost you $23 per month.
But the Family MasterClass plan brings access to MasterClass on up to six devices simultaneously under one account, apart from the features you get in the Individual and Duo plans.
What Does Steve Martin MasterClass Promise To Teach You?
Whenever you want to enroll in a course, the first thing that might come to your mind is what's in it for you.

Therefore, before breaking down Steve Martin MasterClass, I want to clarify this course's promises.
The course makes some big promises from the beginning.
Steve Martin, the instructor, promises to teach you some specific processes and how you can perform comedy.
Moreover, he also promises to teach you about writing and editing, which is one of the most powerful tools, according to Martin.
However, Martin even says later in the class that comedy is mastered with practice and experience.
And therefore, I expected from this course that I could not hope to become a comedy master from this whole course, even though it will take me through the process step-by-step.
To become a master, as Martin also recommends, you must practice what you learn.
Therefore, I recommend you too, to have similar expectations but one thing you will surely get from this course is learning comedy!
So, did this course live up to its promises? Or did Steve Martin's teaching meet my expectations?
We'll find it now in the upcoming section. So, for all of that and more, let's dive in!
Steve Martin MasterClass Review: Is It Worth Your Time And Money?
From start to finish, I'll share my experience with Steve Martin MasterClass and break down each section to make you understand if it is the right course for you!
Steve Martin MasterClass Breakdown
The whole Steve Martin MasterClass can be broken down into three different sections.
Video Lessons (25 in this course)
Workbook PDF
Community
I'll be going through each of them in a bit.
Steve Martin MasterClass runtime is 4 hours and 40 minutes, divided into 25 video lessons.
Each video lesson goes, on average, 10 to 15 minutes long (20 minutes max).
Therefore, even if you remain busy throughout the day, you can learn from the course by giving 10-20 minutes daily.
However, I completed the course on weekends without switching the playback to 1.5x or 2.0x.
The video lessons follow a curriculum which is designed in this way:
Lesson Plan
Introduction
Getting Started in Comedy
Gathering Material
Finding Your Comedic Voice
Developing a Comedic Persona
Jokes and Bits
Delivery
Crafting Your Act
Student Session: Workshopping Nalini's First Standup Act
Student Session: Workshopping Tim's Act
Opening and Closing Your Act
Profanity and Morality
Growing as a Performer
Nerves, Hecklers, and Bombing
A Life In the Arts
Creating Characters
Story Techniques
Screenwriting Case Study: Roxanne
Editing
Editing (cont'd)
Writing Case Study: Meteor Shower
Steve's Comedic Inspirations
Steve's Journey
Final Thoughts
Bonus Case Study: Speeches
So, when you enroll in the Steve Martin course, you will follow this curriculum.
Now, let's go through each of the sections to dive further.
Lessons Summary
The course begins with the introductory section of the instructor, i.e., Steve Martin's own journey.
First, Steve Martin introduces himself and shares his own old school comedy journey.
Then, later on, Martin talks about how to get started in comedy when you have no experience or talent yet.
He talks about where to find inspiration and how to find topics that will fit well with an audience.
Throughout the Steve Martin MasterClass course, you'll find many lectures and snippets from his career's standup shows, making a perfect example wherever needed.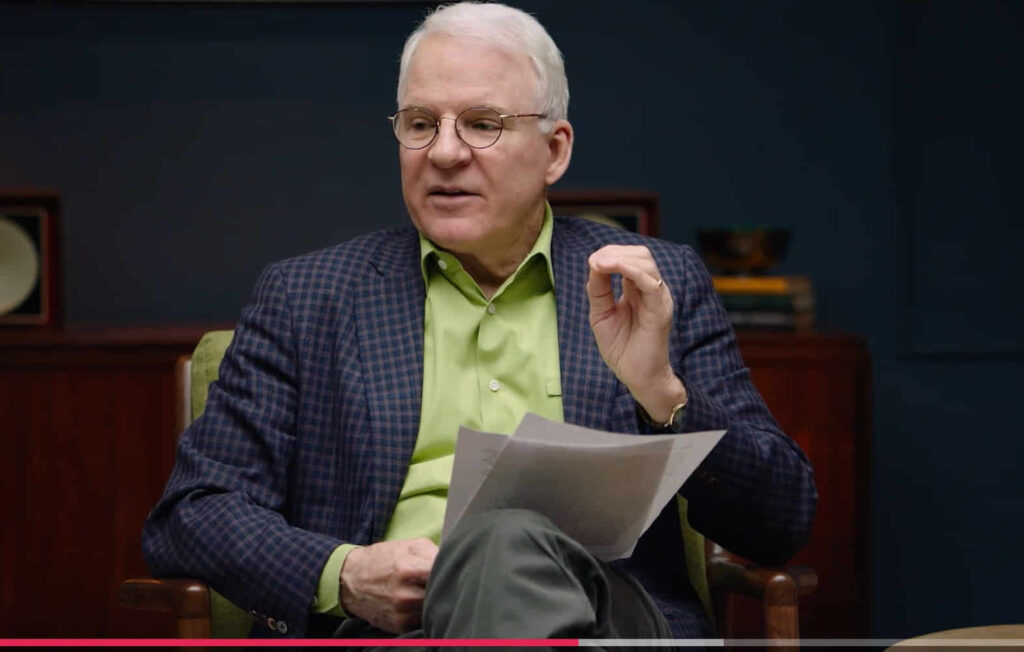 Once you have the foundational understanding of the comedy and how to get started after gathering the materials required for your audience, Martin takes you to the next level by talking about the comedic voice.
He emphasizes how you can incorporate your physical comedy in the act along with your tone of voice.
You learn how to make an acting stage worthy in the same lesson.
Till lesson number 8, you learn everything necessary about the comedy act.
For instance, Martin makes you understand the delivery of your comedic act, how to craft it, and how to develop a comedic persona.
Therefore, these lessons are essential and recommended not to skip or fast forward for better understanding.
Later on, the following lessons include workshops with aspiring comedians. There, Martin works with them on their own scripts or jokes.
Martin focuses on making them understand comedy and revises one of the comedians' first-ever standup bits.
After that, the lessons cover essential topics such as opening and closing acts and how far to take vulgar jokes.
You also learn how to deal with jokes that are not politically correct and find opportunities to practice.
One of the best parts of the lessons is when Martin talks about failures and bad shows.
He talks about how to recover from a bad show, handle the inevitable failures, and network with the other comedians.
There on, Martin also talks about writing comedy for movie scripts by sharing his own journey.
He even provides insights from one of the most memorable characters that he acted (though I'll not share much detail about it to spoil for you).
Finally, near the end of the course, you will get a writing case study from Martin's work of Meteor Shower.
During the case study, students learn from the other comedians and implement those learnings for their own success.
Martin even talks about his own journey of creating some of the famous writing pieces that became the funniest scenes in the movie.
He shares how he edited his writing throughout the process and recommends that writers focus on real-life inspirations instead of imagination.
Finally, Martin shares his insights for delivering speeches, writing tips, facing writer's block, and giving inspiration to the students.
Video Lessons Review
As you have gone through the TL;DR version, of course, it is time to go through the actual experience of video lessons.
To have a quick sneak-peek, here's the trailer of the course:
Starting of the Course
For a newbie like me, I found the start of the course perfect.
I believe the starting lessons are essential as they build the foundation of comedy as a career.
Therefore, I recommend you not to skip or fast-forward any lessons.
Up to lesson 8 from 1, you get to learn about everything on the basics of comedy.
These lessons include crafting a joke, delivering, understanding, gathering the material, and making your comedic persona.
These lessons prepare you before you dive deep into delivering your script for a large audience or movies.
Throughout the video lessons, you'll also find Steve Martin's journey clips and examples from his own acts, which make you understand the concept easily.
Workshops
There are two workshops before you go to the middle part of the course.
These workshops are amazingly crafted where Martin interacts with aspiring young comedians and their work.
It is pretty funny when Martin interacts and judges the work (you'll love it when Martin cracks jokes with fellow aspiring comedians.)
Martin even shares his insights from his own work, which makes the overall learning process even more enjoyable.
Case Studies
Like workshops, there are two different case studies in the course curriculum.
These case studies take you deep into the workings of what Steve Martin has taught you throughout the video lessons.
Middle Part Of The Course
Besides workshops and case studies, lessons 11 to 17 are advanced concepts in comedy writing, acting, and performing.
In those lessons, Martin discusses growing as a performer while embracing failures and bad performances.
Martin even throws enough light on creating characters in your story and how to implement powerful techniques to make it impactful.
He even shares how important it is for you to edit your work throughout becoming a better comedian.
Martin has dedicated two lessons on editing.
Ending Part Of The Course
Finally, when the course comes to an end, there are a few lessons that share Steve's comedic inspirations.
Here, Martin talks about the importance of taking inspiration from real life instead of imagination.
One lesson is also dedicated to Steve's journey and how he came through this long way to make people laugh.
Finally, Martin shares his tips for writers and aspiring comedians while the course ends with the bonus case study for speeches.
Pro Tip: I found the beginning and middle parts of the course handy (main chunk); therefore, I recommend not switching the playback speed to 1.5x or 2.0x.
Supplemental Material Review
Just like any other MasterClass course, you also get additional supplemental material with this course.
You get:
One downloadable workbook PDF
One 8-page script
One 158-page script for the film Roxanne (1987).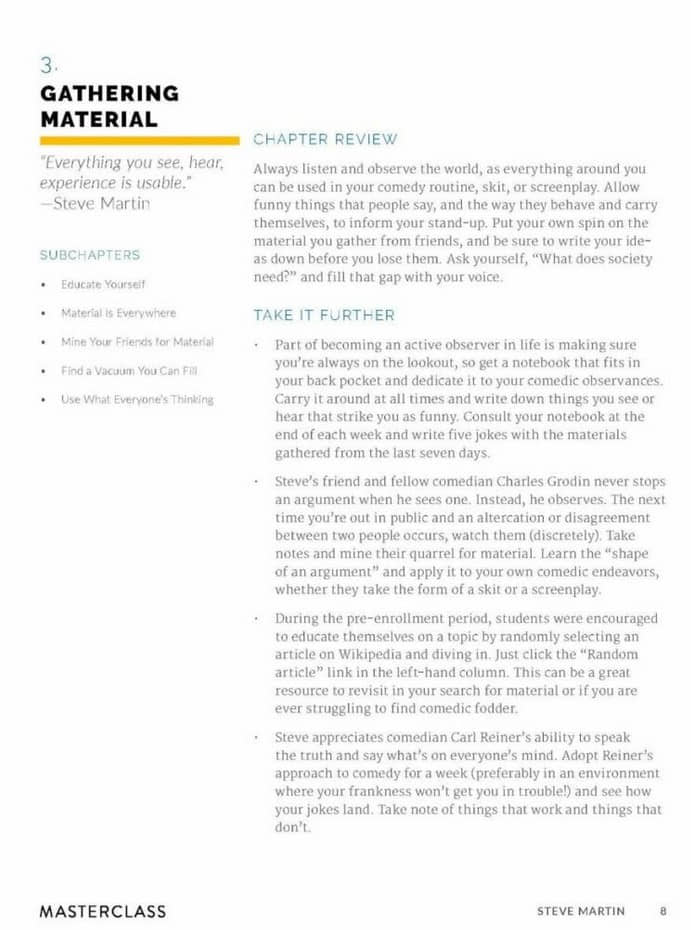 I liked this course's supplemental material as you get the additional workbook for the study and scripts for practice.
The downloadable workbook consists of lesson summaries, exercises, visual guides, and the course material.
In the Steve Martin workbook, you get lesson summaries and a space to take notes while watching his videos.
For students to learn and practice for a real hands-on experience, Steve Martin has also included Roxanne's script, which is secured and watermarked.
Apart from this, students even get the script for the Meteor Shower to study independently and practice what they've learned.
Community Review
Just like every MasterClass course, you also get a community of peer learners in the class.
This space works like a forum where students interact with each other, and you, too, can provide feedback, ask doubts, and interact with others.
You can also find threads for discussions on important topics where you can get the answers to your doubts.
I found the community helpful because when you are stuck somewhere in the course, you'll have a space from where you can expect help.
Is Steve Martin MasterClass Worth It?
Now, after a deep dive into the Steve Martin course, the ultimate question is whether or not this MasterClass is worth it.
Yes, Steve Martin MasterClass is 100% worth it, but for those:
Who wants to learn about actionable steps for comedy
Who wants to get started with comedy
Who wants to learn how comedy and jokes work
And also for those who want to take this course for entertainment purposes (as throughout the course, there are many clips and snippets shared from Steve's work)
Who is Steve martin fan or watching comedy Steve Martin since very long
I found Steve Martin MasterClass worthy of my time because of its content.
Martin teaches you from the basics of comedy to the advanced level so that you can practically learn how to approach making people laugh on stage.
He talks about the fundamentals of crafting characters, jokes, and insights from his own journey as a comedian for the past 50 years.
Therefore, I believe anyone who wants to learn how comedy works – from basics to advanced, this MasterClass is for you!
Pros And Cons Of Steve Martin MasterClass
There are tons of learnings from this course (which I've shared in the upcoming sections as well), but to summarize, here are the pros and cons of this course.
Pros:
Learn from a real master of comedy
Practical steps to learn how comedy works
Enough resources, motivations, and content to get you started
Martin has over 50 years of experience, which is reflected in the way he teaches
Basics to advance level concepts of comedy
Access the supplemental material to refer further
Funny instances from the work of Steve Martin
Cons:
Martin teaches in his own style, and the insights are from his early career from the 60s and '70s, which might be outdated.
Sometimes, Martin's tips are contradictory.
Steve Martin is heavily influenced by Jerry Lewis and Jack Benny therefore, he tries to stay away from vulgarity and the things that can 'shake the tree.'
What did I learn from Steve Martin's MasterClass? 5 Key Learnings
Here is my summary of the learnings I gathered from the course.
However, for four and a half hours, of course, summarizing was quite challenging. Thanks to the tons of learnings in the course.
But I kept the five top learnings from this course as follows:
1. Comedy is a craft
If I sum the learning from the whole course into one lesson, it will be "comedy is a craft."
Even though you are funny in your circle or a group of friends, becoming a stage-worthy comedian takes practice and effort.
It also makes me appreciate Martin and how much he has devoted to his craft.
Therefore, when you are getting started in comedy or are an aspiring comedian, ensure you are practicing.
Because with practice only, you can hone this craft and improve at comedy.
2. You don't need natural talent to get started as a comedian
When I enrolled in the course, I was pretty speculative whether this course was for me or not.
But when I began this course, I learned you don't need natural talent to start as a comedian.
As Martin says, "I guarantee you, I had no talent. None."
Therefore, it gives hope to the newbies who want to get started in the comedy field that they, too, can learn the art of making people laugh and get started as a comedian.
And this course works as one of the best foundational courses for anyone interested in comedy.
3. Find your comedic voice and develop your persona.
Although Martin teaches this well in his video lessons, it is one of the essential learnings I noted.
Whether you watch a TV series or movie, you can always find the characters funny with their comedic voice.
And once you find your comedic voice, you can easily make people laugh.
Moreover, Steve Martin also talks about developing your persona around your circle, which can help you take your initial steps in the comedy field.
4. Turning your jokes into a comedy act
You'll have to use your body and speech to turn your jokes into a comedy act.
For speech, I've already shared how much importance Martin gives to a comedic voice.
Therefore, the best way to deliver your jokes to the audience is to use your body and words together to provide a joke.
Make faces expressive, and use your entire person to make the audience laugh.
5. Master the timing
The best example is to wait for the audience to stop laughing before making your next joke.
Therefore, when you are on the stage, make your audience laugh and wait for them to recover.
Also, you must learn the voice and body movements according to your jokes to get the most out of your act.
And once you master that, it will get you excellent returns in the form of laughter from your audience!
Things I Liked About The Steve Martin Teaches Comedy MasterClass
There are many good and bad things about Steve Martin's MasterClass.
However, before I talk about what could be improved from a learner's perspective, let's understand the good things this course has.
The short clip played from Martin's own old comedy routines reinforces the lessons' learnings, making the lessons more enjoyable.
Additionally, the workbook is one of the most powerful supplemental materials in the course that gets you a step further to learn about comedy. For example, How to Build a Joke is one of the sections not in the video lessons, but I enjoyed them in the workbook the most.
"Learn to observe your thoughts" is what Steve Martin says and teaches a straightforward method for comedy, unlike what most people teach.
So, these are some of the things that I liked the most about the course. However, there are some sections as well, which I found could be improved.
What do I Think Should be Improved in This MasterClass?
Although there are mostly good things about the course.
But I found certain things, like Martin's teaching tactics, could be improved further.
For example, there could be more highlighting on how a joke is made or what makes certain dialogues funny to have more basic insight for the newbies.
However, Martin comes from a specific kind, so one should have similar expectations from the course.
But as a learner, I can say that if the course were more generic for a wider audience, it could have been much better.
FAQs About Steve Martin's MasterClass
Is Steve Martin's MasterClass worth the money?
Yes, Steve Martin's MasterClass is worth the money. The lesson plan follows a detailed curriculum and teaches from the basics to advanced level comedy, writing, and performing acts.
Is the Course Content Unique?
The course content of Steve Martin MasterClass is unique in itself, as Martin teaches in his own style by following the course curriculum.
Does Steve Martin have a degree?
Yes, Steve Martin has earned his theater arts degree from UCLA.
What movies did Steve Martin play in?
There are several movies in which Steve Martin has played a role. Some of the famous works of Steve Martin are The Jerk, The Man with Two Brains, All of Me, Three Amigos, Roxanne, and more.
How much does Steve Martin's MasterClass cost?
The Steve Martin Teaches Comedy MasterClass comes with the annual membership of MasterClass, and therefore, to access this course, you have to get one of the MasterClass plans (Individual, Duo, and Family).
Final Verdict: Steve Martin MasterClass Review (2023)
If you have made it here for the Steve Martin MasterClass review, you might already have a conclusion.
But from my side, I can 100% recommend this MasterClass for anyone looking to learn comedy from an expert.
Martin begins with basics to advanced with regular examples and insights from his 50 years of career in this field.
The curriculum provides actionable tips and additional material to practice your learning.
Overall, I rate this course 9.5/10 for all comedy enthusiasts. A must-take course!