In today's Neil deGrasse Tyson MasterClass review, we'll go through everything this course teaches and ultimately explore whether it is still worth it in 2023.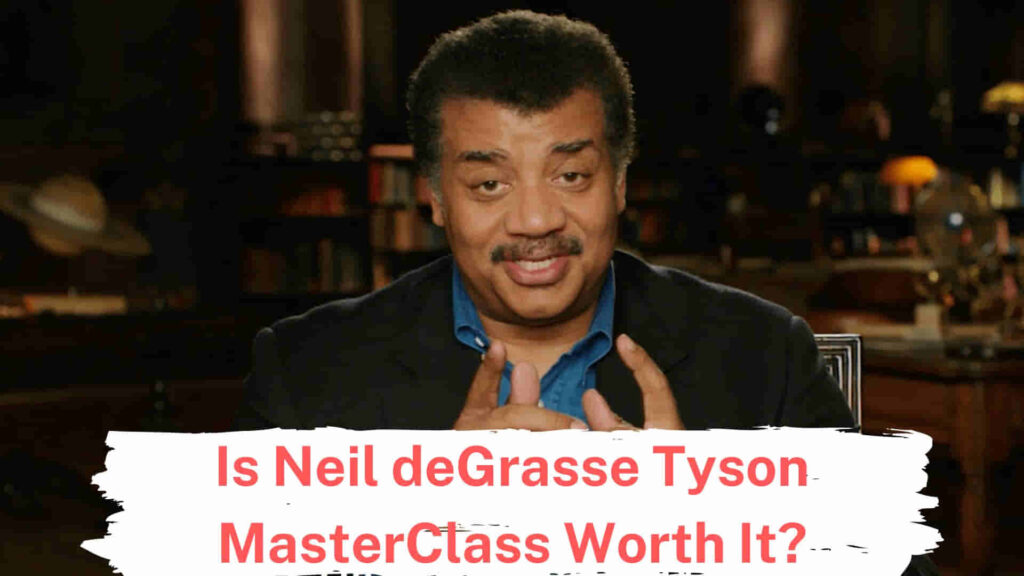 I'll be honest:
Neil deGrasse Tyson MasterClass is not for aspiring physicists!
But, it is definitely for those who want to learn scientific thinking and improve their communication skills.
When I completed this MasterClass, I had much to say, which I will cover in today's review.
So, is this the best MasterClass course ever? Or even if it is worth taking?
Let's find out.
Neil deGrasse Tyson MasterClass Review Summary
I know you might be in a hurry sometimes. Therefore, here is a quick summary before we dive deep into the review.
What you'll learn: You'll learn the approach towards scientific thinking and how to communicate effectively with that. Get to explore and learn with the world-renowned astrophysicist Neil deGrasse Tyson.
Total duration: 2 hours and 14 minutes divided into 13 video lessons with an average of 10 minutes duration in each video lesson.
Best pairs with: Chris Hadfield Teaches Space Exploration; Bill Nye Teaches Science and Problem-Solving; John Douglas Teaches How to Think Like an FBI Profiler
Recommendation: 100% yes, for those who want to learn about scientific thinking (spoiler: there is no talking about space and other things in this course) and want to improve their communication skills. I had a wonderful experience and strongly recommend it to everyone interested in improving their communication skills.
About Neil deGrasse Tyson
Most of you might already know Dr. Neil deGrasse Tyson as he is quite a famous and influential astrophysicist.
Thanks to the millions of videos about science and the cosmos floating around the web, you might already have a good brief about them.
However, Dr. Tyson wears many hats apart from that (metaphorically).
Dr. Tyson is the director of the globally renowned Hayden Planetarium, a planetary scientist, and a science communicator.
He has appeared in multiple popular television hit talk shows where he talked about scientific things and provided easily understandable learnings for most non-scientists.
However, one of the most popular shows that you might know is Cosmos: A Spacetime Odyssey, which Dr. Tyson himself hosted.
He has also appeared in multiple episodes of the CBS hit comedy The Big Bang Theory.
Dr. Tyson also achieved the NASA Distinguished Public Service Medal in 2004, apart from the Klopsteg Memorial Award in 2007, and a few years back, the Public Welfare Medal in 2015.
However, all of the journeys Dr. Tyson began in New York City, where he was born, and later on, he got his degree in Physics from Harvard.
He also completed his PhD in Astrophysics from Columbia.
Dr. Tyson has written several books on space and science, the best-selling books.
His latest books are, Welcome to the Universe in 3D: A Visual Tour, was coauthored with J. Richard Gott III, Michael Strauss, Robert J. Vanderbei and Starry Messenger: Cosmic Perspectives on Civilization.
Recently, when Dr. Tyson made his MasterClass course, I couldn't help but enroll in this course (as I've always been a fan of him).
But another thing that might be coming to your own mind is Dr. Tyson has already given a lot of speeches and other content, so what does this MasterClass hold now?
To answer that, let's find out what this masterclass promises.
What Does This Masterclass Promise?
Like any other TV show or talk of Dr. Tyson, I thought this course would also be a journey to the cosmos and space exploration.
But, I was wrong, and it was good though.
This MasterClass course is not like any other talk by Dr. Tyson.
Instead, it is different, which will ultimately help you improve your communication skills and scientific approach towards thinking.
"What I'm going to do in this MasterClass is teach you how to think," this is how Dr. Tyson begins his MasterClass in Lesson 1.
And that is why I said that this course is 'different.'
Further, he clarifies, "By the time we're done, you will be equipped with some of the methods and tools you can turn data into information, information into knowledge, and knowledge into wisdom."
In short, this MasterClass promises you to:
Take you through the inner workings of Dr. Tyson and his way of thinking and methods for effective communication.
Learn how to think scientifically and use those methods to improve your communication skills.
So, did Dr. Neil deGrasse Tyson live up to his promises? We will find out in the complete breakdown of this MasterClass course.
But before that, let's break down how much you must pay for Neil deGrasse Tyson's MasterClass.
How Much Does Neil deGrasse Tyson's MasterClass Course Cost?
There is no pay-per-course offer for Neil deGrasse Tyson MasterClass.
Instead, you have to buy the annual membership of the MasterClass to access this course and other 180+ courses from various categories.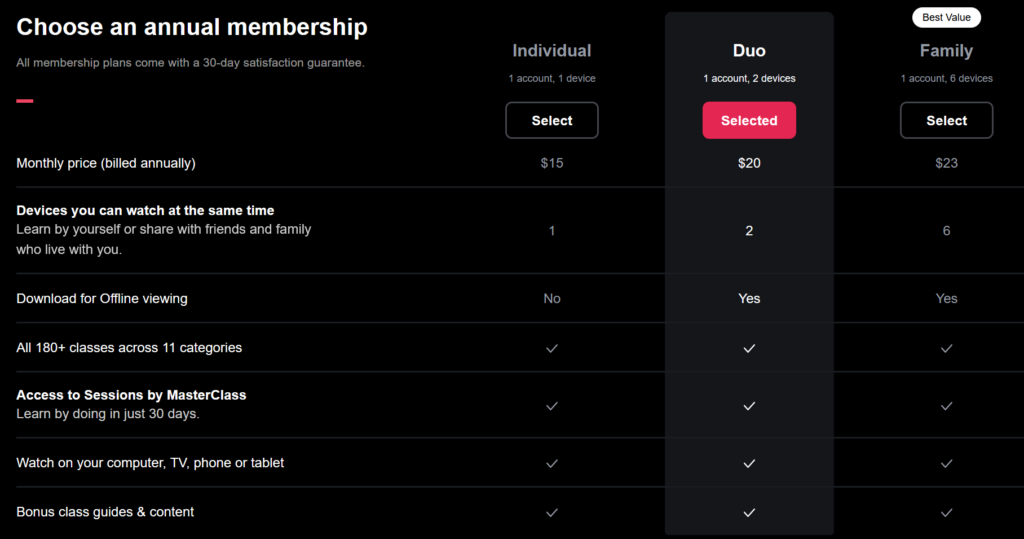 Currently, MasterClass offers a three-tier plan for accessing 180+ courses on its platform, and those are as follows:
Individual Plan (formerly Standard plan)
Duo Plan (formerly Plus plan)
Family Plan (formerly Premium plan)
I have detailed each plan and which suits whom in my MasterClass 'true' cost post here.
However, to briefly summarize, I'll briefly share each of these plans.
Individual MasterClass Plan
The Individual plan is $180 per year.
That means, on average, it costs you $15 per month if you take at least one course every month.
With a one-time payment for a whole year of access to premium MasterClass courses, you get the following:
Downloadable workbook with every course on MasterClass
Community of learners with each course (more about the community in the detailed breakdown below)
However, under the Individual plan, you don't get the feature to download course videos for offline watching.
Duo MasterClass Plan
The Duo MasterClass plan costs $240 per year.
As the name suggests, it provides access to MasterClass on two devices simultaneously under one account.
Therefore, it is best suited for couples who want to learn or for those who want MasterClass access on two devices.
Another feature of the Duo plan is the ability to download course videos for offline watching.
It is suitable for those who regularly commute or want to access course videos anywhere without internet reliability.
Family MasterClass Plan
It is the top MasterClass plan, costing $276 per year.
Under this, you get:
MasterClass access on up to six different devices simultaneously under one account
All the features of the Individual and Duo MasterClass plan
Therefore, this plan is most suitable for friends interested in learning from MassterClass or those who want access to MasterClass in bulk (up to six devices).
Pro Tip: Remember that, on MasterClass, even though they have shown you the per-month cost, you must pay the whole year's cost upfront to get unlimited access to their courses.
Complete Breakdown Of Neil deGrasse Tyson's MasterClass
As now you already know about your instructor of the course and a little bit about pricing and all, it is time to dive deep into my hands-on experience cum review.
I'll break down each course section from beginning to end, and finally, my recommendation.
So you can decide quickly whether or not this MasterClass is for you!
What Is Included In The "Neil deGrasse Tyson Teaches Scientific Thinking And Communication" MasterClass Course?
When you enroll or visit the Neil deGrasse MasterClass page, you get three main sections in the whole course.
These are:
Video lessons following a designed curriculum
Downloadable workbook in PDF form
Community of peer learners of the course
I'll be talking about each of the sections step-by-step, but before that, let me take you through the curriculum you follow after enrolling in the course.
Lesson Plan: Neil deGrasse Tyson MasterClass
After the class trailer and sample, you get through 13 different video lessons, which are as follows.
What You Know Is Not as Important as How You Think
The Frontier of Science
The Scientific Method
Be a Skeptic: Ask Questions
Cognitive Bias
Be aware of Cultural Bias
Our Systems of Belief
Scientific Measurement: Calculating the Incalculable
Communication: It's Not Enough to Be Right
Preparing for Your Audience
Communication Tactics
Inspire Curiosity in Your Audience
The Future of Our World
These 13 videos contain everything Dr. Tyson wants you to learn and implement to improve your scientific thinking and communication skills.
Therefore, let's have a quick lesson summary of what you learn through the curriculum.
Lesson Summary
The overall lesson is not long. It runs about 2 hours and 14 minutes long, enough to complete in one day or over a weekend.
However, Dr. Tyson shares a lot within that little time.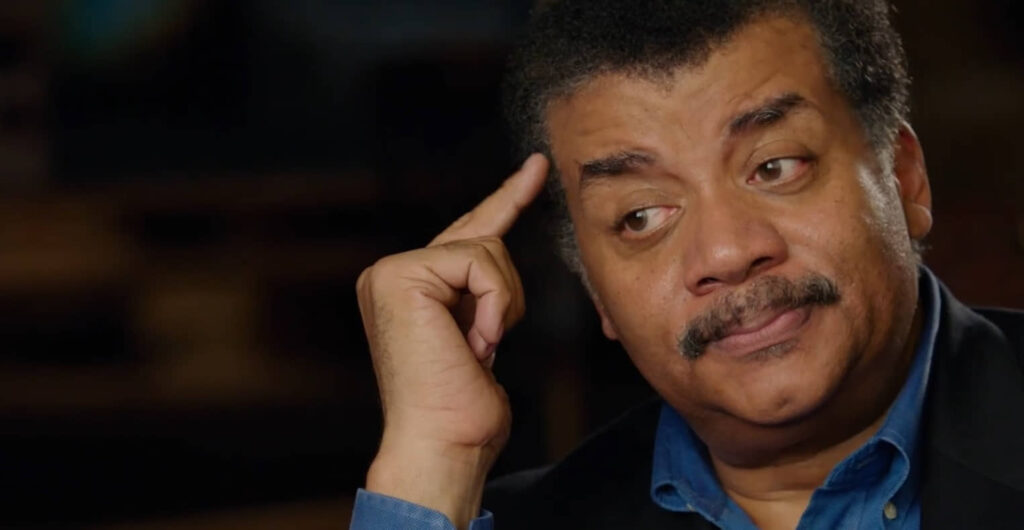 The 13 video chapters take you through various scientific thinking aspects and open your eyes to multiple things.
For example, Dr. Tyson helps you differentiate hypothesis and theory, which is mainly used incorrectly by most people.
However, the lesson begins by telling you the truth about thinking vs. knowing, with the chapter name rightly saying, "What You Know Is Not as Important as How You Think."
In the initial chapter, Dr. Tyson talks about how a person thinks. And then on, he talks about effective communication with ourselves.
Dr. Tyson says, "It's not good enough to be right. You also have to be effective."
This was something that Dr. Tyson's father had told him long ago.
The ultimate goal of critical thinking is not to hammer your objective truths over people's heads but to effectively communicate – to inspire curiosity.
After that, the next lesson follows the scientific method, which Dr. Tyson beautifully explains with the help of astrophysical examples (just like always).
The first eight lessons take you through the journey of internal communication.
And once you have gone through that, Dr. Tyson takes you through the next step: communicating externally with others.
In the latter half, he talks about preparing your audience for communication tactics and knowing what drives your audience.
Also, Dr. Tyson teaches you how to inspire curiosity in your audience, which is essential to effective communication.
Finally, the last lesson unfolds the importance of scientific thinking and effective communication for the progress of society.
Pro Tip: I don't recommend following any fast-track lesson plan or skipping any video lesson. It is because every video lesson is worth watching and gives you an understanding before you jump to the advanced lessons. Also, I recommend you to make notes, especially for this course.
Neil deGrasse MasterClass Video Lessons Review
Now, let's get through the video lessons.
Lesson 1 Through 8
The beginning of the course is fantastic!
Dr. Tyson initiates the course with a bang by exposing you to hard truths and revealing how we think, which is different from what we know.
He grabs your interest in the course from the very start.
And after that, in the later lessons, Dr. Tyson encourages you to be skeptical and ask questions.
He also shares the scientific methods of problem-solving and how you can apply those methods to communication.

But, as I said earlier, up to lesson 8, Dr. Tyson mostly talks about internal effective communication.
That means you first learn about how you think and pertain knowledge, and then later, you start communicating with others effectively with the known methods.
Tyson also makes you understand the importance of letting go of your biases, which is essential before you start accepting objective truth.
While explaining, he also talks about how social biases and beliefs or your personal truth can halt your growth.
Dr. Tyson also explains the scientific experiments and how they are performed repeatedly to eliminate uncertainty and determine whether uncertainty grows or shrinks.
Lesson 8 Through 13
Now, this is what I refer to as the second half of the course. After talking about internal communication, Dr. Tyson mainly focuses on communicating externally with other people.
Here, the video lessons mainly cover how to engage with someone else and apply your scientific communication learnings for effective communication overall.
Knowing your audience to understand how your audience's collective mind works is essential for effective communication with them.
You also learn that tearing down someone's ideas is not productive and will not lead you to win many arguments.
Instead, Neil beautifully explains through conversations with a person where he asks questions and offers nuggets of knowledge to help the person come to conclusions, free of bias.
Pro Tip: In the video lesson where Dr. Tyson uses the 'pedagogical approximation' term, a prompt makes you refer to the workbook. And I found it helpful to understand what Dr. Tyson wanted to explain. Therefore, it is a plus point for the MasterClass.
Overall, the video lessons have amazingly crafted curiosity to engage you.
Later on, the course gets you through your thinking mechanism and allows you to learn and explore different aspects of effective communication.
And once you are done with internal communication and learning different scientific methods, Dr. Tyson makes you understand methods for communicating effectively with others.
The best part that I found in the course is that Dr. Tyson explains everything quickly and with the help of examples wherever possible.
And it makes for a novice like me to grasp the concepts quickly.
However, if you have any doubts or are stuck somewhere, you can always take the help of a workbook or put your questions on the community page.
Neil deGrasse MasterClass Workbook Review
Just like any other MasterClass course, you get a downloadable PDF workbook in this course as well.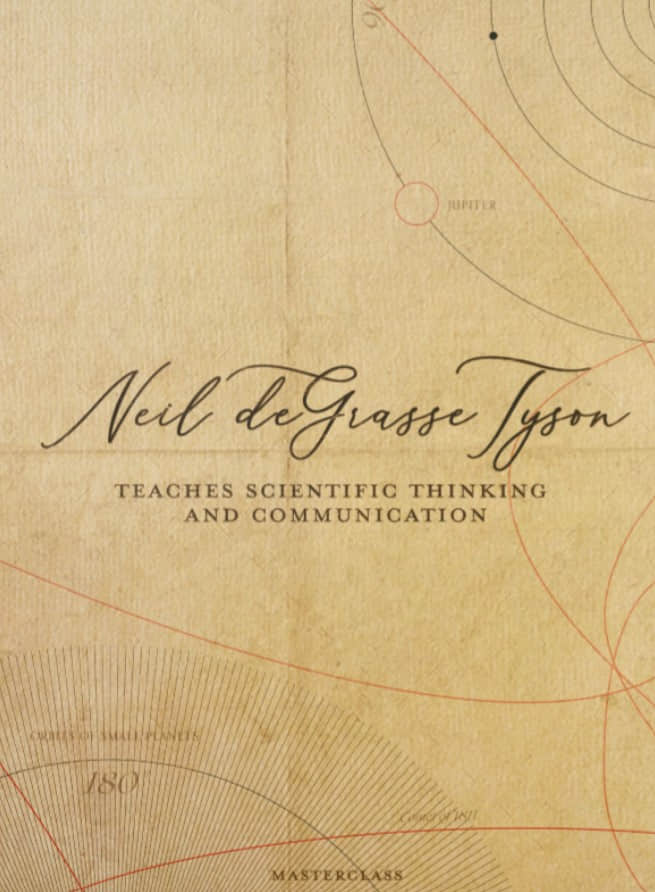 The 24-page workbook is supplemental to what you learn in the course or video lessons.
However, the workbook mainly contains text and less visual representation; therefore, it can also be intimidating for some learners.
Therefore, the only drawback I found is the less visual content in the workbook.
Otherwise, for regular book readers, the content is sufficient to help you gain more insight into what you have learned and more sources to learn.
Community Review
Like any other MasterClass course, you also get community access in Dr. Tyson's MasterClass.
A hub or a community of this course is a space or forum where you can interact with the other peer learners.
It provides quick access to other learners where you can ask questions, share your views, and even seek feedback from others.
However, remember that the forum is managed by the MasterClass and not by Dr. Tyson himself.
Overall, I found it a plus point for the course takers on MasterClass because you get a space where you can put your queries and someone to answer them.
Key Things I Learned: 5 Takeaways
Although you learn tons of things in Neil deGrasse's MasterClass, to summarize my learnings, here are the five key takeaways.
1. Be Skeptic and Ask Questions
One of the critical things that I learned through this MasterClass is to be skeptical!
Being skeptical is not a bad thing.
Instead, it opens up you to more opportunities and answers.
Skepticism eliminates biases, which blinds us to objective truths.
Also, being skeptical doesn't mean rejecting what you don't want to be objectively true; instead, it is about questioning what you are unsure of while being open to receiving valid proof.
2. Understand the Beauty Of Science
One of the things that modern science teaches is the possibility of having more than one result as our answer.
For example, Tyson explains this with a fascinating story when the scientists noticed that Uranus wasn't obeying Newton's law of planetary movement,
However, the more likely scenario was that another planet might pull on Uranus, causing it to behave this way.
Then, later on, they (scientists) discovered Neptune.
Further, in another example, Mercury was also not behaving according to Newton's laws.
Therefore, we assumed another planet was closer to the sun, pulling Mercury along.
This time, scientists were so sure that they were right again that this planet was even named (it was called Vulcan!).
After that, Einstein's theory of relativity came into the light, which explained the closer a thing gets to the sun's powerful gravity, the more Newton's law would be warped.
And this was the new explanation for why Mercury behaves the way it does.
Therefore, if we get there only because there was more than one answer.
3. Measurements Will Consists Uncertainties
This MasterClass has taught me that every measurement that has been made has uncertainties built into it.
The measurements give you an approximation with which you are comfortable with.
Therefore, when our precision of measurement is not refined, then things could be happening that we would never actually know.
4. It's Not Enough To Be Right
This is what you learn in video lesson number 9, and it beautifully explains that if you are right but cannot communicate your point, you won't get anywhere.
The real thing that works out is not to prove them wrong.
Instead, making them say, "Wow, I never thought about it that way."
5. The Cosmic Perspective
In the course, Dr. Tyson also talks about the cosmic perspective.
He shows that your ego is unjustified and whatever you think is being reset by looking at a grander scale.
This thought humbles you.
So, these are my five summed-up learnings from Neil deGrasse Tyson's MasterClass.
However, there are many more when you enroll in and take the course.
Pros and Cons Of Neil deGrasse Tyson MasterClass
As I said, there are many things to discuss in this course, and if you complete this course and learn through what it teaches, you can polish your communication skills.
The pros of this course are as follows:
Pros:
Unlike most of Neil's videos, you don't learn about the cosmos and what he knows. Instead, you learn about how to think like him.
One of the best courses for those who want to start their career in science.
Effective methods for improving communication with everyone.
Neil's explanations with examples make you understand things easily.
In a short time, there's a lot of information packed.
Easy to follow and learn the methods.
· It's a quick course to teach you a lot of stuff (in just 2 hours and 14 minutes).
Cons:
If you want to learn from Dr. Tyson, you will find it a short course.
There are no case studies.
Things I Found Good About the Neil deGrasse Tyson MasterClass
The best thing I liked about MasterClass was Dr. Tyson himself.
I've been a fan of his from the very beginning, and that's also one of the reasons I took this course.
But, the ultimate thing that kept me attached to this MasterClass was how Dr. Tyson explained things.
The way he communicates, builds curiosity, and explains with ease is what makes you a fan of him.
And also, this is what Dr. Tyson teaches you in his course.
The tactics, strategies, and methods of communicating science with others, and how to make your communication effective with scientific methods, is what you learn from the expert himself – Dr. Neil deGrasse Tyson.
Is Neil deGrasse Tyson's Masterclass Worth Your Money?
I know the ultimate question you might have is to tell me whether this course is worth the money.
I'll be honest:
Neil deGrasse Tyson MasterClass is 100% worth the money.
And for that, there are many reasons, but if I keep it to the course, I already have explained the pros and cons.
But again, here are the three key reasons why Neil deGrasse MasterClass is worth your time:
Improving your communication ultimately helps you excel in corporate and general.
To make you question and be skeptical so that you can know the possibilities.
To learn the thinking process of Dr. Tyson and how the tactics and scientific methods make you have effective communication overall.
I completed this course, and it will be worth every penny, and second you invest into it.
Dr. Tyson's way of explaining concepts makes it easier for you to understand the course concepts easily.
With suitable examples everywhere, you learn from basics to advanced quickly.
Check out this trailer of the course to have a sneak peek:
FAQs About Neil DeGrasse Tyson MasterClass
Is Neil deGrasse Tyson's MasterClass worth it?
Neil deGrasse Tyson MasterClass is 100% worth it if you want to improve your communication skills. Even though there are gazillions of videos of Dr. Tyson available, this time, he talks about how you can use scientific methods for effective communication.
Does Neil deGrasse Tyson have a MasterClass?
Neil deGrasse Tyson has a MasterClass course in which the influential astrophysicist teaches "Scientific Thinking and Communication." It is one of the first courses where Dr. Tyson discusses something different from scientific literacy.
How much does Neil deGrasse Tyson MasterClass cost?
The Neil deGrasse Tyson MasterClass comes with a yearly subscription to MasterClass, which is an Individual, Duo, and Family plan. You can read more about MasterClass's cost here.
Verdict: Do I Recommend Neil deGrasse Tyson MasterClass?
In the final section of Neil deGrasse Tyson's MasterClass review, I can confidently say that this course made me re-think the thinking process and how I communicate with others.
And even if you also take this course, you will have premium skills to effectively communicate with others in no time that will set you apart.
Therefore, I 100% recommend Neil deGrasse Tyson's MasterClass.
As Dr. Tyson says in his course, the most important moments of your life are decided not by what you know but by how you think; this course will teach you exactly how to think!
The course has everything from a detailed curriculum to making you understand its methods easily with exampUltimatelythe end if you want to improve or polish your communication skills, then this MasterClass is for you!