In this Chriss Voss MasterClass review, I will share my experience of having this MasterClass and whether it is worth it giving your time!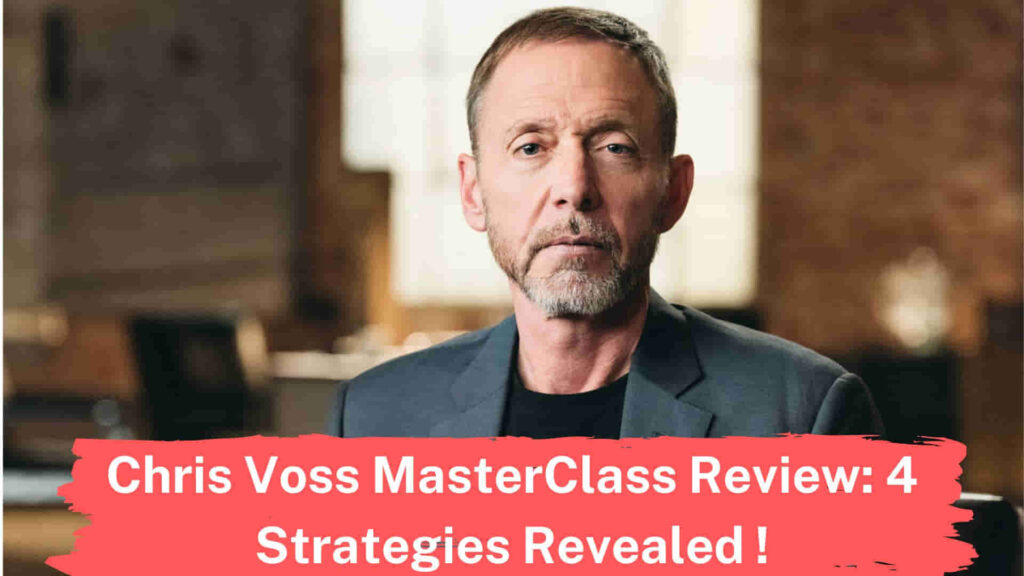 I'll be honest:
I am not the best at negotiations.
At some point, I lacked communication skills and had to improve them quickly.
However, when I bought the MasterClass subscription, I took the Chriss Voss MasterClass as one of the initial courses on the platform.
And trust me when I say this:
Chriss Voss MasterClass is one of the best!
When I say the best, I mean it with the proof I will share with the four significant strategies I learned from the course.
However, in the end, from my experience, you will automatically understand if this course is worth it for you.
I'll even share my opinion on this MasterClass and whether you should invest in it.
So, let's begin, shall we?
Quick summary Of Chriss Voss MasterClass Course
I know you might be in a hurry sometimes, so here is a quick sneak peek for you of the course:
What you learn: How to negotiate, communicate, negotiation strategies, tactics, and read body language. Ultimately, you will learn to improve your communication skills if you implement the learnings.
Course duration: 3 hours and 4 minutes
Recommendation: 100% recommended if you want to understand the deep tactics and strategies behind negotiation conversation. Read along to know why every learner should at least have this MasterClass course in 2023.
GET THE CHRISS VOSS MASTERCLASS NOW!
About Chris Voss
Chris Voss, the course instructor, is a former FBI hostage negotiator who has served for 24 years in the FBI.
Chris started his career in 1986 when he first joined the New York City Joint Terrorism Task Force.
He was investigating cases such as the explosion of TWA Flight 800.
A few years later, Voss joined the FBI Crisis Investigation Unit in 1992, where he was first trained as a hostage negotiator.
However, the first significant case in which he was involved was the 1993 Chase Manhattan Bank Robbery.
Chris has shared this instance in his MasterClass course, where he has shared the tactics because he and his fellow officers managed to get the three hostages out of the bank unharmed.
One of the significant cases in Voss's life was the international kidnapping case of Jill Carroll and Steve Centanni in the Middle East.
Both of these were ended without any bloodshed.
Voss has also shared this event of life and the learnings in his MasterClass as a significant part, which you will find quite interesting.
In 2007, Voss retired from law enforcement and founded The Black Swan Group, a consulting firm where any individual and business can learn negotiation skills.
Apart from this, Voss has also authored the book Never Split The Difference and served as the CEO of the Black Swan Group Ltd.
Christopher Voss also received the Attorney General's Award for Excellence in Law Enforcement and the FBI Agents Association Award for Distinguished and Exemplary Service.
With his MasterClass course, he mentions the goal to "help you get more of what you want every day."
And with the overall learnings and lessons from this MasterClass, I can confidently say he can deliver that.
Chris Voss MasterClass Review With Outcomes: The Art of Negotiation
When Chris said, "Everything in life is a negotiation," I trusted him!
Not because he solely dedicated his early career as one of the top hostage negotiators but rather for his course learnings that can be applied to most situations in life.
He clearly says that if you say 'I want' or think 'I need,' that's negotiation.
And it is not only limited to the officers and business leaders.
Being an introvert, I found this MasterClass game-changer earlier in my life.
I developed my communication skills!
However, today I will unfold all the good and bad with the four strategies I learned from this MasterClass.
Let's begin:
How Much Does Chriss Voss MasterClass Cost?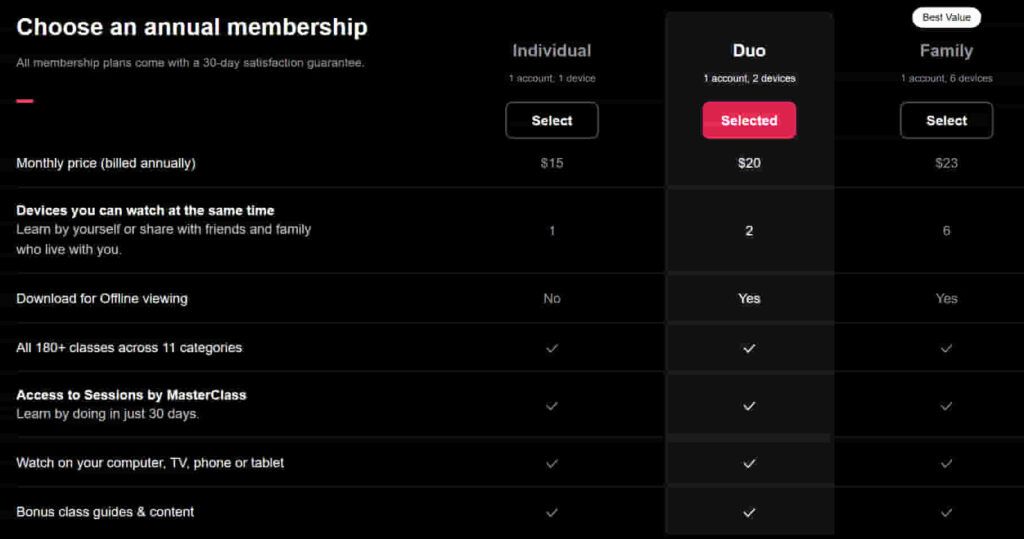 I know most of you might have this as the first question: What is the cost of this course?
However, you cannot buy this single course!
Let me explain:
Chriss Voss MasterClass comes with a MasterClass subscription, which involves access to this course and other 180+ courses on the platform.
That means you have to get the MasterClass subscription first.
And the subscription plan for accessing MasterClass courses is divided into three plans:
Individual MasterClass Plan (Formerly Standard Plan)
Duo MasterClass Plan (Formerly Plus Plan)
Family MasterClass Plan (Formerly Premium Plan)
So, which plan is the best for you?
I have discussed MasterClass pricing and everything-you-need-to-know guide for first-time buyers in my MasterClass Cost guide.
But in short, here are the pros and cons of each MasterClass membership.
1. The Individual Plan
This is the plan that I have right now, and I recommend this to individual learners.
Also, this is the most budget-friendly MasterClass subscription plan you can have.
The Individual plan costs $180 per year, averaging $15 monthly.
Under this Individual plan, you get:
Access to 180+ premium MasterClass courses
Stream on any device you want: Laptop, mobile, smart TV, etc.
Access to exclusive MasterClass features and content like Sessions
However, under the Individual plan, you cannot download course videos for offline viewing.
2. Duo MasterClass Plan
MasterClass duo plan (as the name suggests) provides access to MasterClass courses on two devices simultaneously under one account.
However, the duo plan costs $240 per year, which averages $20 per month.
Under the duo plan, you get the benefits of the individual plan but a new feature to download course videos offline to watch when you are not connected to the internet.
This feature is handy for people who commute and can't have regular internet access.
They can download the online course videos with internet connectivity and watch at their own pace, even offline.
So, it is a great feature, but the primary benefit is to access MasterClass courses on two different devices.
And therefore, this subscription plan is suitable mainly for a couple of learners or two friends or if you want to access MasterClass on two devices.
3. The Family Plan
The family MasterClass plan costs $276 per year.
Under this MasterClass subscription, you can access the platform for up to six different devices under the same account.
Apart from this, you get all the features available under the previous two plans.
That means you get a feature to download offline and access premium exclusive content of MasterClass.
Note: Even though the MasterClass website shows per-month plans, you must pay the full-year cost upfront.
Bonus Point: MasterClass launches new courses almost every month, so along with any plan, you get access to the previously loaded content and the new courses that are being added frequently.
Bonus++: You can avail of up to 50% discount during special days such as Father's Day, Christmas, or Black Friday sales. So, keep an eye on their website to get huge offers.
Chris Voss MasterClass Review: What Is In The Course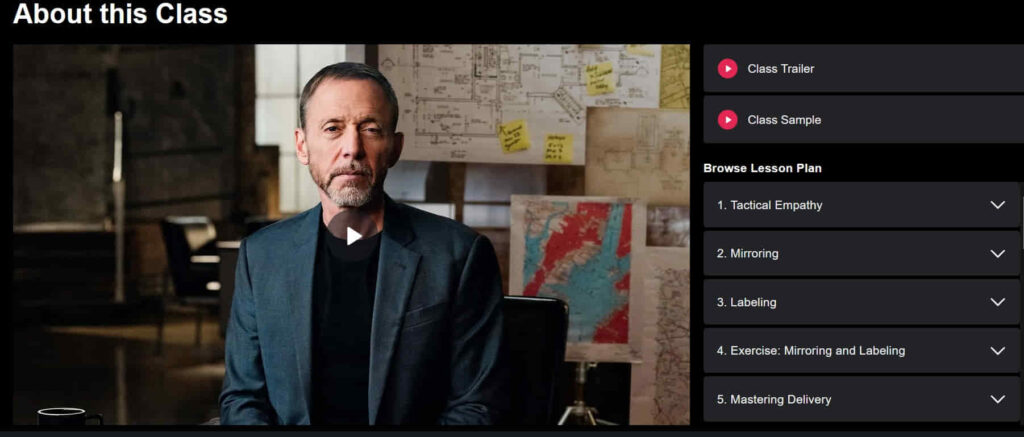 The whole course can be divided into three sections:
Video content
Supplementary workbook
Community homepage
These are the things that you get in the Chris Voss MasterClass.
So, let's break down each section and know the truth if it is worth watching!
Video Courses
The video course lasts 3 hours and 4 minutes with 18 different parts.
Each video lesson runs for around 10 minutes on average.
That means you can quickly complete the course and let the learnings sink in by giving just 10 minutes out of your busy day.
The Chris Voss MasterClass curriculum of the course is as below:
Tactical Empathy
Mirroring
Labeling
Exercise: Mirroring and Labeling
Mastering Delivery
Case Study: Chase Manhatten Bank Robbery
Body Language & Speech Patterns
Creating the Illusion of Control
Mock Negotiation: Teenager
The Accusations Audit
The Value of "No"
Mock Negotiation: Rival
Bending Reality
Bargaining
Mock Negotiation: Salary
Black Swans
Mock Negotiations: "60 Seconds or She Dies"
The Power of Negotiation
Chris Voss Video Lessons Review
Of 18 lessons, 12 are traditional lectures, meaning Chris talks to the camera.
And therefore, if you are looking for some fantastic visuals, that might be lacking here.
But the best part is that video lessons are shot, edited, and created so brilliantly that it feels like you are watching a documentary and learning through it.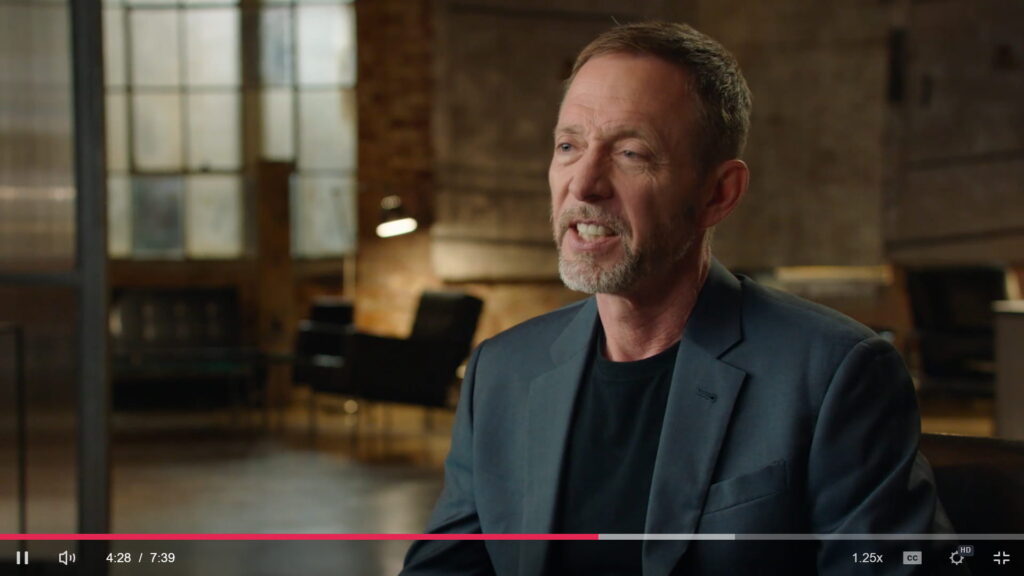 One case study is involved in the course where Voss plays an actual recording of him speaking to the hostage-takers (it gives quite a realistic experience, though).
And the other five mock negotiations are where Voss works with an actor to demonstrate negotiation principles live.
The good part is that Chriss analyzes and shares the details and tactics for his choices after the case study, giving you great learnings.
Overall, each video lesson gives a fantastic learning experience from a negotiation expert. However, case studies and mock negotiations are more interesting as you get involved, bringing a thrill.
Chriss Voss MasterClass Course Summary
The course starts with a bang!
Chris shares his point of view on negotiation and clarifies the course's purpose.
Then he slowly moves towards the tactics of negotiations with a Tactical Empathy demonstration.
He shares that negotiating is not about winning or losing but rather "collaboration."
Chris says, "The adversary is not the person across the table; the adversary is the situation."
Further, he moves with more concepts as you follow the course.
In the mirroring section, he shares how important it is to repeat the last few words to show interest in the other person.
He even shares an example of that.
Voss also focuses on the importance of tone.
He shares to aiming for a playful tone where 80% of the time is friendly while 20% is analytical – only when you have to deliver hard, immovable truths.
However, he also puts that you should never speak assertively when negotiating.
Another key learning that Chris focuses on is labeling, where you describe what the other person might be feeling.
He explains with examples like "It sounds like you're upset" or "Sounds like saving money is important for you."
Then you stay quiet to let them tell you if you are right or wrong.
That is how one can have a playful tone and implement the tactics to get the desired results.
Chris shares how good labeling can build trust-based influence, which he calls "the lowest-maintenance, most durable type of influence there is."
Supplementary Workbook Review
The Chris Voss MasterClass supplementary workbook is 14 pages, which is one of the perfect sizes as it doesn't bore you with too lengthy or too short to keep the main content incomplete.
The workbook can be a great source to update you on the tactics after the video lessons.
There are four sections in the workbook where you will be focusing on:
Introduction
Principles of Negotiation
Techniques of Negotiation
Strategies of Negotiation
Now, let's unfold these sections further to know what it holds for you.
1. Introduction
If you have watched the video content thoroughly, you can skip to this section.
This part contains the introductory part of Chris Voss, which you might have already watched in the video course.
But still, you can start from here if you want, as it describes in depth who Voss is and why this course can benefit you.
2. Principles of Negotiation
As the name suggests, this section covers the tactics and principles of negotiation.
This section is vital as, from here, your additional learning begins.
You learn about the basics of successful negotiation techniques and dive deep into tactics laid out by Voss.
3. Techniques of Negotiation
This is the section where you will feel the repetition of the video content, but it is essential for you as it keeps you reminded about the tactics so you can learn to implement those in your real-life scenarios.
Ultimately, this section gets you through the powerful ways to get what you want out of negotiation through tactics and strategic conversational skills.
4. Strategies of Negotiation
This section takes further section three.
It focuses on more complex negotiation skills to practice and learn from them.
One of the best parts about this workbook that I loved the most is that it also has a handy glossary where you can find the terms and their meaning which Voss brings up in the video lessons.
For example, you can find Black Swans, Dynamic Silence, and one of the essential techniques of Voss – Tactical Empathy.
The Community
You can find the discussion form or the community of learners along with you in the course section.
This community section is available with every course.
You can ask questions, share feedback, and seek feedback on your assignments (if there are any) with your peer learners.
One of the things that I noticed with this MasterClass is that Voss himself doesn't use the forum, but you will indeed find lots of engagement from the other students.
4 Strategies/Learnings From This MasterClass
If I talk about the learnings from this MasterClass course, there are many.
But I'll highlight the top 4 learnings from this course, which will eventually help you master the art of negotiation and build your communication skills.
1. Negotiation is not about bullying/win/lose.
The first learning that this MasterClass makes you get is negotiation is not about bullying or winning or losing it.
Instead, negotiation is about great collaborations.
Any communication starts with the non-adversarial approach. And if you try to throw your will on the other person, you are making them angry.
Therefore, the right approach is to work together against a problem by treating it as the negotiation of two or more sides.
2. Using mirroring to attract others
One key communication skill hack is using mirroring to attract others.
It is essential to show genuine interest.
To do that, repeat the last few words as a question so that they keep on talking.
For example: if someone says, "I spent the weekend on trips." Your response can be, "You love trips?"
Similarly, there can be many more examples where one can use this tactic to show genuine interest in the other person and get the wanted results.
3. The most powerful influence is based on trust.
To tackle a serious negotiation strategy, the first approach is to consider the perspective of the problem from the other side.
You can first try to diffuse the negative emotions and emphasize positive ones to get hold of the conversation.
And once you build trust, you can put your conversational skills to get the desired outcome from negotiation.
4. Looking for black swans
A black swan means any hidden information that can change the direction of a conversation.
For example, in any negotiation, both hide certain things (black swans), but it doesn't mean the hidden information is malicious.
Instead, you can use that hidden information with your communication skills to take the conversation accordingly to your direction.
A possible example of the black swan is the other negotiator's love for family, which could be used to create empathy.
Sessions By MasterClass And Chris Voss Sessions: Win Workplace Negotiations with Chris Voss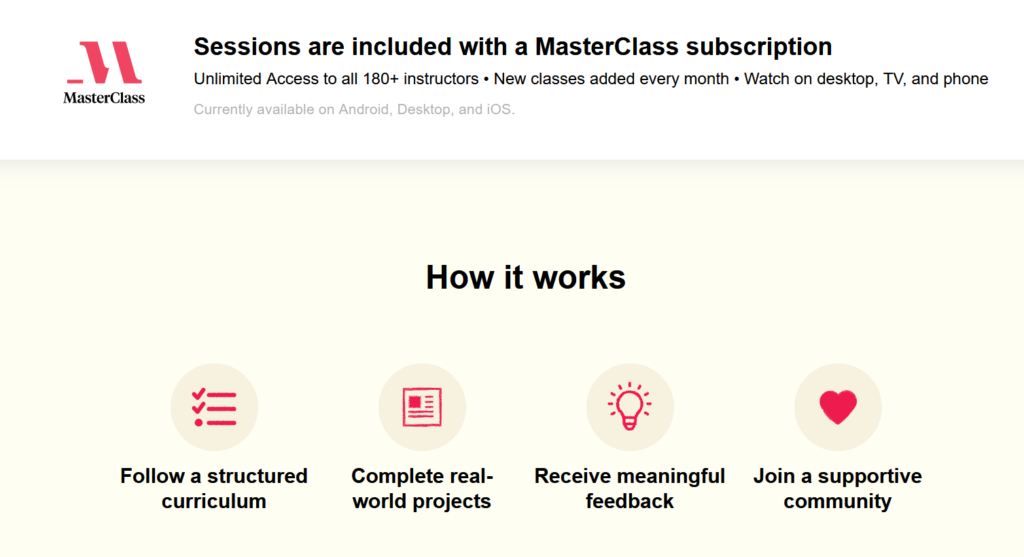 Sessions are one of the new features cum hands-on format of the MasterClass, where you learn by doing projects and activities alongside the world's best.
And the good part is that you get this feature with all of the MasterClass subscription plans.
In the sessions, you get to participate by sharing your work, and you are allowed to engage with the community as well.
Also, you will find pre-recorded video format learning which you get apart from video courses.
There is one Session with Chris Voss, which I haven't taken (because it was unavailable back then). I'm sure it is worth taking, just like the course itself.
You can watch the Session trailer and get a sneak peek into what it holds.
Is Chris Voss MasterClass Worth It?
As mentioned earlier, Chris Voss's MasterClass course was one of my first courses on this platform.
And after completing it, I can confidently say this MasterClass is one of the best courses I have taken on an online learning platform.
If I summarize the reasons why this course is worth it, then here are the five primary reasons:
1. The learnings you get from this course will help you lifelong as it helps improve your communication skills and how you can negotiate better, which will be helpful in different life situations such as corporate.
2. The unique curriculum design holds four mock negotiations and one premium case study with the recording of Chris Voss analyzing his tactics and sharing his experience.
3. Quick and crips course – you don't have to give multiple weeks. If you want, you can complete this course in one day or on your weekend. The short duration and crisp content teach you exactly what it promises.
4. Worth the money – for the learnings it provides, this MasterClass is worth every penny invested.
Therefore, I 100% recommend this course to whoever wants to upskill themselves with the art of negotiation and communication skills.
Pros And Cons Of The Art of Negotiation MasterClass By Chris Voss
Finally, here are the summarized pros and cons of this MasterClass.
Pros:
Learn how to master negotiations, build communication skills.
Additional workbook and material to practice and learn more.
Premium course design with hands-on Session.
The short duration of each video to learn every day by giving just 10 minutes.
Worth the money for the learnings it provides.
Cons:
The supplemental workbook can have improvement.
Not many visual aids as most of the time, Voss directly speaks to the camera.
Does This MasterClass Keep Its Promises?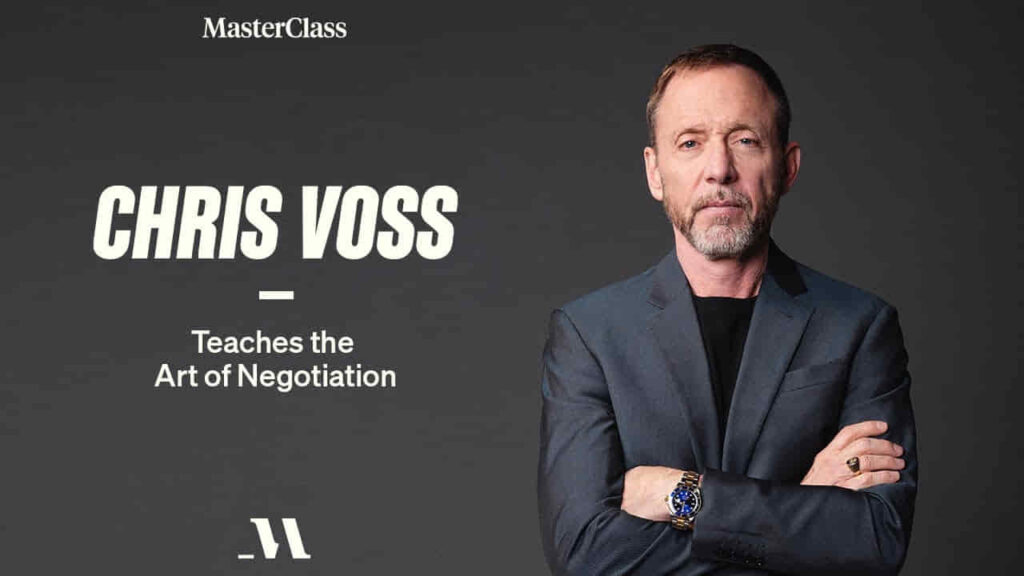 Yes, definitely!
I have said this often; this MasterClass has helped me boost my communication skills.
Now, I tackle situations with a different approach after this MasterClass. I've understood the necessity of "no" wherever needed.
In short, I've learned and begun to apply the learnings for better socializing with people and dealing better with negotiations.
Therefore, I confidently recommend this MasterClass for many reasons, but its lessons and learnings are the topmost reasons for the recommendation.
No doubt why this course is one of the most popular MasterClass courses on its platform.
3 Favorite Quotes From Chris Voss's Masterclass
"People are much more likely to make a deal if they feel the process was fair…"
– Chriss Voss from The Art of Negotiation
"Great negotiation is about great collaboration. It's about several people faced with different aspects of the same problem."
– Chriss Voss, The Art of Negotiation
"The stereotype of negotiation is that it's about being the biggest jerk in the room…"
– Chriss Voss, The Art of Negotiation
Chris Voss MasterClass FAQs
Do I need a subscription to access this course?
You need a MasterClass subscription to access this course and other 180+ premium courses on various topics.

To learn more about MasterClass subscription plans, read my MasterClass cost guide and learn in detail.
How long is the Chris Voss MasterClass?
The Chris Voss MasterClass has 18 video lessons, totaling 3 hours and 4 minutes of runtime.

However, the good part about this course is that each video course has an average length of 10 minutes which means you can quickly complete at least one video lesson even on busy days.
Is the Chris Voss MasterClass worth it?
Yes, 100%. Chris Voss MasterClass is worth it as it has one of the most powerful strategies and tactics you can directly implement to boost your negotiation or communication skills.

Therefore, the Chris Voss MasterClass cost is worth every penny.
Which MasterClass plan is best for me?
There are three-tier subscription plans.

If you are an individual learner, you can find an Individual plan much better for yourself as it is also one of the less-costly plans costing $180 per year.

However, you can even go for a duo or family plan as needed.
Review conclusion: Do I Recommend It?
Absolutely. By the end of this Chris Voss MasterClass review, I recommend Chriss Voss MasterClass with 100% confidence after learning from this course.
Even I have already shared several reasons above for that.
This MasterClass holds the tactics, strategies, and learnings that Chris Voss explains easily for boosting your negotiation or communication skills.
Voss teaches how to learn and implement these tactics in several practical situations.
With a deep analysis through real-life scenarios, this MasterClass is an excellent source of learning that can directly teach you the implementation techniques.
And with that, you can always have the upper hand in communication or negotiations that Chris Voss teaches easily in his MasterClass.