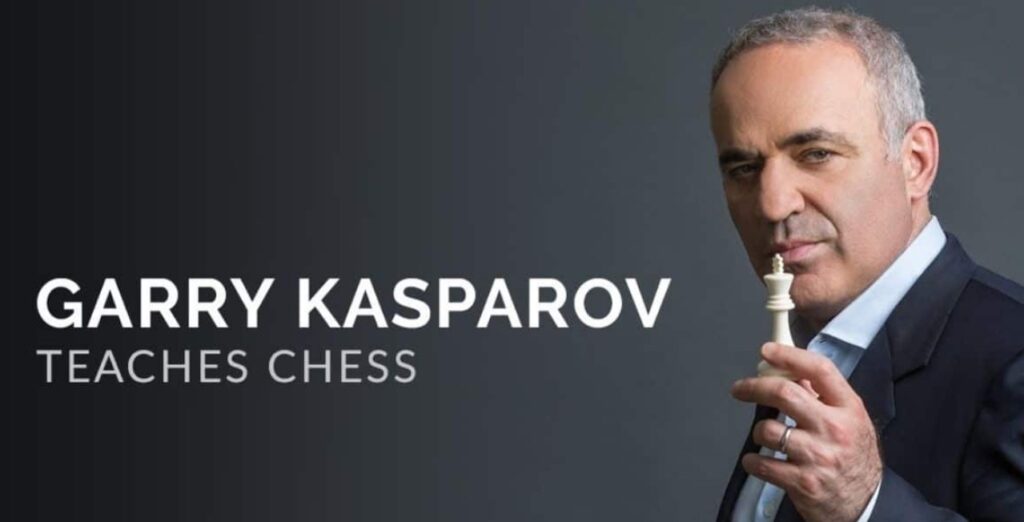 I remember playing my first chess match with my friend as a kid.
I lost brutally.
But years later, after binge-watching Netflix's The Queen's Gambit, my love for Chess came into action again.
I even started playing online and got a decent understanding of several moves and a "novice" rank.
And when I got a MasterClass subscription and saw Garry Kasparov Teaching Chess, I couldn't resist.
I always wanted to learn Chess from an expert, and here on MasterClass, I was getting to learn from the legend himself!
Finally, I completed this MasterClass over the weekend and can tell you one thing for sure; this MasterClass is terrific!
In this review, I will break down every detail of this MasterClass so you can decide whether or not it is worth it.
Let's begin:
A Quick Garry Kasparov MasterClass Review
Here's a quick sneak peek into the Garry Kasparov MasterClass course before I dive deep into breaking down everything:
What you'll learn: From the foundations of how to play Chess to strategic thinking, mental toughness, and a series of tactics, including openings and endgame from one of the best chess players in the world.
Course duration: Approximately 7.5 hours (455 minutes)
Course value: 4.5/5.0
Recommendation: 100% recommended to beginner chess players and intermediate-level players. This MasterClass teaches you about strategy, thinking processes, and various tactics, which will significantly help you in your chess game.
Similar Courses: Will Wright Teaches Games Design And Theory, Daniel Negreanu Teaches Poker
GO TO THE "GARRY KASPAROV TEACHES CHESS" MASTERCLASS!
How Much Does Garry Kasparov's MasterClass Cost?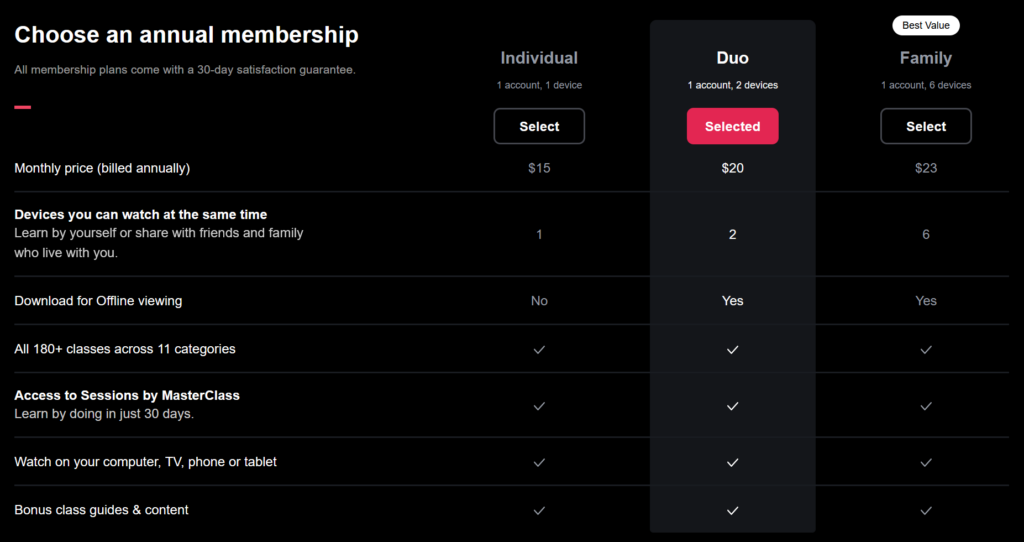 The first thing that probably is in your mind is the cost of this course.
However, to access the Kasparov MasterClass, you need MasterClass annual subscription.
A few times back, MasterClass used to offer different pricing models.
However, recently, they have started a cost-friendly three-tier membership:
The Individual plan of MasterClass costs $120 per year with an average of $10 per month.
Under this plan, you get unlimited access to all the MasterClass courses, including Garry Kasparov's MasterClass.
Most learners will find this the best subscription plan for themselves, which is also entirely accurate.
However, the only downside of this subscription is that you cannot download MasterClass videos on your device for offline viewing.
To do that, you must upgrade your plan to Duo or Family membership.
You can access MasterClass for two devices under one account in the Duo plan.
Therefore, it is best for couples, friends, or siblings who want to learn from the experts.
However, the cost of the Duo plan is slightly higher than the Individual. It costs $180 per year, just $15 per month.
Also, you get the feature to download your courses for offline viewing on two devices simultaneously.
As the name suggests, the family plan suits friends or classmates who want to buy MasterClass subscriptions for multiple accounts.
It costs $240 per year with an average monthly cost of $20.
Personally, I go for the $120 per year subscription option, which perfectly goes with my monthly learnings.
Also, it is the most budget-friendly option on the list, so I opted for the Individual plan.
Note: You must pay the membership cost of MasterClass upfront for the whole year to access the courses.
Garry Kasparov MasterClass Review – Must Read This Before Buying
Honestly, when I started with this MasterClass, I was biased that, of course, this course would be everything.
I had high hopes that this chess course would make me an expert in Chess as I was learning from the world's best chess players.
However, as I completed each lesson, many things were entirely unexpected (both positively and negatively).
So, let's unfold this MasterClass further before you buy:
About Garry Kasparov
Garry Kasparov is a former world chess champion.
He won his first World Championship in 1985 at the age of 22 – leading to becoming the youngest chess player to achieve that.
It is why you might have heard of Kasparov even if you have never played Chess.
He has earned the peak rating of 2851 – the highest ever until it was broken in 2013.
Out of the 2515 chess games that Kasparov has played, he has lost only 200, achieving a success rate of 93%.
That is why he is one of the best chess players in the world.
During the MasterClass, Kasparov recalls the first tournament he played at 9.
Even though he lost every game except for one but he felt lucky that he found his game.
So, in a nutshell, if you are starting this MasterClass, you are learning from a legendary world chess champion player.
Garry Kasparov MasterClass Course Summary
The MasterClass began exactly as I expected.
Even as any beginner would expect, this MasterClass begins with the fundamentals.
Kasparov begins with his chess philosophy, giving a tour of chess pieces, board, and some advice.
And when the primary lesson begins, the chess master begins with the tactical lesson of double attacks.
Kasparov starts with his power move and shows how essential it is to start with this move to expand your chess portfolio.
He emphasizes these tactics before jumping into endgames and openings. However, he also gives a good time on the openings and endgames.
The good part is that, whatever the chess master explains, you get to see the digital version on your screen.
Therefore, it becomes easier for you to understand what Kasparov explains in the lesson.
However, the second half of the MasterClass goes slightly a level up which is best suited for intermediate to advanced players.
However, even if you, as a beginner, can understand the analyses, you must have some game experience to get the most out of it.
Finally, the course ends with a bonus lesson where Kasparov shares his loss to Karpov and his learning.
GO TO THE "GARRY KASPAROV TEACHES CHESS" MASTERCLASS!
What Does This MasterClass Promise?

This MasterClass is simply for chess players who love or are fans famous historical games of Garry Kasparov.
However, in the beginning, let me be clear that this MasterClass doesn't promise to improve your score by 200 points instantly after watching the course.
Well, it is not like that.
However, Kasparov elaborates, "I believe this MasterClass will be a success if I can inspire you to learn not just about the game of chess but about other things. If you feel enriched, encouraged, and inspired –I hope that with this class, I will inspire you to love the game of chess as much as I do."
That means if you are looking for:
Understanding of tactics, moves, and strategies
Analyzing the game and learning your power moves
Getting inspiration and curious about the game more
Then this MasterClass is definitely for you.
It is what this MasterClass promises to give you, which eventually will improve your game as well as your ranking.
At the same time, the learnings you will get from the Chess Master will surely improve your game if you practice and understand the concepts.
(Do not just binge-watch and expect to get a higher ranking.)
Even though Kasparov begins with "who wants to improve his or her own chess game," this MasterClass will teach you the tactics, strategies, and analysis skills to improve your game.
So, we will find out whether Kasparov lives up to his promises in the following sections.
What Is Included In The Garry Kasparov Masterclass?
Once you enroll in the MasterClass, you get 7.5 hours of video course to complete, which is divided into video lessons of 10 to 20 minutes.
However, there is a lot more when you learn from the Chess Master Kasparov.
So, let's dive deep and unfold this MasterClass.
Video Lessons
The 455 minutes of video lessons are divided into 29 parts. Each video lesson is around 10 to 20 minutes long.
The lesson plan goes as follows:
Introduction
Garry's Chess Fundamentals
Double Attacks – Part 1
Double Attacks – Part 2
Skewers
Discovered Attacks
Pins
Deflection/Attraction
Interference
Overload
Winning Trades
Endgames – Part 1
Endgames – Part 2
Endgames – Part 3
Openings – Part 1
Openings – Part 2
Openings – Part 3
Simul
Jason's Game
Molly's Game
Dennis' Game
Case Study: Opening
Case Study: Endgame
Garry's Journey
How To Analyze
Computers And Chess
Mental Toughness
Closing
Bonus! Secret Novelty
As mentioned earlier, the course starts with the fundamentals, which Kasparov explains, before starting with the main course.
And instantly after the intro, Kasparov moves ahead with the Double Attack power move and its importance in the game.
As you complete the chess lessons, Kasparov teaches you the Endgames and Openings in the middle sections, followed by the case studies.
In between lessons, Kasparov also shares their insight about some matches where he shares the tactics and thought processes behind the game.
Not to mention, this is one of the longest courses that I have enrolled on MasterClass.
And therefore, I recommend you not to binge-watch or finish over the weekend to complete the course.
Instead, I recommend learning and practicing the concepts that you understand.
The tactics, moves, and strategies that you learn in the lessons must be practiced to get the most out of this course.
Pro Tip: If you are a beginner, I recommend not switching video playback at 1.5x, as it will be harder for you to catch up with the concepts and understanding of tactics.
Supplementary Workbook
Like any other MasterClass course, you also get a downloadable workbook in this MasterClass.
The 86-page downloadable workbook is an excellent companion in your learning journey.
The chapters of the workbook are of the same name as the video lessons so that you can easily refer to them during your learning or later on in the course.
Also, the workbook consists of several practice positions as per the video lessons.
Whatever tactic and strategy you learn in the course is summarized in the workbook, where you can practice within it.
The MasterClass Sessions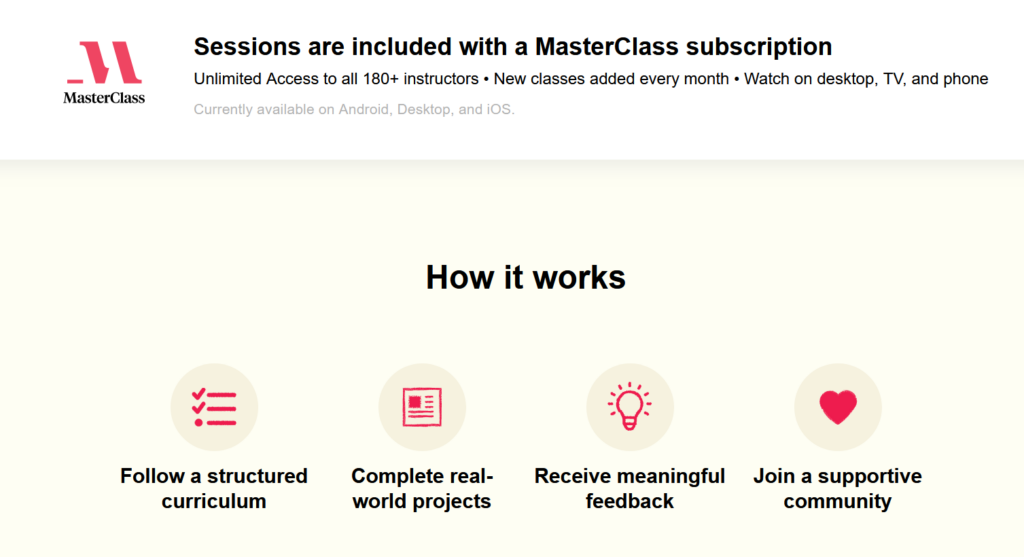 Earlier known as The Community Hub, The MasterClass Sessions is the new version now available as the new feature on the platform.
The content in the Sessions is pre-recorded, and you can access it anytime during your membership.
You get access to a supplemental workbook and sessions apart from video lessons included in the membership.
GO TO THE "GARRY KASPAROV TEACHES CHESS" MASTERCLASS!
5 Key Points That I Learnt From This MasterClass
There are 'tons' of things that the Garry Kasparov Chess lesson will teach you. Even I'm sure there are things I would have to go back and rewatch.
However, here are the five things that I learned throughout this MasterClass.
1. Mental Toughness Is Important
A game like chess is a game of both physical and mental toughness. You must sleep and exercise regularly to have that.
The mental toughness will help you to memorize positions so that you can recognize another player's strategy.
Handling the pressure and thinking correctly without panicking is the skill that comes through mental toughness and can instantly give you the confidence to level up your game.
2. Analyzing Is Important
Practice in such a way that you can analyze your game. And you can easily do that by recording your practice.
Throughout the course, even Kasparov takes students to various case studies to tell them the importance of analysis for improving your game.
Improving your game becomes much easier and more convenient when you can rewatch what you did and how you did in the game.
3. Playing With Real Pieces
Kasparov gives this as advice in the course that you must play with the actual pieces.
Playing with real pieces will not only make you break from the screen time but also help you get better and faster and provide a real-time match experience.
4. Practicing By Yourself
Sometimes, you may not get your friend or boyfriend on your side to play chess and practice with them.
Therefore, practicing chess alone is the ultimate hack you can have and practice your own game.
Even technology is another helpful tool that can help you learn chess, but playing with actual pieces and by yourself can teach you different aspects of the game.
5. Stay Curious
As a beginner, you may not be able to get certain things as the course gets advanced.
However, you must remember why you have started the course and the inspiration of learning from the expert himself.
Even though some openings or endgames may not be that understandable to you, with a curious mind, you can learn them by giving yourself some time.
Also, give yourself time to let the learnings sink in, and don't rush to binge-watching the course.
Only in this way can you get the most out of this course.
GO TO THE "GARRY KASPAROV TEACHES CHESS" MASTERCLASS!
Pros And Cons Of Garry Kasparov MasterClass
Here is the summary of things that I liked and didn't like about this MasterClass:
Pros:
Learn from the world's best chess player
Easy to understand for most learners
Visual representation of what Kasparov teaches
Bite-sized video lessons to learn everyday
The downloadable workbook consists of practice positions
Cons:
Is Garry Kasparov MasterClass Worth It?
So, in the end, it all matters if the Garry Kasparov MasterClass is worth taking.
Well, the answer is yes!
However, you should not expect this MasterClass to improve you instantly or boost your ranking after completing the course.
Instead, you get a wealth of knowledge from a world-renowned chess expert, which you can use in practicing your game and improving it.
Even when I started the course, I was pretty hopeful as I was learning from the chess expert, and after completing the course, I can confidently say that this MasterClass stands out on all the expectations.
Whether you are a beginner or an advanced chess player, this course is a gem resource for chess enthusiasts that can take your chess gameplay to another level.
And for the cost that MasterClass offers, this course from the world's top players is just a fantastic deal.
Additionally, if you are a regular learner, then the cost of MasterClass can come down to only $10 per month for an Individual plan of $120 by completing only ten other MasterClass courses per year, which is a fantastic deal that you shouldn't miss!
I have talked more about MasterClass in my review of If MasterClass Is Worth It?
GET THE GARRY KASPAROV MASTERCLASS!
Do I Need A Subscription To Access This Course?
Yes, you need a MasterClass subscription to access the course.
And there are three different levels of memberships that you can have—starting from Individual to Duo and Family.
The most cost-friendly plan is the Individual plan that you can have, costing $120 per year.
Does MasterClass Have A Free Trial?
Earlier, MasterClass used to offer a 30-day free trial.
However, as of 2023, there is no free trial available. You must start your membership to have unlimited access to the courses.
Even though you are charged upfront for the whole year, you can cancel your subscription anytime.
The best part is that you get a 30-day money-back guarantee with the MasterClass membership.
Under that, you can get your full money back if you are unhappy with the MasterClass services.
It is a great way to try and explore if MasterClass is the right platform for you.
Can I Pay MasterClass Monthly?
Even though MasterClass shows the cost of online courses as an average of per month but you are charged for the whole year upfront.
There is no per-month cost that you can pay and access specific courses.
Therefore, you must pay for the membership plan to access MasterClass courses.
How Long Does A Masterclass Subscription Last?
A MasterClass subscription lasts for a whole year. And after the end of your paid period, you are charged again for the next cycle.
That means you can pay upfront the membership fee and enroll in as many courses as you want till the end of your subscription period.
During the membership period, you can access video courses, MasterClass Sessions, and supplementary workbooks with materials.
Also, with the launch of a new video course each month, you can access the new courses under the same membership plan.
That means you don't have to pay extra for new courses added to your MasterClass library.
FAQs About Garry Kasparov MasterClass
Here are the answers to the most frequently asked questions for the Garry Kasparov MasterClass.
Is Garry Kasparov's MasterClass good?
Garry Kasparov Teaches Chess MasterClass is excellent for beginners and intermediate chess players.

The course contains everything from video lessons to supplementary workbooks and Sessions to have one of the best learning experiences.
What is Garry Kasparov good at?
Garry Kasparov is arguably the world's best chess player. He won the world chess championship at the age of 22. He was the youngest to achieve at that time.
Do I need a subscription to get this course?
You need a MasterClass subscription to get the Garry Kasparov MasterClass course.

Out of three pricing models, you can get any of them according to your need and budget.

Most people will find the Individual plan most suitable for themselves.
Do I Recommend Garry Kasparov MasterClass?
A 100% yes.
I recommend Garry Kasparov's MasterClass to every chess player, especially those just starting their professional journey.
This MasterClass is filled with the tactics, strategies, moves, and learnings of the world's best chess players and has many inspirations and motivations to keep going with your game.
With the lessons you get in the course, you can practice them to improve your game and ranking.
However, if you are unsure about MasterClass, you can read here if a MasterClass subscription is worth it.