Today, I'll share ten free photography classes to start learning right now!
I love photography.
But I can only take good photos of my dog (thanks to the filters!).
Also, I'm more kind of "Auto" mode photographer than the "Manual."
But if you are an aspiring photographer, whether wanting to side hustle and earn money through your stock photography and skills or want to be a professional celebrity photographer like Annie Leibovitz, you must master photography skills first.
And thanks to the best free online photography courses, you can learn proper photography techniques quickly and even for free!
The best part?
I have got you covered with the ten best and free photography classes that can make you improve your shots just in a few hours of class!
So, let's begin, shall we?
Discover The Best Free Online Photography Course (10 Great Picks)
There are thousands of free online photography courses, but I have picked only the best ones for you.
Starting from the beginner category, we will slowly move towards intermediate and advanced courses so that you can choose your skill level.
However, if you are already at a decent level, I recommend you go for more advanced courses like learning from experts on MasterClass, but it costs you some money.
But if you are a complete beginner and want to start from scratch or intermediate level, I don't recommend spending any money on online photography courses, as you can start building your photography skills for free.
And here are the free and best free online photography courses I have found for you at different skill levels.
10. An Introduction To Photography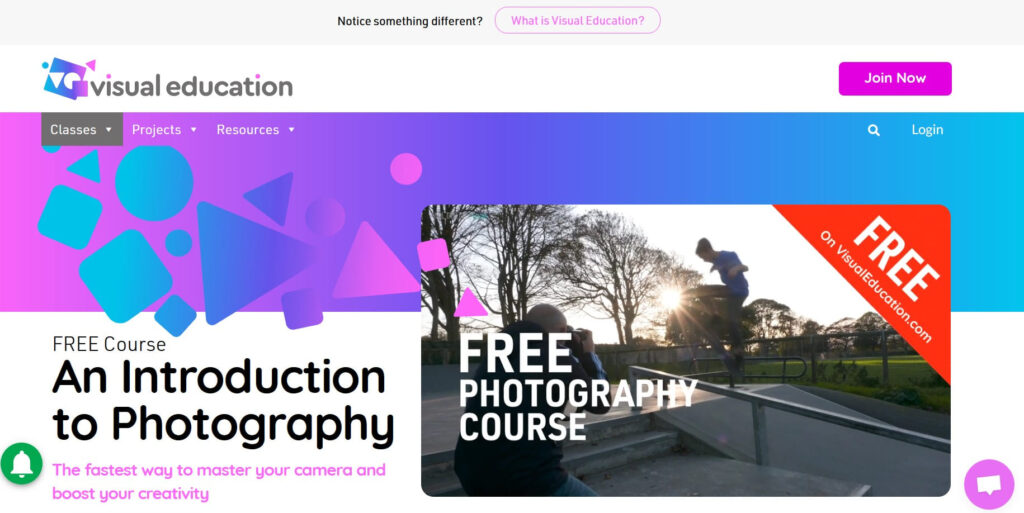 Level: Absolute beginners
Course Duration: 10 short video lessons
Available On: Karl Taylor Education
What else will be better to start your photography learning journey from the expert himself?
Karl Taylor, a professional photographer, teaches this course introduction to photography on his education site – Karl Taylor Education, for free!
However, some other courses from Karly Taylor are paid.
But for absolute complete beginners, this course is free, and the skills you get from this course are:
· Camera basics
· Exposure
· Focal length
· Shutter speed
· Lighting
· Depth of field
And much more.
Apart from the ten short video lessons, you also get a downloadable e-book and 25 quiz questions to test your knowledge at the end of the course.
So, you must sign in with your Google account and access the course for free.
For an absolute beginner, this course is perfect to get started.
GET THIS FREE PHOTOGRAPHY CLASS NOW!
9. Photography For Beginners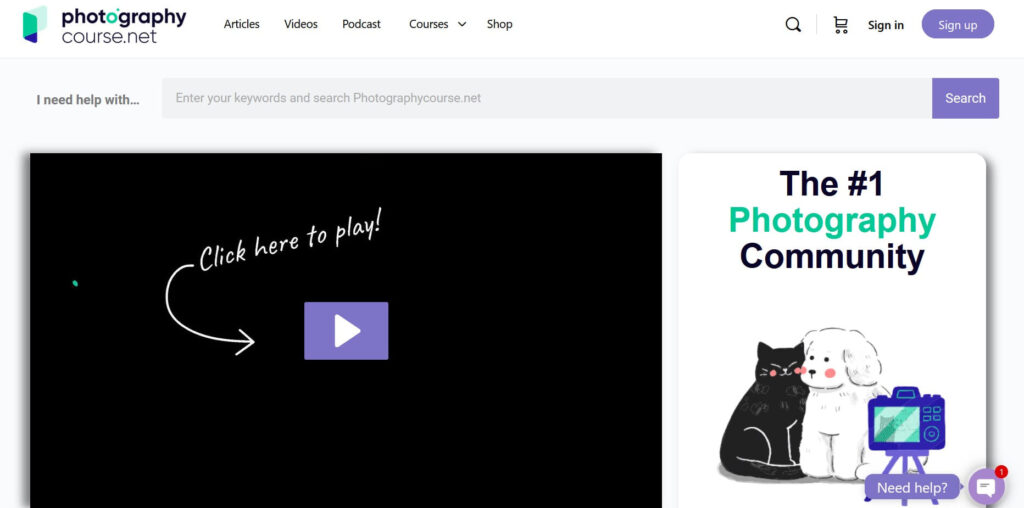 Level: Beginners
Course Duration: 34 mini-lessons
Available On: PhotographyCourse.net
Are you a beginner who wants to learn about lighting, camera settings, white balance, aperture, shutter speed, ISO, and more?
"Photography For Beginners" is a free photography course from photographycourse.net with all the necessary tutorials.
Access this free photography class to boost your skills even without signing up.
The course is divided into 34 mini-lessons (blog kind of) with some video components in the blog posts.
This class is a free tutorial for beginner learners; you can learn essential terms, terminologies, and techniques from scratch.
This course has covered enough skills for a beginner to make you better at clicking shots.
However, most of the lessons are curated in the written blog kind of form; therefore, it is not the usual video lesson.
But you are surely going to find videos incorporated in some parts to have a better understanding of some topics.
I recommend this free photography class to learners who want to go through theoretical concepts before working on their new skills.
However, if you want to learn from the video lessons practically, check out the next class.
GET THE "PHOTOGRAPHY FOR BEGINNERS" CLASS FOR FREE
8. Photography Essentials: Understanding The Basics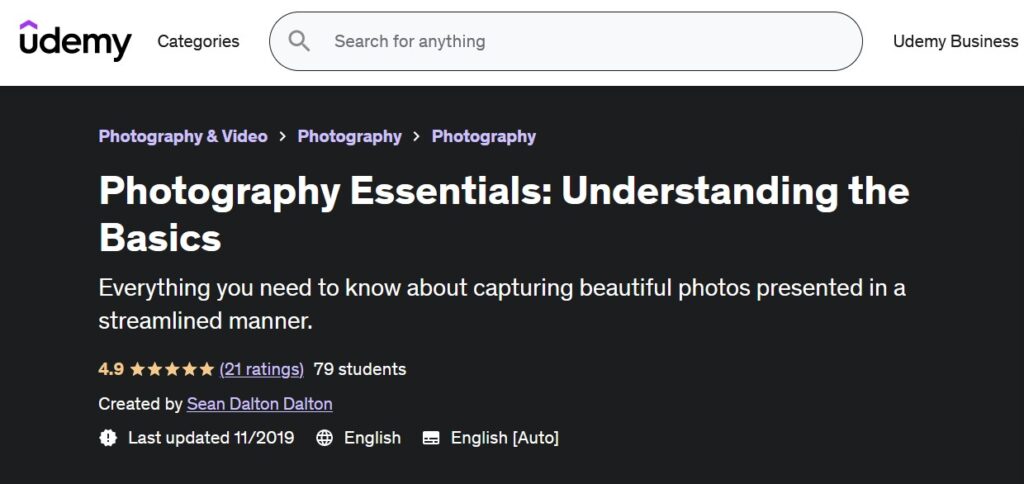 Level: Beginners
Course Duration: 90-minute video course divided into 13 short segments
Available On: Skillshare
Whether you start learning photography or any other skill, you must start from the basics.
And this Photography Essentials course fulfills all the basic requirements a great photographer should have.
It builds your foundation as a professional photographer.
Hosted on the Skillshare platform, you get 90 minutes crisp course with 13 video segments taught by travel photographer – Sean Dalton.
Dalton teaches you all the foundational topics, basics, and tips, tricks to establish yourself as a photographer.
Like many of the other free photography classes, this course covers essential topics like:
· Camera settings
· Focus and lighting
· Editing
And much more beyond these topics.
Also, various Skillshare courses under the Skillshare Learning Paths can help you establish yourself as a pro photographer from being a novice.
You can read my honest Skillshare review, where I have shared my experience with the platform and how you can access its premium courses for free with a 30-day trial.
Bonus: This course also contains some unique topics unavailable in other free online photography classes. Therefore, it is one of the best photography courses to get started as a beginner.
GET THIS COURSE AND SKILLSHARE FOR FREE
7. 10 Do's & Don'ts In Photography

Level: Any skill level
Course Duration: 42 minutes of video course divided into 13 lectures
Available On: Udemy for free!
So, you might have bought your first Nikon, and you are eager to jump into the field of photography.
But do you know how to take care of your lens?
Or
How to make the most out of your equipment with other accessories?
If you are starting, I'm sure you might not know some's and Don'ts that a good photographer should know.
Therefore, created for all skill levels, a photographer should know the ten dos and Don'ts.
Hosted on Udemy, the course has 42 minutes of video length divided into 13 lectures.
Learnings are there, from camera care, lens care, accessories, and photography basics to holding your camera, RAW, tilts, high ISO, cube, and much more.
Sometimes even pro photographers are unaware of these things; therefore, any photography enthusiast can learn from this course.
Available for free, get started to boost your skills from this high-quality yet free course.
GET THIS FREE PHOTOGRAPHY CLASS NOW!
6. How To Take Portraits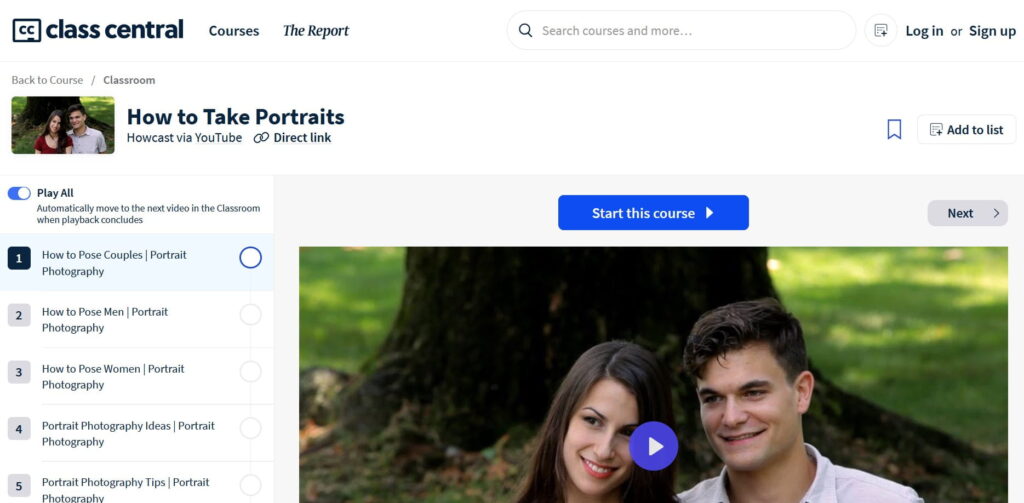 Level: Beginners to intermediate
Course Duration: 27 video segments
Available On: Class Central
Portrait photography is one of the most demanded photography in the public domain.
Portrait photos are always needed at weddings and various events.
And therefore, if you know how to take 'fantastic' portraits, you can get work quickly as well.
To get you started with Portrait photography, here is a detailed course suitable for beginner to intermediate skill-level learners.
Hosted on Class Central, the course is divided into 27 short video segments allowing you to learn in deep about various features and functions that can help you take 'excellent' portrait shots.
This free photography class teaches you about the following:
· Portrait photography ideas
· Portrait photography tips
· Picking a location
· Tips to make pictures good
· How to shoot family, solo, and even self-portrait
And much more.
There are 27 video segments containing one of the most premium content for a photographer.
You can also monetize your hobby and apply for freelance work by learning these.
However, I recommend you to have a personal camera and apply the learnings from these free classes to showcase your work before applying.
In this way, you will have a high chance of getting work.
GET THIS "HOW TO TAKE PORTRAITS" COURSE FOR FREE
5. Intermediate Digital Photography

Level: Intermediate
Course Duration: 2 modules with 17 video segments with approx. 3 hours
Available On: Alison
Once you have established a strong foundation and want to upskill yourself as a photographer, this Intermediate Digital Photography course is all you need.
Available on Alison, this intermediate-level photography course entirely free to learn and includes two different modules with 17 video segments teaching you various concepts like:
· Shutter speed
· ISO
· Aperture
· Lens filters
And more.
The first module is "Getting More Out Of Your Camera," which makes you establish a good understanding of camera settings for a great shot.
Once you understand clicking a good photo, you move on to the second module, where you learn about editing photographs using Adobe Photoshop.
You have the assessment at the end of the course, which you get the certificate after completing.
You need to sign up using a valid email address without any payment or subscription, and you are good to go.
Recommended for intermediate-level photographers, this course will give you more advanced skills to put in your work.
GET INTERMEDIATE DIGITAL PHOTOGRAPHY COURSE FOR FREE!
4. Chris Bray Photography Course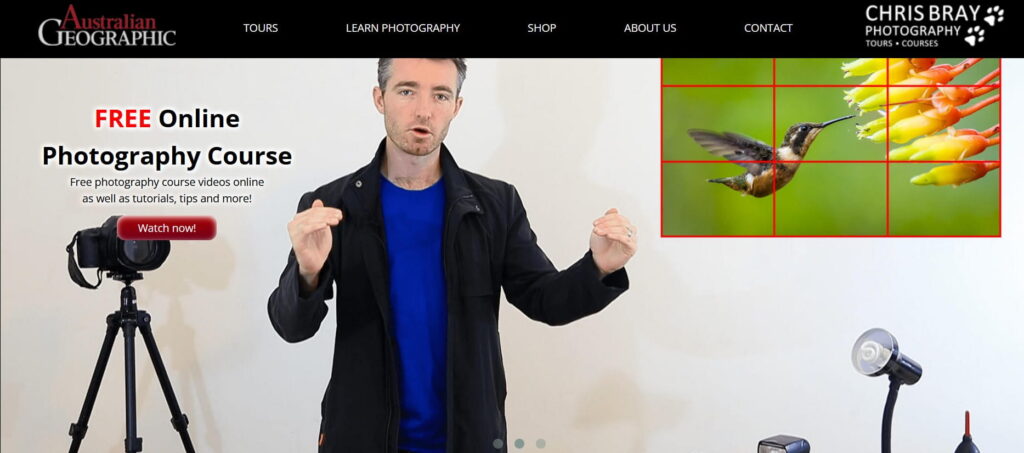 Level: All skill levels
Course Duration: 10 videos 12 -20 minutes in length
Available On: ChrisBrayPhotography.com
Australian Geographic photographer Chris Bray teaches this free course, previously available for $480.
Lucky for you that now this course is free for all photography enthusiasts.
This easy-to-understand course is divided into 10 video parts having 12-20 minutes of length for each video segment.
The course teaches you various learning concepts such as lighting, exposure, composition, movement, camera lenses, etc.
Although the video is hosted on YouTube, it is available on the website.
Besides the video lectures, Chris has also provided an eBook with this course, which contains more information, reference guides, and extra tips.
Therefore, you get everything like a premium course for free.
Overall, I found this photography course quite good for learners looking to start from scratch by learning from the expert.
And with video lectures, you also get additional materials that help you get more information apart from the video course.
GET THIS PREMIUM PHOTOGRAPHY CLASS FOR FREE
3. Lighting 101 By Strobist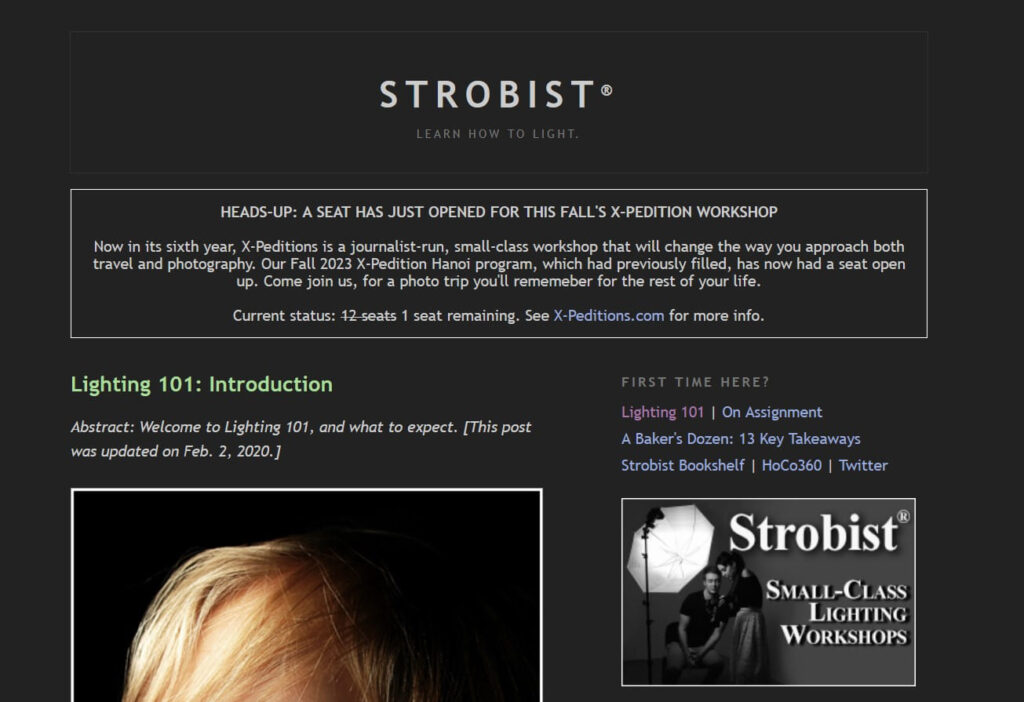 Level: Intermediate
Course Duration: Guide
Available On: Strobist
Lighting is everything when it comes to photography.
Therefore, along with mastering all the skills related to the camera, you also need to master the lighting skill.
If you can play with lighting, you can make a photo go from 'awful' to 'wow' in no time.
And therefore, this free Strobist online course is for photographers who want to learn and boost their skill level with lighting.
In this guide cum course, you will learn from the trained and professional photographer who has already spent and created 10,000+ assignments and thus mastered the power of light.
The course also describes how to use off-camera flash and tips related to aperture and shutter speed settings to use them and make the most out of them.
The guide also has learnings related to camera controls which help you to go from 'auto' mode to 'manual' mode.
So, summing up, you will learn:
· All about lighting
· How to control light
· How to use off-camera flash
Choose this course to master the art of lighting and improve your skills in depth here.
GET THIS LIGHTING 101 COURSE FOR FREE
2. Commercial Photography: Still And Moving Image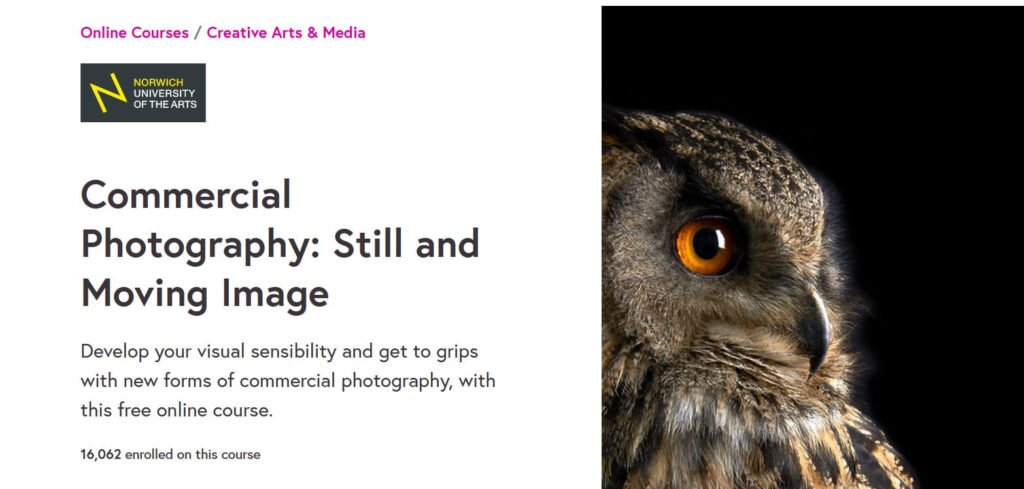 Level: Intermediate
Course Duration: 10 video segments
Available On: Future Learn
It is one of the best free photography courses for aspiring commercial photographers.
You need multiple skills like filmmaking, CGI, animation, and more to explore still and moving image photography.
Therefore, this course is designed for beginners and professional photographers and geared towards intermediate-level photography.
The course takes you through multiple skills and various other fields than photography.
This course is based on some aspects of the photography courses at Norwich University of the Arts; therefore, you learn from expert academics.
On top of that, you also learn from leading commercial photographers like Andy Earl and Tim Flach.
So, gear yourself to learn about the following:
· Advanced concepts in photography
· How to develop creative work and monetize the creative potential of your skills
· How you can create videos for commercial projects
This course brings so much for an aspiring professional photographer, even at no cost.
All you need is to sign up to get started on Future Learn.
GET THIS PREMIUM PHOTOGRAPHY COURSE FOR FREE
1. Learn Photography From Celebrity Photographer Annie Leibovitz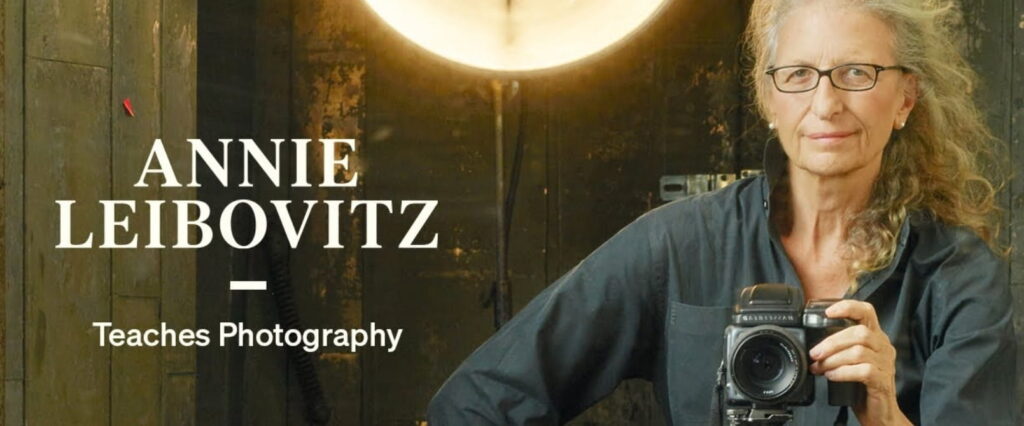 Level: Beginners
Course Duration: 3 hours 4 minutes divided into 15 video segments
Available On: MasterClass
One of the most prominent celebrity photographers, Anni Leibovitz, teaches photography in her first online course ever.
She was the first woman to be named chief photographer at Rolling Stone.
And with throughout her lifelong photography journey, she teaches from philosophy to developing concepts and how to make your photos better.
If you are entirely into professional photography or an aspiring celebrity photographer, this MasterClass is 100% made for you.
With 3 hours 4 minutes of video course divided into 15 small video segments, you will learn:
· Portrait Photography
· Creating Concepts
· Working With Light
· Studio vs. Location
· Case Studies
And much more.
On top of that, you will learn these from the 'legendary' photographer herself: Annie Leibovitz.
She is one of the most prominent names in the photography industry.
Therefore, if you have enough experience with basics and intermediate skill levels and are looking for a 'pro-level' course, then this MasterClass is for you.
GET THIS PHOTOGRAPHY MASTERCLASS
Bonus: Photography Courses Worthy Paying For
In the above list, there are primarily free photography classes that help you get started with photography.
However, once you have built your foundation in photography and understood all the basic concepts, you need to upskill yourself.
You may also need to pay for some advanced-level courses in photography.
However, paying for such courses is worth it if you are serious about your photography career.
Therefore, here are some more 'worth-paying-for' photography courses that you can look at to upskill yourself.
3 Best Online Photography Courses On Skillshare Available Now
1. Concept Portrait Photography: Create A Captivating Photo Series
2. Wildlife Photography: How To Take Captivating Animal Portraits
3. Colorful Flat Lays: Artistic Photos Of Everyday Objects
3 Best Online Photography Courses On Udemy Available Now
1. Photography MasterClass: A Complete Guide To Photography
2. Complete Photography: 21 Courses In 1 [Beginner To Expert]
3. Adobe Lightroom CC Photog Editing: Your Lightroom MasterClass
3 Best Online Photography Courses On MasterClass Available Now
1. Annie Leibovitz Teaches Photography
2. Capture Your Vision Through Photography – A MasterClass Sessions
3. Werner Herzog Teaches Filmmaking
FAQs About Photography Classes For Free
How can I learn photography skills for free?
You can learn photography skills free from online courses like Udemy, Skillshare, Class Central, etc.

Apart from this, you can also learn from professional photographers like Annie Leibovitz on MasterClass.  
Can I learn photography on my own?
Photography is an art that can be mastered by learning and practice.
And if you are good enough to learn and practice to polish your skills and work, you can surely learn independently.

There are various free and paid photography courses and classes available for beginner to advanced photography skills you can learn.

However, you can always start for free from the above-mentioned free courses and even pay for professional courses as you need further to hone your skills.
Can photography be learned from online classes?
Many free photography classes and courses are available as free online resources, providing quality content to get you started with your photography journey.

However, to implement those learnings, you must have to go out and implement for practicing your learned skills.

Therefore, you can surely learn photography as a skill online through various courses.
Summary
If you want to learn photography for free online, tons of free photography classes are available.
However, I have picked only the best (from expert photographers or reputable instructors).
Now, you can quickly get started with photography as a career, even if you are a novice.
Follow the courses above and make yourself the expert photographer.
Also, monetize your skills once you have gained enough experience and done great work.