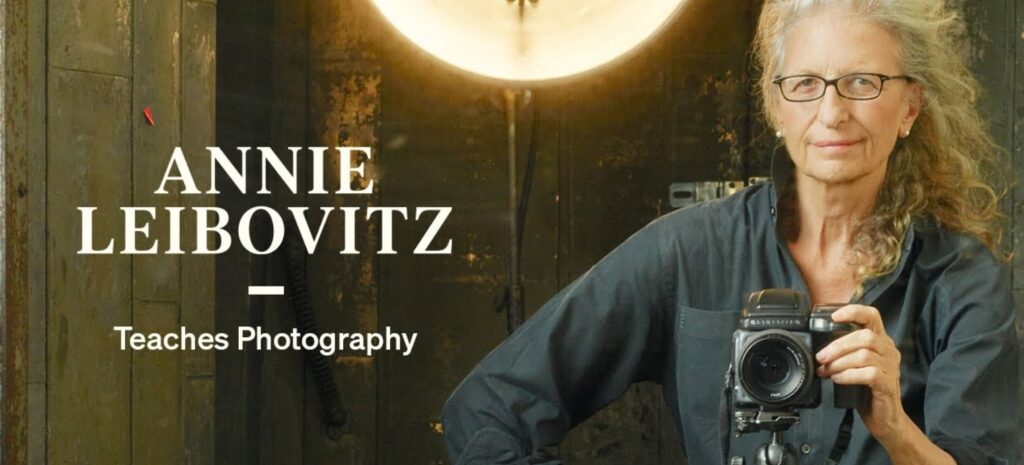 I love photography. But I'm not that good at it.
And as I already had a MasterClass subscription, I thought to try Annie Leibovitz MasterClass.
Recently, I completed this Photography course, and I can confidently say that this MasterClass is designed for specific people.
Not all people will find Annie Leibovitz MasterClass worth taking.
Therefore, I will share my experience cum review so that you can know everything and decide whether or not it is worth it for you.
Let's get started.
A Quick Annie Leibovitz MasterClass Review: Is It Worth It?
For those in a hurry to know my experience, here's a quick sneak peek to get you the idea.
What you'll learn: You learn what goes inside the mind of a professional photographer like Annie Leibovitz and know the creative process, philosophies, and learning that makes you click great photos. Also, the course takes you through the career history of Annie Leibovitz's work.
Course Duration: The course is divided into 15 video lessons that last for 3 hours and 4 minutes, with an average run time of 12 minutes in each video lesson.
Course Value: 3.5/5.0
Similar Courses: James Cameron Teaches Filmmaking, Hans Zimmer Teaches Film Scoring, and Anna Wintour Teaches Creativity And Leadership.
Verdict: I recommend this MasterClass to those leaning towards learning creativity and behind the scene thoughts of a 'great' picture of a professional photographer. I don't recommend it for learners looking for technical skills or photography tips to improve their daily pictures.
START THE ANNIE LEIBOVITZ MASTERCLASS NOW!
A Detailed Annie Leibovitz MasterClass Review
Now let's move on to every detail you must know before enrolling in this MasterClass.
About Annie Leibovitz
Annie Leibovitz is a professional photographer.
She is mainly known for her celebrity portraits, such as:
John Lennon And Yoko Ono
Johnny Depp
Lady Gaga
Kim Kardashian
Obama Family
Mark Zuckerberg
Bill Gates
Leibovitz has also worked with Rolling Stone, Vanity Fair, and Washington's National Portrait Gallery.
She has been the first woman to have a feature exhibition at Washington's National Portrait Gallery.
She is described as having a "crisp and well-lighted" signature style, while the Library of Congress declared her a "living legend."
However, the journey of this "living legend" started as a staff photographer for Rolling Stone magazine initially.
Eventually, Leibovitz became the chief photographer there in 1973 with her talent.
There, she took many famous photos, including one of the most famous – John Lennon and Yoko Ono just hours before Lennon died.
Leibovitz further moved to Vanity Fair and started there taking individual projects.
She has taken several celebrity portraits, which include Queen Elizabeth, Dolly Parton, Whoopi Goldberg, Leonardo DiCaprio, and Amy Schumer, apart from the list mentioned above.
Her work has been recognized at multiple museums, including one with collections at the Art Institute Of Chicago, The Museum of Modern Art in New York, and also the Los Angeles County Museum of Art.
Annie Leibovitz MasterClass Course Curriculum
The Annie Leibovitz MasterClass is designed for professional photographers to know what goes inside the mind of a creative photographer while clicking a 'great' picture.
Therefore, the lesson plan includes various case studies and concepts.
Here's the detailed curriculum that you will follow while enrolling yourself in the course:
Introduction
Portrait Photography
Creating Concepts
Working With Light
Studio Vs. Location
Working With Your Subject
Case Study: Angles In America Photoshoot
Photographing People Who Are Close To You
Looking Back At Your Work
The Technical Side Of Photography
Student Sessions
Case Study Part 1: Photographing Alice Waters
Case Study Part 2: Digital Post-Production
Photographic Influences
The Evolution Of A Photographer
Quick Summary Of The Course
Honestly, the overall MasterClass felt more like an interview than a class itself.
Two reasons for that:
Leibovitz does not share anything technical in terms of photography
Most content is based on the experiences that she had
That means, in terms of technical skills as a photographer, like setting up the aperture, focus, shutter speed, etc., you will find nothing in this MasterClass.
However, if you are more into the creative process or the behind-the-scene of photography, this MasterClass will suit you well.
When I started this MasterClass, I hoped to get some "technical tips" to improve my clicks.
But even though I'm a novice photographer, I couldn't find anything new regarding technical photography skills that could impress me.
However, I loved the case studies, which are more likely storytelling and became interested in how Leibovitz clicks masterpieces.
For instance, she shares her story and experiences with various celebrities throughout the class and how she has worked with them to get the perfect picture as planned.
Even lesson 10, "The Technical Side Of Photography," is not "that much" technical about the equipment but rather more about using technology to take and enhance the photographs.
GET STARTED WITH ANNIE LEIBOVITZ MASTERCLASS NOW!
What Is Included In The Annie Leibovitz MasterClass?
There is everything!
You are already aware of the course curriculum, which includes everything from the instructor's history to case studies and several other lessons.
However, let's dive deep to know what's inside the package.
Video Lessons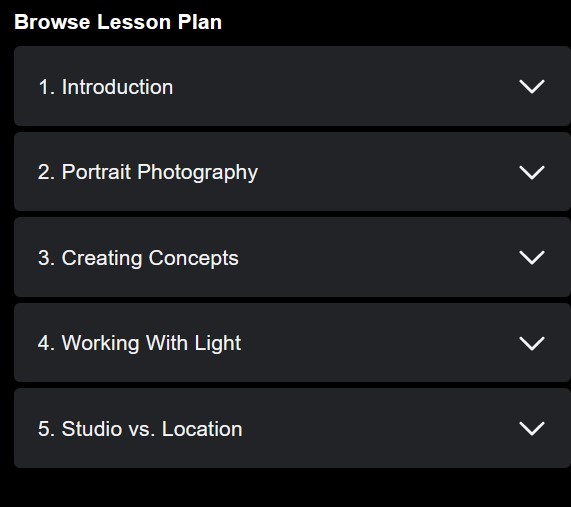 There are 15 video lessons in the MasterClass, with an average of 12 minutes for each video.
Lessons 3 through 6, 8, and 10 mainly focus on learning "how to be a photographer."
Lessons 7,12, and 13 are the case studies that will catch your attention on the screen as Annie shares her experience from behind the scenes of some famous pictures she took.
However, the case studies do not offer anything practical takeaways for students.
Even lesson 11 is filmed with a group of students where Annie spends her time reviewing the work of current student photographers.
I found that the lesson lacked any key takeaways.
One of the most important and best parts of video lessons is the Assignments.
After each video lesson, Leibovitz reads off something for you to practice and implement the learning, which enhances the learning experience overall.
For instance, in "Working With Light," Leibovitz asks the students to capture a photo of a subject during different times of day: the morning, the afternoon, and the evening.
This is one of the simple yet essential assignments that help the students get hands-on learning experience.
Summing up, the video lessons are full of Leibovitz's experience but somehow lack the technicality that goes with every photographer and their equipment.
However, you will find the MasterClass inspiring as the class wraps up with an exciting takeaway by Leibovitz.
She says, "When you decide to be a photographer, it's a different experience. You can be a creative artist using photography. I'm never tired of going to work. I'm going to take photographs. It's an adventure."
Case Studies
The course includes two case studies apart from the video learning that you get in the course.
The first is the Angels in America photoshoot, and the second is where Annie works with a technician to edit her shots.
However, in the second part, she doesn't advise editing, but you can observe how she decides about a particular photo.
In the first case study, you will see how Leibovitz works on the shoot – talking to people on the set and taking shots.
However, I observed that the case study didn't provide any key takeaway.
But you surely get certain things, like how Leibovitz chooses her location and adds the music during the set to get the perfect click.
Overall, the case studies are interesting as you will find some stories and experiences from Annie Leibovitz that she had during her famous work.
Classroom Sessions
Inside the video course, you will find classroom sessions where Leibovitz reviews the work of current student photographers of San Francisco Art Institute.
It is lesson 11, which includes the group of students and Annie Leibovitz herself reviewing some work, but I found this lesson a dud.
Because, as a learner, you will not find anything meaningful from this video lesson.
It means you can skip over to this lesson or fast forward if you are strapped for time.
Assignments
I loved the assignments. And you will too.
It is because Annie Leibovitz introduces the assignments herself at the end of each video lesson.
You can download the workbook and proceed with the assignment in that.
These assignments are excellent and worth completing because they enhance your learning experience.
I have already mentioned the "Working With Light" assignment, which provides a hands-on learning experience in this MasterClass.
Iconic Photographs And Their Backstories
Throughout the MasterClass, Leibovitz shares her stories from her career.
She describes how she found the Arnold Schwarzenegger physique "freaky" when she clicked them in the 1970s while having spent six months photographing a skinny Mick Jagger.
The class also brings the stories of how she clicked a picture of John Lennon before his death and how she helped Caitlyn Jenner announce her identity.
The main thing is how she approached the photo sessions, which is excellent learning for photographers building their careers in this field.
The story brings out the imaginative and creative concepts and idea working behind the masterpiece photos, which is great learning.
Supplementary Workbook
Like any other MasterClass, you get a downloadable workbook as supplementary learning in this class.
The 43 pages of the workbook consist of the summary of each lesson and suggestions for further study.
The supplementary workbook has assignments in it to improve your learning experience.
There are also resources and book references where you can move with your learning journey.
The MasterClass Sessions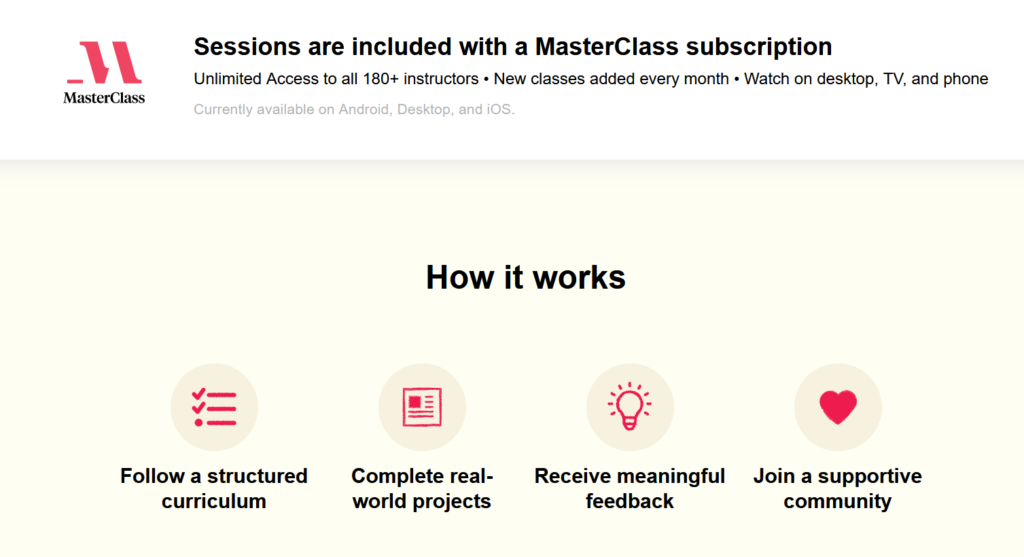 A new feature – The MasterClass Sessions is a new way to get hands-on experience working under instructors.
The Sessions feature allows you to work on projects and activities in a structured curriculum.
It is a new feature introduced in the MasterClass, available for free with a subscription.
4 Key Points That I Learnt In This MasterClass
As I mentioned earlier, there are no technical skills that I can mention here for you.
But indeed, there are certain things that I learned throughout this MasterClass. And here are some of the best learnings that I got:
1. The Gear Is Not Important
Annie Leibovitz focuses less on equipment.
She relies more on the creative process and thinking behind a photo than putting gears on their extreme capacity.
However, it is also not true that Leibovitz is totally against the technological advancements that we have nowadays.
Instead, she enjoys digital photography, editing and what new advanced technology has brought to the photography industry.
2. Passion Is Important
If you are passionate about photography, there is no limit to your work growth.
Even in this MasterClass, Anni Leibovitz shares that she started her career as a Rolling Stone staff photographer and became the Chief Photographer.
Later on, after several years, she became a professional portrait photographer for celebrities.
That clearly shows Leibovitz was passionate about photography even though she started as a staff photographer.
Therefore, it doesn't matter whether you choose portrait photography or wildlife photography; you must enjoy your work as long as you are passionate about it.
3. Do Your Research
Portrait photography is not all about taking just the best-looking picture.
You are telling a story through your picture consisting of the various aspect of your subject, which is a person.
Therefore, throughout the MasterClass, Leibovitz discusses putting research and learning about her subjects before the shoot.
She even looks at their other photographs to avoid repeating a concept.
So, putting research makes your work even more pure.
4. How to Capture A Great Photograph
Ok, although the focus of the MasterClass was not on the technical side of capturing a great photograph but on the other side of the coin where Anni Leibovitz talked about other perspectives of a photograph.
Such as researching your subject, learning, and creating creativity behind an incredible masterpiece.
Therefore, if you are an aspiring photographer, you will learn much from the expert.
These learnings are going to help you lifelong in your career.
How Much Does Annie Leibovitz's MasterClass Cost?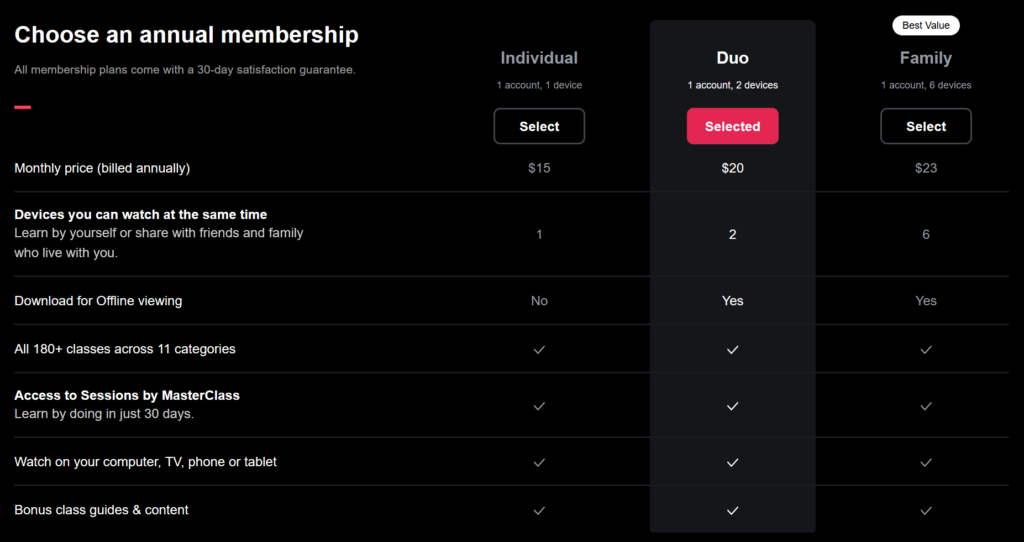 There is no pricing per course. Instead, you need a MasterClass subscription to access this and other MasterClass courses.
The annual membership plan comes with three-tier options:
The Individual plan costs $180 per year and is sufficient for a single learner to get started.
With this plan, you get the following:
Unlimited access to all MasterClass courses
Download and watch the course offline on a single device
Access to supplementary course materials like workbooks, sessions, etc.
The $180 cost per year averages $15 per month and is entirely worth it if you want to get access to Annie Leibovitz MasterClass.
With a single membership plan, you can access the premium catalog of courses such as Chris Voss Teaches Art Of Negotiation, and Gordon Ramsay Teaches Cooking.
GET STARTED WITH ANNIE LEIBOVITZ MASTERCLASS
Is Annie Leibovitz's MasterClass worth it?
In short, it depends.
If you are looking for technical tips and tricks to better your daily pictures, then this MasterClass is not worth taking.
However, if you are someone who is into pursuing photography as a career, then this MasterClass is going to be worth every penny.
That means, if you go with the right expectations, then this MasterClass is worth it.
Annie Leibovitz is one of the best and world-renowned photographers; learning from her is a premium experience.
On the other hand, her learnings and experiences will help you lifelong in photography as a career option.
FIND OUT WHO INSPIRED ANNIE LEIBOVITZ
Pros And Cons Of Annie Leibovitz MasterClass
Here are the pros and cons that you can expect with this MasterClass:
Pros:
Learn from the world-famous portrait photographer
Get to know the working of iconic work of Annie Leibovitz
Work on assignments given by the legend photographer herself
Photographers of all levels can easily understand this course
Get a creative idea of how to shoot a perfect masterpiece
Cons:
Not a technical course at all
Very few practical takeaways
Is The Content in Annie Leibovitz's MasterClass Unique?
The content in Annie Leibovitz MasterClass is unique.
Hear me out on this:
The MasterClass is wholly based on the experiences of Annie Leibovitz herself.
There are plenty of photography courses, but learning from the "living legend" can't be beaten easily.
You learn the unique perspective, the creative process behind the photo shoot, and a different approach to photography that we can't usually have except by learning from the expert.
Alternatives To Annie Leibovitz MasterClass
Once you get started with Annie Leibovitz MasterClass, you can opt for plenty of courses as an alternative or move further with your learning journey.
Courses such as Jimmy Chin's Adventure Photography MasterClass and Jeff Koons MasterClass on Art And Creativity can make you move further with your learning of adventure photography.
How Long Does It Take To Complete Annie Leibovitz's MasterClass?
The course is of 3 hours duration approximately, which is enough to make you complete it in a single day.
However, when I started this course, I went pretty slow and steady to give all the learning time to sink in quickly.
Still, I was able to finish the coursework during the weekend on the same day.
Therefore, with a short coursework duration, you can complete it in a single day and work on the learnings quickly.
Depending on your focus time, completing the whole course should hardly take two days.
Most learners can complete it in a single day.
However, as long as you complete the coursework, I recommend you also complete the assignments.
The assignments are a must for a learner to get hands-on learning experience.
And on top of that, assignments in this MasterClass are given by Leibovitz herself, which is a simple yet powerful practice of learning you are getting.
So, along with the course, you must also focus on the assignments and other activities.
Also check: Is MasterClass Worth It?
FAQs
Is Photography MasterClass worth it?
If you are serious about your photography career, then surely Photography MasterClass will be worth every penny.

However, they are not worth it if you only look for a "how to improve my daily pictures" guide.

The photography MasterClass is more leaned towards learning "creativity" and "ideas" to click a masterpiece.
How much is Annie Leibovitz MasterClass?
The Annie Leibovitz MasterClass comes with an annual subscription to MasterClass.

The annual subscription price for MasterClass is $180 per year, which is $15 per month for the Individual plan.
Is Annie Leibovitz good?
Annie Leibovitz is a world-renowned photographer who has achieved much in her life and career.

She shares in her MasterClass how she has captured one of the most famous pictures, the creativity, the idea, and the visualization she has implemented.
Why is Annie Leibovitz so good?
Starting as a staff photographer for Rolling Stone, Annie Leibovitz has over 50 years of successful professional photography career, making her one of the world-renowned professional photographers.
Do I need a subscription to access this course?
Yes, you need a MasterClass subscription to access the course. There are three MasterClass subscription models: Individual, Duo, and Family.

The individual plan costs $180 annually, providing unlimited access to all MasterClass courses.
Does MasterClass have a cancellation policy?
Yes, MasterClass has a cancellation policy, but you have to cancel your subscription before the end of your paid period not to get charged the next month.

There is no refund for the already paid fees to the MasterClass.
Is the Annie Leibovitz MasterClass worth it?
Annie Leibovitz MasterClass is worth understanding the creative process, thought, idea, and work behind clicking a perfect masterpiece.

However, it is not worth it if you are looking for a how-to guide or tips and tricks for your daily pictures.
Do I Recommend Annie Leibovitz MasterClass?
I 100% recommend Annie Leibovitz MasterClass, but only for learners who want to opt for photography as a career or starting of passion.
The course has everything from premium quality video structure, case studies, and experiences that is nowhere available except on MasterClass.
Start this course and learn how to excel in your photography career today.
However, learners like me who went just for tips to improve their daily pictures have nothing special there.
But for professional photographers, there is 'a lot'!