In this Daniel Pink MasterClass review, I'll share whether or not taking this MasterClass was worth it for me and if it will be worth it for you, too.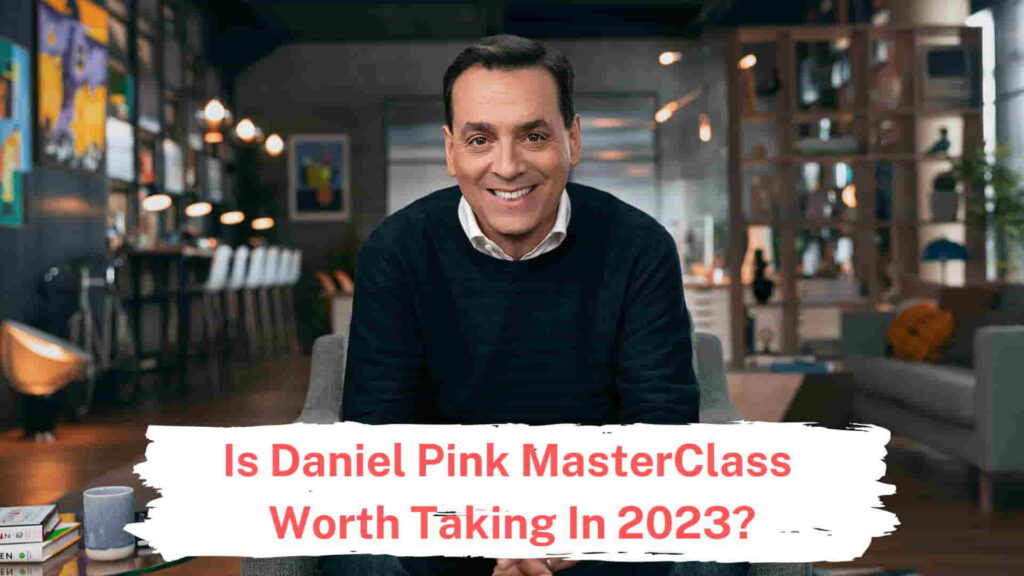 "No matter what you do, you are in sales," says Daniel Pink.
And to be honest, we all can agree on that!
Do you want to get a raise?
Or,
Do you want to convince your boss?
You are in persuasion mode!
It doesn't matter in which situation you are in; the skill of sales and persuasion will always help you get closer to what you want.
And this is where Daniel Pink MasterClass comes into play!
Daniel Pink teaches the art of sales and persuasion in his 3 hours of MasterClass.
When I learned that MasterClass has launched a course from the New York Times bestseller author for five books, I couldn't resist.
I recently completed this MasterClass, and here I am to break down everything about this course and tell you if it is worth taking in 2023.
Let's begin.
Daniel Pink MasterClass Review Summary
I know you might be in a hurry sometimes, and that's why I have just given here a quick sneak peek into my review to make a quick decision:
What you'll learn: Learn the art of persuasion and sales from an instructor with over 20 years of experience, how to ask for a raise in job interviews and get your message count, and the behavioral science for sales and persuasion.
Course duration: 2 hours and 57 minutes, divided into 16 video lessons
Best pairs with Chris Voss Teaches The Art Of Negotiation; Bob Iger Teaches Business Strategy and Leadership; David Axelrod and Karl Rove Teaches Campaign Strategy and Messaging
Recommendation: 10/10 if you want to learn to persuade and ask for what you want. With practical techniques on sales and persuasion from Daniel Pink (with over 20 years of experience), this MasterClass is a must for you in 2023.
About Daniel Pink
Daniel Pink is an American author.
He has devoted his life to the science of persuasion, and that's why he has over two decades of experience in this field.
Pink has written six books while being NYT's #1 best seller with Drive: The Surprising Truth About What Motivates Us and To Sell Is Human.
However, his work When: The Scientific Secrets of Perfect Timing and A Whole New Mind has been long-standing bestsellers.
There is no doubt why his books have remarkable over 3,000,000 books sold and translated into over 40 languages.
But before all this fame, Pink started his career with a Yale Law School degree while being a Truman Scholar.
Daniel Pink has even worked as a chief speechwriter for Vice President Al Gore.
However, Pink has been known as one of the leading experts on the science of motivation and persuasion.
Apart from this, he is now a regular contributor to the Harvard Business Review, CNN, and PBS.
You can check out more about the latest work of Daniel Pink here.
How Much Does Daniel Pink MasterClass Cost?
By just hearing about the Daniel Pink MasterClass, one of the first things that probably came to your mind might be its cost.
So, let's break it down first: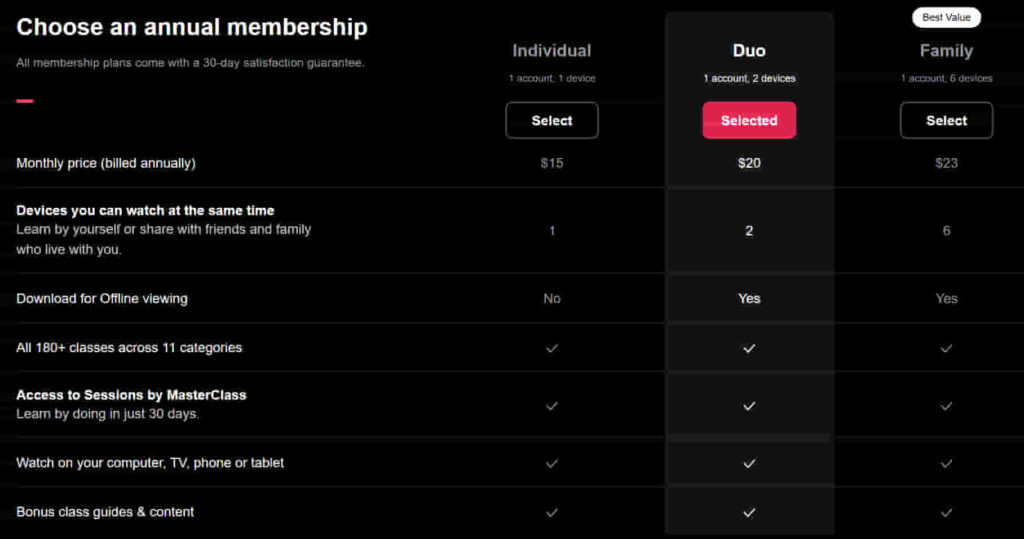 Daniel Pink MasterClass comes with an annual membership of MasterClass.
Fortunately, MasterClass has recently introduced a three-tier plan you can choose per your needs.
The three-tier plans of MasterClass are as follows:
Individual Plan (Formerly Standard Plan)
Duo Plan (Formerly Plus Plan)
Family Plan (Formerly Premium Plan)
The cost of these each plan varies.
Individual MasterClass Plan
The first of three affordable MasterClass plans (even though I also have this plan) comes with a yearly cost of $180.
That means, on average, per month cost of the Individual MasterClass plan becomes just $15, which is quite affordable for the quality of courses on the platform.
For $180 per year, you get features of:
Unlimited access to 180+ courses on MasterClass
Access to downloadable MasterClass workbook and assignments with each course
Access to the community with each class
I have talked in detail about the MasterClass cost here, but for a learner like me who takes around one course per month (on average in a year), the Individual plan is the best.
Duo Plan
As the name suggests, the MasterClass duo plan gives access to MasterClass courses on two devices simultaneously under one account.
However, the cost of the Duo plan is $240 per year, which comes down to $20 per month on average.
You get all the benefits of the Individual plan plus the ability to download course videos for offline watching.
Now, this feature can be helpful for people who want to access the course content even when they go offline.
Family Plan
The family plan of MasterClass costs $276 per year ($23 per month on average) and brings access to courses on up to six different devices.
You can access MasterClass on up to six devices simultaneously with one account.
Additionally, you get all the features of Individual and Duo plans.
Is the Daniel Pink MasterClass on Sales Worth It? An Honest Review
It's time to break down the Daniel Pink MasterClass course.
I'll unfold each course section, but before that, let's understand what this MasterClass promises.
What Does Daniel Pink MasterClass Promise?
The MasterClass Daniel Pink Teaches Sales and Persuasion makes some big promises to teach you by the end of the course.
Also, this course doesn't make false promises to teach you old-school salesman tactics.
Instead, the course takes you through the trustworthy, effective, and ethical methods of persuasion, which aim to bring both parties in a better way than before.
The promises that this course makes are:
Learn how to frame your message in such a way that people act on it
Making you learn how to pitch your ideas effectively
Dive deep into behavioral science and understand the concepts
We will know whether Daniel Pink MasterClass lives up to its promises.
But before that, let's know what you get in the course after enrolling.
What Is Included In The Daniel Master Class?
To sum up, the whole MasterClass course can be divided into three major sections:
Video Lessons – Duration 2 hours 57 minutes divided into 16 video lessons
Downloadable Workbook – For additional reference
Community – To share, ask doubts, and seek feedback
I will be breaking down each of these sections in further review.

However, one of the things that I liked the most about this MasterClass is that this course follows an effective curriculum.
The class lesson plan guides you through the basics to the advanced level of exercises and concepts.
You can see yourself how the lesson plan follows:
1. Meet Your Instructor
2. Sales Trends
3. Attunement: Finding Common Ground
4. Serve Your Audience
5. Exercise: Creating a Discussion Map
6. Clarity: Making Your Message Count
7. Getting Others to Act
8. Create a Connection by Mimicking
9. Persuasive Framing
10. Pitching Like a Pro
11. Exercise: Asking for a Raise
12. Buoyancy: Develop a Resilient Mindset
13. Introvert, Extrovert, or Ambivert
14. Persuade Yourself: How to Self-Motivate
15. Using Timing to Become a Better Persuader
16. Beginnings, Middles, and Endings
These lesson plans are in such a great design that allows you to start from the basics and pick the most advanced skills to persuade someone.
If the runtime is concerned, the course is only three hours long, which you can complete in one day.
However, if you are mostly busy throughout the day, dedicating just 20 minutes will be sufficient, as each video lesson lasts 10 to 15 minutes.
Complete Breakdown Of Daniel Pink MasterClass
Now, it is time to dive deep into the course and see what it teaches and whether it is worth giving time to.
Starting Section of the Course
The course begins with the instructor's introduction.
In the first video, you get to know your instructor, and Pink explains how this course is for everyone.
He explains that we all sell and persuade, even if we don't realize it.
Also, Pink clarifies that you will learn the techniques proven by science and not some anecdotal experience from one man's POV.
I liked the approach in the first video as it clearly states that you will learn the methods and not a lecture on making a sale.
Moreover, moving on, Pink explains what this course will teach you, which I've already described in the 'Promises' section.
Lessons 2 Through 5
After the introductory part, the lesson follows on the sales trends.
And unlike the traditional methods, the lesson makes you understand the following:
How to be effective as the sales landscape has changed
Rethink the existing knowledge that you have about these topics
Importance of developing and improving sales and persuasive skills
Best part?
All of these points are backed with the actual data and facts. That means you don't only listen to the subjective view of Pink.
Additionally, you also learn the key concepts of information asymmetry, caveat emptor, and information parity.
Lesson 3 (Attunement: Find Common Ground) teaches you some practical concepts you can implement immediately.
Pink takes you through some great examples, which makes this lesson more understandable.
The next lesson is deeper into persuading and getting what you want.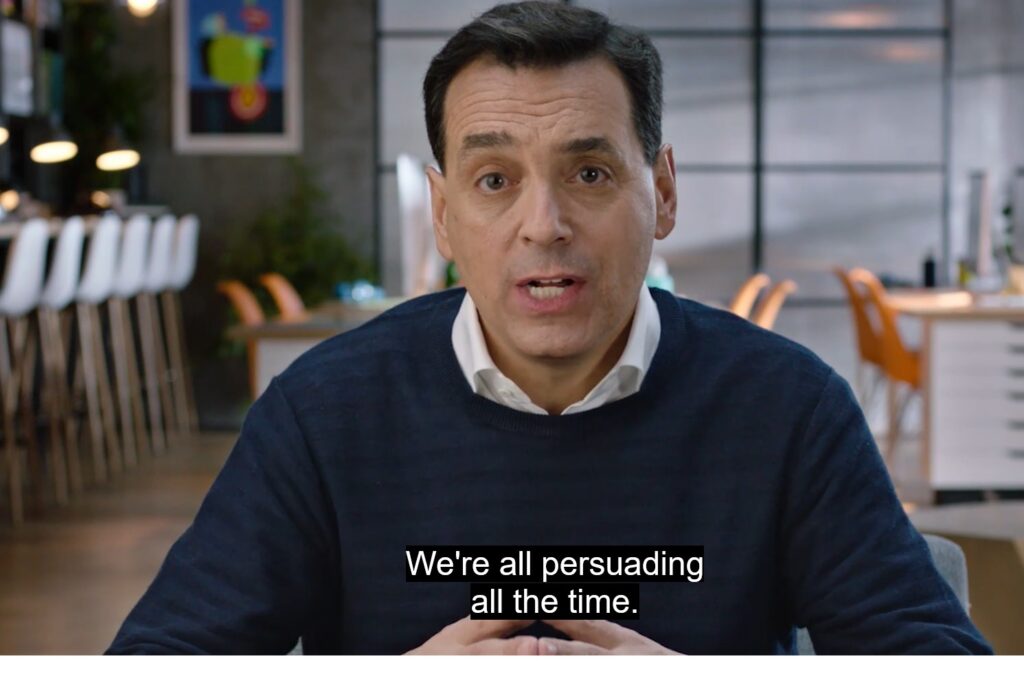 Pink dives deep into understanding your audience before persuading and makes you ask two key questions to yourself in the lesson.
He says, "To be a good persuader…be a decent human being." The lesson follows an exercise in the next chapter.
The exercise involves a step-by-step guide from Pink on reading room dynamics and how it affects the persuasive strategy.
To be honest, I found it hard to implement the tactic as it involves a good amount of practice first.
But indeed, how Pink explains the concept is just amazing.
You learn every bit of the concept quickly, but to implement it, you must practice.
However, to make you understand it easily, Pink explains through an example from the famous political drama, "True Colours."
Lessons 6 Through 11
After exercise, lesson 6 (Clarity: Making Your Message Count) is the class that now takes the course to the next level.
From here on, you start learning advanced tactics for practically implementing sales and persuasion skills.
The next lesson, 'Getting Others to Act,' has five highly actionable tips.
Honestly, I found these tips 'actually' effective and practical.
On top of that, how Pink explains makes it more effective to understand someone new.
Pink gets you through the concepts first, then walks you through the science, and then demonstrates the technique with the help of examples.
Another powerful technique in this course is the skill to mimic.
Pink says in his MasterClass that 70% of waiters and waitresses who repeat the order of each word tend to get tips.
And in this class, Pink teaches you:
About mimicry
What is it
Three steps to strategic mimicry
Once you have geared up with the mimicry skills, the next skill in the line is "Persuasive Framing."
Pink says I want to equip you with a whole set of frames… so in certain situations, you can say, oh, I want to use that one.
Basically, the lesson dives deep into human nature, psychology and understanding the minds of others.
It also shares an understanding of your own mind and how it works.
To make it even more effective, Pink gets you nine frames you can use when selling and persuading.
These techniques work like tools that you can use whenever needed.
The techniques Pink has shared are the tried and tested methods that are even scientifically proven to make you more convincing.
However, the next lesson is more important – Pitching Like A Pro.
In this lesson, you mainly focus on learning:
How to pitch
What makes a pitch-winning successful
The three main questions that you need to answer to deliver a great pitch
Six pitch sets for pitching effectively
To explain it better, Pink pitches an idea for the company by demonstrating notes on the screen showing the framework that he is using.
He even analyzes the most persuasive moves in American political history.
The best move that Pink makes is by breaking down the Pixar movie into six sentences.
Later on, Pink also shares examples from OJ Simpson's murder trial.
Overall, this class will help you on how to pitch successfully.
Further, you get on an exercise after completing all of the skillsets.
The exercise involves the practical role play in which Pink explains how to ask for a raise.
From how to approach this situation to differing from other persuasive activities to what you should focus on and how to overcome feelings of unease, Pink gets you through every situation and makes you master it.
I loved this exercise as it entirely focuses on practical steps, whereas Pink even guides you through the steps in the exercise.
Lessons 12 Through 16
This section is almost the ending section.
I believe lesson 2 to 11 is one of the significant chunks this course holds for you. It teaches you some fantastic tactics, skills, and learnings.
However, from lesson 12 onwards, the course becomes more advanced.
In lesson 12, Pink talks about developing a resilient mindset. He teaches you how to deal with rejection and the 3 Ps.
The best lesson in this section I found is "Introvert, Extrovert, or Ambivert."
People often think they are not the right fit for sales.
Therefore, Pink talks about personality traits in this lesson and gives a deep insight into how you can optimize your strengths and weaknesses.
I was impressed by how Pink scientifically explains the suitable personality type for sales.
I'll not share it here and spoil it for you, and I recommend you to find it yourself in the course.
Further, the lesson follows self-motivation, which I found slightly expanded but informative.
Here, Pink talks about the strategies to overcome the lack of motivation and mental blocks.
He explains further about types of mental blocks and specific solutions.
After that, Pink talks about how you can use time to your advantage to become a better persuader.
Finally, the last lesson consists of more tactics and a summary of the skills he taught you.
Overall, the last section completes wonderfully by teaching you some additional tools and skills needed to become a better persuader.
Additional Supplemental Material: Workbook Review
Like all other MasterClass courses, this MasterClass also comes with a downloadable workbook.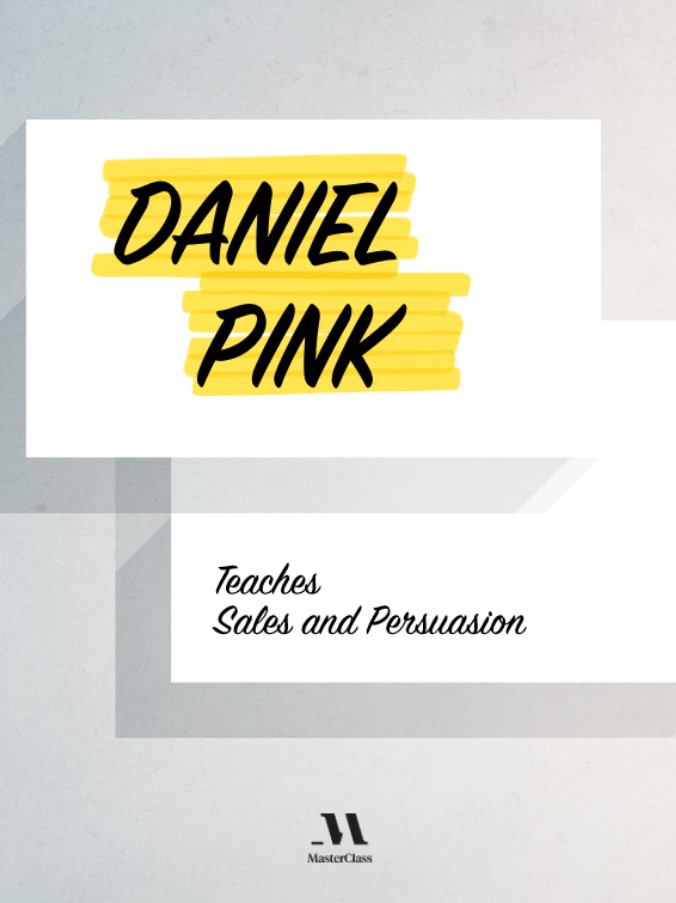 The workbook is 16 pages long and covers all the summaries of the key topics in the course.
Therefore, it is an excellent source for revising and looking back later when you want to review what you have learned quickly.
However, for me, the workbook is quite short.
I expected more from the workbook and slightly more content than just 16 pages.
However, the workbook contains information related to the course and references to other sources, which is why it is worth reviewing.
However, if the content could be more, it would have been much better.
Community Review
Just like the workbook and community access with all courses, you also get community access with this course.
It is a space to ask your doubts, seek feedback, and engage with other peer learners.
However, to be clear, this space or forum is moderated by the MasterClass team and not the instructor, i.e., Daniel Pink.
Overall, the community is a great way to engage and ask your doubts when stuck in the course at some point.
Key Things I Learned: 5 Key Takeaways
Even though the complete course is a gem and has tons of information, you can use it to improve sales and persuasion.
Here, to summarize my key learnings, I have noted the five key points from the course.
1. A Perfect Pitch
One of the key points that I learned in this course is that a perfect pitch should be like a Pixar movie:
(i) Once upon a time…
(ii) Every day…
(iii) One day…
(iv) Because of that…
(v) Because of that…
(vi) Until finally…
Pink beautifully explains the six steps to pitch an idea in the course. Even a newbie can easily pick up the idea of it.
2. Information
For a seller, he should have more information than the buyer. Only then can he provide an accurate and less biased transaction with more details?
3. The Right Goal
You should never forget that the ultimate goal is not to do something to somebody else.
Instead, it is setting up a way for others to do something themselves.
People will be more motivated when they have their own reasons to do something.
4. Break Is Important
Whenever in doubt, take a break and restore your mental energy to make a decision later on.
5. Power Is Important
The course shares how power distorts how we see the world and how you can use power to get what you want.
You can think of power as a knob that you can turn down when you feel threatened, and you'll increase perspective-taking.
It is how you can learn how to get what you want with a deeper understanding of behavioral science and other concepts in the lesson.
Is Daniel Pink Class Worthy Or Not?
Finally, the ultimate question is whether Daniel Pink Teaches Sales and Persuasion MasterClass is worth it.
Well, in short, yes, it is 100% worth it.
Here is why:
If you want to boost your negotiation and persuasion skills, this is a fantastic MasterClass.
Two reasons why you should consider this MasterClass in 2023:
You are learning from an expert who has decades of experience
The course has practical learnings and skills that you can implement in your daily life
Therefore, Daniel Pink MasterClass is something that one must have to boost persuasion and sales skills.
Pros And Cons Of Daniel Pink MasterClass
To summarize what are the pros and cons of taking this MasterClass course, here is a quick view:
Pros:
Learn from an expert with 20+ years of experience
Practical strategies and tactics to learn and implement
Easy-to-follow lessons
Powerful tips to boost your sales and persuasion skills
Suitable to everyone
Practical examples to understand better
Supplemental material like workbook
Cons:
Things That I Liked The Most About Daniel Pink MasterClass
Honestly, I found this course worth taking only due to the Daniel Pink.
The way he makes you understand the complex concepts so quickly makes you a fan of him.
The course quickly goes from basics to advanced but doesn't feel like the Pink.
He explains everything with practical examples whenever possible, making the course more enjoyable and understandable.
Daniel Pink also provides practical tips and exercises with a complete guide so you can understand when to use which tactic.
In short, he represented the course in a clear and organized manner.
You can watch the trailer yourself and have a quick overview.
Things I Don't Like About Daniel Pink MasterClass
I didn't find any problem in the course, but one concern is the downloadable workbook.
Comparatively, the course contains much information, but the workbook is quite short (only 16 pages).
And I expected more from the workbook. It could have been longer for the information that this course delivers.
FAQs About Daniel Pink MasterClass
How much is Daniel Pink's MasterClass?
The Daniel Pink MasterClass course comes with a yearly subscription to MasterClass. Consequently, the annual subscription for MasterClass has three-tier costs, i.e., Individual, Duo, and Family.

The Individual plan costs $180 per year, Duo costs $240 per year, and the Family plan costs $276.
Can I get Daniel Pink MasterClass for free?
You cannot get Daniel Pink MasterClass for free; you must pay for the annual subscription of MasterClass before accessing it. Daniel Pink's MasterClass cost comes with annual subscription of MasterClass.
Is Daniel Pink's masterclass worth the money?
Yes, if you want to learn and improve your skills in sales and persuasion, then Daniel Pink MasterClass is 100% worth every penny.
Verdict: Do I Recommend Daniel Pink MasterClass?
At the end of this Daniel Pink Teaches Sales and Persuasion MasterClass review, I can confidently say this course is worth every penny.
I 100% recommend this course to whoever wants to learn the tactics, techniques, and strategies on sales and persuasion. Daniel Pink shares everything with simple examples.
Also, it doesn't matter how much of a beginner or pro you are; this course will surely benefit you.
Therefore, by the end of the course, you will have confidence that you have some skills for sales and persuasion which you might not have had before.
Try this course today and make a difference!