"What you are going to see for the first time ever is the real detail, real and real understanding brought together from start to finish. You'll see a side to me across this class that I don't think has ever been shown before."
It is how the energetic, boastful, and world-renowned Chef Gordon Ramsay promises in his Cooking MasterClass.
Being a decent cook myself, when I started with Gordon Ramsay's MasterClass, I was speculating if it would be worth it.
However, after the end of his MasterClass, I was pretty impressed and grew to respect his culinary talents and the personality of a cook he has.
But I also felt a strong need for some experience in the kitchen to get the most out of this class.
However, even as a beginner, you will be inspired to learn more about cooking techniques once you get enrolled in Gordon Ramsay's MasterClass.
So, let's unfold this MasterClass bit by bit and know if it will be worth taking in 2023.
Let's begin:
A Quick Gordon Ramsay MasterClass Review
Here's my quick sneak peek into the Gordon Ramsay MasterClass (if you are in a hurry):
Duration of course: 3 hours 54 minutes divided into 20 videos section.
What you'll learn: from essential kitchen concepts to ingredients and techniques to make you a better cook at home.
Prerequisites: having basic skills in cooking is a plus.
Similar courses: Gordon Ramsay Teaches Cooking II: Restaurant Recipes, Niki Nakayama Teaches Modern Japanese Cooking, Mossimo Bottura Teaches Modern Italian Cooking.
Verdict: This MasterClass is recommended to everyone who wants to learn cooking from the legendary Chef Gordon Ramsay.
VISIT GORDON RAMSAY MASTERCLASS NOW!
A Detailed Gordon Ramsay MasterClass Review
Now, let's dive deep into this MasterClass review and unpack it.
Knowing Gordon Ramsay
Gordon Ramsay is a British chef and TV personality.
He is mainly known for his work on MasterChef, Hell's Kitchen, and Kitchen Nightmares.
However, this 7 Michelin Stars chef's journey began at 16 when he got his first restaurant job.
There the head chef of the restaurant encouraged him to go to London to build his cooking skills further.
It was the time when Ramsay started his journey of learning cooking skills.
Ramsay also worked under Marco Pierre White in London.
He moved to Paris to study cooking at 23 to learn from the best, namely Guy Savoy and Joel Robuchon.
Ramsay spent three years sharpening his cooking skills there before taking over a restaurant in Chelsea that eventually became Aubergine.
And that led Ramsay to earn his first two Michelin stars.
In 2004, Ramsay was introduced to the reality cooking shows such as Kitchen Nightmares and Hell's Kitchen, initially in the U.K. and eventually in the U.S.
Further on, he also got starred on MasterChef, MasterChef Junior, and Hotel Hell, as well as many other short-term shows and series.
Along with the growth of Ramsay's reality TV empire, his restaurant group also grew, counting dozens of restaurants in Europe, the United States, and Asia.
Today, the Ramsay restaurants hold 7 Michelin stars, and Restaurant Gordon Ramsay has three.
However, at the time, Ramsay held 16 Michelin stars.
Even though with seven coveted Michelin stars across his career, this puts him in the top ten chefs alive today.
Gordon Ramsay's MasterClass: An Overview
The first part of Ramsay's Cooking MasterClass teaches various aspects, from the diverse cooking techniques to the usage of different ingredients.
He also emphasizes knife skills along with sharing his exclusive recipes.
However, this first part of Gordon Ramsay's Cooking MasterClass is all you need to start with kitchen and cooking skills.
You will find yourself a better cook after completing this MasterClass.
You will have more skills to showcase with your dishes and more ways to make delicious scrambled eggs.
Though Gordon Ramsay's MasterClass courses are divided into two pa, the first part primarily covers principles and techniques used in cooking.
However, the second part mainly focuses on learning the recipes you can cook at home.
Each MasterClass comes with the following:
A downloadable pdf workbook is another effective way to ensure you learn thoroughly.
Part I and II have 4 hours of video content divided into 20 and 15 lessons.
A dedicated hub or community for the learner where you can interact with fellow cooking enthusiasts or even raise doubts directly to Chef Ramsay.
What Should You Have Before Starting Gordon Ramsay's MasterClass?
Having a prior experience in cooking or the kitchen is a plus when you join Ramsay's MasterClass.
Because even though it is the first part of Ramsay's MasterClass, you may find a lot on your plate.
Therefore, this MasterClass is not totally for beginners.
However, you can find it inspiring to get into the kitchen and start working on your cooking skills when you watch Ramsay cook delicious dishes.
How Much Does Gordon Ramsay MasterClass Cost?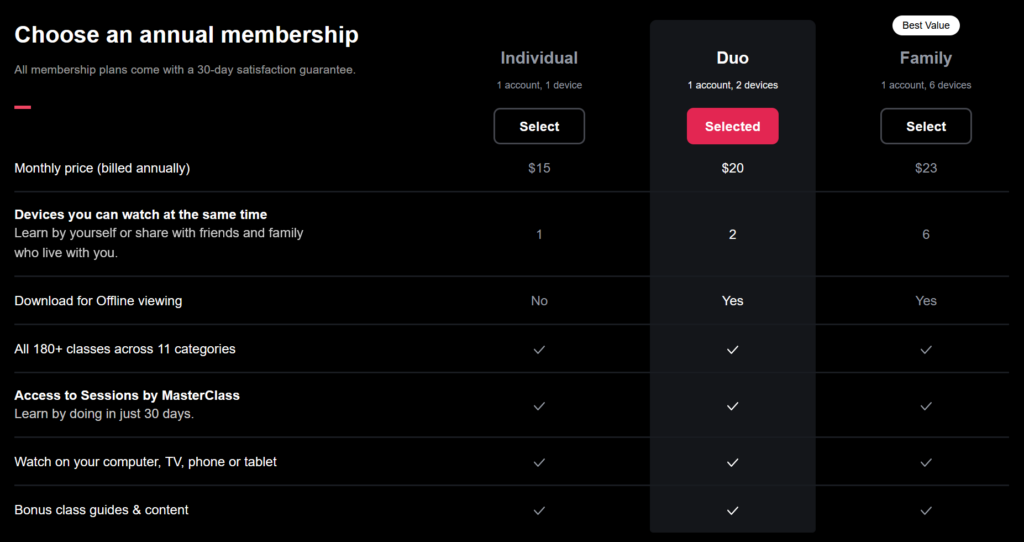 Gordon Ramsay's MasterClass cost is an annual subscription of MasterClass.
Therefore, you will need an annual subscription (even to access any MasterClass) to access it.
The base subscription starts from $180 with an average of just $15 per month, called an individual plan on MasterClass.
More options are also available – Duo and family plan, perfect for a couple of learners and a group of friends.
However, most learners start with the individual plan under which you can access every MasterClass in any category.
Along with video lectures, you get supplemental materials like workbooks and discussion boards or community hubs.
Therefore, you can also have unlimited access to Gordon Ramsay's MasterClass.
That means you can return any time on the lessons you feel need to be brushed up.
CHECK OUT THE PRICE FOR A COOKING MASTERCLASS
What You Get In The Gordon Ramsay MasterClass?
For the price you pay, you get high-quality, full-of-learning video lessons of 4 hours.
Additionally, you get the following:
Supplemental workbook from the lessons
MasterClass hub for that class
Supplemental Workbook
One of the best features of MasterClass is – a supplemental workbook.
It consists of 44 pages summarizing the lessons and includes tips.
You also get assignments to practice what you have learned while the written content is there to help you be more knowledgeable.
Apart from this, you also get space for making notes in the workbook if you would like to print out the workbook for further reference.
The MasterClass Hub
Each MasterClass has a community hub where you can discuss your doubts with fellow learners and raise questions directly to Chef Ramsay.
The community is to provide feedback and help you better serve as a platform where you can find the answers if you get stuck somewhere.
Lessons List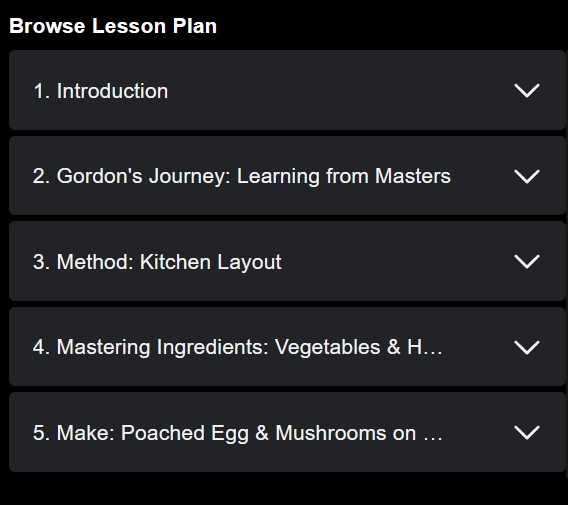 The four-hour video curriculum is divided into 20 video sections ranging from five minutes to up to 20 minutes or even more.
The complete list of video lessons goes as follows:
Introduction
Gordon's Journey: Learning From Masters
Method: Kitchen Layout
Mastering Ingredients: Vegetables & Herbs
Make: Poached Egg & Mushrooms On Brioche
Method: Knife Skills
Make: Elevated Scrambled Eggs
Method: Breaking Down A Whole Chicken
Make: Chicken Supreme With Root Vegetables
Mastering Ingredients: Fish & Shellfish
Gordon's Journey: Becoming A Master
Method: Breaking Down A Whole Fish
Make: Salmon With Shellfish Minestrone
Method: Making Pasta Dough
Method: Rolling Pasta Dough
Make: Lobster Ravioli
Mastering Ingredients: Beef, Lamb, and Pork
Make: Beef Wellington
Advice For Life
Closing
Gordon Ramsay MasterClass Summary
The MasterClass from Ramsay is full of life lessons and the journey of the Chef himself to the core techniques and methods of kitchen skills.
However, summarizing the whole MasterClass, there are four types of lessons Gordon's MasterClass:
Gordon's Journey
Method
Make
Mastering Ingredients
You start learning from the introduction, where Ramsay introduces his life and career.
Further, you will move by learning various techniques and recipes that may gradually become complex for newbies.
Each video lesson is built on the next one by consisting of skills and concepts that were previously covered; therefore, you don't find any pattern to the lessons in this MasterClass.
Gordon's Journey
Gordon's Journey is two times in the lesson, which is incorporated perfectly in the MasterClass.
In this section, Ramsay discusses his behind-the-scenes of becoming a successful chef.
Ramsay focuses more on his accomplishments as a chef than a TV personality, describing and giving context to how he rose to today's prominence.
With two sections incorporated in the video lessons at starting and in between, you find it a perfect motivating start and an intermission in between once you get a lot on your table to learn.
However, if you wish to look for cooking tips, focus on the other types of videos.
Method
The method videos include video lessons that teach you about skills.
It mainly focuses on building skills like how to break down a whole chicken or fish and make fresh pasta dough.
You should pay attention to these videos more as these videos consist of primary skills you can have in your kitchen.
On top of that, these videos are incredibly detailed and contain great close-up shots, enabling you to watch precisely what Chef Ramsay is doing.
Ramsay makes you understand every step during the method video, from sight to smell and touch cues to help you learn in detail.
Even in this video, I learned that I used the knife wrongly all this time.
Mastering Ingredients
Mastering Ingredients is one of the most essential parts of this MasterClass and one of my favorites.
This part focuses mainly on educating your palate on specific vegetables, herbs, meats, and fish individuality.
During the ten minutes, Chef Ramsay tells you about the ingredients' importance and usage in various dishes that make them delicious.
Make
As the name suggests, make lessons are where Ramsay creates recipes like poached egg and mushroom on brioche.
He even provides insights about the techniques and cues for handling and using these ingredients to finalize the delicious dish.
One of the best parts of the MasterClass interface is that you get a pane on the right side to find the list of ingredients and instructions.
You may already know that if you have tried to cook a recipe from a video on YouTube, scrolling through the video and instructions in the description below is a big hassle solved in this MasterClass.
What I Learned: 3 Takeaways From This Masterclass
I cannot describe the top-notch video course by Ramsay in a few words but instead recommend you take his MasterClass and find out why I got to raise my respect for his cooking skills even more.
However, here are the three takeaways that I'm going to incorporate into my cooking:
1. Practice
Throughout the course, Ramsay emphasizes the importance of cooking practice.
To better up your skills in cooking, all you need is practice.
For example, if you want to work on your knife skills, you can start by holding your knife on the cutting board without veggies and practicing the movements first.
Then practice more on softer or easier-to-cut vegetables like cucumber.
Once you are comfortable with that, you can move on with more stuff where you can apply your knife skills.
Additionally, as this class is only four hours long, you can even have more time to practice what you learn in the four hours.
Also, the unlimited access to the MasterClass lessons will help you visit your lessons any time to let you brush up on your skills anytime you need to.
2. Using Every Bit Of Your Ingredients
Ok! I must say Ramsay is great at using every bit of the ingredients.
He has that habit of using every piece of every ingredient, especially the pricey ones.
Therefore, he teaches you excellently the art of making the most out of your ingredients.
Only Chef Ramsay can teach you the art of breaking a chicken down and turning salmon filet leftovers and lobster knuckles into incredible ravioli.
3. Love What You Make
Ramsay loves cooking.
And his passion for sharing what he loves the most is visible throughout the video course.
Everything from your kitchen layout to the quality of your meals at home comes from the love and passion you put into making it.
Whether it is about breaking down a chicken or fish or making an elevated scrambled egg, Ramsay has everything to teach you with passion and love, inspiring you to make delicious dishes at home.
CHECK OUT "GORDON RAMSAY TEACHES COOKING" ON MASTERCLASS
Tips To Get The Most Out Of This MasterClass
I learned some tips after Gordon's MasterClass and several other lessons.
They will be time savers and help you get the most out of your learning journey.
1. Focus More On Method And Make Classes
These are the main ingredients of Ramsay's MasterClass, making the whole course one of the premiums.
The method and make classes teach you various skills and recipes you can try.
2. Slowing Down Videos
Playing at a slower playback rate can help you understand the knife or method skills that Ramsay shares.
The closer shots will help you know precisely what Chef Ramsay is doing. However, slowing down the video can help you more, especially during specific duration – like when Ramsay cuts butternut squash perfectly.
3. Make Notes
Making notes in each video lesson will help you for future reference.
Also, making notes can help you understand the concepts in your way, which can be helpful if you return to that lesson later.
Gordon Ramsay MasterClass Pros And Cons
I loved the MasterClass from Gordon Ramsay.
But there are certain parts where the course can be improved.
And therefore, to give you a quick overview, here's a sneak peek into the pros and cons of this MasterClass.
Pros:
Gordon is passionate about cooking, which helps you to be passionate about cooking, too – an inspiring way to cook and make delicious dishes
Easy to get on any video lesson you want that interests you
A downloadable workbook and user-friendly interface make it easy for you to learn
The lesson even emphasizes reducing food waste and kitchen safety
Highly recommended for the person who loves cooking and wants to get started (however, prior experience in the kitchen is needed to make the most out of this MasterClass)
Cons:
Some of the recipes and ingredients may seem a little complex, like cooking with sea urchin or king salmon
Is Gordon Ramsay's MasterClass Worth Buying?
So, the final question that comes to everybody's mind is whether buying Gordon Ramsay MasterClass worth it.
Or
Do I recommend this MasterClass?
The answer is: absolutely yes!
And now, you may already know the best reasons to get this MasterClass.
The art of learning and enjoying making good food from someone who loves it will undoubtedly be a premium experience you can't miss if you love cooking!
CHECK OUT "GORDON RAMSAY TEACHES COOKING" ON MASTERCLASS
Who Is Gordon Ramsay's MasterClass Best Suited For?
As said earlier, Gordon's MasterClass is divided into two parts.
The first part is about learning the kitchen's concepts, techniques, and skills to help you become a better cook at home.
However, the second part is mainly about cooking various recipes at home, where you will use skills you gained in the first part of MasterClass.
Therefore, Gordon Ramsay's first part of Cooking MasterClass is best suited to:
Anyone who loves and is curious about how to cook good dishes and wants to learn various cooking skills from a legendary and master Chef himself
Newbies who want to get started with cooking or want inspiration to get started
If you are someone who is a Gordon Ramsay fan or wants to learn their skills
Top Reasons Why People Love Gordon Ramsay MasterClass Courses
Let's be honest here:
The first reason why people will always love this MasterClass is the celebrity factor of Gordon Ramsay.
He is a TV personality, and whether people might love or hate him, they all know he is a legend, and learning from him is a premium experience.
And apart from this, the second reason is the production quality of the videos.
The close shots of Ramsay's cooking and knife skills make you feel like he's teaching in front of you.
When you play this MasterClass on your big screen, such as smart TV (MasterClass can be streamed on TV), you have a better learning experience.
Another possible reason people love this MasterClass is the comprehensive approach to cooking.
The first course of the cooking MasterClass from Gordon Ramsay completes the fundamentals with several other essential cooking areas.
And then on, you can learn various recipes you can cook at home or try to boost your skills.
Similarly, there are many other reasons why people love Gordon Ramsay's Cooking MasterClass.
The best way to find the reasons is to try his MasterClass and learn.
ENROLL IN GORDON RAMSAY COOKING MASTERCLASS NOW!
Alternatives To Gordon Ramsay MasterClass
Even if you want to move on with your cooking skills after Gordon Ramsay's MasterClass, many courses can help you.
Here are some of the best alternatives to get yourself boosted up by taking cooking courses:
· Niki Nakayama Teaches Japanese Cooking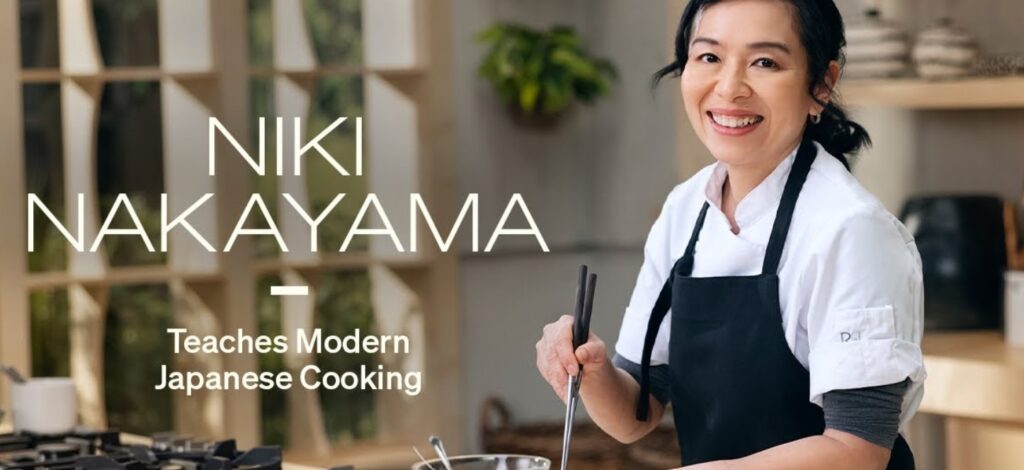 · Aaron Franklin Teaches Texas-Style BBQ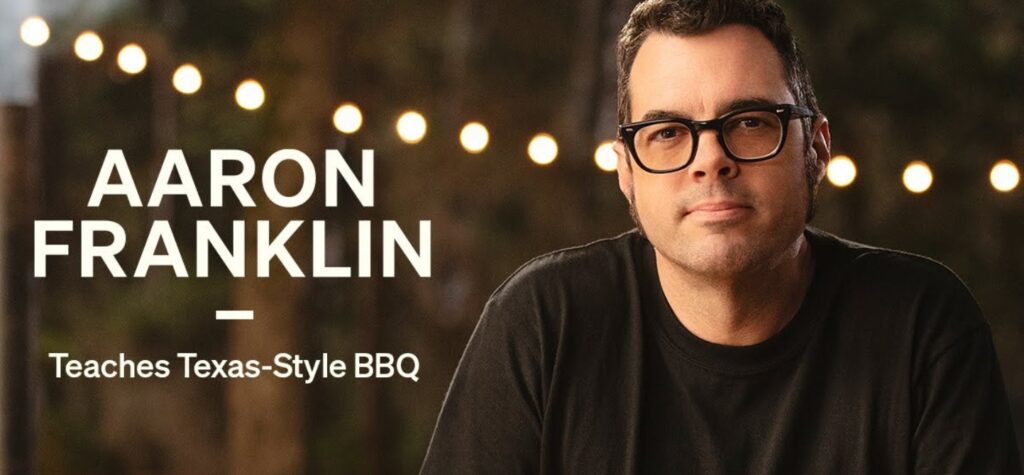 · Massimo Bottura Teaches Modern Italian Cooking
FAQs About Gordon Ramsay's Cooking MasterClass
How much does Gordon Ramsay MasterClass cost?
Gordon Ramsay's MasterClass needs an annual subscription to access the course.

The annual subscription of MasterClass has three pricing models from Individual to Duo and Family.

The Individual plan costs $180 per year, averaging $15 monthly.
Do you get recipes on MasterClass?
Yes, you can get the recipes on MasterClass courses. For instance, in Gordon Ramsay's MasterClass of Restaurant Recipes at Home, you get various recipes to cook at your home.

The best part is that in the MasterClass interface, you even get the instructions and ingredients section on the right side of the video pane.  
Is Gordon Ramsay on MasterClass?
Yes, Gordon Ramsay is on MasterClass with two courses. First is Gordon Ramsay Teaches Cooking I, and Gordon Ramsay Teaches Cooking II.

The first part focuses on learning fundamental and various skills to get started in the kitchen with cooking.

However, the second part is more leaned towards learning various cooking recipes at home. You can learn unique dishes such as Crispy Duck With Spinach & Red Endive.
Gordon Ramsay Cooking MasterClass Verdict
I am pretty impressed with the video course that MasterClass has.
From various aspects, the MasterClass is a premium learning experience from the legendary and famous Chef Gordon Ramsay himself.
Therefore, I recommend this MasterClass to everyone who wants to enjoy cooking along with learning skills to make yourself a better cook.
You can enroll in this MasterClass yourself and discover why Gordon Ramsay's Cooking MasterClass is one of the best ways to start learning cooking.