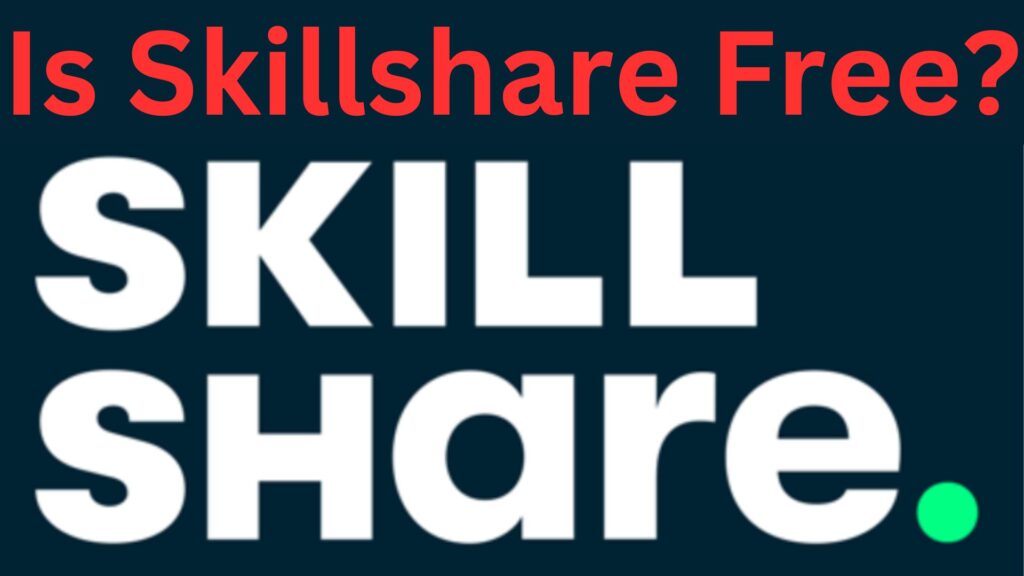 Skillshare does not offer any free classes out of its membership plan.
But what if I tell you, you can still access Skillshare courses for free?
Sounds interesting?
Read along to learn how you can get Skillshare for free in 2023.
Also, find my quick review to know if taking Skillshare premium is worth it.
Let's get started:
Does Skillshare Have Free Classes?
Many new users have this as a first question when they come across Skillshare – is there any free class on Skillshare?
If you, too, have this question, you are not alone, my friend.
Even before using Skillshare premium, I also tried to look around for free classes to know if taking premium would be worth it.
Unfortunately, there are no free classes or courses on Skillshare.
Once you take the membership plan or start with the "free trial," only you can access all the video courses on Skillshare.
However, Skillshare cost has been entirely worth it, which I have shared in my How Much Does Skillshare Cost post.
GET STARTED FOR FREE ON SKILLSHARE!
A Quick Skillshare Review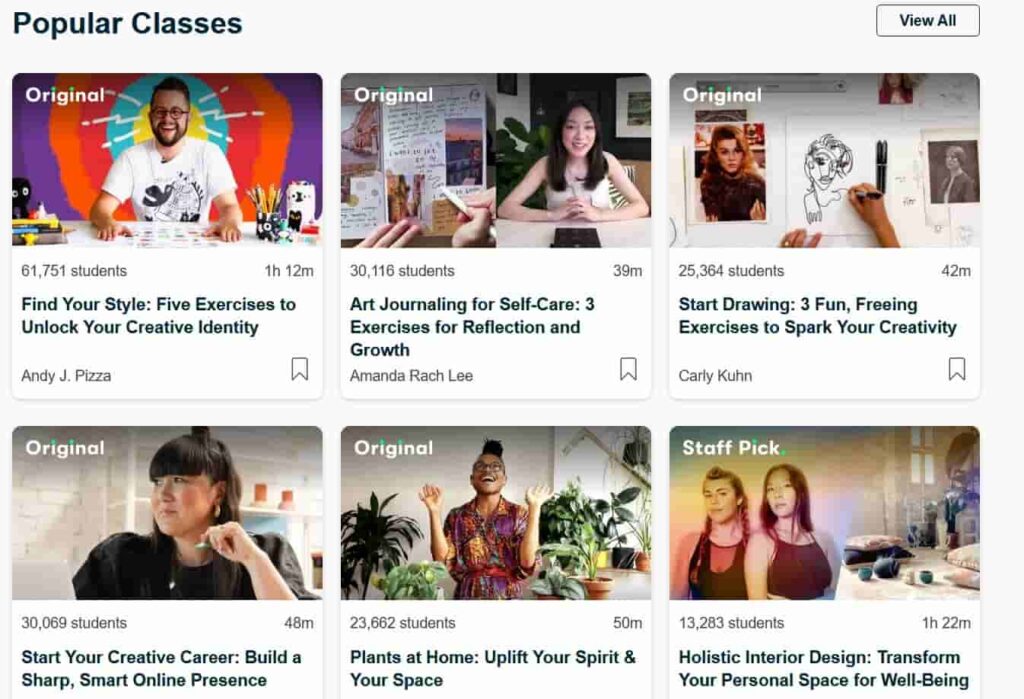 I have been using Skillshare for years now, and here's what I feel about this online learning platform:
Skillshare is one of the great platforms to learn online from more than 30,000+ video lessons available on it.
However, one of the best parts about Skillshare is the length of video courses which ranges from around 30 minutes to 4 hours.
The video length can vary depending upon the course type, but most courses have a short duration, and therefore, you can complete them in one day of sitting.
That means you can learn a new skill within a few hours.
On Skillshare, you get video courses from broad categories such as:
Advertising
Business
Arts & Entertainment
Entrepreneurship
Blogging
Social Media Marketing
Digital Marketing
Self-Development
And many more
Search from the filters and find video courses from almost every topic.
Thanks to 30,000+ video courses!
Some famous and talented Skillshare teachers include Young Guru, Guy Kawasaki, Paula Scher, and Seth Godin.
Further, compared to other online learning platforms, I found Skillshare a better platform for avid learners and creative individuals.
Those who want to grab some new skills and are consistent learners will find Skillshare cost completely worth every penny.
On the contrary, side, if you are someone who takes one course in a whole year, then Skillshare is not for you.
It is for those who want to upskill themselves with consistent learning.
To know more in detail if Skillshare is for you, read my Honest Skillshare Review To Help You Take Decision.
But if you want to take a single video course or two, platforms like Udemy are the best.
Pros And Cons Of Skillshare

You can read my in-depth Skillshare Review to know my experience with the platform.
However, if you are in a hurry, then here's a quick summary of what I found the good and bad about this e-learning platform:
Pros:
More than 30,000+ video courses to learn from
Select from a broad category of topics to get video lessons
Talented and expert teachers from worldwide
Excellent website interface
Download videos for offline viewing
Multiple features available
Regular discounts are available on subscription plans
Cons:
Unlike MasterClass, Skillshare has random teachers on its platform.
No free classes outside the membership plan.
Is Skillshare Free?

So, now you have to get through the platform review and its good and bad parts.
Therefore, it is the perfect time to know if you can access this platform for free.
Yes, Skillshare is free, but only for the first month.
Under the free trial, you can access all the video courses and classes of Skillshare, and then you can cancel before the trial ends to avoid the charges.
However, doing so sounds sleazy, but even Skillshare encourages new users to try the free trial and cancel before the trial ends if they don't find it suitable.
It can avoid the charges, and the user can get Skillshare access for free, too.
Pro Tip: If you only want to access the free trial of Skillshare, you can sign up for the free trial and cancel your membership immediately after signing up. Don't worry! You can access the complete Skillshare courses until the trial period. In this way, you will be free from the worry of canceling the membership on the last day, and even if you forget it, the charges will not be imposed as you have already canceled the membership on the very first day.
Skillshare One-Month Free Trial

As now you already know, Skillshare is not free.
You can access Skillshare courses for free through the free trial only.
To do so, you need to sign up for the membership plan on the Skillshare website, which you can cancel before the trial period ends to avoid the charges.
To sign up, visit Skillshare.com, click "Get Started For Free," and sign up through multiple options on the screen.
After opting for the membership plan, you instantly get unlimited access to the Skillshare courses.
After the trial period, you get charged, but if you wish to cancel the membership plan, no charges will be imposed.
If you want to continue your membership, you will be charged the annual cost of the Skillshare.
Skillshare Subscription Plans
As of 2023, there is only one subscription plan as per Skillshare. And that is:
$168 per year billed annually (with an average of $14)
A few years back, Skillshare used to offer a one-month subscription plan, which used to cost $32 monthly.
However, that subscription plan is now discontinued, and the yearly membership is there to access the platform.
The annual plan is for individuals only, meaning you can access the courses through one account on one device.
Apart from this, you also get the Skillshare Teams Plan, which is specially designed for small to large levels of organizations.
Skillshare For Teams plan has three-tier pricing models, which are as follows:
Starter
Enterprise
Revive
Starter Skillshare Teams Plan
This first-tier team's plan costs $159 per user per year, and it is ideal for small organizations with 2 to 19 employees.
Enterprise Skillshare Teams Plan
Best for teams of 20 or more, this is the second-tier team's plan on Skillshare.
It is ideal for organizations having 20 or more employees and if you want them to access Skillshare for learning purposes.
However, there is no direct price disclosed on Skillshare for this plan tier.
You must converse with the Skillshare sales team for the same to discuss the cost of this plan.
Revive Skillshare Teams Plan
It is the highest-tier plan under the Skillshare Teams plan.
The revived plan is for larger organizations having 51 or more employees.
Under this plan, you can easily control access to Skillshare with the admin portal and meet other goals.
It doesn't matter which plan you choose. Instead, it will help your team members learn, grow, and continuously develop new skills.
How To Cancel Skillshare Subscription?
If you want to cancel your subscription from Skillshare after the free trial, you can cancel it within a few steps.
The steps are as follows:
Login to your Skillshare account.
Go to the Account settings under your Skillshare account.
Select Payments from the left navigation menu.
Now, click on the Cancel membership button option.
Follow through with the cancellation steps.
After you cancel the Skillshare membership, you can access Skillshare's content until the paid period ends.
So, with these few steps, you can easily cancel your Skillshare membership.
Skillshare Free vs. Premium: Main Differences
Skillshare does not offer free classes or video courses, so you don't get any free benefits.
However, if you opt for the free-trial membership, you access the same course catalog when charged for the premium membership.
Therefore, there is no such difference between Skillshare Free vs. Premium benefits.
Do You get Accredited Certificates in Skillshare?
Skillshare courses are not accredited, but you get a certificate after completing the course.
However, you get much beyond that – skills that you can implement in your life.
But platforms like Coursera are more suitable if you want to get a certificate to showcase on your LinkedIn profile or resume.
Are There Any Free Trials For Skillshare Premium?
Yes, there are free trials for Skillshare Premium membership.
Skillshare provides a seven-day to 30-day free trial to complete courses by signing up.
To get the free trial, you must sign up using your Google account or other options on the screen.
And once you do that, you can easily access Skillshare under the free trial.
Also, there is no difference between the benefits that you get under the free trial and premium membership.
Skillshare provides the same access and benefits to the users of free-trial and premium membership holders.
What Is Skillshare Good For?
Skillshare is a great learning platform for avid learners and creative individuals who want to upskill themselves regularly.
Currently, Skillshare has 35,000+ video courses on its platforms for $168 per year, which is just $14 per month on average.
If you take 100 courses in a year, Skillshare costs just $1.68 per course, which is more than worth it.
And additionally, you get skills that will boost you in your life.
On the contrary, Skillshare may not be the right platform if you take only a few courses per year, like 5 to 10.
Let's be honest here:
Many people take premium platform membership but use it only once or twice.
And if you are one of them, let's say you complete only a course on Skillshare, it will be $168, which is quite expensive.
However, the key point here is that Skillshare has mostly courses available in a short duration which will help you complete more in less time.
In less time, you can get more skills in your hand.
So, overall, for an avid learner, Skillshare is a good platform.
Is Skillshare Premium Worth It? What Are The Benefits Of Paid Membership?

Yes, Skillshare premium membership is worth it.
It is worth every penny who wants to learn continuously throughout the year.
And on top of that, Skillshare has mostly courses with short duration, allowing you to learn more in less time.
I completed my first course on Skillshare within just 2 hours only.
The best part?
You regularly get new courses on Skillshare in various niches.
Skillshare has a broad category for video lessons, allowing you to get skills from a broad niche. So, that's a plus point.
Benefits Of Premium Membership:
You get unlimited access to 35,000+ video courses on the platform.
Download and view the course when you are offline.
Get a community of millions of learners.
A broad category of classes to choose from.
Get access to newly launched features (like chroma courses and Skillshare exclusive perks)
So, ultimately, there are tons of benefits when you sign up for Skillshare premium membership.
The only drawback of Skillshare is that you have to pay the subscription fee upfront.
However, with the free-trial classes, you can know if the platform is right for you and worth investing in.
From my experience and years of use, it's been worth investing in Skillshare.
Popular Skillshare Classes
Here are some hand-picked, popular Skillshare classes as of right now:
· Digital Illustration: Learn to Use Procreate
· Interior Design Basics: Simple Steps to Your Perfect Space
· Going Freelance: Building and Branding Your Success
· Productivity Habits That Stick: Using Time Theming
· Getting Started with Email Marketing, I Learn with Mailchimp
· Knife Skills: A Mini Class to Chop Like a Chef
· Demystifying Graphic Design: How Posters Work
· Visual Thinking: Drawing Data to Communicate Ideas
· Character Design by Josiah Brooks (aka Jazza)
· SEO Today: Strategies to Earn Trust, Rank High, and Stand Out
· Art Fundamentals in One Hour
Tips For Choosing High-Quality Classes
On Skillshare, anybody can teach.
There is no assessment for the instructor to be a teacher on Skillshare.
Therefore, if you are new to the platform, you may find it hard to find high-quality video classes first.
You can check the course review on every page for quality courses.
You need to scroll down to the Course Reviews, where you will find the reviews and experiences of selected courses from previous students.
It will tell you everything good and bad about the course, which can help you know if it is high quality.
Apart from this, on every course page, you will find which skill level this course suits.
From this section, you can decide if the chosen course is to your skill level or not.
Pro Tip: For whichever niche you want the course to opt for, apply the filter to narrow search results. Looking at the number of students who opted for a particular course with an average rating is also a good practice to know if the course is worth taking.
Is Skillshare Better than LinkedIn Learning?
LinkedIn Learning is also an online platform like Skillshare, Coursera, and Udemy.
However, LinkedIn is more focused on developing professional skills related to employability, whereas Skillshare is for anyone who wants to learn a particular skill.
Additionally, compared to LinkedIn Learning, Skillshare is much more affordable as the annual cost of LinkedIn Learning goes to $239.88.
In short, if you want to take the course for your professional development, you can opt for LinkedIn Learning.
Otherwise, for individual learners, Skillshare is a great platform.
FAQs
How much does it cost for Skillshare?
If you sign up for a one-month free trial, you get the first month for free, but after that, you get charged annually.

The annual premium membership for Skillshare is $168 per year, which per month costs $14.
Do you have to pay for Skillshare courses?
There is no pay-per-course system like Udemy or Coursera; instead, you pay for an annual platform subscription upfront.

Therefore, to access Skillshare video courses, you need to get an annual membership, and after that, you can get unlimited access to the Skillshare courses.
How many days is Skillshare free?
Under a free trial, Skillshare is free for 30 days; after that, you get charged annually for the premium membership plan.
Can you download Skillshare videos?
You can download Skillshare videos on the mobile app available for both Android and iOS devices.

This functionality to download videos is currently not available through the website interface.

Therefore, you need to download the mobile app to download Skillshare course videos.
But how do you earn a Skillshare class certificate?
After completing each course, you get a certificate of completion.
However, each course may consist of projects and assignments to be completed to be eligible for the certificate.
Summary
Skillshare is not free directly, but you can surely opt for the free trial for unlimited access to the Skillshare courses.
You can cancel the membership before the trial ends and avoid being charged.
However, if you opt for the premium membership, it will undoubtedly be worth it if you want to learn various skills continuously.
(I have reviewed Skillshare more deeply in my Honest Skillshare Review here.)
The best way to know if Skillshare is for you is by trying it yourself by opting for the free trial.
Try some courses yourself and know if it is worth it for you!