In this Bill Nye MasterClass review, I'll share whether this course by "The Science Guy" lives up to its promises and is worth taking in 2023.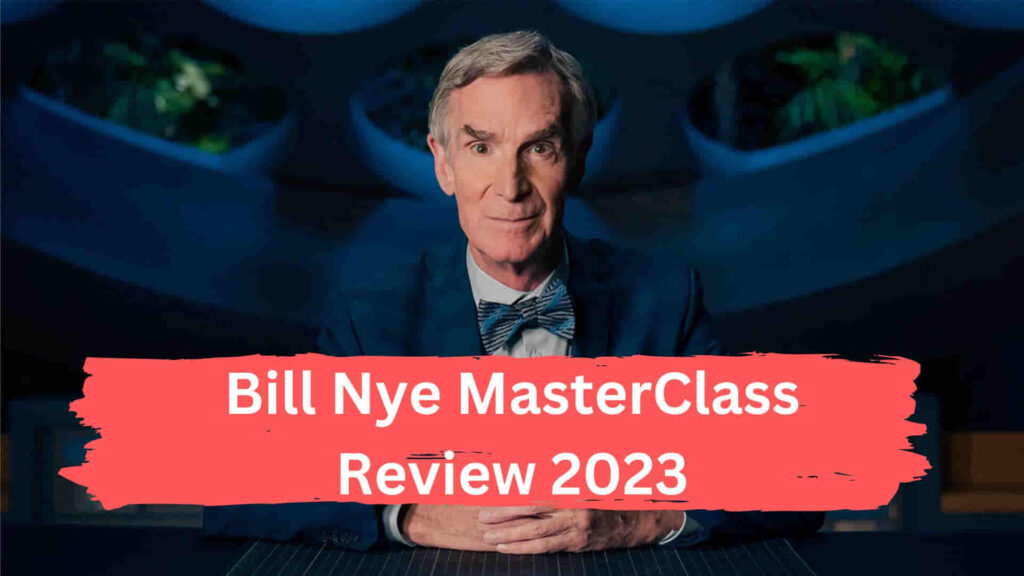 I want to confess something:
I've been a childhood fan of Bill Nye!
Bill Nye, the Science Guy, was one of my favorite shows in the 90s, where I was pretty fascinated by the experiments that he used to do.
And it would not be wrong if I said he made me quite interested in technology and science later in my life.
Therefore, when MasterClass launched Bill Nye Teaching Science And Problem Solving, I set aside everything to enroll myself in this MasterClass.
And I must say, just like his T.V. show back then, he is still that entertaining, quirky, and teaching concept (even better).
In short, it was worth taking!
But here, I'll be breaking down this MasterClass so that you can know whether or not this course is worth taking for you.
So, for that and more, let's get started.
A Quick Sneak Peek Into Bill Nye MasterClass
In a hurry? Have a quick sneak peek into my Bill Nye MasterClass thorough review.
What you'll learn: How to think like a scientist, tackle issues with scientific thinking, and convert thought into action.
Best to pair with: Neil deGrasse Tyson Teaches Scientific Thinking And Communication, Terence Tao Teaches Mathematical Thinking, Dr. Jane Goodall, Teaches Conservation.
Course duration: 2 hours 44 minutes divided into 13 video lessons
Recommendation: 9/10 for those who want to improve their own critical thinking skills. Learn from the expert how to make better decisions for yourself and the planet through scientific thinking.
About Bill Nye (The Science Guy)
William Sanford Nye, popularly known as Bill Nye (the Science Guy), was born in 1955.
Bill was born in a family where his mother, Jacqueline was a codebreaker during WWII, and his father, Ned, was a contractor building and also served in World War II.
Bill's father, Ned, has also spent four years in prison at a war camp where he founded his interests in sundials.
However, years later, Bill attended Cornell University with a major in mechanical engineering.
From there, Bill joined Boeing as an engineer after graduating, where he invented a hydraulic resonance suppressor tube.
Later, in 1978, Bill won a Steve Martin lookalike contest, a turning point in his life.
From there on, Bill became interested in comedy and quit his job at Boeing to focus on his comedy career.
Several years later, when Bill met his former professor, Carl Sagan, he said he planned to create a Science T.V. program.
To that, then, Sagan replied, "Focus on pure science. Kids resonate to pure science rather than technology."
And later on, this became excellent advice for Nye as in 1993, Nye and his fellow collaborators launched Bill Nye the Science Guy, which was a huge success.
This show made Nye win 19 Emmy awards, apart from making children and even adults learn and be aware of scientific topics.
And even after his show, Nye continued his journey as a famous educator and science advocate.
How Much Does Bill Nye MasterClass Cost?
After knowing everything about Bill Nye and his MasterClass, the first question that might have come to your mind is its cost.
So, let me make it easy for you: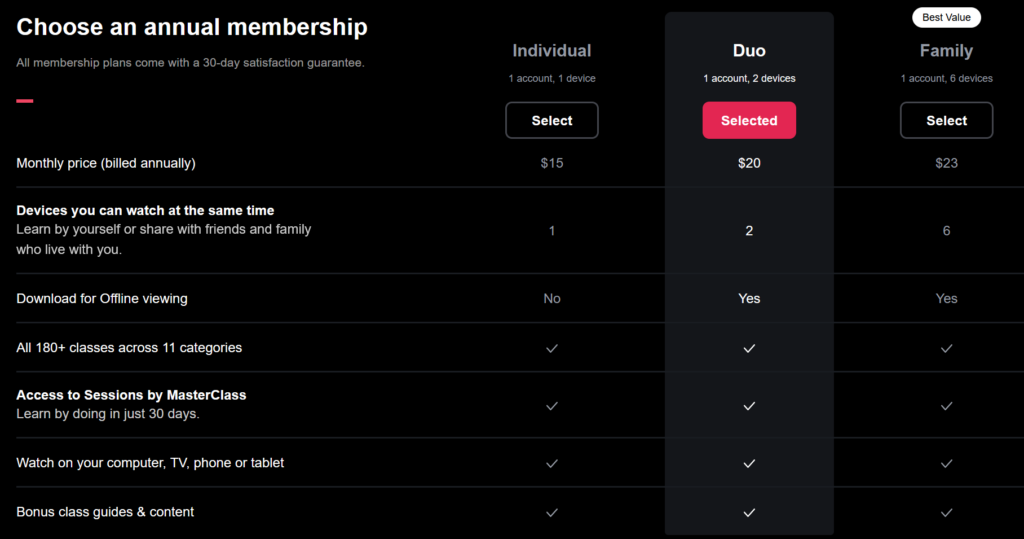 Bill Nye MasterClass does not come with a specific course price.
Instead, it comes with a MasterClass subscription plan.
Fortunately, MasterClass has given three different membership offers, which you can choose accordingly.
These are:
Individual MasterClass Plan
Duo MasterClass Plan
Family MasterClass Plan
Even though I have talked in very detail about 'True' MasterClass cost before but let's break it down in short.
The Individual MasterClass plan comes with a $180 per year cost, on average, $15 per month.
That means it will be worth it if you even take one course a month.
And for the benefits under this membership, you get access to 180+ premium MasterClass courses and exclusive course content such as workbooks and community access with every class.
The next plan is the MasterClass Duo plan which costs $240 per year with an average of $20 per month.
Apart from the benefits you get in the Individual plan, you also get the functionality to download course videos for offline watching this plan.
And as the name suggests, the Duo plan is best suitable for couples or groups of two friends or those who want access to MasterClass on two devices under one account.
The Family MasterClass plan is the most premium option on the platform costing $276 per year. Under this plan, you can access MasterClass on up to six devices under one account.
Therefore, it is best suitable for those who want to buy MasterClass subscriptions in bulk.
Detailed Review Of Bill Nye Teaches Science And Problem-Solving
Now it's time to dive deep into Bill Nye's MasterClass review. For a quick view, you can check out the trailer here:
I'll be breaking down each section of the MasterClass, but before that, let's look at what this MasterClass promises.
What Does This MasterClass Promise?
When you invest some money, you expect something in return.
And therefore, for this course, you will be investing some money.
That's why you have to know what promises this MasterClass makes so that you can set expectations accordingly.
First, this MasterClass course will not make you a scientist!
But it is going to:
Make you learn the scientific approach to bigger and everyday problem solving problems
Learn how to think like a scientist
Put your knowledge and thinking capabilities into evaluating information for a better outcome.
Even in the very introductory part of the course, Nye says that science is for everyone, and he wants everybody to have a fundamental knowledge of science and appreciation of it.
Nye even says that the scientific thinking method will improve life.
He also clarifies, "We're going to look at science and how it applies to our everyday life, but we'll also be taking a wider view."
Then he emphasizes science-based decision-making, which can help people tackle big problems such as climate change.
So, with these promises, this MasterClass begins.
But the ultimate question is that by the end, of course, can it keep its promises?
Don't worry. I'll talk about that as well later in this review. But first, let's talk about what this MasterClass has as a course package when you enroll.
What Does This MasterClass Has For You?
Not only Bill Nye's MasterClass, but this is what you will get with almost every course on the platform.
The whole course package can be divided into three categories:
Video Lessons
Supplementary Material As Workbook
Community Of Learners
Of course, the course has video lessons as its primary content.
And with Bill Nye's MasterClass, you get 13 video lessons that cover a curriculum as follows:
1. Meet Your Instructor
2. Science Changes Your Perspective
3. Explore Everything All At Once
4. Practice Critical Thinking And Critical Filtering
5. Achieve Freedom From Fear
6. Everyone You'll Ever Meet Knows Something You Don't
7. Facing Climate Change: Our Greatest Challenge
8. Using The Upside-Down Pyramid Of Design To Make Things
9. Celebrate The Joys Of Constraints
10. Let's Seek Scientific Solutions To Climate Change
11. Foster A Science-Minded Society
12. Think Cosmically, Act Globally
13. Bonus: How To Tie Ancient Knots
After following the curriculum, you can also access the workbook, which you can download offline on your device.
This workbook is supplemental material with further references, video lesson summaries, and assignments.
In short, these workbooks work as a helping hand to get you through additional references related to the course.
Complete Breakdown of Bill Nye MasterClass
As you already know what this course promises and holds as a package, it is time to break down each section and reveal every detail.
Let's begin:
Video Lessons Review
The 13 video lessons have an average of 10 to 20 minutes of runtime per lesson.
Starting of the Course – Lessons 1 To 5
The first lesson is the introductory part, where you get to know your instructor and what you can expect to learn by the end of this course.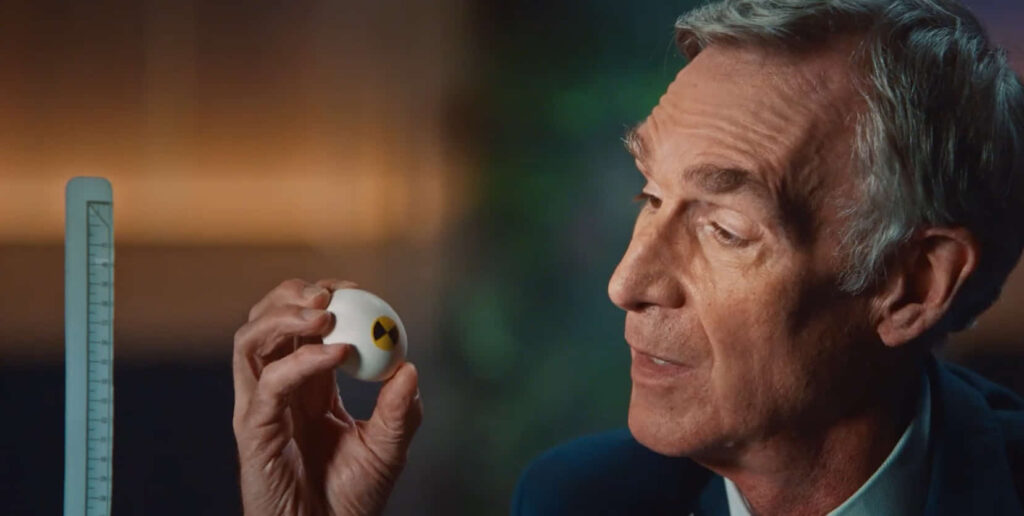 However, the main content begins with lesson 2: Science Changes Your Perspective.
The video lesson teaches you that how you can solve a problem depends on the way you look at it.
Nye describes it through the example of a Physics lesson he took where he solved the problem of calculating the area of an ellipse by changing how he looked at it.
The primary takeaway from the lesson is that how you approach challenges depends on where you start and the perspective you look at them.
Similarly, lesson 2 to 5 builds the foundational understanding by revealing different concepts to you.
Nye explains the tools by which you can make new meaningful discoveries about the world.
He even emphasizes critical thinking by telling you his philosophy of critical thinking.
Nye tells you how you can apply critical filtering for the concepts that are new to you and discard the information or ideas that are not relevant to the facts.
In lesson 4, Nye even experiments to show what he wants to explain (again, a nostalgic feeling).
And with such a unique style of him teaching various science concepts and theories makes the course more interesting.
In lesson 5, climate change and its related fear come into the picture.
Here, Nye argues how fear is essential for problem identification and how you can use the abovementioned skills to redirect fear into new knowledge and discovery.
Middle of the Course – Lessons 6 To 9
Lesson 6 (Everyone You Ever Meet Knows Something You Don't) is one of my favorite lessons in this course.
The main takeaway from this lesson is that you cannot know everything.
And that's okay.
If you are opening your mind to learning, you should be ready to learn from anyone who comes your way, irrespective of how much you already know.
After this, lesson 7 follows Climate Change, one of the greatest challenges.
Nye explains how humans are pumping carbon into the atmosphere, which is causing the natural constituents of the atmosphere to warm.
He even explains with evidence such as:
· Isotopes in the Ice in Greenland
· Tree rings
· The spikes in emissions after the industry revolution
And to understand what you can do as an individual, he explains those things in the further lessons, which I'll keep for you to watch.
Ending of the Course – Lessons 10 to 13
Nye explains how constraints are the ones that help breed innovation.
He explains how when we are constrained by road safety laws for protection when the manufacturers create cars.
In this lesson, Nye opens your eyes to 'thinking outside the box.'
Moving on in lessons 11 and 12, Nye reveals more about how to seek scientific solutions to climate change.
To solve climate change, Nye talks about some of his policies, such as:
· Carbon taxes
· Progressive taxes for ensuring we share the burden
· National service for the planet
Finally, in the last lesson of this MasterClass, Nye shares how understanding science can help understand the wider universe.
Nye even dismisses moving out to space when the Earth is ruined.
But he shares that we can study other planets to learn more about ourselves.
Nye even shares how a whole world of discovery is yet to be discovered.
But with the skills in this MasterClass, we may get closer to understanding.
Workbook Review
Bill Nye's workbook is lighter than other course workbooks, with just 30 pages.
However, for the content that this workbook contains, it is undoubtedly an excellent addition to your course.
The best part about this workbook is that it's not just text loaded into the pages.
Instead, it is well-structured and represented content which will help you have additional knowledge when you complete the course.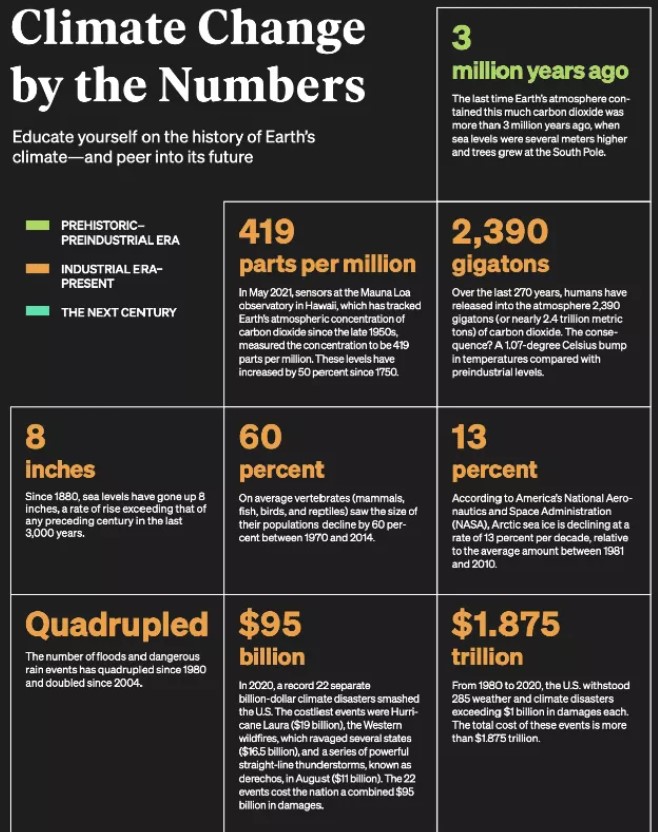 For instance, the climate change by the numbers section shows everything from history to the current situation.
And also the steps that humanity can take to prevent it.
Overall, I found the workbook quite interesting, and it works as a cherry on top when you refer to it after the course.
Community Review
Just like other courses on MasterClass, you will get a community of peer learners where you can engage with them.
You can put your questions on the community page, seek feedback, answer, and engage with other learners.
Although I didn't expect too much from the community page but it indeed works fine in case there is any query, and you want to seek a solution.
Remember that Bill Nye himself does not manage the community page; instead, the MasterClass team governs it.
Bill Nye MasterClass Course Summary
Here it is for those who want a quick summary of the course.
To be honest, when I had the first video lesson, I was pretty nostalgic.
Being a fan, it was sure to me that this course would have 'a lot' to teach.
And as expected, the course had a lot!
Nye begins the course by teaching about Entropy. He talks about Entropy and how it makes it quite difficult to create "order" than "chaos."
He further explains how humans have used Entropy to get the advantage of using heat to make things spin.
In simple words, we are converting heat into mechanical energy.
However, now, humans have to find new ideas to create electricity without burning fossil fuels in the upcoming years.
In the course, there is one instance where Nye shocks the learners by eating a candle.
But it turns out to be an apple core, thus describing the need to question everything, including our beliefs.
A unique way to teach, right?
However, one of the best parts I found in the course is when Bill Nye describes how he struggled to design a mechanical device.
And then he talked to the mechanists who were more familiar with that and helped him find a solution.
Nye teaches that you cannot know everything and, therefore, should be open to new ideas from other people.
This is in the "Everyone You'll Ever Meet Knows Something You Don't" chapter, and I found it quite relatable.
Overall, the lessons are entertaining yet filled with scientific concepts that will help you learn much throughout the course.
You are not going to be bored for sure!
Pros And Cons Of Bill Nye MasterClass
If I have to summarize everything about this course regarding the pros and cons, here is how I'll do it.
Pros:
Learn from one of the most recognizable scientific educators
Experiments and practical demonstrations at some points in the course enhance the experience of learning
Introduce yourself to the basic concept of scientific discovery
Bill Nye explains to you how science can help make the world a better place
Learn theory, philosophy, and practical science concepts
Cons:
There can be improvement with experiment instances frequency in the course
Is Bill Nye's MasterClass Worth The Money?
Till here, you already know everything about Bill Nye MasterClass.
But the ultimate question is: is it worth it?
Well, the answer is yes!
But for those who are interested in science and want to explore.
If you think this MasterClass can make you a scientist by the end of the course, then this is not true.
It will only help you delve into the basic understanding of science and its integral participation in improving the world.
Ultimately, the course highlights bigger issues, such as climate change, and the steps humans can take to prevent it.
The overall course is quite informative and entertaining, and with high ambition, it is 100% worth it for a science geek, especially for those who have never been into science!
What I Learned From Bill Nye MasterClass: 3 Key Takeaways
Considering my learnings, then here is what I learned throughout the course.
Although there are many here, I am mentioning the top three.
1. Science is everywhere.
Without science, it is not possible to tackle climate change. Science is an integral part; with this, only one can better their life.
2. Questions are important.
To improve your critical thinking, it is essential to ask questions even about your own beliefs (refer to the course for context).
If you can, ask questions like, is the claim specific? Is there any simpler explanation? You can improve your decision-making powers.
3. Find red flags.
Not the ones you are guessing but the information 'red flags.'
Bill Nye explains how you can find red flags in the various type of information that you receive and how you can identify them.
It is a valuable skill, and one must have it.
FAQs About Bill Nye MasterClass
How long is Bill Nye's MasterClass?
The Bill Nye MasterClass contains 13 video lessons with 2 hours and 44 minutes runtime.
How can I get Bill Nye MasterClass for free?
The only way to get Bill Nye MasterClass is a MasterClass subscription. There is no free way to get it.
How much does the Bill Nye MasterClass cost?
The Bill Nye MasterClass costs $180 a year for the individual MasterClass plan. However, there are two more plans, Duo and Family, which you can choose as per your need.
Do I Recommend This MasterClass?
Yes, 100%.
I recommend this MasterClass to every science geek, especially for those who have never been into science.
This MasterClass reveals the basic science fundamentals, delves into more significant issues, and talks about the solutions.
It also clarifies how essential science is and its integral role in improving life.
Therefore, it is undoubtedly 100% worth having. Also, most people will like the quirky and entertaining attitude of Bill Nye.
You will not disappoint for sure with this course!