When I took the Creative Writing MasterClass from Margaret Atwood, I learned so much within 4 hours.
However, MasterClass is paid.
But today, I will share 9+ free online writing classes that can help you get started with writing skills.
It doesn't matter whether you are a beginner or a pro looking to upskill your writing. Just find the courses below to get started.
Let's begin, shall we?
11 Free Online Writing Courses Of 2023
There is a huge demand for excellent and expert writers in the industry.
From social media posts to writing articles, writing copy, and much more, there are tons of opportunities when you master the skill of writing!
So, here is the list of 2023 that I have picked to get you started and master the writing skill.
#11. Essay Essentials: Improve Your Academic Writing – Best For High School Or College Students

My favorites pick to get you started!
We all must agree that writing essays can be intimidating sometimes.
And above that, writing something your teacher wants is tricky.
Therefore, this free writing course can help you start with that.
Learn from a teacher and how to write an essay your teacher loves.
Packed with five quizzes, three other writing exercises and activities, and a downloadable essay example guide, you will be upskilled in writing essays after this free course.
The class contains almost everything, such as:
Creating and organizing writing ideas
Developing and managing your essay
Revising and editing your essay
This writing course is free; you can watch all the video lessons with downloadable course material but cannot get the certificate.
Pros:
Essay writing course for college students
Easy to learn and understand
Just 1.5 hours of the video lesson
Quizzes and writing activities
4.4 out of 5.0 rating from 2100+ reviews
Cons:
No certificate as it is a free writing course
The course is for academic writing only
With nearly one and a half hours of video lessons, you learn so much about essay writing that will help you in the long run in writing long paragraphs.
Specially built for students, this free writing course is one of the best video courses to get started with writing skills.
#10. Basic Concepts And Techniques For Copywriting – Best For Beginner Copy Writers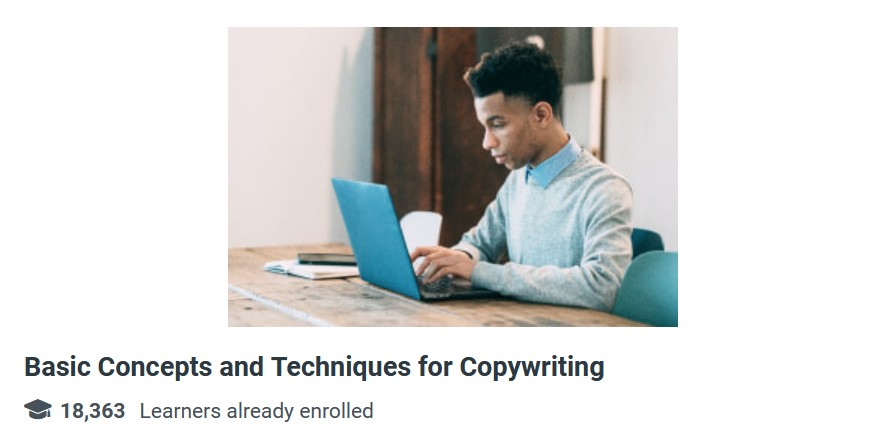 Copywriting is not easy, but with some good courses, you can master this skill!
Basic Concepts And Techniques For Copywriting is one of those courses to get you started in the world of writing copies.
Starting this course, you can understand how to write words that sell and get paid.
The course is designed for beginners to get started with copywriting and has deep insights into how to write your first copy.
Under three modules and 11 different sections, you learn from start to end, with an assessment at the end of the course.
Over 18,000+ students have already enrolled in the course and learned this excellent free writing course.
Pros:
Best for beginners to get started with copywriting
1.5 to 3 hours of learning
Easy bite-sized video lessons to learn
Cons:
If you are new to the world of copywriting and don't know where to start, this course can do wonders for you.
This writing course is available for free to learn.
#9. Mastering The Art Of Persuasive Writing – Best For Leveling Up Your Writing Skills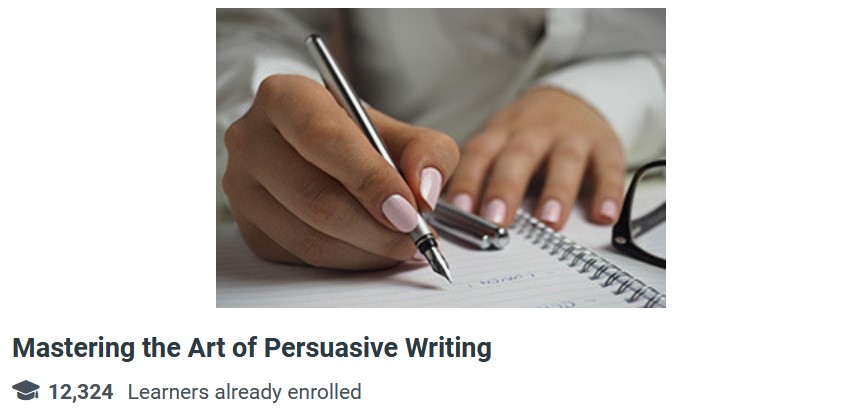 Another free course from Alison – Mastering The Art Of Persuasive Writing- can improve your writing skills.
How to persuade someone with your academic writing skills is tricky; therefore, this course can help you start with that.
Whether you are in the field of copywriting or are an aspiring writer, The Art Of Persuasive Writing will surely help you in different aspects of your life.
The course is 3 to 4 hours long, teaching you almost everything from an introduction to persuasive writing to strategies for long-term growth, promoting your content, and action copy in copywriting.
Four modules in the course are further divided into small bite-sized video lessons under different sections.
Therefore, it will be easier for you to digest the content of the video.
Already 12,000+ learners have enrolled in this online course, and most have had an excellent experience.
Try this course today to level up your copywriting skills!
Pros:
Get advance level writing skills
Suitable for beginners/experienced
Easy to learn
Cons:
Are you a beginner writer or an experienced one looking to improve your practical writing skills?
Enroll in Mastering The Art Of Persuasive Writing today and get yourself skilled!
#8. Writing Articles – Best For Aspiring Journalist And Students

Whether you are a student or want to build a career in journalism, writing an article is a skill that will come in handy in different fields.
And what else better to start learning from the award-winning journalist Starshine Roshell's free online writing class – Writing Articles!
This fantastic course is designed to teach you about the following:
How to determine your writing approach
Research content and write your article
How to pitch article ideas to publications
How to polish your work
How to promote your work online
The course has 15 small segments with five modules, making you learn quickly.
Each part is five minutes or less, allowing you to learn quickly, even during busy days.
On top of that, the course is 30 minutes which you can complete even in a single day.
Pros:
Learn from the award-winner journalist
Quick video lessons
Easy to learn
Get multiple skills
Free to learn with LinkedIn Free trial
Cons:
You have to start your free trial to access this brilliant course
Don't worry! You don't need to pay for this course if you don't want.
Start your free trial of LinkedIn Learning for one month and access the courses you want.
And if you don't feel like continuing, you can cancel your trial before the ending period to not get charged.
#7. Writing With Impact – Suitable For Anyone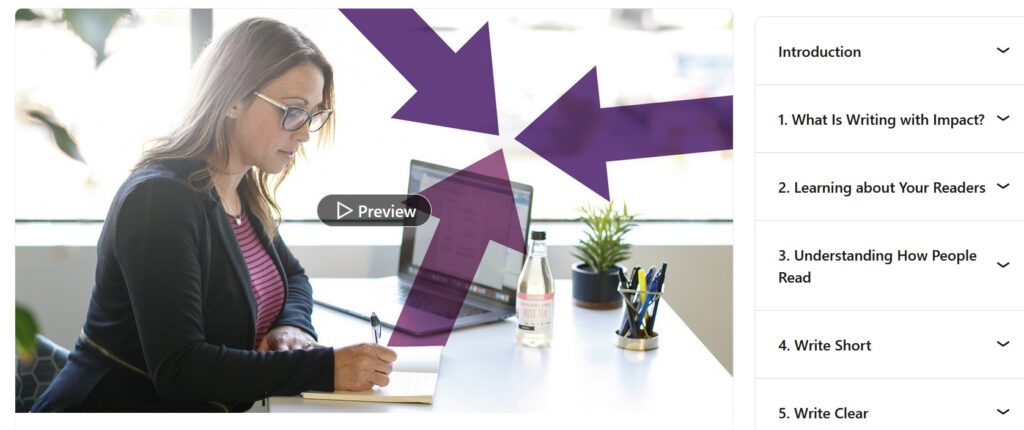 Writing is not all about just packing up words in a queue. It's more than that – the quality!
And the quality comes from how well it fits its purpose, which this course teaches you for free.
Packed with two project files and 5-chapter quizzes, learn high-impact communication through your writing process.
Writing with Impact is a course designed for beginner and experienced writers; anyone can start learning it.
The course instructor, writer, and journalist, Tom Geller, helps you find your own reasons for writing and how to use those reasons to influence the structure, word choice, and more.
Pros:
Learn from a writer and practice writing itself
Create high-quality content
Two projects with 5-chapter quizzes
Cons:
Quick video course of 1 hour only
You need to start free-trial of LinkedIn Learning to access this course
With a 4.6 out of 5 rating from 2,000+ learners worldwide, Writing With Impact adds up your writing skills which can help create much better articles to make your learners love your content.
Try it today and get the difference between writing an article and quality content!
#6. Business Writing Techniques – One Of The Best Business Writing Courses For Free

Whether you write an email to your boss or drop a cold dm to the recruiter on LinkedIn, business writing techniques and skills are necessary!
Best for people in the corporate world, the Business Writing Techniques course aims to teach you about the following:
Parts of a business letter
Examine the 6 C's for business messages
Evaluate direct vs. indirect messages
Examine the use of emojis in the business setting
It is a 4-week course that will require 5-8 hours per week only to master the multiple skills you will be using in the business.
However, this excellent course is accessible on EdX for free, which I picked especially for you.
Start learning and excel in your professional world!
Pros:
Learn at your own pace
4-weeks, of course, to teach you in detail
Free writing course
Learn from the expert instructor
Designed especially for people in business and corporate
Cons:
This free course doesn't come with a shareable certificate upon completion.
You must opt for the paid option to get graded assignments and exams with certificates.
You may need to write business letters and emails sometimes and to be professionally ready for that, you need business writing skills, which this course has got you for free!
Start learning today and level up your skills.
#5. Secret Sauce Of Great Writing

Do you know what makes a piece of written content great?
The Secret Sauce Of Great Writing Teaches You that!
Learn from the ex-Wall Street Journal Editor how to sparkle your blogs, books, and business writing.
No doubt that this course has 2,38,000+ students with 4.5/5.0 ratings.
The course contains 41 minutes of on-demand video covering everything you need to write great content.
The video is divided into various small portion of lectures, which ranges from 2 minutes to 5 minutes on average.
Even you can complete the course in one go.
This free online writing class is offered through Udemy, but you don't get the certificate of completion under the free option.
Pros:
One of the most popular writing courses
Learn from the expert
Highly rated
Cons:
No certificate upon completion under the free access
Under this course, you learn the four ingredients of good writing: simplicity, clarity, elegance, and evocativeness.
By the end of the course, you will get the skill to write much better pieces of content next time.
#4. Technical Writing Essentials – Best For Aspiring Technical Writers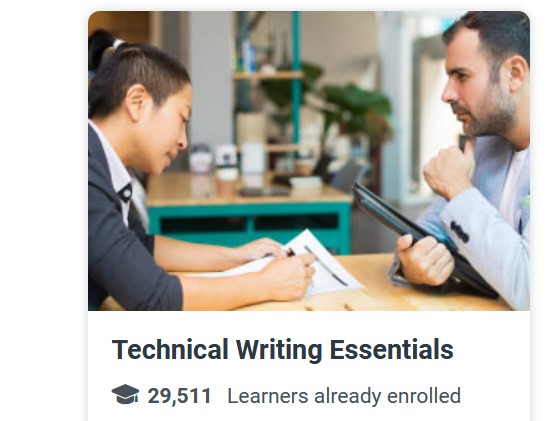 If you want to become a technical writer or know the strategy of writing good content as a technical writer, then this free writing course is for you.
This free online technical writing course will teach you the basics of technical writing and communication.
This course covers everything from learning the basics to learning how to deliver content that will meet your audience's needs and how you can apply strategies to enhance the clarity and readability of your content.
There are 33 video segments in the course, which is divided into seven modules.
Each video module starts with the learning outcomes and ends with a module summary to help you understand the concepts.
Also, there are course assessments in the course to help you assess your learning.
Pros:
Bite-sized video content to learn easily
The course can be completed in one day
Assessments and projects
Cons:
Basic concepts which suit beginners only
Getting started as a technical writer is challenging because you don't know how much quality you need and what makes a written piece of content 'technical.'
Therefore, in this course, you will learn all the essential basic concepts to get started as a beginner technical writer.
#3. English Grammar Lessons – Must For Everyone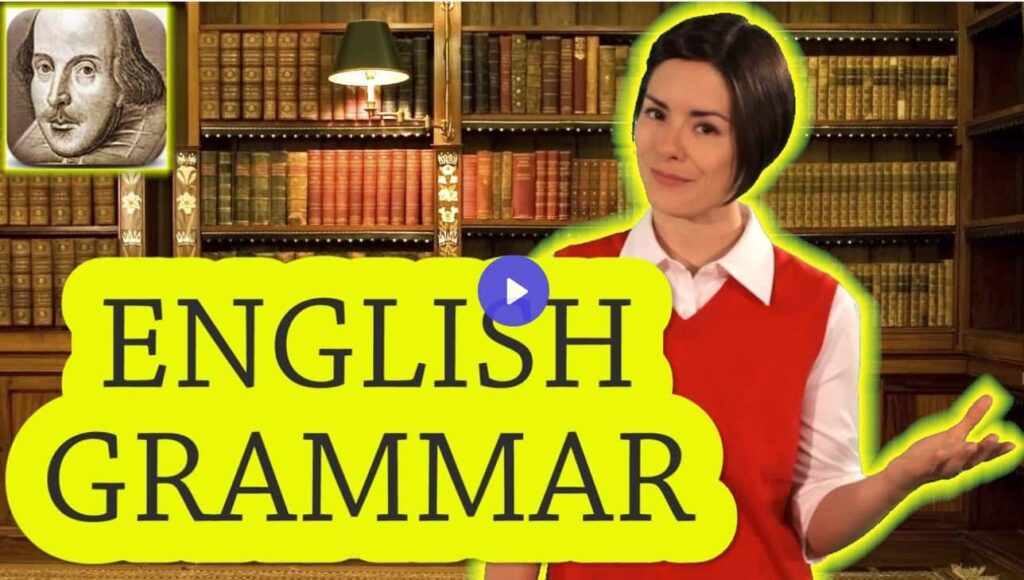 Before becoming a writer, your verbal and written English communication should be great.
And English grammar is one of the most essential parts of communication (especially for writing).
Writing content with grammar mistakes will not convince the audience and will leave a bad impression.
Even there have been many expert writers with poor grammar in their written content, and they had to rely on online grammar correction tools.
Therefore, knowing at least the basics of English grammar is a must.
Also, if English is not your native language, learning grammar becomes the priority before jumping into the writing journey.
And this free online writing course on English grammar is all you need to take the first step in writing.
The course aims to prepare you to write basic English after completion.
Pros:
Learn basic English grammar for free
Best for new aspiring writers
Detailed course to know almost every concept
Cons:
29 video sections may be lengthy for some learners
Start learning the basics of English grammar first and then jump into writing.
This course is recommended especially for creative writers who don't have English as their native language.
The better your English grammar, the fewer mistakes you will make while writing a piece of content in English.
#2. Skillshare – Learn From Various Instructors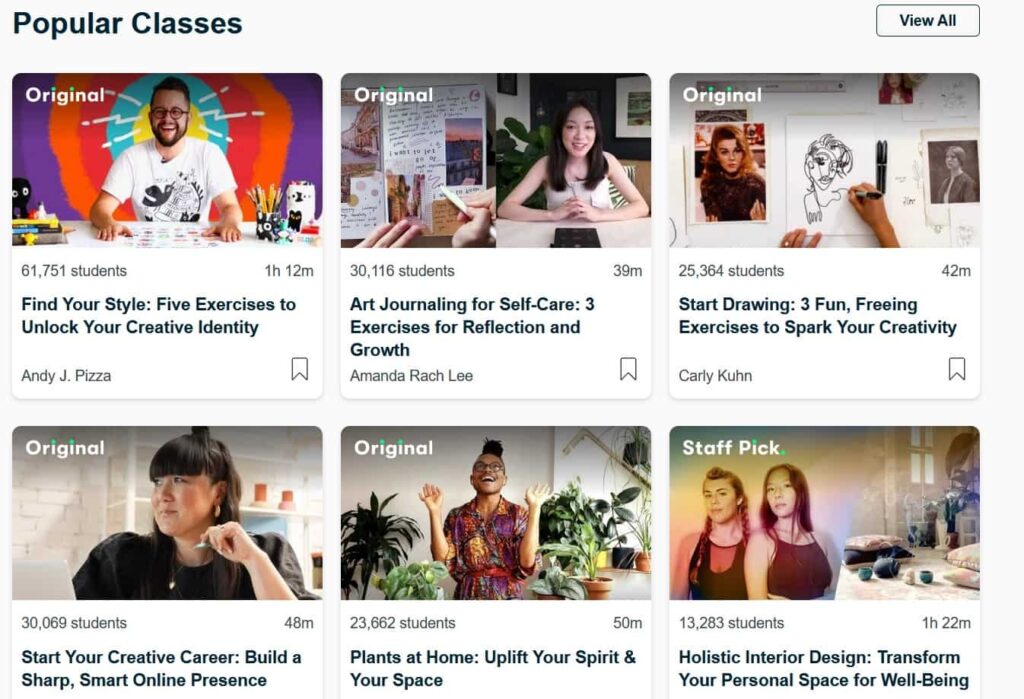 Skillshare is the hub of online courses with 35,000+ online video courses on various topics.
Classes range from 30-minute video lessons to longer multi-part courses, but still, you can complete most courses in a single day on Skillshare.
Check: Is Skillshare Free?
On top of that, you will have various options and the freedom to choose the 'quality' course you might be looking for.
However, Skillshare is not free, check How much Skillshare cost?
But you can start learning under the free trial and cancel before the trial period ends. And by this, you will not pay any money for the courses that you have taken.
This way, you can learn from expert instructors and take as many courses as you want for free.
Some popular writing courses on Skillshare are:
Pros:
35,000+ vast catalog of courses to choose from
Get skills in just a few hours
Easy to learn
One of the most popular and reputed learning platforms
Quality instructors
Cons:
Start with a free trial and take as many courses as you want for free under the trial period.
And if you don't find it worth paying, you can cancel before the trial ends. It will prevent you from paying any money.
#1. MasterClass Writing Course – One Of The Best Learning Platforms

I have already taken you through several free online writing courses.
However, these courses are designed and taught by some random instructors worldwide.
But what if you want to learn from the expert itself? Someone who has already become one of the best writers in the world?
Sounds interesting? This is where MasterClass comes into play!
On MasterClass – Learn from the world's best.
Even though MasterClass is not free, I recommend it to people serious about their writing careers and who have already completed beginner-level courses.
Check How much masterclass costs?
If you want to start writing fiction, work on your character development, or even want to learn to screenwrite, then MasterClass has all courses for you covered by the top and most renowned personalities on its platform.
For instance, Margaret Atwood teaches creative writing, one of the best creative writing courses that I have taken online.
Some other popular courses on MasterClass are:
Learning from experts provides knowledge and experience like no other place.
Pros:
180+ courses from the "world's best"
Bite-sized video lessons to grasp knowledge easily
Supplemental course material like a workbook
Regular addition of new courses
Learn every day, even on your busy days
Cons:
MasterClass has been one of the best platforms where I have taken several courses, and I can't say enough about it.
I have shared my hands-on experience in my MasterClass review and if it is worth taking for.
But in a nutshell, if you want a quality course from an expert, MasterClass is the place for you.
FAQs
How can I improve my writing skills online for free?
There are thousands of online writing courses for free to improve writing skills online.

Platforms like Udemy, EdX, and even Alison provide free writing courses. You can start as a beginner from there.

However, if you want to build your career and get started more into writing professionally, platforms like MasterClass are a gem where you learn from the expert itself. But these platforms are not free.
Can I learn content writing for free?
You can learn content writing for free from the courses mentioned above.

However, if you want to learn fiction writing or free creative writing courses from the experts, then a platform like MasterClass is what I recommend.
Where can I learn content writing for free online?
There are free online courses on platforms like Udemy and Alison where you will find several courses teaching content writing for free.

Even Skillshare and MasterClass are among the best platforms to learn about writing in-depth and from the expert, but they are paid.
Sky Is The Limit For You!
Get some skills to write good content; the sky is the limit!
As now you already know about the various online writing courses for free, therefore, it will be easier for you to start your learning journey.
However, you can take two additional platforms to have a better quality understanding from the experts in the english writing skills.
But if you are a beginner, I recommend you start with the free courses first and once you get the basic knowledge about writing, I recommend you go to learn from the experts on platforms like MasterClass or Skillshare.
If you have a friend who is writer then here are some of the best gift ideas for writer!
Till then, keep learning, and keep shining!