"Writing a novel is like driving through the fog with one headlight out, and you can't see far ahead of yourself. But every now and again, the mists will clear."
One of the quotes that inspired me a lot from the world-renowned prolific author – Neil Gaiman's MasterClass of The Art Of Storytelling.
In this Neil Gaiman MasterClass review, I will share my experience (and honest opinion) with the course, my learnings, and the takeaways I got.
Once I get you through my journey of completing this course and the learnings, I'll share whether or not the Neil Gaiman MasterClass is worth it.
So, let's begin, shall we?
A Quick Review Of Neil Gaiman MasterClass
In a hurry? Have a quick sneak peek into this MasterClass:
What you'll learn: How to write exciting stories and novels like Neil Gaiman and become a professional fiction writer, discover your unique imagination and put them into words, find interesting characters, and have insight through a writer's life.
Course duration: 4 hours 49 minutes divided into 19 classes.
Similar courses: Malcolm Gladwell Teaches Writing, and Dan Brown Teaches Writing Thrillers.
Recommendation: 4.5/5 – A 100% recommendation to aspiring writers. The reasons for the same are shared in my review below.
VISIT NEIL GAIMAN'S MASTERCLASS
About Neil Gaiman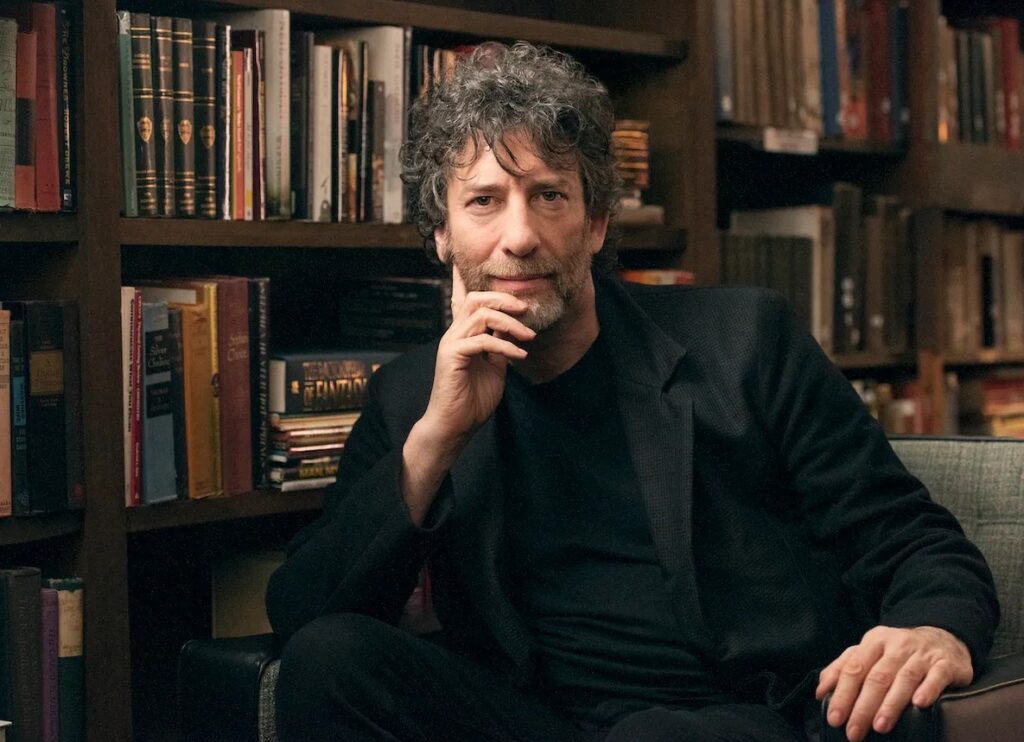 Neil Gaiman, popularly known for his comic book The Sandman, is an English author.
He specializes in graphic novels, short stories, screenplays, and audio theater.
Before taking the course, I had heard of this prolific writer before (thanks to the Big Bang Theory and his interviews).
Gaiman was fond of reading from his childhood. He used to read a lot which eventually helped him write masterpieces later in his life.
In his career, Gaiman's novella Coraline was also made into an animated film, while his novels American Gods and Good Omens have been adapted into critically-acclaimed TV series.
Gaiman has won several awards, from Bram Stoker, Hugo, and Nebula.
And apart from this, he is the first author to win the Carnegie and Newberry medals for the same work (The Graveyard Book of 2008's).
This is why he has been one of the most popular authors, and his writing MasterClass has become a 'gem' for aspiring writers.
And if you are still not convinced, his poetic and soothing voice will make you calm and fall in love with his art of storytelling.
How Much Does The Neil Gaiman MasterClass Cost?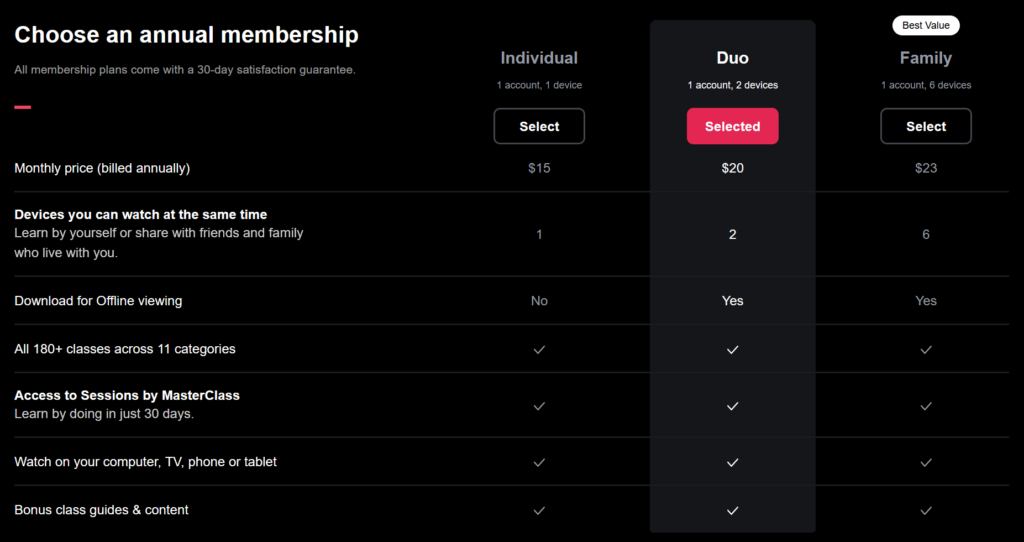 Neil Gaiman's MasterClass comes with the MasterClass yearly subscription.
And with that, you can also access the other MasterClass courses.
Currently, there are three one-year plans or subscription models that you can opt for:
Individual – $180 per year (average $15 per month)
Duo – $240 per year (average $20 per month)
Family – $276 per year (average $23 per month)
I have an Individual plan, which I find perfect for most of the individual learners.
Also, it is the most budget-friendly MasterClass price, with just $180 per year.
That means if you complete 100 MasterClass courses in a year (which is easy to do with 3-4 hours of each course duration), then the cost per course becomes just $1.8, which makes MasterClass a steal deal.
Under the Individual plan, you get unlimited access to the whole catalog of courses on MasterClass.
That means you can even enroll in similar courses like Dan Brown, James Patterson, and Malcolm Gladwell after Neil Gaiman's.
Apart from the 180+ MasterClass courses, you get supplemental material like workbooks, homework assignments, and sessions.
On top of that, you can play the course videos on your desired device, such as a smartphone, laptop, smart TV, or tablet.
However, the individual plan has one drawback: you cannot download course videos for offline viewing.
The Duo and Family plan has a feature to allow users to download course videos for offline viewing.
However, the Duo plan suits couples or a group of two friends.
Under the duo plan, you can access two MasterClass subscriptions under one account.
Also, you can download MasterClass course videos in this subscription category.
However, the Duo plan costs you $240 per year, more than the Individual plan but perfect for those who need it.
Furthermore, the Family plan is best for friends or workers who want to upskill themselves.
The family plan brings access to MasterClass for six different users simultaneously on different devices.
With just one account, you can access MasterClass on up to six devices (similar to Netflix).
The Family plan costs $276 per year (average $23 per month), the top-most plan on MasterClass.
But you get access to MasterClass on six different devices simultaneously.
So, under these three subscription models, I find the Individual plan most suitable if you are an individual learner.
However, if you are unsure about MasterClass, you can read my detailed review on whether the MasterClass platform is worth it, or you can always start with MasterClass because your investment will be backed with the 30-day satisfaction guarantee.
Quick Breakdown Of Neil Gaiman MasterClass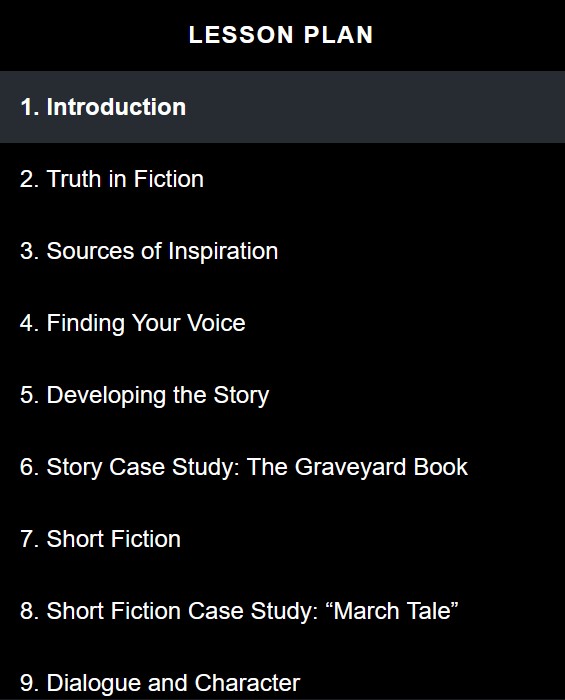 The total runtime of Neil Gaiman's MasterClass is 4 hours 49 minutes.
However, the entire course is divided into different video sections.
And from class structure to everything you get in this MasterClass, here's a quick breakdown.
Class Structure
Gaiman's class is divided into 20 different video lessons. And each video lesson runs around 8 minutes to 20 minutes long.
Therefore, you can complete at least one video lesson during your busy schedule.
Although I have completed this MasterClass during the weekend (thanks to its short duration), you can complete it on your working days, too, by giving just 15 to 30 minutes.
Curriculum
Introduction
Truth in Fiction
Sources of Inspiration
Finding Your Voice
Developing the Story
Story Case Study: "The Graveyard Book"
Short Fiction
Sort Fiction Case Study: "March Tale"
Dialogue and Character
Character Case Study: "October Tale"
Worldbuilding
Descriptions
Humor
Genre
Comics
Dealing With Writer's Block
Editing
Rules for Writers
The Writer's Responsibilities
These 19 video lessons are engaging and learning, with two case studies and a supplemental workbook.
Runtime
As mentioned earlier, the course duration is 4 hours 49 minutes, making it one of the quick MasterClass courses you can complete even in one day.
However, even if you remain pretty busy still, you can learn every day by giving just 15 minutes to 30 minutes.
Each video lesson is divided into 8 to 20 minutes, making it easier to complete.
Supplemental Material
Like all other MasterClass courses, you also get a supplemental workbook included in this MasterClass.
Download the workbook as a PDF file on your device and get summaries of each class, meaningful quotes, and assignments.
Personally, I love this way of hands-on learning.
The additional material, such as a workbook, is a companion and provides more knowledge about a specific topic apart from the video course.
And the MasterClass workbooks are not just simple PDFs with tons of paragraphs.
Instead, they are beautifully crafted, graphically decorated, and filled with knowledgeable content.
And on top of that, in this specific workbook, you get a "For Your Novel" section in each chapter, where Gaiman has described a practical way to use the lesson learnings in your work.
So, the overall video course with Gaiman's voice as a perfect storyteller with his soothing voice filled with passion for his work and the workbook to practice makes this writing course a perfect curriculum that you can have as an aspiring writer in 2023.
Sessions
Previously known as community access or aka hub, it is now replaced with a new feature in the MasterClass community – Sessions.
It is included with every MasterClass subscription plan that you opt for.
Sessions by MasterClass is a new hands-on learning feature where the lectures are pre-recorded, and you can follow along to test your skills.
You also get the community where you can submit your projects and receive peer feedback.
Also, you can put your doubts and questions doesn't matter how big or small your doubt is; you will surely get feedback and response to your questions.
Therefore, your overall learning experience on MasterClass becomes top-notch with all these combined features.
Neil Gaiman MasterClass Review: Worth The Money?
Now you have enough overview of Neil Gaiman's MasterClass, let's dive deep into it and find out whether or not it is worth taking in 2023.
What Does "Neil Gaiman Teaches The Art Of Storytelling" MasterClass Promise?
Of course, when you first hear about or want to enroll yourself in Gaiman's MasterClass, the first question will be what you will get in it.
Or
What does this MasterClass promise in the first place?
So, Gaiman answers this in the very first Introductory video of himself.
Watch the trailer of his MasterClass and find out:
By saying, "In my Masterclass, I will tell you what stories are. I'm going to give you some writing exercises. I'm going to give you some tips, and most of all, I will give you a little push forward that you might not have had."
Therefore, this MasterClass promises:
To make you learn about finding your unique voice.
Learn character development
Learn fiction writing concepts
Develop your original ideas and characters in your writing
And most importantly, get inspired to put passion and love into your writing
Therefore, if you have hopes and expectations aligning with the above promises, you can find this MasterClass's most premium course ever.
However, for me personally, at the very first glance, I found these promises quite exaggerated.
But after watching the class trailer and having the lesson overview, I Neil Gaiman's class had already convinced me of his promises, and I started having hopes that, of course, at the level of writer Gaiman is, he would surely uphold his promises.
And for a novice writer like me, I was already into this MasterClass as I was learning from the expert himself.
So, did Gaiman keep his promises?
Did this course deliver what it claimed?
Well, this is what we will find in the following review sections.
What Is Included In The Neil Gaiman MasterClass?
Once you enroll in Neil Gaiman's MasterClass, you start with the video courses.
However, there are many other things as well which I already shared in my quick breakdown section.
I will share my experience with these sections and what I found good and bad about them.
Video Lessons Review
I found the video curriculum relatively short.
Because of the level of writer Gaiman and the amount of time, he has spent on writing fiction and creating literature masterpieces, putting the learnings into nearly 5 hours of course duration is not justifying.
Nonetheless, the course design gives you essential learnings as an aspiring writer.
Starting Of The Course
The course starts with the introduction, and then lesson 2: Truth in Fiction, follows.
It was one of the new concepts for me where Neil shared the art of storytelling with truth revealing in your fiction and writing process.
The lesson entirely unfolds and taps into Neil's mindset, where you can observe how much expertise he has when he shares deep concepts from the very start.
In one of the parts, he shares that stories give readers the information they will remember, and you can do it by toggling between truth and lies.
Those familiar with the author know he usually talks in metaphors and has a tremendous philosophical delivery style.
After that, Neil shares how you can collect the ideas for the short story you are developing.
One of my favorite parts is when Neil shares his sources of inspiration and favorite influences from growing up.
He also tells the learners to go beyond the other writers.
The following lesson, 'Finding Your Voice,' is quite a helpful and essential course lesson where Neil continues to share his insights about finding your unique writing style.
Here I found the workbook a valuable resource because you will find questions filled with prompts to get you thinking about the tone of voice, point of view, and how to write convincingly.
I loved this lesson as it shares some deep writing secrets, which can improve your writing style instantly if you follow the lesson correctly.
Middle Of The Course
Furthermore, the middle part of the lessons works as the crux of the course, where Neil shares:
What to know before you write
Mistakes as a young writer make
About fantasy writing
Creating and developing your plot
Also, here you will find two case studies to help you understand the concepts thoroughly.
Case studies work like a charm for a novice writer like me and make me understand theoretical concepts better.
You learn how to put theory into practice through these case studies. So, don't miss them out.
Ending Of The Course
Lessons 17 to 19 focuses more on writing advice, writer's block, and editing.
Neil shares his points on the editing process and teaches us about various drafts of a good story.
He reminds us that the "perfect does not happen in this universe" and asks questions to get us thinking about the drafts.
Workbook Review
As I mentioned in my video lesson review, the workbook helps us understand the concepts thoroughly and has content that makes us practice learning.
At some points, the workbook works as a beautiful additional source (like in case studies).
Also, the workbook contains a video summary you can revisit and brush up on the learnings later, even after completing the course.
However, you should remember that workbooks work as additional material after you complete the video lessons.
Therefore, you should only focus on the workbook material after the video lectures.
Did This Course Deliver What It Promised In The First Place?
Neil Gaiman's MasterClass promises to make you a better writer by finding your unique voice, collecting ideas, creating and developing characters, and learning from the lifelong lessons of Neil Gaiman.
And after completing this course, I can confidently say that this course 100% delivers what it promises.
Even in the starting trailer of the course, Gaiman says he will get you that 'push forward' that you may not get otherwise through the learnings.
After completing the course, I even started working on a writing piece I had left several months ago.
You get through his lifelong learning thanks to Neil's motivation and inspiration.
And I'm sure you will be a fan of Neil Gaiman after the course (at least for his soothing voice).
So, in a nutshell, Neil Gaiman MasterClass will deliver what it promises, but you will find this course short as it is beautifully engaging and exciting.
Pros And Cons Of Neil Gaiman MasterClass
Even though many things are good about this MasterClass, I found certain things lacking in this MasterClass.
So, here are the pros and cons of this MasterClass that I found throughout my learning journey.
Pros:
Learn from the world-renowned, award-winner author.
The perfect balance of theory and practice
Additional supplemental material for practice
Learn the art of writing better and storytelling through your writing pieces
21+ additional writing courses on MasterClass to pair up with this course
Best for beginners
Precious content and presentation, of course
Cons:
I found the course duration short
Targeted towards beginner writers
Is Neil Gaiman MasterClass Worth The Money?
So, after knowing all the pros and cons, overview, review, and about the course in detail, the ultimate question is:
Is Neil Gaiman's MasterClass worth the money?
The answer is: Yes!
But hear me out:
As the course is mainly dedicated to beginner writers, if you are an advanced writer, you may find Neil Gaiman's writing course not that useful.
However, you can take this course for inspiration.
And if you are a beginner and you want to:
Learn about the steps to get started as a newbie writer
You have writing ideas, but you are puzzled about where to get started
You want to learn about fiction writing
You want to learn novel writing
Get started with your writing piece
If the above-listed points match your expectations (at least three), you will enjoy this course the most.
If you are an aspiring writer finding motivation and learnings to get started, you will make every penny worthwhile by taking this course.
Therefore, I recommend this course especially for beginners as they will find it the most useful (and (I'm sure they will thank me later for this as well).
GET NEIL GAIMAN MASTERCLASS NOW!
What I Learnt: 4 Key Takeaways
The whole course is designed to give you learning in every way.
And if you are a beginner writer, you will find this course an ocean of learning.
However, here are the four key takeaways that I found from taking this course:
Takeaway 1: Learn To Write Professionally
I started this course as a novice.
And throughout this course, I found new concepts, learnings, and topics I had never learned.
I learned how to write professionally.
The course details Neil Gaiman's creative writing style and advises how to follow in his footsteps to make yourself a better writer.
You also learn about editing, drafting, and publishing your content as you complete the course.
But before jumping into those later steps, you need to understand how to write convincingly as a writer, which this course delivers perfectly.
Takeaway 2: Connecting with Your Readers Emotionally
During the course, Neil suggests that writers are indebted to their readers; therefore, he emphasizes emotionally connecting with your audience.
Throughout the course, I learned how brilliantly Neil teaches the art of storytelling and how to connect with your readers emotionally with your story.
He even describes how you can develop a moral crux that your readers can take with them.
I was utterly impressed with how the intimate act of writing and sharing stories can make your audience connect with you.
And Neil teaches this art perfectly through case studies as well.
Takeaway 3: New Ways To Look At Writing
Neil teaches some unique concepts that helped me understand different perspectives on writing.
For instance, in the course, Neil teaches the "crucible effect" and the "American transparent," which helps us look at writing from a new point of view.
These learnings can make you figure out something in your writing that you may have never tried before and eventually write a masterpiece.
Takeaway 4: Learn Throughout Your Writing Journey
It doesn't matter how much you know, but if you are not learning, you are not improving.
Even though I was pretty new, I was confident about knowing certain things about writing.
However, after enrolling in this course, I found several eye-opening lessons I was unaware of.
Therefore, aspiring writers should never miss the chance to learn from expert fiction writers.
Read novels, take courses, and keep learning to improve your work consistently.
LEARN WRITING FROM NEIL GAIMAN
Alternatives To Neil Gaiman's MasterClass
Once you have completed Neil Gaiman MasterClass, there are 21+ more writing courses that you can pair your learnings with.
Here are some of the most popular ones right now:
The first two lessons can pair perfectly once you finish the Neil Gaiman course.
Even if you didn't find fiction interesting, you could also explore the poetry MasterClass.
However, there are many more courses that you can opt for, which you can explore from the MasterClass category page.
You can watch the trailer of each course and know if it suits your interest.
From my end, I found Dan Brown's MasterClass a much better alternative to Neil Gaiman's.
If you are more into the academic approach to writing, other platforms like Udemy, EdX, and Coursera are more suitable.
You can read my comparison of MasterClass with Udemy and Coursera in my detailed MasterClass review here.
CHECK OUT MORE MASTERCLASS COURSES
What Could Be Improved In Neil Gaiman MasterClass
Although this MasterClass is nearly perfect for its promises, some improvements can improve the experience.
Although it is the nature of such a course, unlike cooking or sewing, where abstract advice is common, Neil still balances the abstract and concrete.
However, some may find it too vague, especially in the early lessons.
Emphasis On Young Writers
Neil's MasterClass focuses more on the young audience that he has. However, advanced writers may find the course more inspiring, but it is specially crafted for young aspiring writers who want to get started in their careers.
However, it should have been much better if Neil could have considered a broader scope to help the writers.
This is what I personally felt during the course.
Neil Gaiman has the experience, and the learnings he can provide are not justifiable in just 5 hours.
However, the course length could have been improved if the course had been created for a broader audience.
But it would have been much better if the course could carry more content for the advanced writers.
FAQs About Neil Gaiman MasterClass
Is Neil Gaiman's MasterClass any good?
Neil Gaiman's MasterClass is a great course filled with premium content that every aspiring writer must enroll in.

The course contains learnings from the expert Gaiman himself and various new concepts that can help writers get inspiration and improve their work.
Is MasterClass writing worth it?
MasterClass writing courses are worth having if you are an aspiring writer or a beginner looking to start.

Learning from the experts will not only help you learn new concepts or how to write professionally, but it will also inspire you to write better and stay consistent with your work.

You can enroll in Neil Gaiman's MasterClass, or Dan Brown Teaches Thriller's course, which is worth taking if you want to become a professional writer.
What degree does Neil Gaiman have?
Neil Gaiman has never received a formal collegiate education though he went to several primary or boarding schools in England, including Ardingly College and Whitgift School.
Why is Neil Gaiman famous?
Neil Gaiman is an award-winner English author popularly known for his comic book The Sandman.

He is the first author to win Carnegie and Newberry medals for the same work (The Graveyard Book in 2008).

Therefore, Neil Gaiman is so famous because he has earned several awards and critical praise for his brilliant work.
Do I need a subscription to access this course?
Yes, you need a subscription to access this MasterClass course by Neil Gaiman.

And I have already discussed the pricing models in the review above.

But for the standard subscription to MasterClass, you need to pay $180 per year to access this MasterClass course and other courses on the platform.
How long it took to complete the course?
The Neil Gaiman MasterClass is 4 hours 49 minutes long which you can complete even on a single day.

However, I completed this course on the weekend, which even you can try.

But even if you remain pretty busy, then giving 15 minutes to 30 minutes each day will make you complete the course quickly as each video lesson in this MasterClass lengths about 8 to 20 minutes.
Do I Recommend Neil Gaiman MasterClass?
After enrolling in the course and reviewing each of its sections, I 100% recommend this MasterClass to aspiring writers, especially beginners.
Apart from learning from the award-winner author, this MasterClass consists of premium content (and I'm not talking about visual representation only).
From start to finish, the course teaches you several new concepts rarely taught elsewhere.
I recommend trying out this course and discovering why it is necessary for an aspiring writer.