Let's find out in this Margaret Atwood MasterClass review whether or not investing time in it is worth it.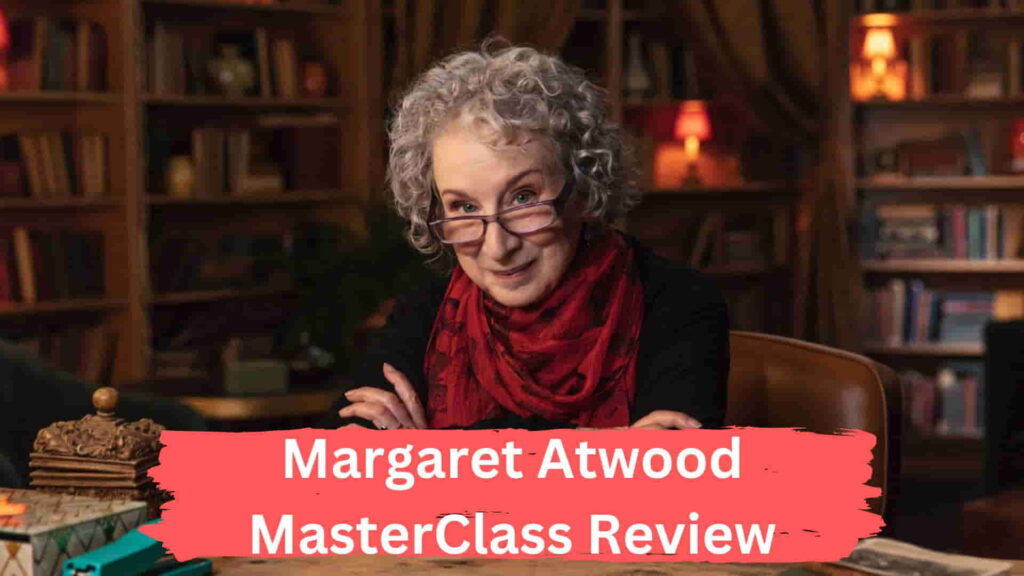 Creativity is an art, and Margaret Atwood is a living legend for her creative writings.
I've already been a fan of her writings for very long, and I've thoroughly enjoyed the TV adaptations of The Handmaid's Tale.
And when I saw that she'd created a MasterClass for creative writing, I was eager to take this course.
Not surprisingly, the course exceeded my expectations, just like her fantastic writing work.
However, despite being a fan of her writings, I'll keep this MasterClass review quick and honest so that you can understand if this course is worth it.
Let's begin, shall we?
A Quick Sneak-Peek Into Margaret MasterClass
What you'll learn: how to write a novel from scratch, how to build a fiction story, and introduce your characters, understand how the publishing industry works, and overall everything you need to know about creative writing, such as novels.
Course duration: 3 hours and 43 minutes, divided into 23 video lessons
Best to pair with: N.K Jemisin Teaches Fantasy & Fiction Writing, Judy Blume Teaches Writing, Neil Gaiman Teaches The Art Of Storytelling
Recommendation: I say this for a few writing courses, but this MasterClass course is worth for money. 10/10 recommendation for aspiring writers and those who want to understand almost everything about novel writing in 2023.
Get Margaret Atwood MasterClass
About Margaret Atwood
Margaret Atwood was born on 18 November 1939 in Ottawa, Ontario, Canada.
Her father worked in entomology, and thus her family mostly spent time in the forests of Northern Quebec.
And this was when Atwood used to read many literature books by which she kept herself busy.
It is also one of the reasons that Atwood cites for becoming a writer later on.
Atwood's first book of poetry, Double Persephone, was published as a pamphlet in 1961 and even won the E. J. Pratt medal.
Since then, she has published much of her work, which will be a hefty task to mention here.
However, Atwood's famous work includes The Handmaid's Tale, Alias Grace, Oryx, and Crake, to name a few.
Apart from this, She has also published a collection of poetry, essays, and graphic novels.
Furthermore, she has many awards, just like her long list of writing works.
Atwood has won two Booker Prizes, Franz Kafka Prize, Arthur C. Clarke Award, the National Book Critics, and PEN Center USA Lifetime Achievement Awards, to name a few.
The latest published work of Atwood, The Testaments, a sequel to The Handmaid's Tale, has won the 'Best Fiction' Novel in 2019 by the Goodreads Choice Awards.
Atwood's work usually touches the powerful themes such as religion, politics, and gender.
Her work even falls under "speculative fiction" and "historical fiction" sometimes.
That's why with more than 50 years of writing career, Margaret Atwood is a living legend for aspiring writers.
Therefore, when Atwood launched her MasterClass, I got excited to enroll because I knew it would hold something amazing!
The course exceeded my expectations, which I will share in my detailed MasterClass breakdown below.
But let's quickly look at what you might be thinking about this MasterClass course in the first place.
How Much Does Margaret Atwood's MasterClass Cost?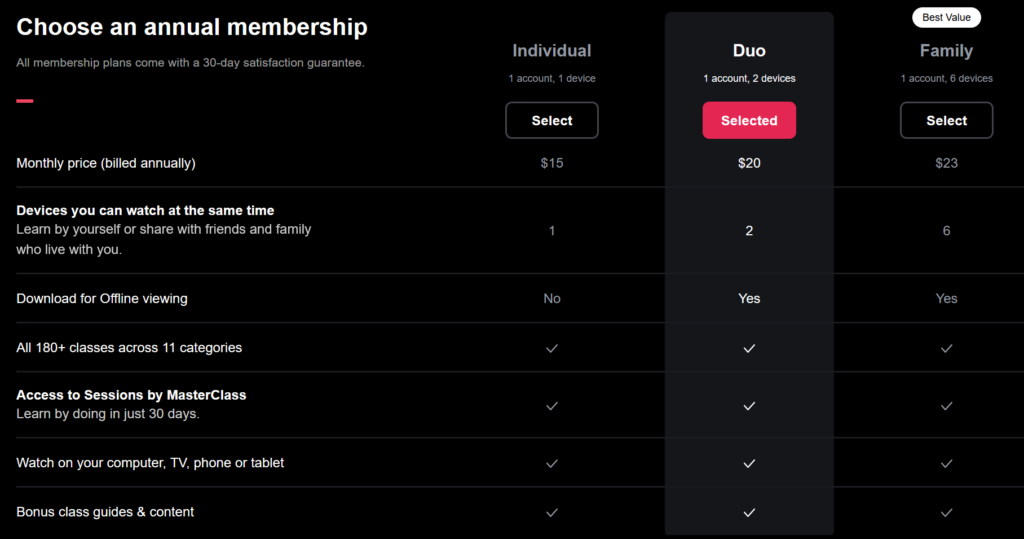 There is no single cost for Margaret Atwood MasterClass.
Instead, this course comes with the MasterClass subscription plan.
MasterClass was recently working with changes in its cost planning, and they have finally decided to keep their membership plans to three-tier categories.
Individual Plan (formerly Standard plan)
Duo Plan (formerly Plus plan)
Family Plan (formerly Premium plan)
I have discussed these membership plans and which suits whom in my MasterClass cost guide.
But in short, to explain, the Individual plan is suitable for individual learners. It costs $180 per year.
If you take one course each month, your monthly cost becomes $15.
And with the Individual plan, you get access to:
180+ premium courses on MasterClass
Supplementary workbook with each course
Community access to each course you enroll in
For couples who want to get access to MasterClass on two different devices under the same account can have MasterClass's duo plan.
The Duo MasterClass plan costs $240 per year with an average of $20 per month.
And this plan also gets you additional functionality of downloading course videos for offline watching.
The most premium plan on MasterClass is the Family plan, which costs $276 per year ($23 per month) and gives you access to MasterClass on up to six different devices simultaneously under one account.
Besides this, MasterClass has other features like streaming courses on Smart TV or Chromecast-enabled TV.
If you use the MasterClass mobile app (available for Android and iOS), you even get the feature of listening to audio only (availability of this feature depends on the course).
To know more about MasterClass features and costs, refer to the MasterClass guide.
Margaret Atwood MasterClass Review: Will The Handmaid's Tale Author Help You Master Speculative Fiction?
It is time to dive deeper into this MasterClass review and unfold each section.
What Does Margaret Atwood's MasterClass Promise?
Before taking any other course, you already know what it holds.
To have a quick sneak peek into the course, I recommend watching the trailer of the course first.
And similarly, this MasterClass also makes some specific promises which will make you set up your expectations accordingly.
In short, this MasterClass makes some big promises like:
How to write a compelling story
Creating characters and structure for your novel
How to get the attention of your readers and keep them interested
Steps to develop nuanced characters
How to stay motivated to write consistently
And as per the marketing page, "The author of The Handmaid's Tale teaches how she crafts compelling stories, from historical to speculative fiction, that remain timeless and relevant."
"Explore Margaret's creative writing process for developing ideas into novels with strong structures and nuanced characters."
Thus, now, you know what to expect from this MasterClass as an aspiring writer.
Therefore, whether you are just starting your novel or a writing piece or are stuck at some place looking for guidance from an expert, this MasterClass has your back.
As in this MasterClass course, you have the writing guidance and how Atwood crafts compelling stories and shares some tips to stay motivated during the drafting and revision.
So, whether this MasterClass keep its promises? Let's find out further in this guide.
What Does Margaret Atwood's MasterClass Have?
To summarize the Margaret Atwood MasterClass course, you get three main sections when enrolling.
Video Lessons
Supplementary Workbook
The Community Hub
(Review each section in a bit.)

The total runtime for the course is 3 hours 43 minutes, with an average video duration between 8 to 20 minutes per video lesson.
Therefore, the good part is that you can watch at least one video lesson daily, even on your busiest working days, by giving just 10 to 20 minutes.
Pro Tip: You can watch this course at 1.5x without hindering your learning experience.
The whole course is designed well with exercises and case studies. You can see how the curriculum goes for this MasterClass.
Course Curriculum:
Introduction
Getting Started as a Writer
Story and Plot
Structuring Your Novel: Layered Narratives and Other Variations
Who Tells the Story: Narrative Point of View
Point of View Case Studies
Bringing Characters to Life Through Detail
Creating Compelling Characters
Writing Through Roadblocks
Crafting Dialogue
Revealing the World Through Sensory Imagery
Prose Style and Texture
Working With Time in Fiction
The Door to Your Book: The Importance of the First Five Pages
Writing the Middle and Ending
Revision: Seeing Your Work Anew
The Novel and the Shifting Sands of Genre
Speculative Fiction
Speculative Fiction Case Study: The Handmaid's Tale
Research and Historical Accuracy
The Writer's Path
The Business of Being a Writer
Parting Words
A Complete Breakdown Of Margaret Atwood MasterClass
Now that you know what the whole course consists of and the curriculum, let's have a complete breakdown and unfold it.
Quick Course Summary
The course begins with the introduction part, where you learn about Margaret Atwood and her view on the art of novels and writing fiction.
Then she moves to the basic foundational understanding of creative writing as per her perspective.
However, you may feel like Atwood is speaking slowly in the course; therefore, you can comfortably switch to 1.5x if needed.
But the ultimate knowledge that flows through each lesson doesn't stop. Instead, with the completion of each lesson, you dive deeper into the ocean of creative writing.
The best part?
None of the lessons in this complete course felt like a filler. Atwood's class just felt right, considering the value and knowledge.
As this is a quick summary, I can summarize this course as two distinctive parts per my POV.
The first part mainly deals with the nuts and bolts of writing a novel.
Lesson 1 to 15 feels this way as it contains the main course, while lessons 17 to 23 focus on "other things" in a writer's life that they have to deal with.
Lesson 16 focuses on revision.
Video Lessons Review
If you are serious about your writing career or even about learning seriously, I don't recommend following any fast-track plan or shortcut way.
As you are already investing a decent amount of money from your pocket and thus, I recommend you follow each video lesson to get the most out of it.
However, if you eagerly want to complete this lesson to implement learnings, I can most recommend watching the video lessons with 1.5x.
Starting of Course – The Lesson 1 Through Lesson 8
Coming to video lessons review then, as I mentioned earlier, the course starts with quite basics.
You also learn a bit about the background of Atwood and how she became a writer.
She even describes how she has overcome the hurdles as a female writer in the 50s-60s.
Further, the lesson starts by bringing the instructor's perspective about writing to light. And then, it takes you through how to get started as a writer.
Margaret says, "If you want to write and you're struggling to get started, you're afraid of something."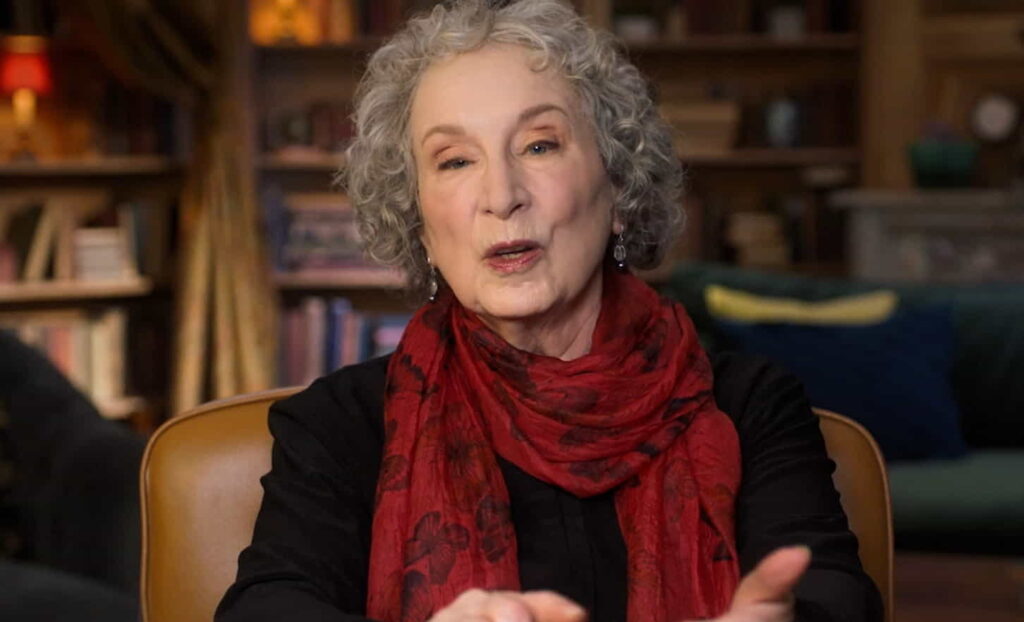 She describes how you can overcome these obstacles, such as fear to start writing.
The second lesson similarly follows about the understanding of your story and plot.
In this video lesson, you learn about what are the things that make your plot strong. How to develop that.
And most importantly, where to find the inspiration for that.
To help, Atwood recommends studying fairy tales, myths, and historical literature to grasp what you can use as your story's building block.
Then there's a lesson in which she describes how you can structure your novel.
She gives ways to construct your story through examples of Little Red Riding Hoo, Arabian Nights, and her novel, The Blind Assassin.
One of the essential parts in the beginning part of the course is when Atwood describes the "Point of View" concept.
It is surely something that will help a lot of writers to have clarity.
She describes how to find the right point of view for your novel and be clear with what you want to tell them.
It will help you figure out who should tell the story and in which person (first, second, or third) you should write.
Atwood even sets you free to have more than one point of view as long as it works for your story.
Lessons 8 Through 16
The character development chapter is essential if you write a novel parallel to this course.
Atwood shares a diagram where she describes how to create realistic characters.
She brilliantly maps the characters with key dates and the important events around them.
This technique makes the characters more realistic in the story.
Similarly, in the dialogue concept, she describes having a dialogue between your characters only if it is for some reason and not only for "chattering away."
She emphasizes having a purposeful dialogue between characters.
Another important lesson is "The Door to Your Book: The Importance of First Five Pages."
And trust me, this is one of the 'golden' lessons from Atwood.
She says, "If you cannot get the reader through the first page, they will never read the brilliant insights into life on page 75."
Simple yet one of the most powerful learnings for an aspiring writer or novelist working on their current novel.
She even describes how there's no point in having a solid finish to your book without a compelling beginning.
Most importantly, she also tells you ways by which you can grab the attention of your readers and make them indulge in your story.
For instance, in lesson 11, she describes, with the help of her famous work The Handmaid's Tale, how making specific details engages more to your readers.
Once you have completed building your story from scratch and how to reveal the world, dialogues, and all the necessary stuff, now it is time to put revision into your work.
Atwood shares how revision could be a new opportunity for writers to give a fresh look at their work.
They can seek feedback, make improvements, and have new opportunities for their work.
The Ending – Lessons 17 Through 23
These lessons are more leaned toward understanding fiction and what happens in a writer's life.
Atwood describes concepts about genre and takes you through speculative fiction.
The case study of The Handmaid's Tale is where she reveals the ideas and the research that inspired her.
For speculative fiction, Atwood's novel Oryx and Crake are a good example, according to her definition.
The novel has the story of a type of human genetically designed to live on Earth.
At the time of writing, scientists had started growing human organs in pigs.
Even her idea for the novel was founded in reality but speculates what could happen in the future.
Therefore, this example, it's an exciting approach for writers to take, and that's why Atwood is one of the best examples of speculative writers.
And finally, in the ending lessons, Atwood shares what it is like to be a working writer and describes the world of the publishing industry.
It can help new aspiring writers to understand the working of the industry and where to start with.
Atwood advices you to find an agent who cares about your work.
She even shares how anyone interested in a quick sale won't stick around for long, and that's why find someone who is not only there for the money.
Apart from this, Atwood motivates writers to deal with bad reviews and rejections from publishers and overcome writer's block.
Finally, the course ends beautifully with her fantastic piece of advice as well as learnings that new writers can take for their upcoming journey.
Overall, I found the video lessons filled with information, experience, advice, tactics, and strategies that you can implement in your writing work.
Supplementary Workbook Review
Just like Atwood's course, the workbook of this course is filled with everything you have learned so far in summaries and exercises that you can follow to build your skills.
The 92-page workbook is one of the longest workbooks I've got on the MasterClass.
If you want to implement your learnings from the video course, this workbook consists of various assignments you can complete and follow up on.
The best part?
It is beautifully crafted so that you can 'actually' learn and implement.
For instance, the introduction page of the workbook recommends you have a separate notebook for exercises to perform.
Moreover, the workbook also consists of external resources which can help get you additional knowledge apart from this MasterClass.
Overall, it is one of the best MasterClass workbooks I've seen.
The Community Review
MasterClass provides access to the community of learners of the same course.
With this MasterClass, you get a community of peer learners with all the courses available on its platform.
However, the Margaret Atwood MasterClass community is not that active (mainly with the all-MasterClass courses), but you will find some essential discussion threads here.
The primary purpose of the community is to help seek feedback, put questions, and get answers from peer learners.
You can filter the responses in the community for a specific topic you are looking for.
Get Margaret Atwood MasterClass
Does Margaret Atwood MasterClass Keep Its Promise?
Yes, 100%.
Instead, this MasterClass is one of the most powerful courses you can take as a writer, and I am sure you will find it worth every penny.
By the end of this MasterClass, it delivers all the promises it makes in the beginning.
It delivers the steps to write a compelling story and how to build and create characters for your story.
The course describes how you can engage your readers with different points of view.
Also, this MasterClass has tips, strategies, and advice for beginner writers or aspiring novelists to keep writing and tackle problems such as writer's block.
On top of that, Atwood's decades of experience are summarized in this MasterClass, which is an ocean of learnings for the new writers.
And by keeping all of its promises, Margaret Atwood MasterClass is one of my favorite courses that I have taken on this platform.
Pros And Cons Of Margaret Atwood MasterClass
Now let's start wrapping up the Margaret Atwood MasterClass review with pros and cons.
Pros:
Learn practically how to write
Learn from a living legend of writing with more than 50+ years of experience
Strategies, learnings, and guidance to create a novel by yourself from scratch
Workbook consisting of assignments that enhance your learning experience
Deep writing concepts and understanding of novel writing from beginner to advanced
Cons:
The course mostly leaned toward writing novels
Is Margaret Atwood MasterClass Worth It?
If you are a writer looking for a guidance cum thorough course to help you start writing a novel, this course is a 'gem' for you!
For an aspiring novelist or fiction writer, every penny is worth investing in this MasterClass course (remember though, this course is not solely dedicated to fiction writers).
I have already told you the reasons above in the pros and cons section and my breakdown section of this MasterClass.
Even when I completed this course, I found myself geared with many more skills, which I even implemented in my incomplete writing work (from the point of view section, I decided to write my story in the first person).
Similarly, many more writers seek guidance, help, and strategy for publishing their first novel; this course takes you from baby steps to running like an athlete.
Hence, in a nutshell, Margaret Atwood MasterClass is 100% worth taking.
Get Margaret Atwood MasterClass
5 Key Lessons That I Learned From Margaret MasterClass
As a novice writer, I can't describe enough about learnings from this MasterClass.
But, I can say confidently that even if you are still an advanced-level writer, this course has some unique concepts to unfold, which can help you at some point in your writing work.
However, to sum up, my learnings from this MasterClass, here are the five key lessons I took as a takeaway.
1. Detailing is a key factor.
When developing your character, you must put enough detail in your story so the writer can engage better.
A written work differs from a TV or film, so putting enough details is necessary.
2. Learnings about POVs
One of the things that I learned and even implemented is the point of view concept and how to decide which person should be better to write.
3. Try to engage your readers from the very start.
Atwood said it doesn't matter how informative content you have put in the middle of your work. If a reader is not engaged or reads the first few pages, it will not work.
Therefore, I learned engaging with your readers is what should be one of your goals in your mind when crafting a story.
4. Don't put unnecessary dialogues.
When crafting a compelling story, unnecessary chattering between characters can be avoided.
If you are putting dialogue, make sure it is purposeful and helps drive the story.
5. Be kind to yourself
Last but not least.
Writing a masterpiece takes time.
Don't be too harsh on yourself.
Give yourself a break. Let your eyes and wrists take some rest.
Margaret Atwood MasterClass FAQs
How long it took to complete the course?
The course is divided into 23 video lessons, each with an average 10 to 15 minutes runtime.

And thus, the complete duration of the course is 3 hours 43 minutes, but if you watch the course videos with 1.5x, you can complete this MasterClass in 2 and half hours.
How much does the course cost?
There is no single plan to access this MasterClass course. Instead, this course comes with a MasterClass membership in three different tiers.

You can read the MasterClass cost guide to find out more, but the individual plan costs $180 per year, Duo costs $240 per year, and the Family plan costs $276.
Does MasterClass have a cancellation policy?
Yes, MasterClass provides a satisfaction guarantee, which means you can apply for a full refund if unsatisfied with the course.

And if you are eligible, you can get a full refund from MasterClass.
Do I Recommend This MasterClass?
Yes, I 100% recommend Margaret Atwood MasterClass to explore Margaret's creative process behind her work to implement in your story.
In my opinion, it is one of the best online courses for creative writers.
Atwood is one of the legendary writers in the industry who has shared almost everything you need to start writing your first novel.
From basics to advanced level, this course takes you through an incredible journey of learnings with practical advice and strategies to develop your story.
Therefore, if you are an aspiring writer, this MasterClass course is 100% for you!