In this detailed Ron Finley MasterClass review, I'll share:
How I became a fan of this "Gangster Gardener" and cultivated fresh tomatoes last month started from having zero interest in gardening.
Honestly, I also wanted to be that 'cool' guy growing some great stuff at home and flexing around my friends.
But what convinced me for this MasterClass at first glance is the promise that Ron makes:
"I will teach you how to grow your own food."
Seriously? My own food and even that at home?
And just like anybody who would love the fresh veggies hand-grown, I also tapped into this MasterClass gardening.
But did this MasterClass deliver what it promised?
Can this MasterClass make you grow your own food?
Keep reading out, as we will discuss in detail in this MasterClass review today.
Let's get started:
A Quick Sneak Peek Into "Ron Finley Teaches Gardening" MasterClass
For the readers who are in a hurry, here is a quick sneak peek and my recommendation overall:
What you'll learn: You'll learn how to grow your own food anywhere in any space (Ron actually teaches how you can make your old drawer a mini garden). Also, get advice from this "Gangster Gardener" on the soil type, composts, and how to deal with the difficulties you may face while gardening.
Course duration: 10 video lessons having a total runtime of 2 hours and 7 minutes.
Similar courses: Alice Waters Teaches The Art Of Home Cooking, and Madhur Jaffrey Teaches Indian Cooking.
Recommendation: 8.5/10 – I recommend this MasterClass to new gardening enthusiasts who want to get inspired and learn the foundations of how you can get started to grow your own food and become a better gardener.
GET RON FINLEY MASTERCLASS NOW!
About Ron Finley
Ron Finley is a gardening star.
He got famous from one of the events that led him to almost arrest.
It was 2010 when Ron cleared the strip of land between the sidewalk and the street in front of his house and planted foods like tomatoes, melons, broccoli, and kale.
However, at that time, doing so was illegal on a parkway in Los Angeles.
When the neighbor complained about Ron's guerilla gardening after his second "offense," a warrant was issued for his arrest.
But the catch is that Ron fought back, eventually avoided the arrest, and changed the law.
That means vegetable gardens are now exempt from parkway landscaping restrictions in Los Angeles.
And this event led Ron to become known as the "Gangsta Gardener."
Ron even gave a TED talk with over 4 million views, expanding people's attention to him. Here's the video of that TED talk on YouTube, which has 1.5 million+ views:
Now, he runs a nonprofit known as The Ron Finley Project with a mission to transform "food deserts" into "food forests."
Apart from this, Ron was even also the subject in the 2015′ documentary Can You Dig This.
Ron believes everyone should know where their food comes from and how they can grow their vegetables.
Also, he wants to rejuvenate the communities that need to understand it the most through urban gardening.
Pros And Cons Of Ron Finley MasterClass
There are many good and bad things in this MasterClass, which we will be breaking down into different classes and sections.
However, here is a quick sneak peek into the pros and cons of this MasterClass:
Pros:
· Learn from an experienced gardener
· Ron Finley teaches how to get started from a scratch
· The course is beginner friendly
· Humorous content and engaging video lessons
· Practical tips and advice with a technique demonstration
Cons:
· One of the shorter MasterClass courses
· Best suited for beginner gardeners only
· The workbook is not that useful
Even though this MasterClass has a shorter duration, it can still be a "Pro" for some of you.
Within 2 hours and 7 minutes, you learn the basics about gardening and get inspired to get your own hands dirty in the garden.
However, one of the best parts about this course is that Ron feels like a teacher cum friend whose humorous way of talking makes this course more enjoyable.
Ron Finley Teaches Gardening Masterclass Online Course Review
Now, it's time to dive deeper into this MasterClass review and answer the question:
Is Ron Finley MasterClass worth taking?
Let's break down everything this MasterClass has and know:
Quick Summary
The MasterClass starts with an introduction to the instructor, which shows Ron's belief in gardening.
He starts by explaining what it means 'Gangsta Gardener' and the importance of sharing gardening knowledge.
The starting lessons are more likely a journey cum inspirational videos that are important to establish the foundation.
And the middle part of the course has the main ingredients.
Ron also teaches how you can grow "your own food."
Grow your own food has several parts teaching you how to grow sweet potatoes, herbs, and greens.
In the last section of the course, Ron shares some tips and advice that can make your plants healthier, yield better, and protect from several issues.
What Does This MasterClass Promise?
Ron promises to teach you how you can grow your own food.
And as I said earlier, I was only convinced by this promise.
However, as I continued with this MasterClass, I found that Ron is also a philosopher who shares some deep insight about gardening and its importance.
He doesn't want only you to start growing plants in your backyard for your own food but also wants you to understand the why behind it.
Therefore, this MasterClass does not only promise you how to grow your own food but also how you can have a passionate start on gardening.
You also get inspiration with knowledge on how to grow a healthier garden in a limited space.
Ron shares, "With my garden, I'm taking some control of my power back, where I have control over a major part of my life."
And throughout the course, there are many instances where you will find inspiration and motivation to get started.
But ultimately, the question remains whether this MasterClass delivered what it promised.
Let's unfold this in the following sections.
What Is Included In This MasterClass?
When you sign up for the MasterClass, you can access this MasterClass and other courses.
And this MasterClass course includes two main sections:
1. Video courses
2. Downloadable supplemental workbook
The video course is divided into ten lessons varying from nearly 5 to 30 minutes.
Here is the video course curriculum to get you insight into what you can expect from this course.
Curriculum:
1. Meet Your Instructor
2. Planting A Revolution
3. Getting Dirty
4. Creating Planters
5. Grow Your Own Food: Greens & Legumes
6. Grow Your Own Food: Sweet Potatoes
7. Grow Your Own Food: Herbs
8. Grow Your Own Food: Increasing Your Bounty
9. How Not To Kill Your Plants
Finding Your Creativity
Furthermore, the course also includes a downloadable workbook pdf which can help you have additional information apart from the video course.
About The Structure Of The Class
The class structure is overall set well.
However, throughout the video lessons, you will find frequent philosophical stories from Ron, which makes the course more interesting.
Starting Of The Course
The class structure begins with the introduction of Ron himself and his journey of gardening.
He also describes why he is known as "Gangsta Gardener" and the main reason behind it.
However, I found little value at the beginning of the course with the perspective of learning gardening skills.
But if you are a beginner who doesn't know about Ron Finley, it might be essential not to skip the starting part.
Also, in the beginning, the course tries to build a foundation and motivate you to start your gardening journey.
Middle Section
The middle part of the course gets quite interesting.
Personally, I loved the "Grow Your Own Food: Sweet Potatoes" section (of course, because I love sweet potatoes).
On top of that, Ron's humorous teaching about gardening keeps you engaged throughout the course.
An instance where Ron shares, "People ask me: why did you start growing food? I'm like, because it's food, you clown, why would you not grow food?"
The way Ron teaches makes this course more enjoyable.
Ending
The ending of the course is more leaned towards care of the garden, where Ron describes 'how not to kill your plants,' which ultimately has advice, tips, and suggestions to protect your plants from various issues such as pests.
In two hours, Ron gets you through most of the practical tips you need as a gardener.
He teaches you about suitable soil, planting seeds, and propagating plants while maintaining your own garden.
It is why even though it is one of the shorter MasterClass courses, it still has several concepts, understanding, and learning to teach you.
GET STARTED WITH THIS MASTERCLASS
Video Courses Review
I found the video lessons of Ron Finley MasterClass fantastic!
For a complete beginner like me, it consists of all the essential topics, learnings, practical tips, and frequent motivational quotes to get me in the garden.
As I have already described to you Ron Finley's way of teaching, I can guarantee you that you will find this course interesting if:
· You want to learn gardening as a beginner
· You are comfortable with cuss words (as Ron uses them often throughout the course)
· You are looking for motivation to get started
However, the initial part of the course is something that I didn't find helpful, but it will surely build a good foundation for the newbies.
The most important sections are the middle ones, where you get to learn the recipe for plant growing from Ron himself. So, don't skip them.
Overall, I rate video courses 4.5/5.0 of Ron Finley MasterClass.
For the runtime that this course has, it delivers one of the finest quality content, as you can expect from MasterClass.
The best part – you can complete this video course in a single day.
That means you can learn in the morning for 2 hours and implement learning in the evening gardening session.
Workbook Review
Like all MasterClass courses, you also get a supplemental workbook in this MasterClass that you can download on your device.
The 41-page master class workbook, however, doesn't follow the exact class curriculum but provides additional gardening knowledge.
For instance, page 23 of the workbook includes Ron's powerful method to grow white potatoes and sweet potatoes.
MasterClass Sessions Review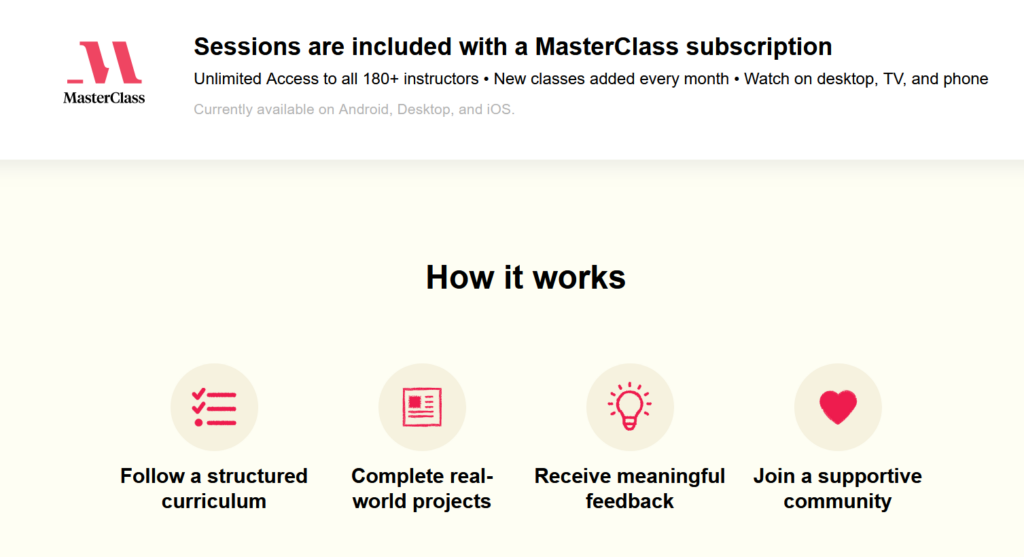 It is one of the new features that MasterClass has introduced.
Replaced on The Community feature of MasterClass – Sessions brings pre-recorded lectures that you can follow to do your projects and get involved in other activities.
On this page, you also get to interact with your fellow peers.
However, MasterClass is bringing new sessions soon, which you can check from the Sessions page.
With any MasterClass subscription, you get the Sessions feature included in that.
Bonus: MasterClass Live
A few times back, MasterClass used to do live sessions on YouTube.
So, there was a live session available of Ron Finley, which you can check here:
This live session is from a few years back, and you can taste Ron's way of teaching this live session.
5 Key Things I Learned
There are many good things in this MasterClass if we look in detail.
However, if I had to sum up in 5 points, then here are the five key things that I learned:
1. Gardening Is Easy
As I said in the beginning, I had no interest in gardening.
And one of the main reasons was so much work that you put in.
Getting my hands dirty, working in sunlight, keeping the habit of looking after plants daily, and ultimately staying around your garden all put me off the garden.
But Ron changed my mind with the ultimate gardening skills and knowledge he put into this MasterClass.
He teaches you how growing your own food can impact communities.
He shares that even if a few people started growing their own food, it would be a much better place because people would have healthier produce.
And eventually, Ron convinced me to get into the garden, and when I explored and started my journey, I started finding Gardening very easy.
Ron broke my wrong perceptions about gardening.
2. About Soil
Even though this is one of the shortest MasterClass I have enrolled in, it could still deliver some quality information about gardening.
Ron talks about soil types, and what I learned in this course is that the best soil you can have to grow plants is loamy soil.
It is the soil that has the perfect mix of sand (for drainage) and clay (for water retention).
Therefore, I now understand better which soil type I can have the most successful gardening session.
3. Importance Of Compost
Ron describes compost as made from wastage; however, a plant needs quick and healthy growth.
A good quality compost consists of coffee grounds, eggshells, vegetable and fruit peels, scraps, etc., readily available in almost every household.
Therefore, if you are a gardener looking to grow plants in your backyard, you can easily arrange compost.
Ron also focuses on quickly growing plants in a limited space.
4. Food Is Power
I learned how powerful food is not because food is a survival need.
Ron teaches how growing your own food gives you control over what you eat.
We often rely on unhealthy commercial food sources for consumption, which is not a good practice.
For long-term benefits, we need to rely on healthy sources, and growing food on our own is one of the ways that you can achieve that.
5. You Are The Expert Of Your Garden
When you start gardening, you are the only one with complete control.
Either you can make your garden heaven with your skills, or you can ruin it.
Therefore, learning from the experts benefits your skills and gets you through some eye-opening lessons you may not have before.
You can learn from your friend who already has some expertise in gardening, or you can take a course like this one, which can help you start ideally.
GET RON FINLEY MASTERCLASS NOW!
How Much Does This MasterClass Cost?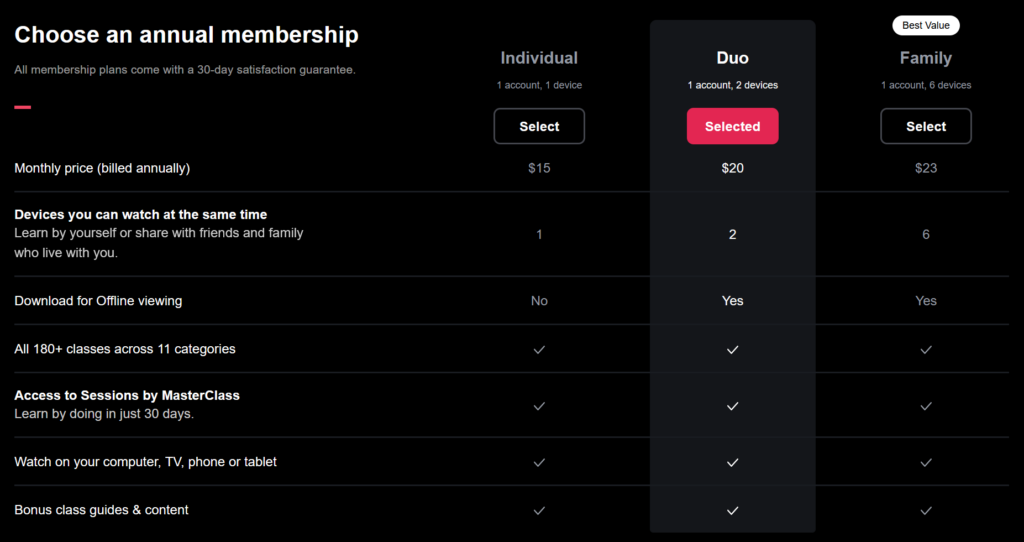 Ron Finley MasterClass course comes with a MasterClass subscription.
There are three-tier plans for MasterClass, and each plan provides you with one full year of unlimited access to all the courses available on MasterClass.
I have the Individual MasterClass plan, which costs $180 per year (an average of $15 monthly).
However, the main drawback of this plan is that you cannot download video courses for offline viewing.
The Duo plan on MasterClass gets you this feature to download videos for offline viewing but costs $240 per year (average $20 per month).
Under this plan, you can access MasterClass on two different devices.
The family plan is the most premium, which costs $276 per year. It brings you access to MasterClass on up to six devices simultaneously.
You can read about MasterClass cost in detail in my MasterClass cost review here.
What Do You Need While Taking Ron Finley's Masterclass?
Ron Finley's MasterClass is built for absolute beginners.
There is no specific prerequisite.
You need an interest in gardening to get the most out of this MasterClass.
This MasterClass is a complete package that teaches you conceptual and practical gardening.
Ron makes you aware of all things required for a good garden. From having high-quality soil to compost and even protecting your garden from several issues, everything is included in this MasterClass.
So, if you are a beginner looking for a head start in the gardening journey, Ron Finley's MasterClass is the perfect place to begin.
FAQs
Is Ron Finley's MasterClass worth it?
Yes, Ron Finley's MasterClass is 100% worth it.

It consists of the learnings from Ron's life as a gardener and community activist. Ron also shares how he worked to convert the "food desert" into a "food forest."

The course also has techniques to make you grow better plants and understand basic tools and techniques for gardening.

If you are a beginner gardening enthusiast and you expect to learn gardening from an experienced gardener cum expert, then Ron Finley MasterClass is worth every penny.
Does MasterClass have gardening?
Yes, MasterClass has gardening courses, including Ron Finley's MasterClass, and there are more courses that you can check from here.
When should I start my garden at home?
You can start planting your garden at home whenever you feel like.

However, if it is about the technicalities of growing a specific plant, then doing some homework and researching weather conditions and seasonal plant growth requirements is a must.
Who is Ron Finley? Where is he from?
Ron Finley is a gardening star popularly known as "Gangsta Gardener," which is related to a life event when he was almost arrested for gardening in the parkway in Los Angeles.

He is from Los Angeles.
Where is Ron Finley's Garden?
Ron Finley has started a community named The Ron Finley Project in south central Los Angeles.
It is a nonprofit gardening training facility that Ron created.
It mainly focuses on educating children and adults about creating backyard urban gardens.
Do I Recommend This MasterClass?
Yes, 100%. And there are three reasons for that.
1. It is short – just 2 hours of video lessons.
2. Learn a lot.
3. Enjoy a lot.
Ron Finley is a fantastic personality (which you will find in this course) and teaches both conceptual and practical things which you, as a beginner gardener, may not know.
In this course, he also teaches you how to grow specific veggies and fruits and shares the importance of growing your own food.
However, if you are an advanced gardener, then this course may not benefit you that much.
Therefore, it is leaned explicitly towards beginners looking for a kick start and conceptual understanding of gardening techniques.