In this Timbaland MasterClass review, we'll find out whether or not Timbaland's MasterClass on Producing and Beatmaking is worth your time and money.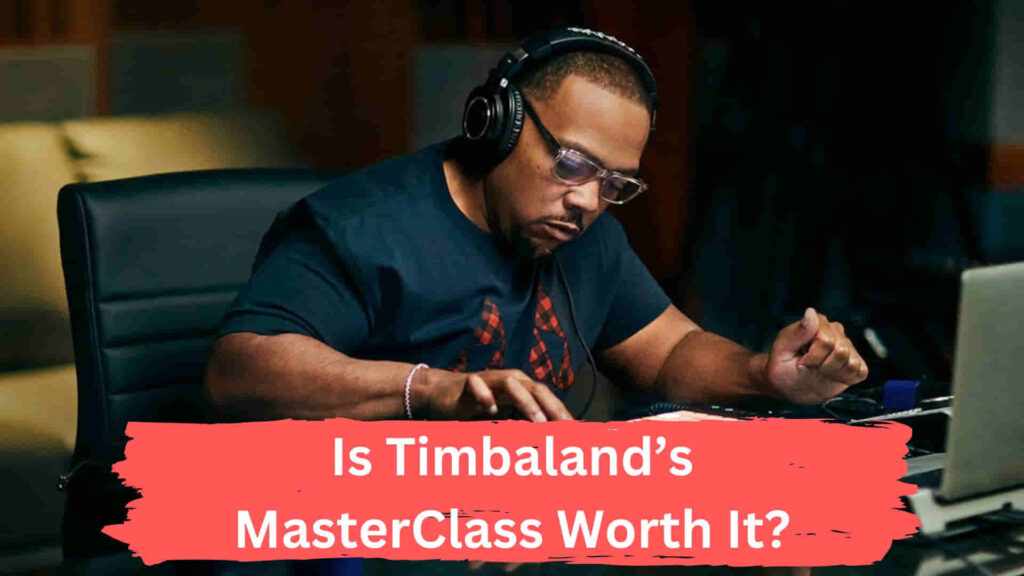 I love music.
And I've always been curious to know how people make music.
I mean, c'mon, it's pretty complex when you hear every beat down, but they sound pleasing to you at the end.
Finally, I got into Timbaland's MasterClass with a curiosity and excitement to learn about beatmaking.
However, for a guy with basic beatmaking experience, this MasterClass will be entirely on trial, whether it 'actually' makes you 'dope' at beatmaking.
So, for all that and more, let's get straight into it!
A Quick Summary Of Timbaland MasterClass
In a hurry? Have a quick sneak peek into the Timbaland MasterClass here.
What you'll learn: You learn from the basics of music layers to the behind-the-scene creative process of Timbaland for making hit songs and music. You also explore how to create hooks that stick, collaborate with vocalists, layer tracks, and more.
Course duration: 3 hours and 2 minutes divided into 15 video lessons.
Best pairs with: Dead Mau 5 Teaches Electronic Music Production, Jake Shimabukuro Teaches Ukulele, Usher Teaches The Art of Performance, Christina Aguilera Teaches Singing.
Recommendation: I 100% recommend this MasterClass to anybody who wants to learn the creative process and fundamentals of beatmaking. You cannot expect to become the best music producer by the end of the course, but surely, you'll put yourself into the creative process and step-by-step guide on the fundamentals of beatmaking to make dope music.
About Timbaland
Timothy Zachery Mosley, aka Timbaland, is an incredible songwriter and producer.
The list of artists that he has worked with are:
Beyonce
Missy Elliot
Ludacris
Nas
Madonna
OneRepublic
Rihanna
Drake
Alicia Keys
Nelly Furtado
Justin Timberlake
And more…
That is why most of you probably might already be aware of Timbaland.
He has been in the music industry field for the past 25 years, and over that time, Timbaland has produced 99 US hits and 85 UK hits, claiming 4 Grammy awards to his name.
Therefore, he is one of the most talented and famous music producers.
That is why if you are really into music making, songwriting, and recording, this course gets you one-on-one with this talented beatmaker.
How Much Does Timbaland MasterClass Cost?
Once you think of getting this course, the first thing that might have come into your mind is the cost of this course.
And therefore, let's disclose the price for this course first.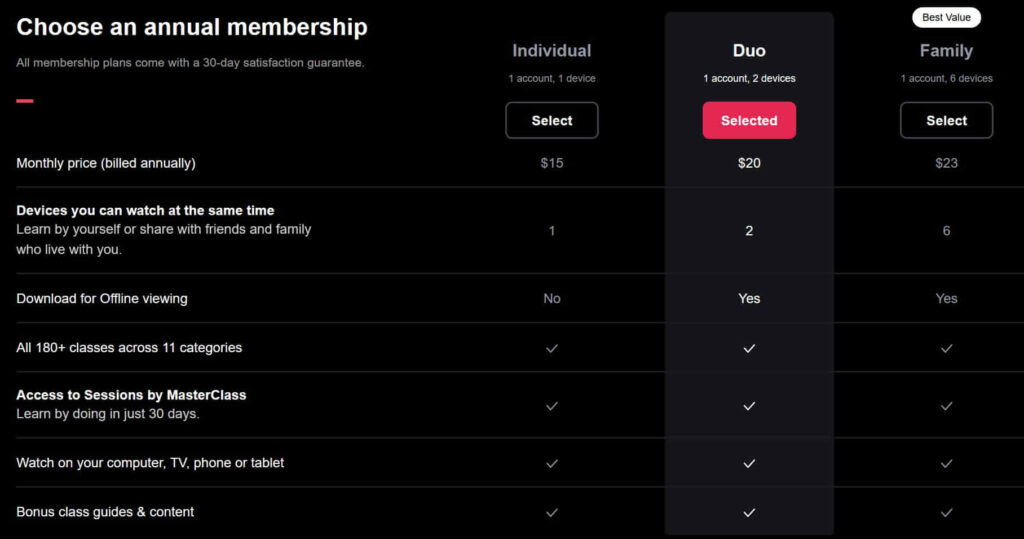 Timbaland's MasterClass cost comes with an annual subscription to the MasterClass platform.
That means you don't have to pay for the course only to access it.
Fortunately, you get three-tier plans for accessing the platform's Timbaland MasterClass and other 180+ premium courses.
The three-tier plans are as follows:
Individual Plan
Duo Plan
Family Plan
Check out my MasterClass cost experience in detail to know more about MasterClass pricing.
However, for now, I'll briefly break down the plans.
Individual Plan
Formerly known as the 'Standard' plan, the Individual MasterClass plan, as the name suggests, is suitable for Individual learners.
It costs $180 per year with an average of $15 per month.
Under the Individual plan, it gets you:
Unlimited access to 180+ premium courses, including Timbaland's
Access to downloadable workbook PDF with each course
Community access with each course
Access to newly launched MasterClass courses
However, under the Individual plan, you can only access the MasterClass on one device at a time and cannot download course content for offline viewing.
To do that, you have to switch to the other plans.
Duo Plan
The MasterClass duo plan costs $240 annually, bringing access to MasterClass on two devices simultaneously under one account.
If you take at least one course per month on MasterClass, your average monthly cost becomes $20.
Therefore, it is best suited for couples who want to learn together or learners who wish to access MasterClass on two devices.
With all of the benefits of the Individual MasterClass plan, you also get the feature to download course content for offline watching with the Duo plan.
Family Plan
The most premium plan on MasterClass is the Family plan.
It brings you all the benefits of the Individual and Duo plans and the ability to access MasterClass on up to six devices simultaneously.
The Family MasterClass plan costs $276 per year, up to $23 per month on average.
So, by getting yourself membership from one of these plans, you can access the Timbaland MasterClass course and other 180+ premium courses on the platform.
Note: You have to pay the annual subscription cost of the MasterClass up-front even though you'll see one of the cost sections in the per-month price.
You can check out more details of MasterClass here.
What Does the Timbaland MasterClass Promise?
As you know who the instructor for this course is and the price, it is time to unfold what this course promises to teach by its completion.
"Timbaland explains and clarifies by saying, "I'd like to show you, instead of talking about it, how I start from scratch making the beat…" in the class sample.
And that is what I liked most about this course: Timbaland shows you what and how he creates a masterpiece instead of just talking.
Timbaland ensures you learn about making music and how the melody is created or structured.
In a nutshell, this course promises you to:
Get you through the creative process of how Timbaland makes beats
Make you learn about the fundamentals of melody layers
Teach you how to collaborate with your teammates
So, whether did this course live up to its promises?
We'll find it in the following complete breakdown of the course with a verdict of whether this course is worth it or not.
Timbaland MasterClass Breakdown: Is It Really Worth It?
Timbaland's MasterClass is everything a new music enthusiast needs to get started.
One of the best parts about this course is that Timbaland demonstrates and directly shows you by doing things and not by talking (which is what one might expect by the term 'course').
However, there's a lot more when breaking down this MasterClass.
And to do that, we'll move step-by-step and understand what this whole course holds for you.
So, let's begin, shall we?
What Timbaland MasterClass Consists?
Once you buy the subscription and enroll yourself into Timbaland's MasterClass, overall, you get these three things:
Video Content
Workbook PDF
Community
These three things are the main chunks of Timbaland MasterClass, or pretty much this is what any other course offers on the platform.
However, in some cases, like scriptwriting or writing MasterClass courses, you even get scripts for practice and supplemental materials.
Overview Of Timbaland's MasterClass Content
Here's a detailed table for a quick overview of Timbaland's MasterClass content.
Runtime of course:
3 hours and 2 minutes
Reviews:
4.8 out of 5.0 ⭐
Video lessons:
15 video lessons
Supplemental materials:
One downloadable workbook PDF
Exclusive songs and stems in the course
The Timbaland Teaches Producing and Beatmaking MasterClass runtime is 3 hours and 2 minutes.
However, the video lessons are mostly 10 to 15 minutes long.
Therefore, it becomes easier to learn through your busy schedule by giving just 20 minutes each day.
(Though I completed this course in just one day.)
Apart from this, MasterClass even provides a playback speed management feature under which you can switch the playback speed up to 2.0x.
However, I do not recommend this as it might hamper your learning experience.
Course Curriculum
The whole course is aimed at the creative process of Timbaland's music production and how it works.
But the course follows a structured curriculum, which is as follows:
Introduction
Studio Session: Making a Beatbox Beat
Building Beats: Tim's Process
Making a Beat: Getting Warmed Up
Song Origins: "Dirt Off Your Shoulder"
Making a Beat: Starting With A Chord Progression
Making a Beat: Tweaking and Layering Drums
Song Origins: "Pony"
Making a Beat: Manipulating Vocal Samples
Making a Beat: Creating a Breakdown
Song Origins: "Gossip Folks"
Making a Beat: Adding a Topline
Song Origins: "Are You That Somebody?"
Tim's Influences
How to Persevere
So, this is how you learn through lesson by lesson in the course (review of lessons in a bit).
Lessons Summary
Even though Timbaland's MasterClass is pretty practical, the start of the course may seem overwhelming for a newbie.
It is because, after the introduction, there is a 27-minute studio session where Timbaland and his co-producers, Angel and Fede, show you how they work!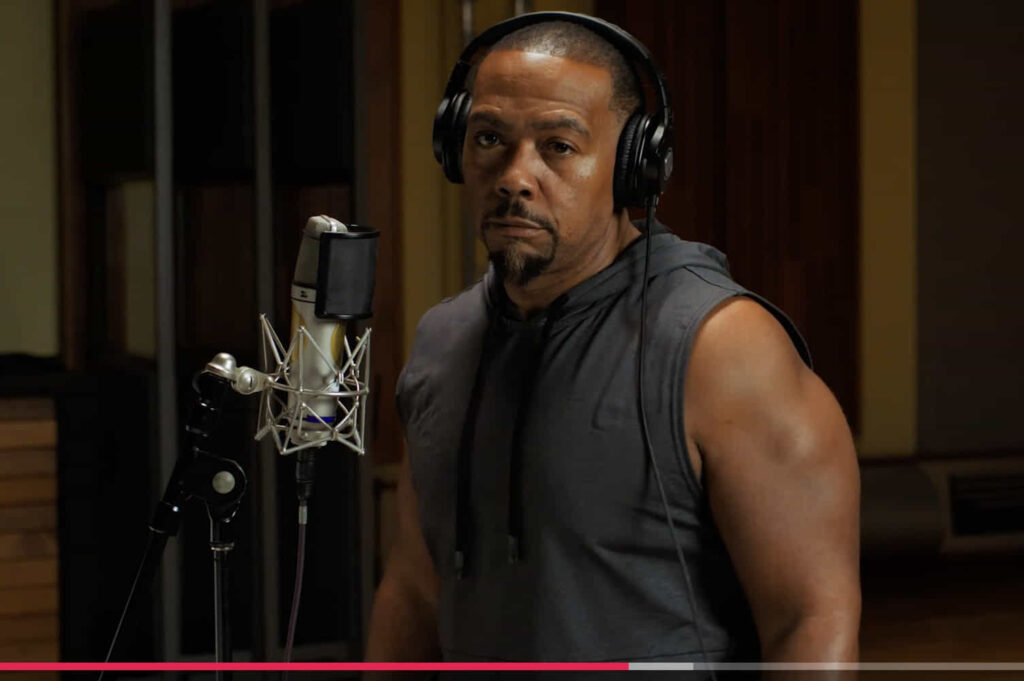 However, simultaneously, the lesson brings curiosity and interest as you go through it and stick to it.
You are likelier to spend time on Tim's 'Hit Factory,' where he makes you learn different things throughout the lessons.
But in the very initial part of the lesson, Tim makes it very clear that beatmaking is a collaborative effort.
With the course, you will know how humble Tim is as he is honest with the fact that he's no one-man show.
That is why, in the course, you will also get some inputs from the sound engineer Chris Godbey and co-producers Fede Vindever and Angel Lopez.
Once you complete the initial video lessons, Timbaland will take you through:
The basic understanding of autotune
Effects to create beats
Layer of different audio tracks
However, I felt this course section was slightly fast-paced but for approx. Three hours, of course, you cannot expect much.
Later, Tim follows the "Song Origins" sessions in which he explains how he has produced several iconic hits in pop music.
Timbaland takes you through the four tracks mainly:
Jay-Z's "Dirt Off Your Shoulder"
Ginuwine's "Pony"
Missy Elliot's "Gossip Folks"
Aalliyah's "Are You That Somebody?"
As a 90s kid, it's pretty amazing to learn how these platinum hits were created and all the processes that went into them.
One of the best parts of Timbaland's MasterClass is that he shows you how the work in the team is done.
Under the key lessons, "Creating a Breakdown" to "Adding a Topline," you'll find multiple instances where collaborative efforts can be seen.
This teaches you how to create a masterpiece with your team.
Once you complete the studio sessions, it will give you enough ideas to develop the skills to start producing.
Another key highlight in the course is screen sharing, but it only helps when you have access to the same music software Timbaland has.
But Tim also clarifies that you don't need fancy software to make a great beat.
Many cheap and some free software can get your work done.
Overall, after completing this course, you'll have a fundamental understanding of producing and beatmaking while feeling inspired to create something after the course.
Complete Breakdown Of Timbaland MasterClass
As I mentioned, there are three sections in Timbaland's MasterClass course.
Now, we'll break down each of these sections one by one.
Video Lessons Review
I'll be honest:
You'll love the video lessons if you are into music and producing!
But if you are like me with basics (or, even better, a completely newbie), you will likely find the initial video lessons overwhelming.
But the exciting persona of Timbaland makes you stick with him as he takes you through the exciting stuff in his 'Hit Factory' with his co-producers.
After the basics, there are important chunks in the course, such as when Tim shares how he created a couple of hits.
Similarly, he shares insights from the music software he uses by screen sharing, which is an important part (if you have the same software).
Another of the best things you'll learn is collaborating with your teammates to create a masterpiece.
I found the video lessons amazingly insightful!
After completing the course, I assure you that you'll be inspired, excited, and ready to create something.
Side Note: The course has a lot of jargon, so keep your Google ready!
The Timbaland MasterClass Workbook
Like any other MasterClass course, you also get a 47-page workbook PDF under this course.
It is free to download and access for the students of this course.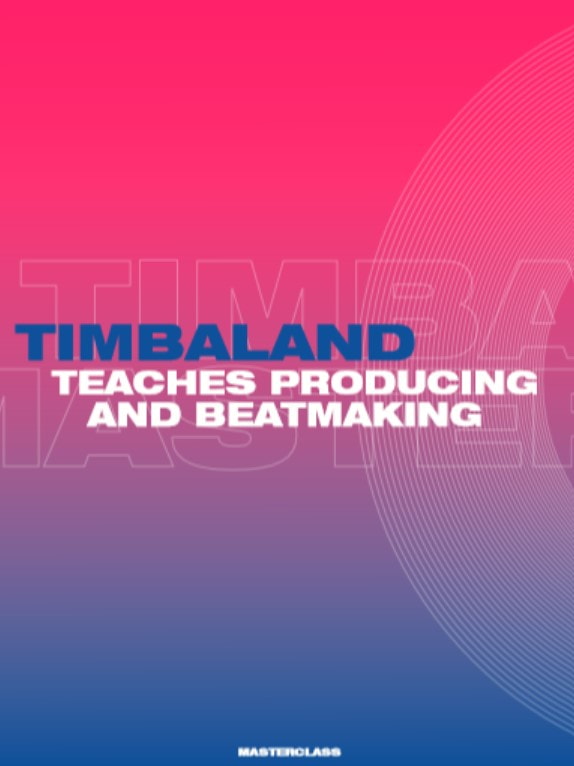 The workbook works as a supplemental resource where you can find the summaries of what you've learned in the course and the definitions of some essential vocabulary you will most likely see in the video lessons.
Community Review
The MasterClass Hub or community is a discussion space where you can interact with the other peer learners in the course.
Each course has its own space or community, and Timbaland has it too.
However, the space is managed by the MasterClass team, but you can surely put your doubts, ask questions, seek feedback, and even interact with the other peer learners.
You can put your query in the community if you are stuck somewhere.
The MasterClass team gets back to you instantly as they closely monitor the community.
Is Timbaland's MasterClass Worth It?
Yes, Timbaland MasterClass is entirely worth it!
If you are looking for tips and basics from a Grammy award-winning producer, Timbaland's MasterClass is surely worth it.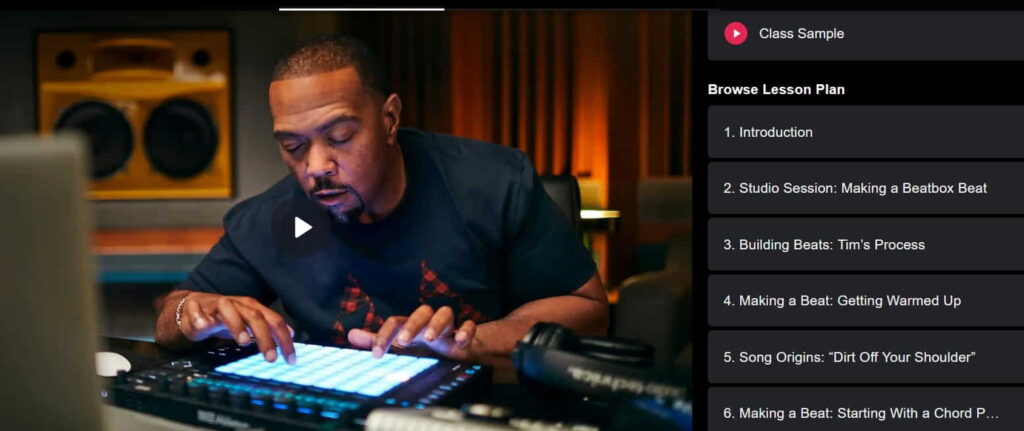 I especially recommend this course for someone who is into producing music and wants to build a career, as there is so much to learn about.
However, for a complete beginner, the course might seem overwhelming at some points, but as you stick with it, you'll get your interest down in the lessons more.
The best part?
You'll find tons of things that run behind making a beat, giving you an idea of how you can get to that point of creating some 'dope' beats.
Most importantly, this course gets you the fundamentals and clarifies the creative process, which is necessary for a new enthusiast to get started.
Pros And Cons Of Timbaland MasterClass
Here are the pros and cons of this whole course.
Pros:
Learn from 4-times Grammy award winner talented and expert
Practical course with actionable tips
Learn through the creative process
Learn how iconic hits were made
Understand the teamwork
Cons:
Most of us might not have access to fancy software like Timbaland
A lot of jargon in the course
Key Things I Learned After Taking This Masterclass
There are a lot of learnings throughout the course, but here are my favorite ones.
1. Collaboration effort is what makes something 'hit'!
There are a lot of instances in the course where you can see Tim and his co-producers working together.
Therefore, I learned one of the most important lessons in the course: when creating something big, you need collaborative effort from your team members.
Even though a beat might be simple, a lot goes into the backend while layering the track to create that simple beat.
2. Keep moving forward
Even though Timbaland has created so many hits, one of the things that he teaches is to keep moving forward.
Tim always keeps improving and seeks what can be improved in the following work.
And that is something that everybody should learn and implement.
3. Understanding of breakdown
Hip-hop music is different from the traditional four-chord bridge; you'll learn this when you complete the fundamentals of Timbaland's MasterClass.
And after completing the course, I understood its importance to become ready to dive further into the layering of beats.
Things I Liked About The Timbaland Masterclass
Tim's passion for teaching was one of the best things I liked in the course.
It's visible how passionately Tim does his job and lovingly produces a beat.
And for a newbie like me, it is pretty inspiring.
One of the most enjoyable parts of the course is when Tim takes you through the behind-the-scenes work of his famous and iconic hits.
Things I Didn't Like About The Timbaland Masterclass
One of the things that I felt could be improved is the initial section, where I felt the lesson was quite fast-paced.
And another thing, if you are a complete beginner, you cannot just expect to create your music after watching 3 hours of this course.
Instead, you must have those skills before you can create something.
Therefore, for a complete novice, this course might disappoint you in the end as even though you'll have the basic understanding, to do something more like creating your own music, you have to put in more effort to polish your skills.
To have a quick sneak peek into the course, watch the trailer here:
Frequently Asked Questions
Is the course content unique?
The course content in Timbaland's MasterClass follows a detailed structure or curriculum, which is unique.
How is the Timbaland masterclass delivered? Stream or download?
If you have the Individual MasterClass plan, you can only stream the course content online. However, you can download the course content for offline watching if you have a duo or family plan.
Is Timbaland MasterClass worth the money?
If you want to learn about the fundamentals of how beats are made, how music layers work, and the creative process behind a masterpiece, then this course will be worth the money.
How long does Timbaland's masterclass take?
Timbaland's MasterClass is 3 hours and 2 minutes, divided into 15 different video lessons, each lasting 10 to 20 minutes (30 minutes at most).
Verdict: Do I Recommend Timbaland's MasterClass?
By the end of the Timbaland MasterClass review, you might already know whether this course is for you.
However, I 100% recommend this course for music enthusiasts and those who want to learn the creative process and hard work put into creating a 'hit' beat.
Therefore, if you want to get started or be inspired by a 4-times Grammy award winner who has produced iconic hits with multiple celebrity artists, this course holds a lot for you.
But at the same time, don't expect to become a music producer by the end of the 3-hour course if you don't have the right skills or are just a beginner.
If you have the right expectations, this course is a 'gem'!